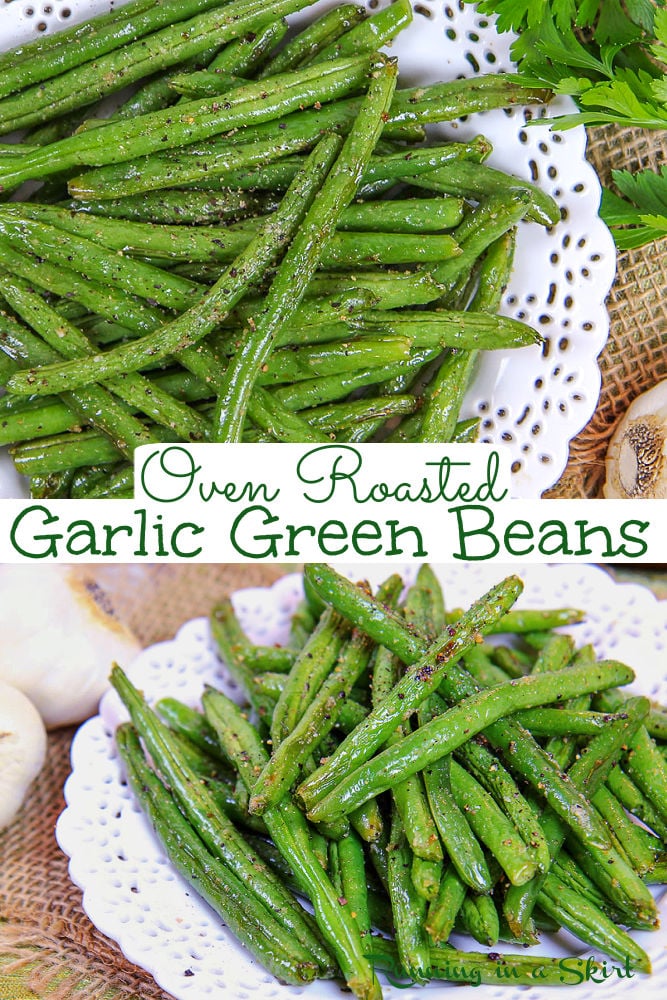 This Oven Roasted Green Beans with Garlic recipe could not be easier or more satisfying! This 3-ingredient healthy side dish is simple enough to make on any weekday but tasty enough for holiday dinners including Thanksgiving, Christmas, or Easter. If you are looking for healthy green bean recipes… this is it!
Reading: Roast green beans at 425
Roasted Green Beans with Garlic
You will never believe how easy this Oven Roasted Green Beans with Garlic recipe is. It's made with just three ingredients and just 5 minutes of hands-on or prep time. The result is a crispy and crunchy green bean that is bursting with flavor. This crazy simple side dish is easy enough for a weekday dinner but could easily shine at your dinner party or holiday table (Thanksgiving, Christmas, or Easter!)
I actually created this recipe to be a simple addition to your Thanksgiving menu this year. I was looking for healthy green bean recipes…. and decided to make my own. But after I made it I realized it was SO simple and SO delicious that it was going to be on regular rotation at my house year-round… not just at the holidays. This is too yummy to save just for the holidays. You can easily serve this with everything Thanksgiving turkey, fish like salmon, chicken, or even beef.
This dish is perfect to make because you just toss everything together and pop it in the oven. You can work on the rest of your meal while it's finishing up. The only problem is it's SO tasty you might end up eating the entire pan before you serve them. Don't ask me how I know that. 🙂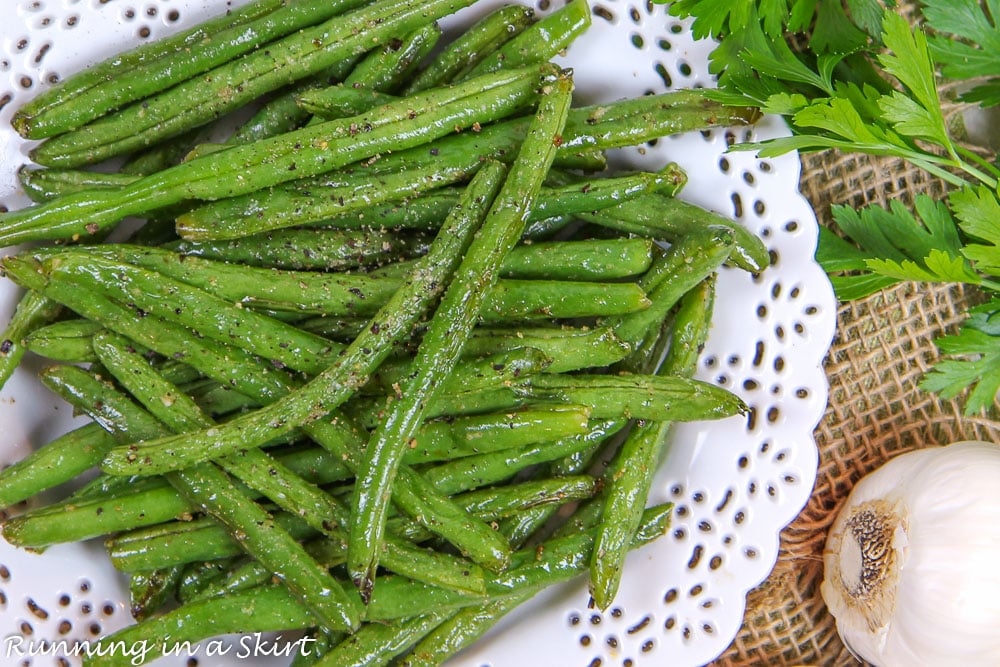 Roasted Green Beans with Garlic is the Perfect Healthy Green Bean Recipe
I grew up eating pretty basic steamed and boiled green beans but ROASTED Green Beans with Garlic is where it's at. The flavors of this simple and healthy side dish will POP and go so easily with so many meals. It's such a versatile dish and can be adapted in many ways. This is the basic recipe but there are also so many yummy additions you can add to jazz it up. I added a list of those at the bottom of this post.
Whether you keep it basic or mix it up, I firmly believe that roasting green beans elevates them to an entirely different level of deliciousness. Both kids and adults will love this one.
Are green beans healthy?
YES! Green beans are super healthy and are a great source of vitamins and minerals. They are low in calories. Green beans have no cholesterol, are a low FODMAP food, and have lots of vitamin C, vitamin A, and vitamin K. They also have calcium and iron. Green beans also have a small amount of plant-based protein.
How do you make green beans taste good?
If you haven't been a fan of green beans in the past move away from boiling them! Roasting green beans really brings out the flavors. It cooks them but keeps them a bit crunchy and crispy to make the flavors pop. Adding garlic gives them just the right amount of punch.
Read more: Top 5 martha stewart roast chicken recipe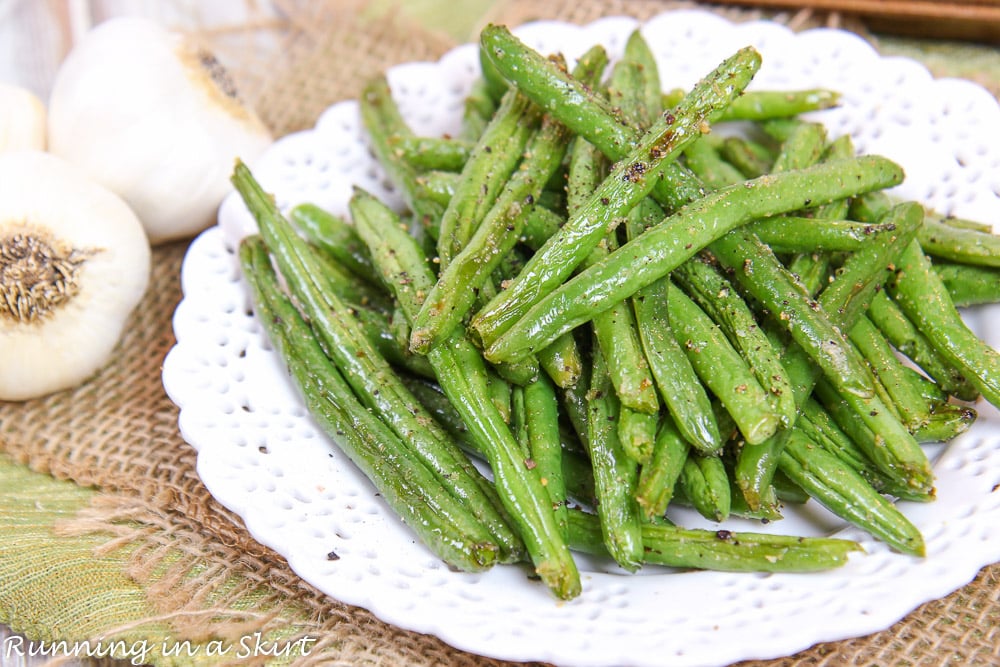 Ingredients:
Fresh Green Beans: Look for vibrant green beans that are still firm and free of blemishes or brown spots. The only thing you need to do to prepare the green beans is to trim them. Keep reading for my instructions to do that.
Garlic: You can use fresh garlic to make these BUT I love the way classic Garlic Powder distributes the garlic flavor evening over the entire green bean. You just don't get that with fresh. You also run the risk of burning the fresh garlic while roasting it at the high heat which turns it bitter.
Olive Oil: I like using a nice olive oil for roasting my vegetables. This is one of my favorites.
Salt and Pepper
How do you trim green beans?
Trimming green beans is super simple. Just line up your green beans on the cutting board so all the tips are even. Use a sharp knife to cut off the ends. Then push the green beans to the other side and line to the other ends and trim again.
Do you need to blanch green beans before cooking?
No, you do not need to blanch the green beans before roasting them. Roasting them cooks them enough.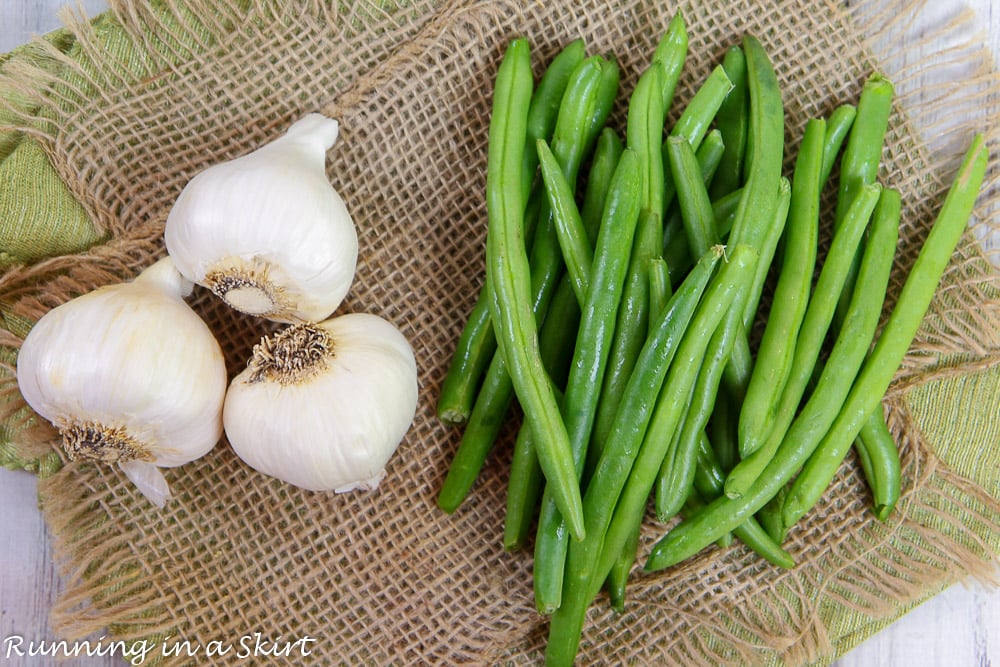 How to Make Roasted Green Beans with Garlic:
Preheat the oven to 425 degrees. Spray a foil-lined baking sheet with cooking spray.
In a large bowl, toss the green beans, garlic powder, olive oil, salt, and pepper.
Put the green beans on the pan and spread them out evenly. You will want them in a single layer and spaced out as much as possible so they get crispy. If they are too close together they can start steaming instead of roasting.
Roast for 8-12 minutes until the green beans or fork tender. You will know they are done when they start to brown. They should look like the bottom photo below.
Transfer the Roasted Green Beans with Garlic to a serving dish and serve immediately.
What temperature do you roast green beans at?
I like to roast my vegetables including green beans at 425 so they cook fast and get good color on them.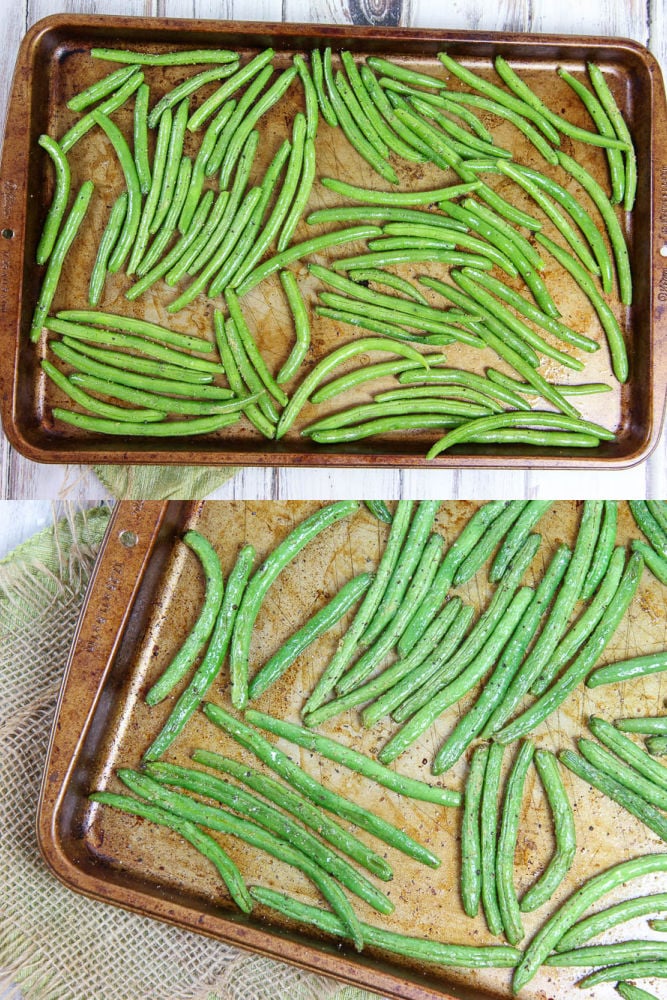 Variations & FAQ
This Roasted Green Beans with Garlic recipe is the basic recipe for roasted green beans, but here are some fun ways to mix it up.
Make the Lemony: Squeeze fresh lemon juice on top of your Roasted Green Beans with Garlic after roasting them. They will be Lemon Garlic Roasted Green Beans.
Make them Cheesy: You can also sprinkle parmesan cheese on top of the green beans before or after cooking to make them Parmesan Garlic Roasted Green Beans.
Make them Everything: After cooking sprinkle some Everything But the Bagel Seasoning on top for pretty color and flavor. SO GOOD!
Make them Italian: Add some Italian Spice Mix to your green beans before cooking.
Make them Nutty: Add almonds to the mix and roast.
Can you make this ahead of time?
You can make this ahead of time BUT I think it tastes best right out of the oven. If you will be short on time when cooking prep the recipe by trimming the green beans and tossing them in the olive oil and garlic powder. When it's time to eat just toss the green beans on a baking sheet and cook them.
How do you store this recipe?
Read more: Easy Roasted Shishito Peppers | Paleo Scaleo
Store any leftover in an airtight container for up to five days. You can microwave the green beans but they will not have the same texture. To get some of the crispiness back you can also reheat them in the oven.
How do you cook green beans so they are not tough?
While you don't want soggy green beans, you also want to make sure you roast your green beans long enough so they are not tough. Cooking them for about 8-15 minutes should do the trick. Most green beans will cook in under 12.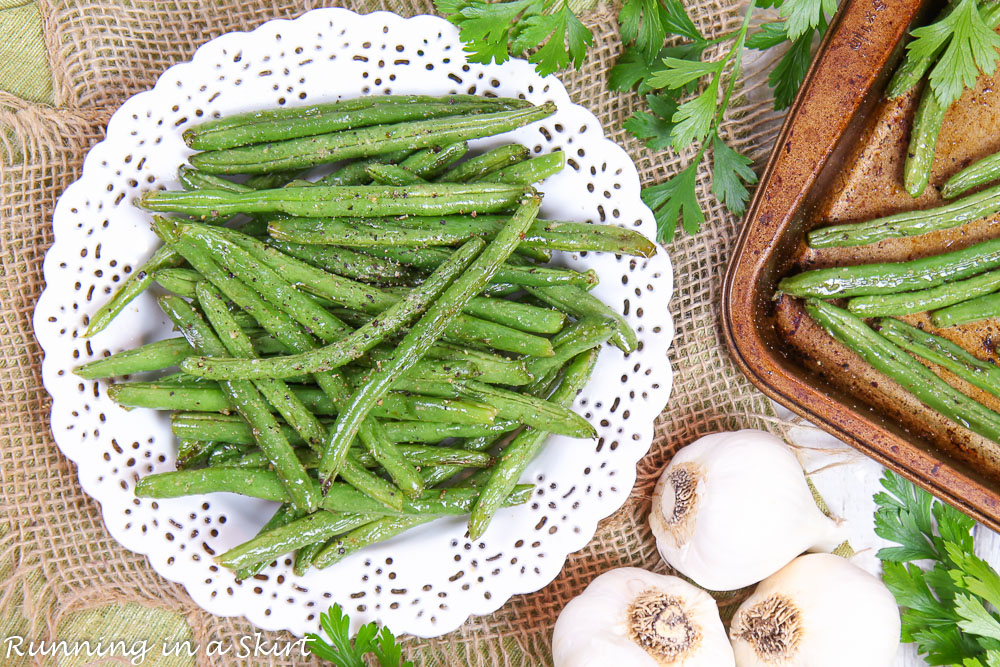 Roasted Green Beans with Garlic – My Favorite Side Dish!
These Roasted Green Beans with Garlic are easily one of my all-time favorite veggie side dishes. You have to love a recipe that uses fresh vegetables, only three ingredients, and is on the table in less than 15 minutes.
With twin toddlers, my life is all about finding ways to streamline things and this recipe does just that. If you are looking for healthy green bean recipes like I was… this is it!
Whether you make this part of your Thanksgiving or Christmas dinner or just add it to your weekday meal rotation, you can't go wrong.
Make it a Meal:
Easy Lemon Pesto Salmon
Crab Stuffed Mushrooms
BBQ Shrimp Kabobs
More Healthy Roasted Vegetables to Try:
Asian Style Roasted Green Beans
Garlic Parmesan Roasted Carrots
Maple Balsamic Roasted Brussels Sprouts with Cranberries
Roasted Garlic Brussels Sprouts
Oven Roasted Sweet Potatoes and Brussels Sprouts
Oven Roasted Broccoli and Mushrooms
Roasted Butternut Squash
Garlic Lemon Parmesan Roasted Broccoli
Parmesan Garlic Roasted Asparagus
Roasted Brussels Sprouts and Butternut Squash
If you make this recipe, I'd love to hear what you think! Leave a comment and a star rating ★ below. Make sure to follow me on Instagram, Pinterest, and Facebook too!
Pin for later…
Read more: Tender Pot Roast – Cafe Delites
For more information please see the list of Roast green beans at 425
Source: https://www.runninginaskirt.com/oven-roasted-green-beans-with-garlic/