Adding a portable fridge/freezer is one of the first upgrades on every overlander's wish list, and for good reason; they're incredibly useful and convenient. Yes, they're expensive, so you really want to be happy about spending that kind of money. It's a daunting task to sift through all the available data, numbers, and mumbo-jumbo for each fridge to get to the bottom of your buying decision. We've made it a little easier by providing a simple buyer's guide of fridge/freezers from reputable companies with proven track records. You can spend hours poring over data and information on the web, but after you peel away all the numbers and charts, you just want a fridge that keeps things cold at a fair price. You also want something that's built to last and has quality customer service.
As with anything utilizing 12V power, energy consumption will be a common talking point. You can acquire a rough estimate on your fridge/freezer's power consumption by visiting each manufacturer's website, but there are simply too many variables that factor into how much power your specific fridge will consume each day. Everything from the ambient air temperature to where the fridge is placed in your vehicle will have a direct impact on how much power is used. Every time you open the lid, sit in the sun, let down a window, or remove/add something to the fridge, it will have an impact on power consumption. A general rule is that your fridge will consume between 1.0 and 4.0 amps during compressor use with 1.0 to 3.5 amps being the most common numbers seen. On a hot day in the sun, the compressor will obviously be running much more and you'll have an overall higher current draw for any given time period. On a cool and cloudy day or during the night, you'll see much less power consumption, as the fridge can easily maintain the desired internal temperature without having to fight the ambient air temperature. Even when the air temps are 90 degrees F or above, a true compressor-driven fridge/freezer like the ones featured here will maintain a desired temperature internally. Unlike a thermo-electric cooler, these fridge/freezers are not dependent on ambient temperature for their cooling capability and are capable of cooling down well below freezing regardless of the outside air temperature. The outside temperature will only impact how often the compressor turns on to maintain the desired temps, but each of the units featured here can easily maintain freezing temps on a hot summer day.
Reading: Best overlanding fridge

Having the ability to carry perishable items for days, or even weeks, is what makes a fridge/freezer so appealing. We're buying them to carry food, water, and beer but they can be a fantastic addition to your vehicle even beyond camping and long-distance travel to remote areas. We've found that we use our fridge around town as much as we use it on trips. All the vehicles our staff owns have a place for one, even the minivan. It has carried groceries, ice pops, soccer snacks, and anything that needs to be kept cold while we go about our lives. It's just one of those really nice things to have and, once you have one, you'll wonder how you lived without it for so long.
Coolers still have their place and two years ago we featured an article on a variety of excellent cooler options. However, having ice cream sandwiches on a hot day a mile from nowhere while on your third or fourth day of a trip is pretty hard to beat. There's no doubt a portable fridge/freezer is an incredibly useful addition to any overlanding vehicle.
ARB 50L Fridge
ARB is easily one of the most commonly seen portable fridge/freezers in the U.S. market, and for good reason. ARB customer service is fantastic and their other overlanding and off-road products are incredibly popular. The ARB 50-quart fridge/freezer's cabinet is made from a powder-coated zinc steel, as are the handles/tie-downs, ensuring corrosion-free operation for years to come. Weighing just over 50 pounds when empty, it can be moved and carried by one person relatively easily. A customizable internal battery monitor will shut down the fridge to ensure you have enough voltage in your battery to start your vehicle and make it home. The efficient insulation in the fridge's cabinet will still keep your food cool for quite a while.
The ARB 50-quart fridge easily carries a week's worth of perishable food and we've never had any issues keeping things cold, or even frozen. The lid removes easily, which comes in handy if your fridge sits on a set of ARB drawers or if you're carrying it in a vehicle with a lower interior roofline. There's also a bright LED light that illuminates as soon as the lid is raised, making finding food in the dark a breeze. With just one main compartment, there isn't a true separation between fridge and freezer and it takes a few times of packing and setting the temperature before you can master keeping some items frozen and some items ice cold. Setting the fridge/freezer temperature is foolproof with the easy-to-read digital display and control panel. If you need to keep a few things frozen, place them in the unit first and leave a little space between them to allow cold air to circulate. The warmer air will be found near the top, but the temperature differences from top to bottom are not very noticeable at all. The fruit/dairy compartment is perfect for keeping fruit, vegetables, and condiments cool and fresh without freezing them solid.
Like everything ARB-built, the 50-quart fridge/freezer is built to last. It can take a beating and ours hardly shows any signs of wear. An optional travel/insulation bag helps keep the fridge looking new while it helps keep the unit insulated. To be fair, we've used this unit in high temps without the insulation bag and never experienced any issues with cooling. The removable lid closes tight when latched and there are no rattles, shakes, or sounds even after many off-road miles.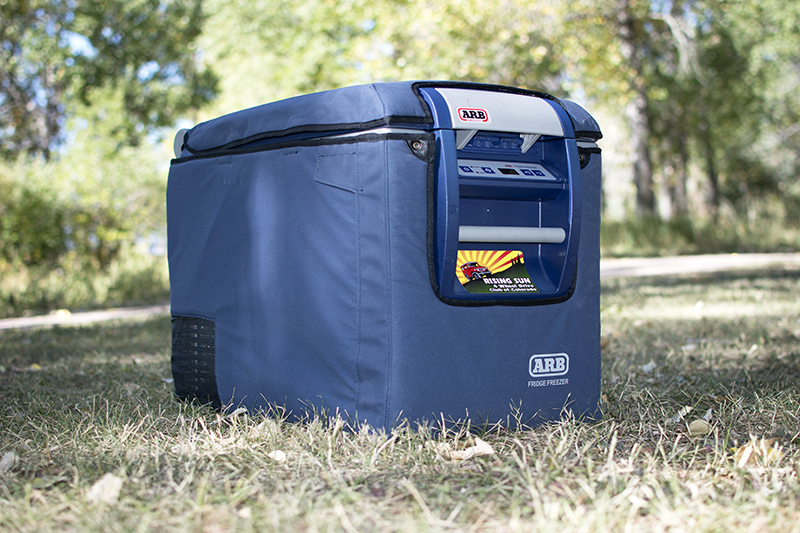 Keeping the interior of your portable fridge clean is just as important as it is with your home fridge. A removable drain plug inside the fridge compartment allows users to clean the fridge and simply drain out the dirty water.
ARB offers fridge/freezers in many sizes and they're all made from the same quality materials and use high-end Danfoss compressors to quickly cool your perishable items and tasty beverages. With a three-year warranty and solid construction using high quality components and materials, the ARB fridge/freezer line is a fine choice.
Likes-Great ARB customer service-Easy one-hand lid operation-Carrying handles double as secure tie-downs-Low voltage cutoff -Rear facing interior LED light
Dislikes-Lid does not close tightly until latched-Transit/Insulation bag sold separately
Price: $924www.arbusa.com
Editor's Note: ARB's ZERO fridge has also been reviewed and you can read about it at the end of this series in the link below or in the link HERE.
Dometic CFX40 Dometic has been manufacturing quality products for many years and their popularity is really starting to explode in the U.S. camping market. They continue to grow as a company by making advancements in their own technology and acquiring many smaller brands and companies along the way. They've been using this technology to expand their camping market and they have many products that are relevant to overlanding and off-roading.
Read more: Three Days in Los Angeles – by Mike Diago – The Bittman Project
Dometic's fridge line features 30 different thermoelectric coolers and true compressor-driven fridge/freezers. Finding one that is right for your needs should be relatively simple. We've been using the CFX40 for quite some time and have been very impressed by how efficient and whisper-quiet it is. It's one of the smaller units in this feature but it's still large enough to hold plenty of food and drinks for a multi-day trip into the backcountry. Right at 40 pounds, the CFX40 is compact and relatively light, making it easy to handle by one person. The handles are spring loaded and stay tucked in close to the shell. The lid is lightweight and easy to open with one hand, and the bright LED inside ensures you'll be able to find what you need in the dark. The unit's light weight compared to some other models makes the Dometic seem a little less robust, but we've found nothing to support that. It's only noticeable because we've constantly swapped fridges in and out of our vehicles for this test. The Dometic CFX40 has not let us down once. It reaches set temperatures very quickly and maintains temperature very well.
Perhaps our favorite feature on the CFX40 is the ability to fully operate the fridge via our smartphones and the Dometic app. At first, an app to control a fridge seemed a little gimmicky, but once we began using it, it proved very useful. Within the app, you can set an alarm feature to warn you of temperature fluctuations, power loss, or even an open lid warning. Most fridge/freezers are secured in the cargo area of an SUV or car and the LED temperature display is not always visible. Being able to confirm everything is working as intended is incredibly useful. A long trip can easily be ruined by spoiled food. Like many of the other brands in our review, there is an optional wireless display controller available, but the Dometic app is free and very user-friendly.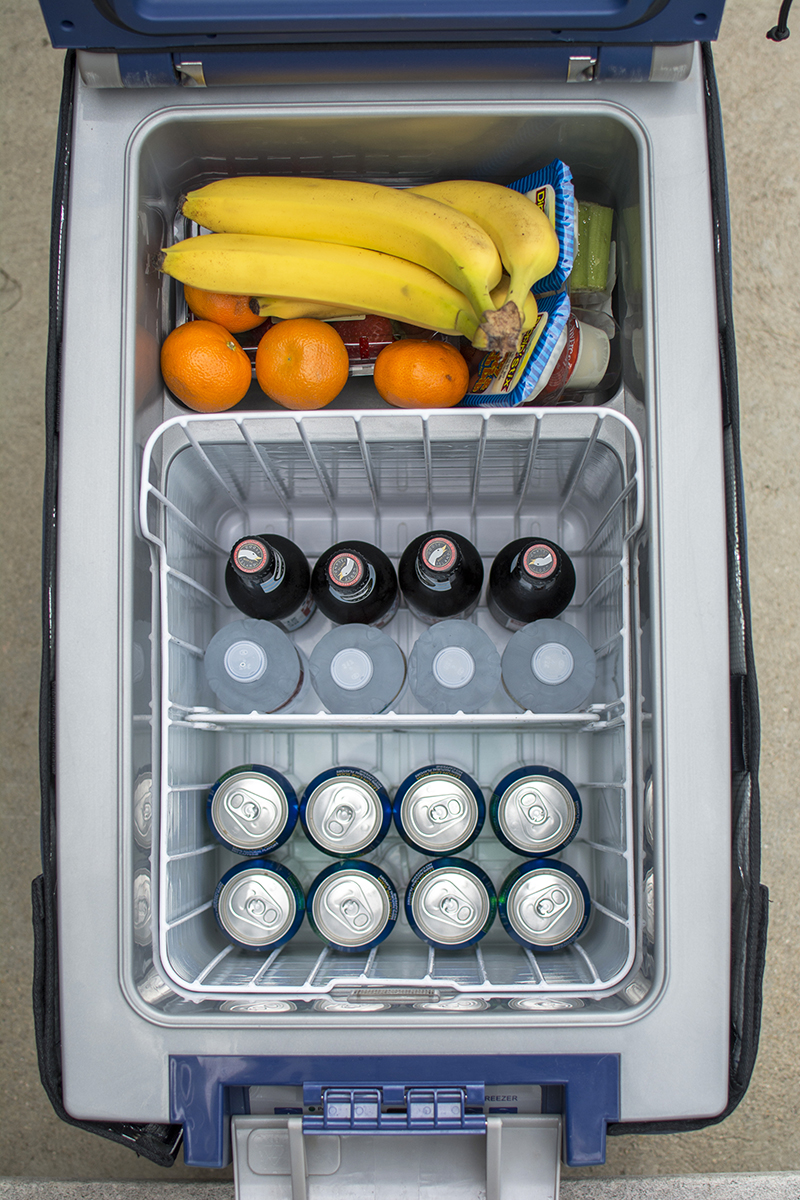 The interior of the CFX40 features an LED light, removable basket and separator, and a dairy/fruit compartment. There is also a drain plug for easily cleaning the interior with warm, soapy water. The CFX40 is also equipped with a multi-level battery monitor that protects your vehicle's battery from being excessively discharged and leaving you stranded. The fridge simply cuts off if the voltage drops below a set range, allowing you to still start your vehicle and recharge the system. The fridge will automatically turn back on once the battery has recharged to the pre-set voltage level.
The lid can easily be opened with one hand and simply letting it drop back into place locks it closed. You don't realize how convenient that is until you're in the middle of cooking and you only have one clean hand free to grab something from the fridge. There are a lot of things to like about the CFX40 and it's a great choice and a very affordable unit.
Likes:- Great price- Intuitive and easy to use app- Whisper quiet- Easiest self-latching lid operation- Low voltage cutoff
Dislikes:- Tie-down/anchor kit sold separately
Price: $614www.dometic.com
Engel MT-45 Simple. Functional. Well-built. This about sums up Engel's MT45F-U1 fridge/freezer. Whether you're traveling to the local grocery store or your journey takes you around the world, the Engel MT45F-U1 has proven itself capable of handling the rigors of the world around you.
It all starts with the fridge/freezer's galvanized steel external shell. It's built-tough and can take a beating that's vibration resistant for when your travels take you off-pavement. Of course, the drawback of its steel construction is weight. When empty, the MT45F-U1 is over 65lbs. and with a volume of 43qts, it's weight-to-space ratio makes it one of the heavier fridges in our review. That said, its construction does a phenomenal job of protecting what's inside and we're willing to accept the cost-benefit of increased weight for a sturdy product.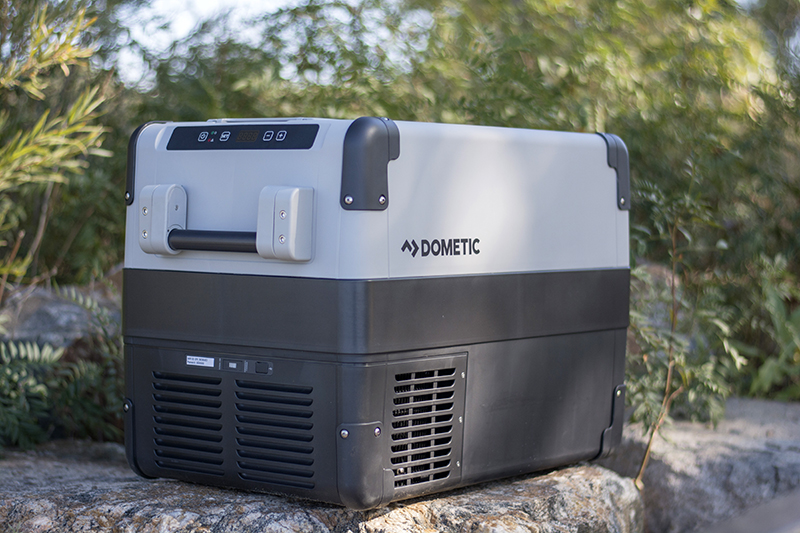 As for the fridge/freezer's capacity to cool down, the swing motor compressor is quite efficient, pulling 1-2 amps per hour and consistently cooling the fridge down to chilly temps just as quickly now as it did when it was first purchased years ago. Even in hot weather where ambient temperatures exceed well over 100°F, the fridge/freezer can handle up to a 90°F variance between ambient and interior temperatures and can cool down with such extremes incredibly fast. While the fridge doesn't feature an LED display to show its exact temperature setting when in use, a wireless thermometer/clock accessory can be purchased from Engel for $40. The no-frills turn knob offers settings from 1-5 which will require a bit of trial and error when using the fridge/freezer for the first time but once you've established your desired setting, it's easy to figure out going forward. Again, simplicity is the name of the game with the MT45F-U1.
On the inside, the fridge/freezer features one large box for food storage and is deceptively larger than how it looks when empty. We've filled this fridge countless times with enough food and drink to feed a family of five for several days. The food basket is easy to remove when cleaning the fridge and includes a removable vinyl mat that can be placed under the food basket to prevent condensate from forming along the base of the interior.
Securing the Engel MT45F-U1 to your vehicle can be achieved by utilizing the front/rear removable handles and using TemboTusk Cargo Tie Downs (or equivalent) attached to hook loops or other latching points in your vehicle's cargo area. The lid is secured with a Universal-type metal latch. On the outside of the lid are two round drink cutouts which seem to be more for aesthetics than practical use as they aren't deep enough to keep a drink from spilling if placed on the lid.
Read more: Best Dishwasher 2018 | Reviews 2022 – Kite String

The Engel MT45F-U1's simplistic and rigid design make it an exceptional choice for your overland adventures. It's a product that'll serve you well at a price that makes it an incredible bang-for-the-buck.
Likes:-Functional. Well-built-Rigid exterior-Cooling efficiency in extreme ambient settings-Carrying handles double as secure tie-downs-Vibration resistant
Dislikes:-Drink cutouts on exterior of lid aren't particularly functional-Temperature turn knob requires initial trial and error to determine desired temperature setting-Transit/Insulation bag sold separately
Price: $670www.engelcoolers.com
SnoMaster CLASSIC SERIES CL56D The SnoMaster CL56D is a true dual-zone, dual-door fridge and/or freezer. With two separate compartments (30L and 26L), each with its own individual temperature setting, you have incredible versatility in one unit. Each side can be used as a fridge or freezer, making it the ultimate long-distance unit or the perfect family weekender. Having the ability to switch back and forth between freezer and fridge allows you to keep perishable items for an incredibly long time. We routinely use the CL56D for family trips where we carry ice cream and frozen meals on one side and beverages and ready-to-eat items on the other side. Few things are better than frozen desert on a hot summer day miles from the nearest store.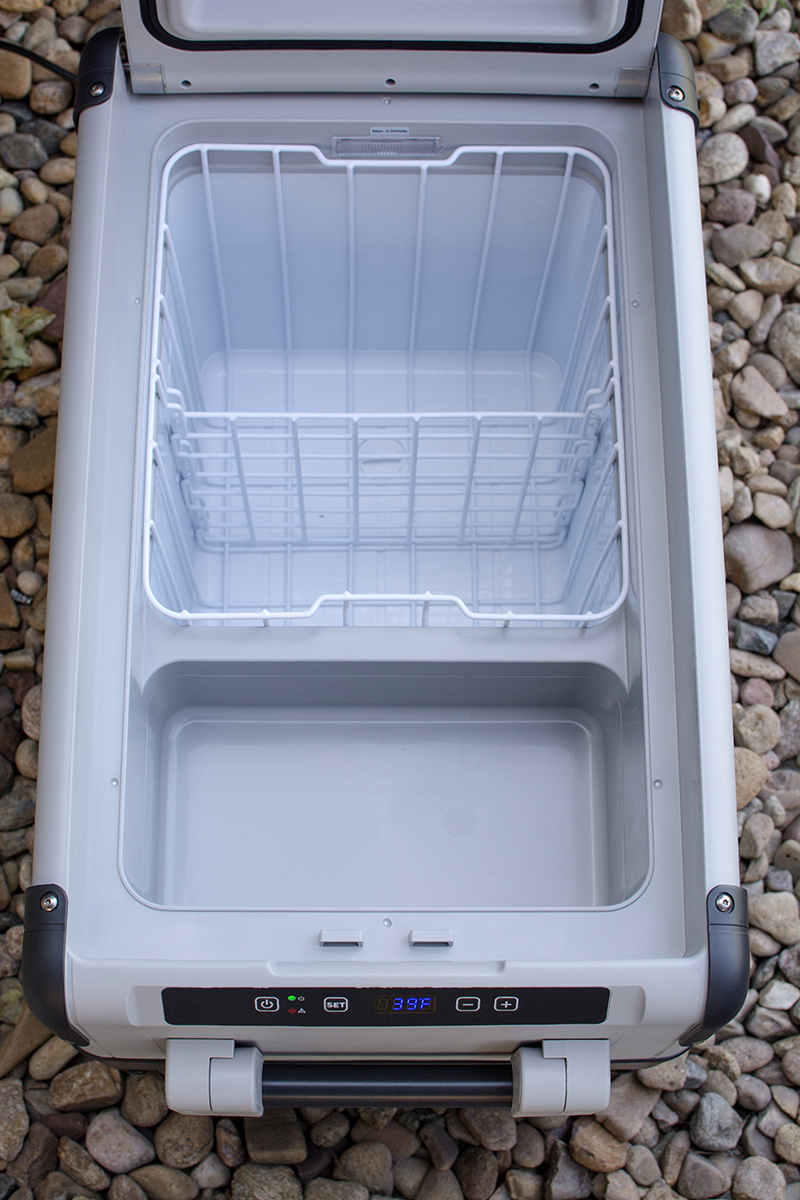 The SnoMaster CL56D has almost 2.5 inches of insulation within the box walls that aid in maintaining the low temperatures this unit is designed to handle. The CL56D includes an insulation cover/bag, a wireless controller, and a bottle opener that mounts onto the side. There is even a pocket on the insulation cover that catches the bottle caps below the bottle opener. This is a very well-designed and thought-out unit.
The dual doors are latched via individual clasps that can be operated with just one hand. The LED display is located on the side of the unit and out of the way, making the included wireless remote a convenient and useful accessory. A low-voltage cut-off ensures that you won't find yourself stranded with a dead battery, and a built-in alarm will sound if one of the doors has been open for more than two minutes. Drain plugs are located in each compartment, allowing you to properly clean your unit from time to time.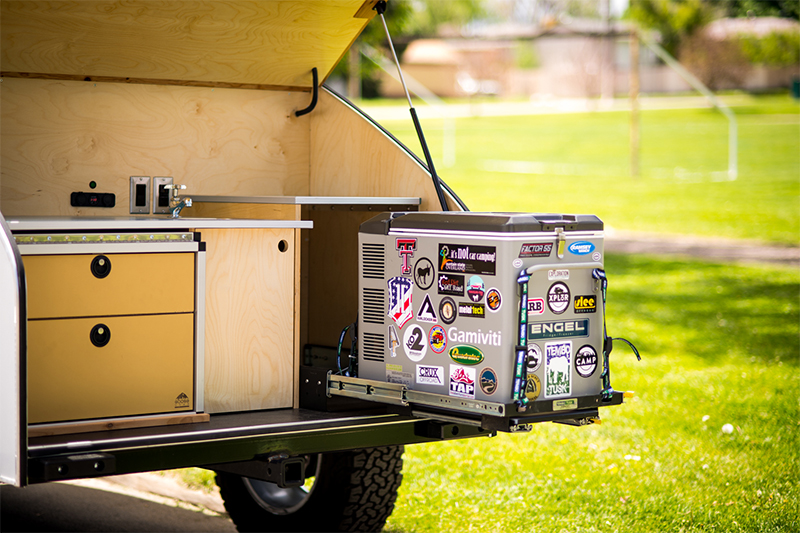 The Classic Series fridge/freezers from SnoMaster have a unique stainless steel look that makes them seem almost industrial. The unit looks and feels high quality in a way that the other fridges do not. It's boxy and, at just over 57 pounds, it's the heaviest unit in this feature. It's also the largest unit and needs a larger compressor to handle the dual-zone work so the extra weight is expected. Its size makes it seem heavier than it is and it's a little more difficult to carry solo, but is still manageable. The handles are spring loaded and stay almost flush with the unit when not in use. They don't seem robust enough to handle the weight of the unit, but we tested their durability time and time again and found no issues whatsoever. The CL56D is a workhorse and has the ability to carry a large amount of food and drinks. This is a great unit for general camping and overlanding and, if we were planning a month-long trip, this would be the perfect fridge/freezer to bring along.
Likes -Dual-zone, dual door-Look/design-Insulation bag included-Solar powered remote controller-Most features of any fridge tested-Low voltage cutoff-Display and control panel with voltage reading
Dislikes-Takes a little longer to reach freezing temperature-Larger compressor will naturally consume more power
Price: $1,149www.snomaster.com
Editor Note: Since this review series first published, OutdoorX4's staff has since reviewed ARB's ZERO fridge/freezer. Additionally, National Luna released a new Legacy fridge/freezer line-up that is very much worth your consideration. You can learn more in the following links:
ARB ZERO Fridge/Freezer ReviewNational Luna Legacy Fridge/Freezer Line-up
* OutdoorX4 Magazine – Promoting responsible 4×4 adventure travel and outdoor recreation
Read more: How do I preserve my Magic Mushrooms?
Through this article, we hope to help you understand Best overlanding fridge
Source: https://outdoorx4.com/stories/overland-fridge-buyers-guide/