Nothing like a simple pan seared pork chop! We season them with a little salt and pepper, sear them in a butter and olive oil mixture and a cast iron pan helps with the rest. The result? A perfectly crusted pan cooked pork chop that is tender, and ready in about 15 minutes.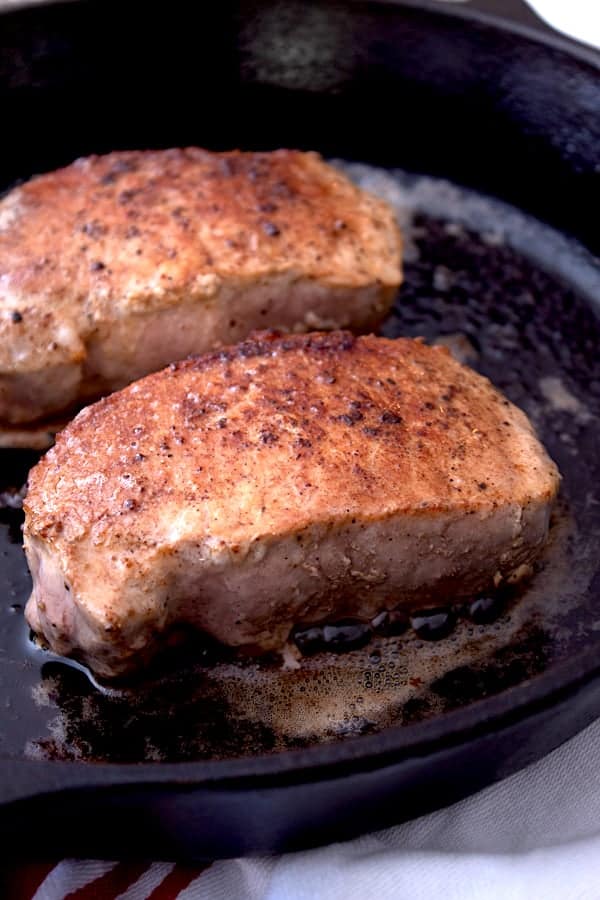 How do I sear pork chops?
First step- pat them with a paper towel to remove excess moisture. This helps give them a better crust. Do this on both sides.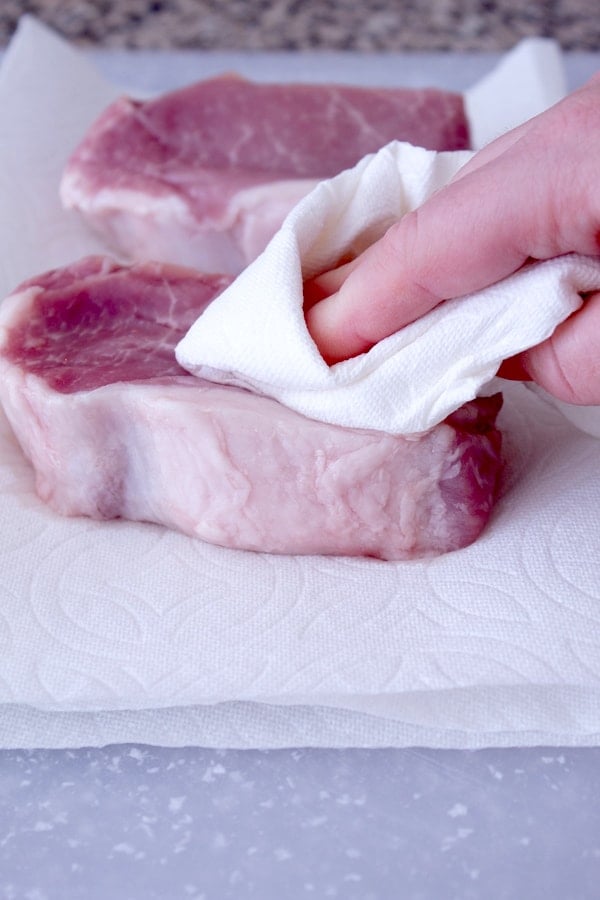 Second step- give the pork chops a good crust with some salt and pepper. I would advise using a coarse salt and pepper- it gives a better crust and overall bigger flavor.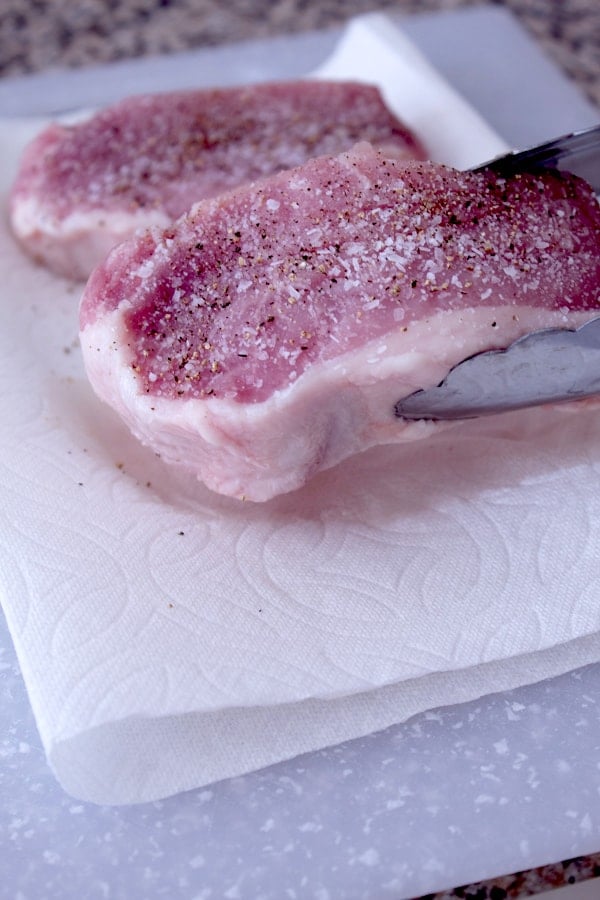 Step 3- Melt 1 tbsp butter and 1 tbsp olive oil in a pan (I recommend cast iron) on medium high heat. When it starts to bubble, and the butter is fully melted, place the pork chops in the pan.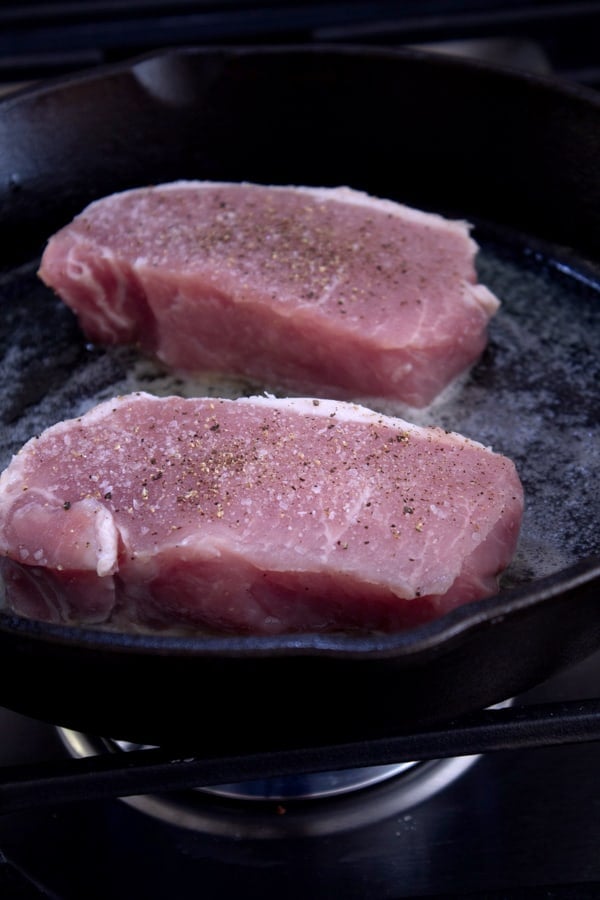 Step 4- After about 5 minutes, and once they are fully seared, the pork chops should release from the pan. If you notice them 'sticking' still, give them another minute or two to fully sear. Continue to cook both sides until the pork chops reach an internal temperature of about 135-140 degrees farenheit. Pork is fully cooked at 145 degrees farenheit; by removing them a bit early and allowing them to rest, they will come up to proper temperature, but won't be overcooked.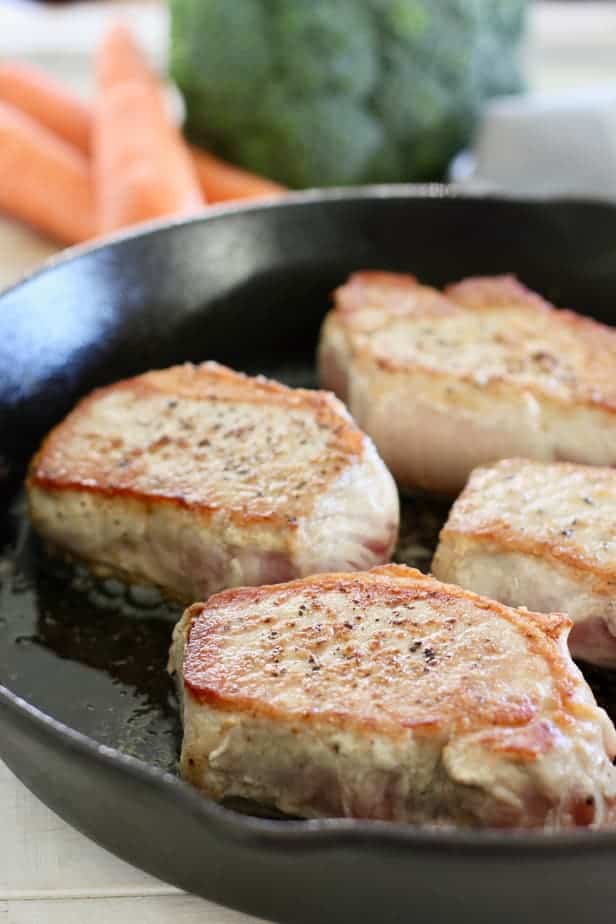 So…Now that you know how to cook perfect pork chops, let's answer some porky questions and give you some porky tips! 🙂
What kind of pork chops should I use?

We prefer boneless, thick cut pork chops. We actually get ours from Butcherbox. Not an ad, they just have very good quality meat.

How do I know when the pork is fully cooked?

Use a meat thermometer. The internal temperature should be 145 degrees farenheit after a 10 minute resting period.

Your pork chops look thick- how do I cook them if they are thinner?

Use best judgement depending on thickness. Careful not to overcook, but make sure they are up to temperature (145 degrees).

Other tips:

Don't handle them too much before they are cooked. Let them sear in the pan without being moved, otherwise the crust won't form as well.
A cast iron pan works best for searing and will give the pork chops a perfect golden crust. Of course, if you can't use a cast iron skillet, any other kind will do in a pinch.
What can I serve with pan cooked pork chops?

Add some mushroom gravy on top with some mashed potatoes on the side.
Top your pork chops with quick pickled onions for a zesty flavor combo.
Drizzle some avocado-lime-sauce onto your chop.
Need a healthy side dish? Try this chickpea salad, or this fresh corn salad.

I really love pork…Do you have other swinetastic recipes?

Parmesan Crusted Pork Chops
Pork Chops with Apple Cider Glaze
Spinach Artichoke Stuffed Pork Tenderloin
The Best Slow Cooker Pork Tenderloin
Proscuitto Wrapped Pork Tenderloin
Brown Sugar and Garlic Pork Tenderloin
Enjoy this easy and delicious recipe- if you have any questions or comments, let us know in the comments below and be sure to tag us on Instagram @laughingspatula! – Kathi and Rachel
Through this article, we hope to help you understand Best pan seared pork chops
Detail: 🔗