Pan Seared Salmon With Spice Rub – quick and easy salmon with pantry staple dry rub ready in no time. A low-carb meal that uses minimal ingredients with maximum taste!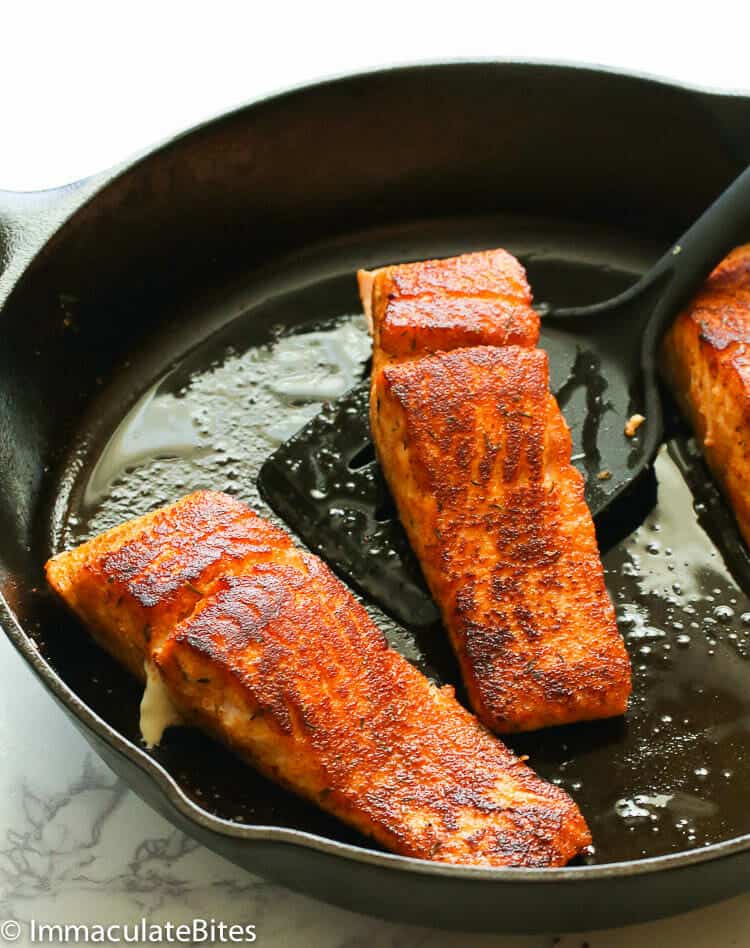 Salmon recipes are my fave ones whenever I want to shed off some pounds before a big day or right after the holidays. And since we're two months away before the holidays, I'm re-sharing this quick and easy LOW CARB salmon dish for you to add in your recipe box. And oh, this is also great especially during busy nights.
How to pan sear salmon?
Cooking salmon is somehow tricky. I'd bet that you have eaten overcooked salmon in your lifetime. It's one of those fish recipes that will make you shed some tears and sweat. Don't worry, I've been there and thankfully I've passed that stage.
The goal in searing a salmon is to achieve an opaque pink in the middle, tender and flaky juicy meat. It's like hugging every salmon flakes in your mouth and savoring all the beautiful medley of flavors.
To start, make sure that your salmon filets are in room temperature and pat them dry with a paper towel. Next is to heat your skillet first before adding the oil. It also helps to use a good quality non-stick pan to avoid unnecessary stress of salmon skin sticking to your pan.
And the most important of them all is to press down firmly the fish once you place it in the pan. This ensures that the ends of the fish won't curl up which is a major reason for uneven cooking.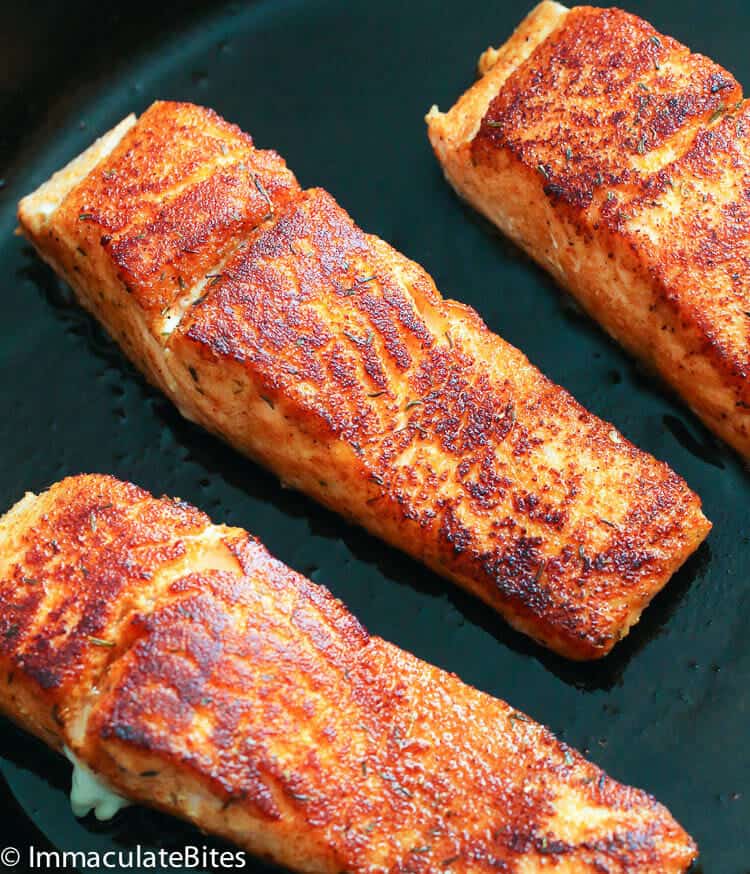 How long do you pan sear salmon?
I've tried this recipe using skinless and skin-on salmon filets. One thing that you need to know by heart though is when you sear a skin-on salmon, you need to sear it with the skin-side up first and cook it for about 3-4 minutes on each side or depending on your preferred doneness. You shouldn't take your eyes off of the fish as this cooks quickly.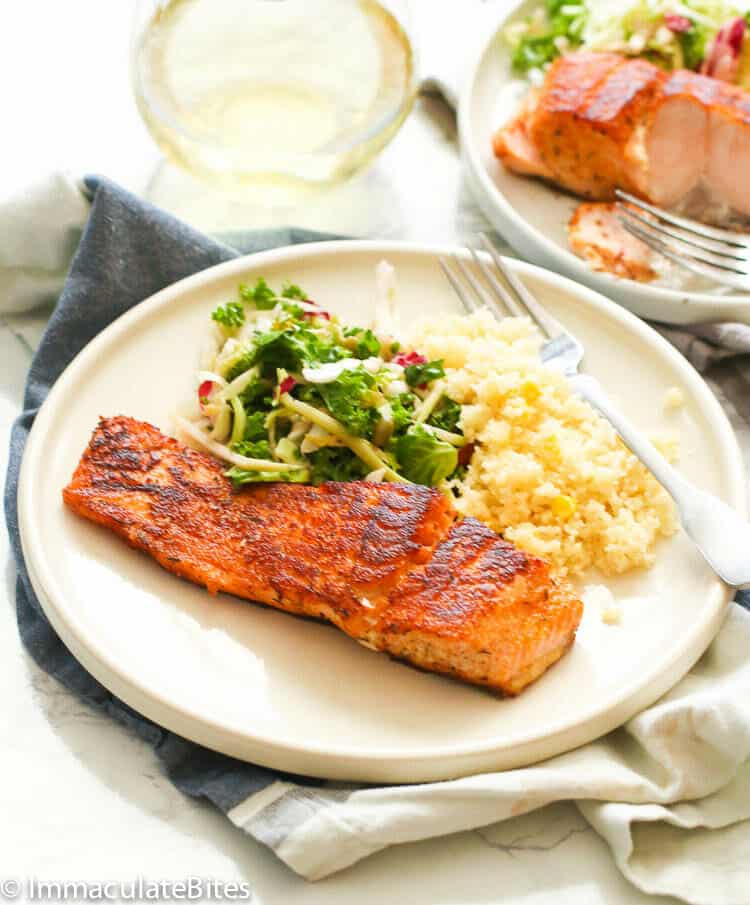 You can mix ahead the dry rub in this recipe so you can easily season your salmon or any fish you love any time you like to. All of the ingredients are sitting right there in your pantry. Trust me, this dry rub will make you fall in love head over heels with this dish.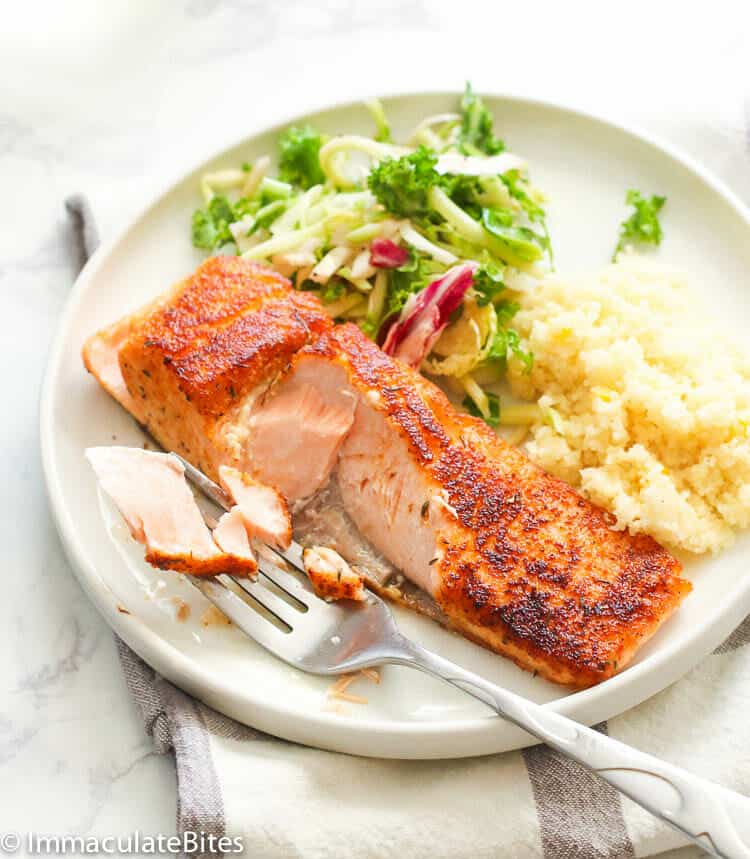 This pan-seared salmon is an easy, quick, yet flavorful way of making salmon. It only takes about 20 minutes from start to finish and you are set. Pair it with this spinach brown rice or with salad. It's totally an amazing dish using pantry staple ingredients!
Want to have more salmon recipes? Check it out HERE.
Enjoy!
This recipe was first published on January 2015 and has been updated with new photos and write up.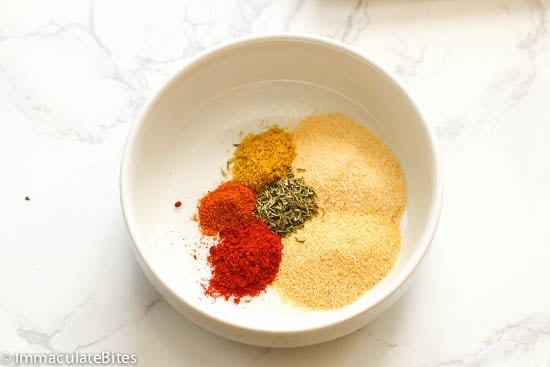 In a small bowl combine the dry ingredients ; the onion, garlic, paprika, thyme and bouillon powder.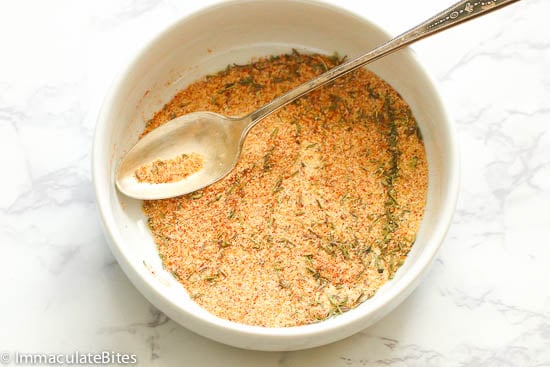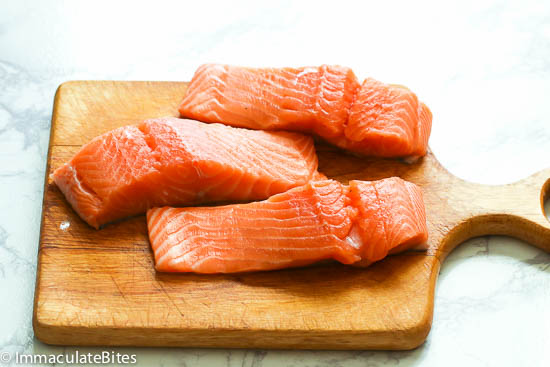 Brush salmon lightly with the oil.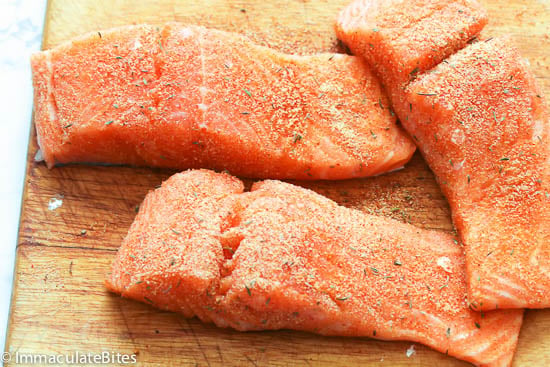 Then season ever inch of the fish with salt and pepper. Followed by the spice rub.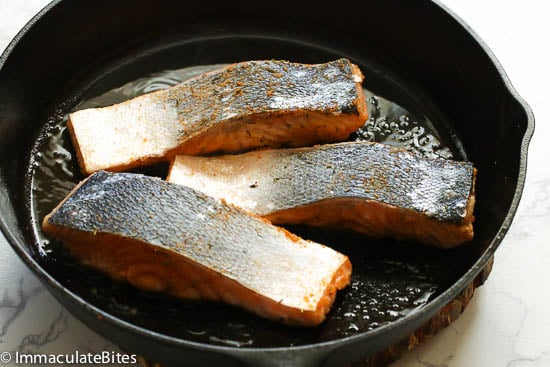 Preheat a large heavy skillet or grill pan over medium heat for about 2 minutes, add oil . Oil must be hot to ensure crispness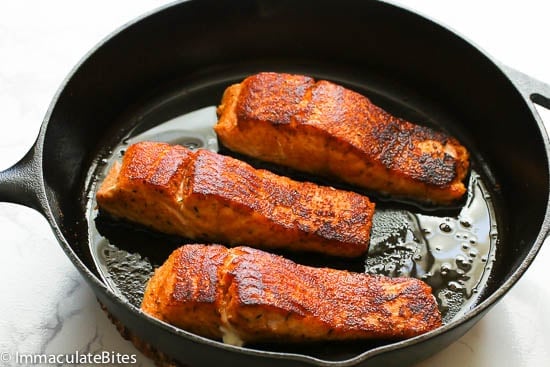 Place salmon skin up and cook for about about 3 minutes, then flip and cook for 4-5 minutes on the skin side or until desired degree of doneness is reached.
Please see more list about Best way to pan sear salmon
Detail: 🔗