This 10-minute pasta sauce recipe is a game-changer. With no chopping, no special ingredients, and no preparation required, you can whip up a delicious meal without compromising on taste. Inspired by the flavors of Turkish dumpling sauce, this dish is accidentally vegan and belongs in your weekday dinner arsenal.
What Makes This Pasta Sauce Different?
This pasta sauce stands out from the rest for several reasons. Not only is it incredibly quick and easy to make, but it also requires no chopping or preparation. Cleanup is a breeze too! What's more, you only need two pantry ingredients that you likely already have: tomato paste and vegetable oil. You can even skip the spices if you prefer.
The tomato paste pasta sauce draws inspiration from the Turkish dumpling dish called mantı (MAWN-tuh). The special sauce for mantı consists of oil, tomato paste, and sometimes spices. It is often topped with garlic yogurt and dried mint.
Quick Pasta Sauce Ingredients
Pasta
This sauce pairs well with a variety of pasta types, such as spaghetti, pappardelle, penne, fusilli, and farfalle. The key is to use bronze-die pasta with a rough, porous texture and boil it with as little water as possible. This method helps the pasta release more free starch, which thickens and emulsifies the sauce.
Tomato Paste
Tomato paste is the star ingredient of this recipe. It provides a shortcut for using fresh vine-ripened tomatoes. Tomatoes are naturally rich in umami, thanks to their glutamic and inosinic acids, making them perfect for adding flavor to a simple pasta dish. Tomato paste is highly concentrated, packing a punch of flavor. The brand and type of tomato paste you use can affect the final taste. Avoid canned tomato paste, as it may have a metallic taste. Opt for Turkish tomato or pepper pastes from glass jars, or consider using the Italian triple-concentrated Mutti brand, which comes in a tube.
Spices
To add depth to the sauce, you can use Aleppo pepper flakes, dried mint (like in the traditional Turkish manti sauce), or experiment with thyme and oregano. For an extra twist, try adding a sprinkle of cinnamon and a tiny amount of cumin.
Oil
I recommend using olive oil for this sauce, but you can experiment with other neutral vegetable oils as well. Vegan butter is an option too, as it adds richness to the dish and acts as an additional emulsifying agent.
Optional: Minced Garlic & Plant Yogurt
While traditional mantı is served with garlicky yogurt, you can skip this step if you find it too unconventional. Alternatively, you can use sour cream as a substitute. If you're up for it, try making a homemade plant yogurt similar to Kite Hill's.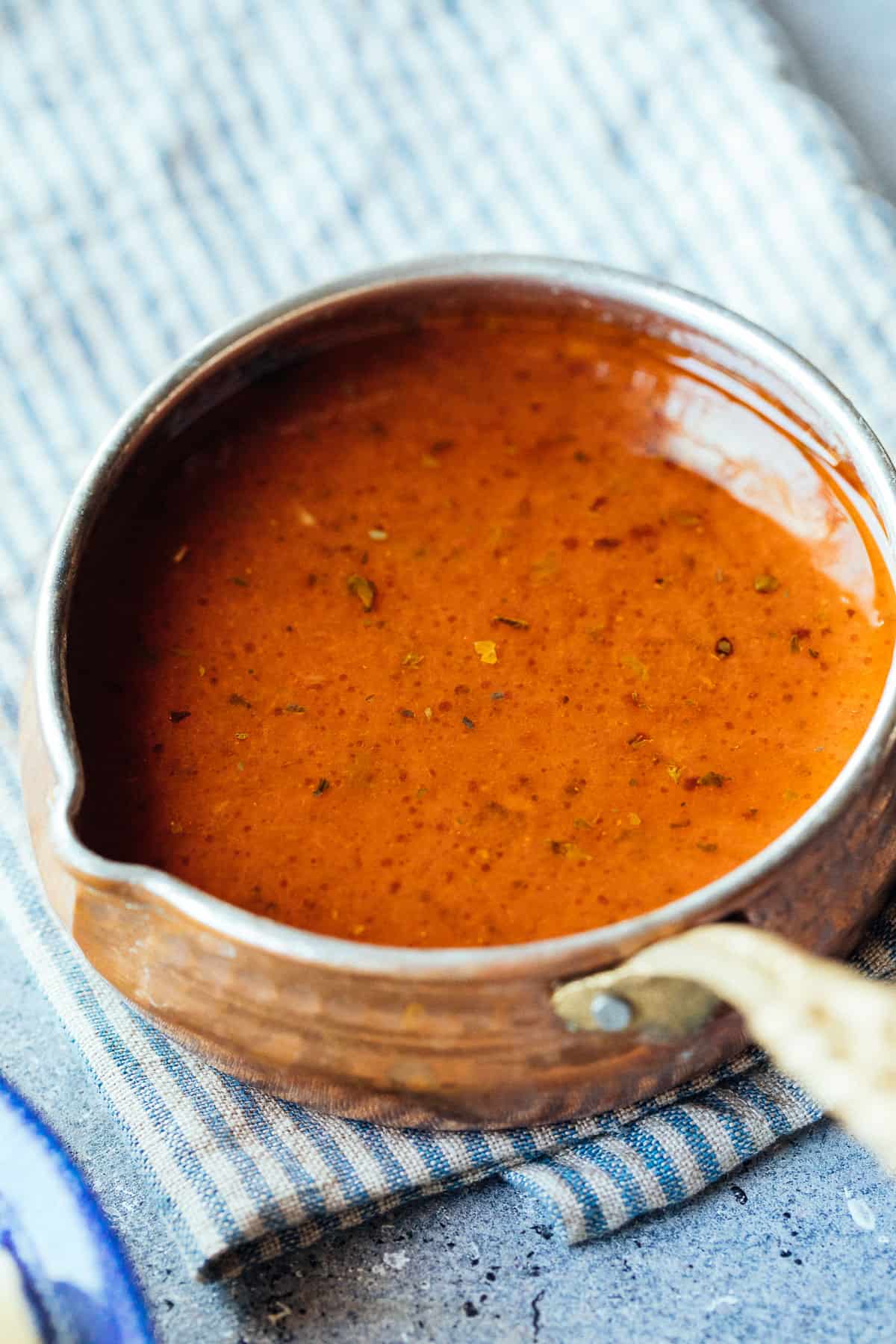 How to Make Pasta Sauce in Less Than 10 Minutes
Boil the Pasta
Start by boiling the pasta. Use less water than usual to increase the amount of free starch released by the pasta. This starch will help thicken and emulsify the sauce.
Cook the Sauce
In a pan, heat olive oil on low heat and add the spices. Let them bloom for 2 minutes, then increase the heat to medium and add the tomato paste. Cook until the paste turns a brick red color, which takes about 7-8 minutes. This cooking process eliminates any unpleasant metallic taste from the raw tomato paste. Gradually add pasta water to achieve the desired consistency, stirring vigorously to emulsify the sauce.
Serve or Save
Mix the cooked sauce with the pasta and serve immediately. For an authentic touch, add minced garlic and yogurt. This pasta sauce can be refrigerated for up to 3 days or frozen for up to 3 months. Reheat and stir before serving.
FAQs
More Delicious Recipes
Try these go-to recipes that pair perfectly with this pasta sauce. The combination of yogurt and vegan ground beef complements the flavors of the sauce. If you're looking for a protein boost, consider making a quick and easy silken tofu dish seasoned with soy sauce, vinegar, and topped with avocado.
Did you try this quick pasta recipe? I'd love to hear about it! Please leave a comment and a star rating below. Your feedback helps me continue sharing delicious recipes on Aegean Delight. Enjoy!