When I lived in London, one of my favourite things to do on a Sunday was to take myself off to one of the capital's many old fashioned pubs and order myself a Sunday roast with all the trimmings.
Living in a tiny studio flat in Soho, it was such a pleasure to be able sit at a cosy corner table, next to a roaring fire, eating the sort of thing I would have never cooked in my little kitchen. While there were plenty of different roasts on the menu, my all time favourite was that most British of dishes, Slow Roast Beef with all the trimmings.
Reading: Roast beef low temperature recipe
A classic British Roast
If there is one national dish of England, it has to be roast beef. Served perfectly pink, with a big pot of gravy, vegetables and light and puffy Yorkshire puddings, it is a meal fit for a king. Of course, it can go horribly wrong, as there is nothing worse than tough overcooked grey meat, or a roast that is seared on the outside and still raw in the middle, so it's good to have a fool-proof technique at the ready.
The secret to perfect Slow Roast beef
The secret to perfect roast beef is simple. You need to sear the beef in a pan for a perfect crust, then roast it at a very, very low temperature for a longer time.
This results in perfectly cooked, tender beef, evenly pink the whole way through. A lot of people swear by roasting the beed hot and fast, but I find this tends to make the meat tough, rather than perfectly tender.
Read more: 14 Easy Ways to Substitute for Beef Broth
The long cooking time is ideal, as in the meantime you can get on with making your sides, setting the table and maybe even having a cheeky glass of wine while the oven does all the work.
It's important to know that if your oven does not have a low setting (80°C / 175°F) that this recipe is not suitable. See FAQ's for an alternative.
Pro tip: Use a meat thermometer
It's important when using this method to use a meat thermometer so you can keep an eye on the temperature, this is because the oven is so low, only 80°C / 175°F, that it will almost look like nothing is happening to the roast, so you have no visual clues to go on.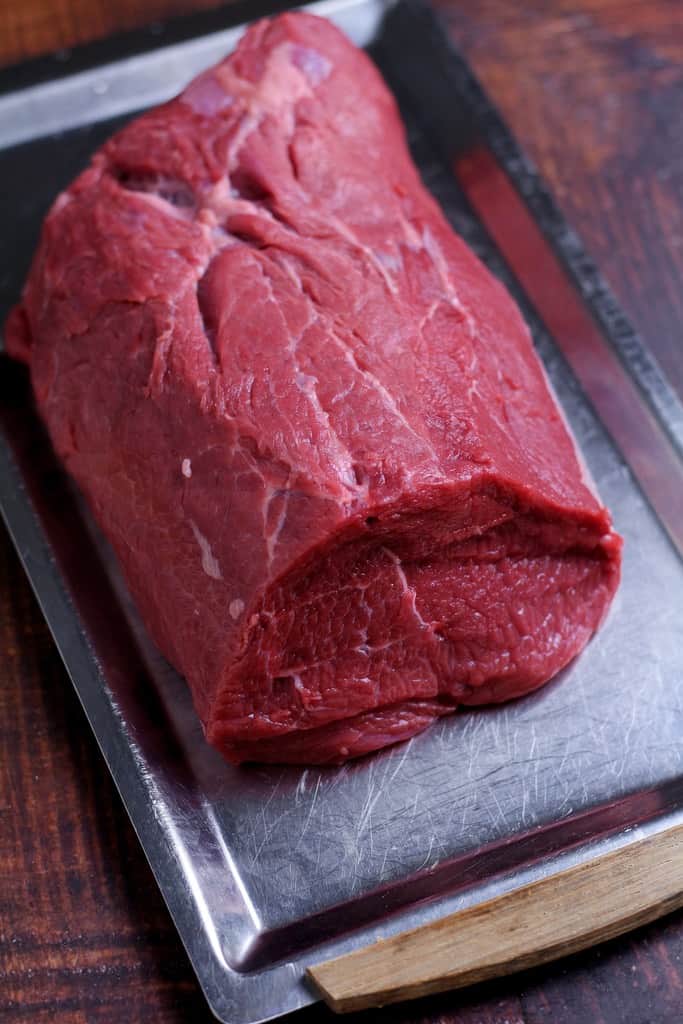 Using an inexpensive meat thermometer means you can relax and be assured that the roast is cooking properly.
It's also vital that you take the beef out of the refrigerator at least an hour before you start to cook, and properly sear it in a hot frying pan before it goes in the oven. Allowing the beef to warm up to room temperature means it will cook evenly right through to the middle, and searing it properly gives you that lovely golden brown crust on the outside.
Low temperature roast beef cooking times
Read more: What Does Roast Beef Look Like? – De Kooktips – Homepage
When using this low and slow method of cooking roast beef, the cooking time will vary depending on how thick your cut of beef is. Below is a table giving you a rough guide to help you plan, but as I've stated above, the very best and most reliable way to ensure your beef is cooked is to use a meat thermometer.
What to serve with Slow Roast Beef?
While the meat is resting, I like to make Yorkshire puddings, so I've included an easy recipe in the main recipe card, as well as a simple gravy. You can always serve the roast with potatoes instead.
A lovely big joint of meat like this deserves plenty of fresh vegetables too. Peas and green beans are the classic sides along with carrots or parsnips.
Do you cook a Sunday roast in your house? Or only for special occasions? Let me know in the comments below! xJ
FREQUENTLY ASKED QUESTIONS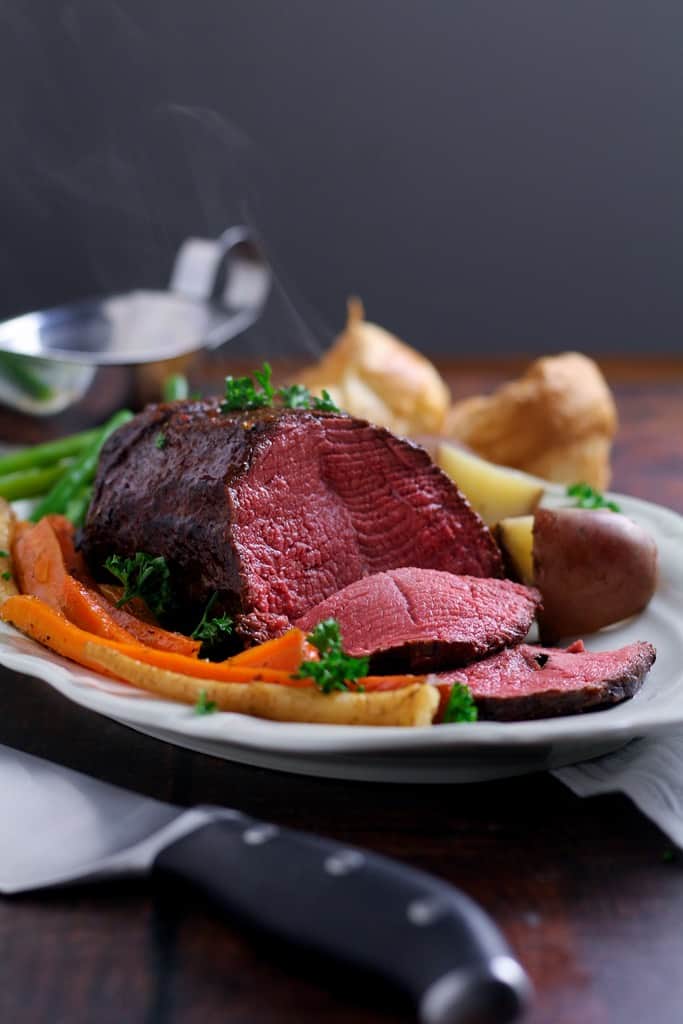 More delicious Sunday roasts
I love a roast on the weekend! There's nothing better than the aroma of a big roast slowing cooking in the oven to draw the family to the table with rumbling stomachs. Below are some of my most popular roast recipes:
Pork Wellington: Juicy pork tenderloin wrapped in buttery puff pastry.
Bavarian Roast Pork (Krustenbraten): With perfectly crispy crackling, this traditional roast is cooked in a dark beer sauce.
Oktoberfest Roast Chicken: Juicy and delicious, a Wiesnhendl is fall off the bone tender and perfect with a ice cold beer.
French Pot Roast Chicken: All made in one pot, this French style roast is the most succulent chicken you'll ever have!
Garlic and Herb Roast Salmon: Looking for a healthy and flavoursome roast that is ready in a flash? My recipe for roast salmon is super quick and extra tasty!
PERFECT SLOW ROAST BEEF RECIPE
If you enjoyed this recipe, please leave a star rating in the recipe card and share it using the buttons below so that others can find it too!
Read more: Slow Cooked Tender London Broil
Through this article, we hope to help you understand Roast beef low temperature recipe
Source: https://daysofjay.com/2020/11/28/perfect-slow-roast-beef/