Best Beef Recipes is an Amazon Associate. We receive compensation for purchases made through affiliate links.
My Sous Vide Prime Rib is tender, juicy, and perfectly cooked every time. This is a fantastic dish for the holidays, so prepare to wow your family and celebrate with ease!
Reading: Sous vide rib eye roast
Cooking with a sous vide machine will save you time in the kitchen, make you will feel like a master chef, and cleanup is a breeze! Sous vide cooking allows the prime rib to cook in its juices, which means you get a succulent prime rib every time!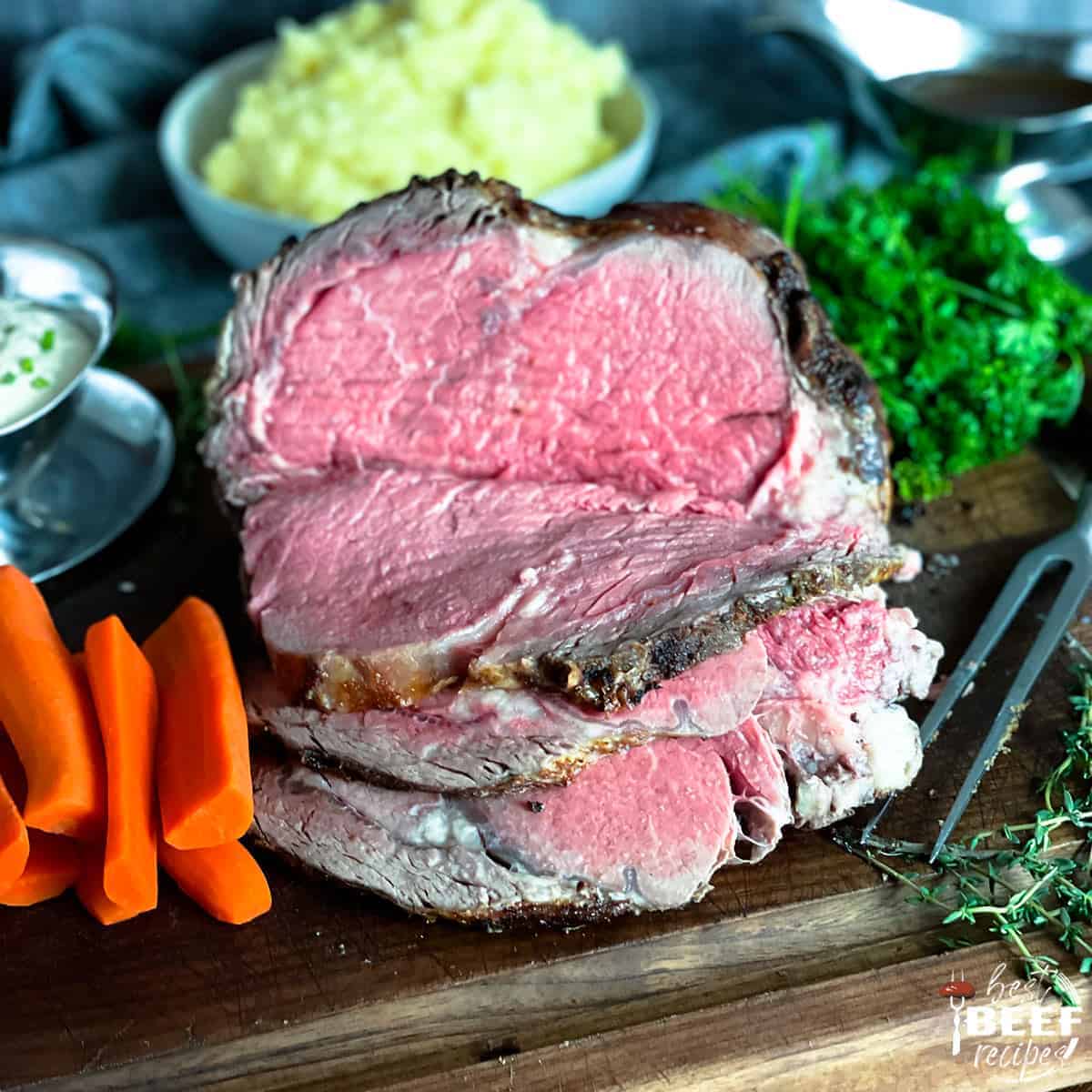 Jump to:
Best Sous Vide Rib Roast
Cooking Prime Rib in the Sous Vide
How to Sous Vide Prime Rib
Garlic Butter Prime Rib
Searing Prime Rib
Sous Vide Prime Rib Temperature Chart
How to Serve Prime Rib
Recipe Tips
Prime Rib Sauce
Prime Rib Au Jus
Sous Vide Prime Rib Roast FAQs
Storing and Reheating
Prime Rib Roast Recipes
Best Sous Vide Recipes
📌 Pin it for later!
📋 Recipe
Best Sous Vide Rib Roast
Planning a fabulous holiday feast can be stressful and time-consuming. One of my favorite things about cooking with a sous vide machine is that it takes up counter space, not oven space. This leaves my oven free for the rest of my holiday recipes!
Prime rib is such a large cut of meat, it can be easy to overcook – and that's the last thing you want to do with a prime rib! The sous vide machine guarantees a tender, perfectly cooked roast.
Once the roast is finished in the sous vide machine, I smother it in delicious garlic herbed butter and sear the prime rib in the oven! The sear is incredible, and the flavor is divine.
It was delicious. Perfect timing. The sauce was also very good.

Carol on Pinterest
TIP: When looking for the perfect prime rib, be sure to find one with lots of marbling that is evenly spread throughout the cut of meat.
Cooking Prime Rib in the Sous Vide
If you're new to sous vide, it's a cooking method that refers to the process of vacuum-sealing food in a bag, then cooking it to a precise temperature in a water bath. Sous Vide machines (also sometimes called a sous vide cooker) is a tool that maintains the temperature of the water.
The sous vide machine can attach to the outside of a large pot. Once you set the temperature of the water, it does the rest of the work. The water runs through the machine, which maintains the temperature. It's a foolproof method of cooking!
Sous vide recipes are flavorful, as the food being cooked cooks in its own juices. Before sealing the bag, you can add fresh herbs, garlic, spices, or even zest to enhance the flavor! But the best part is, you really never run the risk of overcooking anything.
So, you can sous vide a prime rib with no stress at all!
How to Sous Vide Prime Rib
Season your roast 1 hour ahead of time.
Set sous vide cooker temperature to 132°F and attach to a large pot of water. Place the roast in a large plastic bag, seal, and add to the water bath. Clip to the side of the pot to keep it in place if you wish.
Sous vide for 6 to 10 hours. Remove the beef, but reserve the liquid from the bag. Pat dry.
in a small bowl, combine butter with garlic powder, rosemary, thyme, and pepper. Coat the top and sides of the roast with the garlic herb butter.
Sear the beef in an oven preheated to 550°F for 8 to 10 minutes, until the crust is golden. Let it rest, slice it, serve with Au Jus for Prime Rib and Horseradish Sauce for Prime Rib, and enjoy!
Garlic Butter Prime Rib
Read more: Is members Mark griddle vs Blackstone? – Theburningofrome.com
What makes this recipe over the top delicious is the garlic butter used when the prime rib is ready to be seared. It's so easy to make and adds so much flavor.
In a small bowl, combine butter with garlic powder, rosemary, thyme, and pepper. Coat the top and sides of the roast with garlic herb butter.
Searing Prime Rib
Prime rib is all about the sear! There is something about that perfectly golden crust that makes it so special.
This is a reverse sear recipe, which means we are cooking the meat first and then searing it in the oven after, rather than searing the meat first and then putting it into the oven to finish. This allows for more control of the internal temperature, a stunning browned crust, and a more tender piece of beef.
Here's how I do it:
Preheat the oven to 550 degrees Fahrenheit.
Remove prime rib from the sous vide bag. Pat dry and rub with garlic herb butter.
Place the prime rib in a roasting pan lined with a metal rack.
Roast the prime rib in the oven for 8-10 minutes.
Sous Vide Prime Rib Temperature Chart
I like to use this prime rib temperature chart as a guide to picking the perfect internal temperature of the prime rib. Just set the sous vide machine to the temperature of your choosing!
It is always best to use a meat thermometer to make sure your prime rib roast recipe is done perfectly to your liking.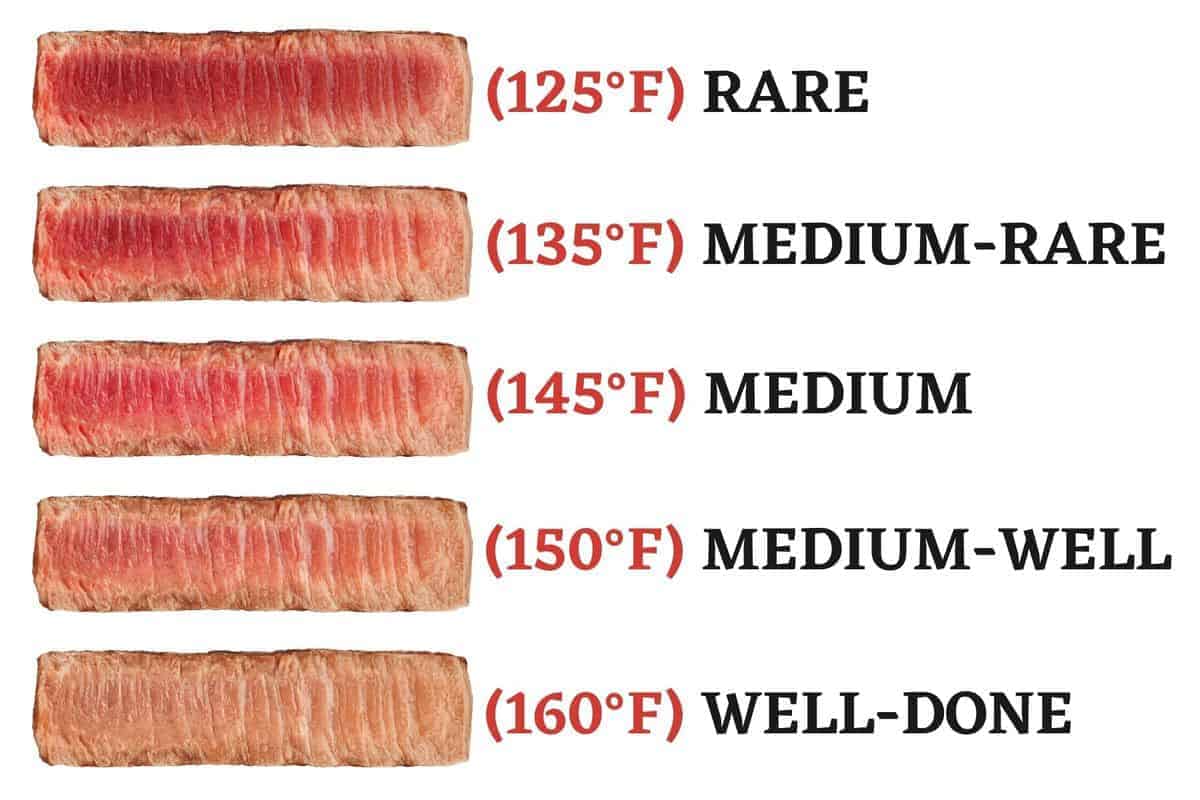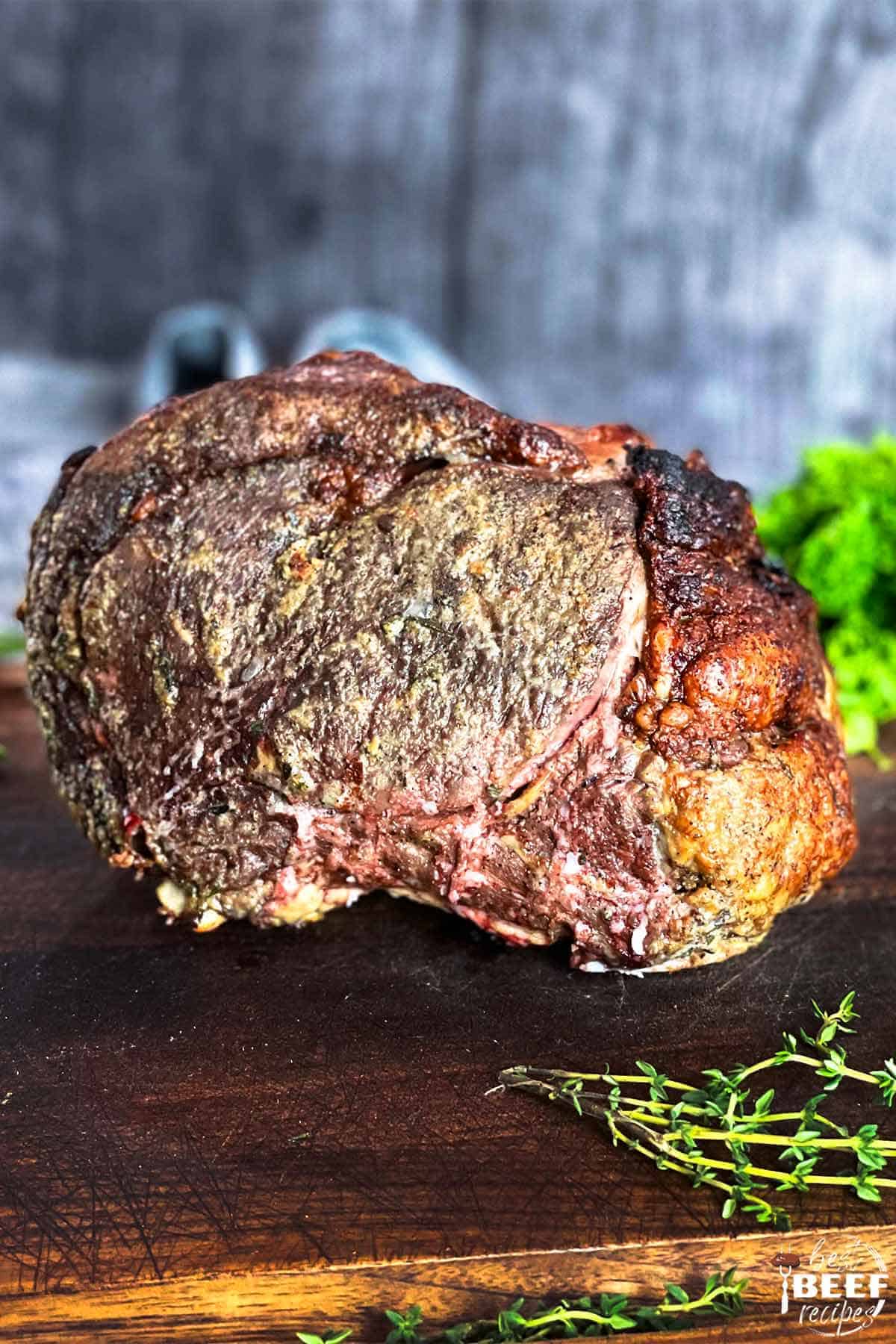 How to Serve Prime Rib
There is nothing more impressive than bringing the prime rib directly to the table for carving, but there are also less formal presentations. I like to slice the prime rib in the kitchen, arrange it on a platter with a little bit of au jus over each piece, and add a dollop of creamy horseradish sauce in the middle. Sprinkle with minced chives for color, and your holiday feast is set!
It is important to slice your prime rib against the grain, this will help the prime rib retain its juices.
Place your roast on a meat cutting board with a juice groove, and choose a large, sharp knife. Look at the direction of the grain of the beef – the lines running through it – and slice against the grain. Thin or thick slices are up to preference.
And, of course… serve it with a sauce and Creamy Garlic Mashed Potatoes!
TIP: If you are not planning on serving the entire roast in one sitting, only slice what you're planning to eat! Keep the rest of the roast intact. This will keep the roast succulent and delicious.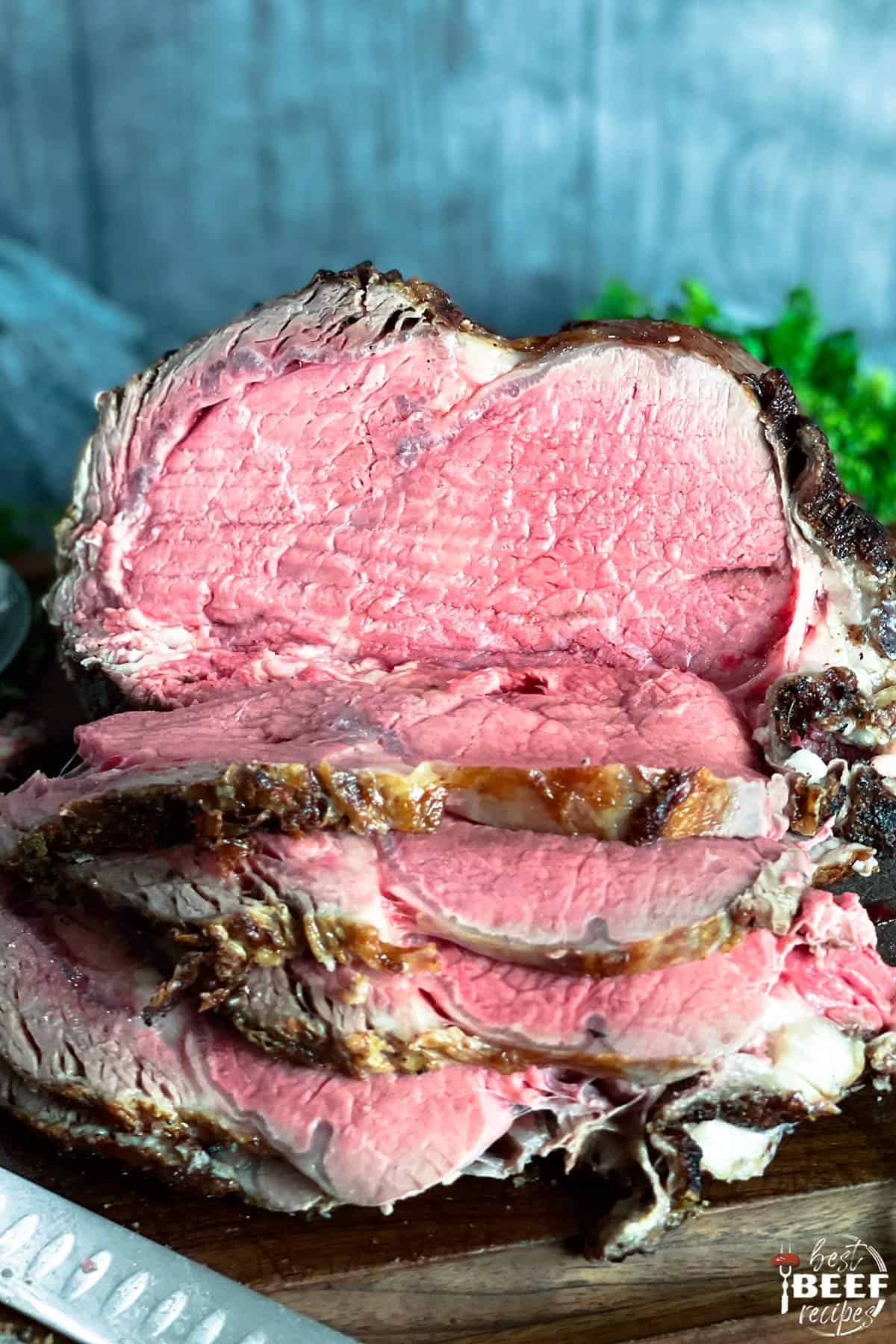 Recipe Tips
When preparing the sous vide, be sure to find the correct sized container for your water bath. I suggest using a large pot or Dutch oven. It doesn't matter what pot you use, as long as the bag containing the prime rib is completely submerged in water.
Use a roasting pan with a rack when searing the beef, so air can circulate around the whole roast.
Let your roast rest! Once it's done roasting, tent your beef with foil and let it sit for 15 minutes before carving.
Slice against the grain. This is vital! The grain refers to the lines running through the beef. Slice against it for the most tender sliced prime rib.
To ensure the sous vide bag containing the meat is completely covered in the water, use a clip or small weight to keep the bag submerged.
Prime Rib Sauce
Read more: Bacon Wrapped Pork Tenderloin (Air Fryer Pork Fillet Recipe VIDEO!)
Horseradish and prime rib are perfect pairings. My horseradish sauce for prime rib can be whipped up in no time, and adds the perfect creamy touch you will love!
This is a minimal effort recipe. All you need are the ingredients, a whisk, and a bowl! I like to pour the creamy horseradish sauce right over the prime rib, but if you prefer, it can also be served on the side for dipping. This is an excellent recipe to make ahead and store in an airtight container for up to 4 days. Perfect for holiday planning!
This sauce is completely versatile, and you can play around with the ingredients however you like. The flavors in this sauce pair so beautifully with prime rib!
My Favorite Prime Rib Sauces
Red Wine Reduction Sauce
Horseradish Sauce for Prime Rib
Prime Rib Au Jus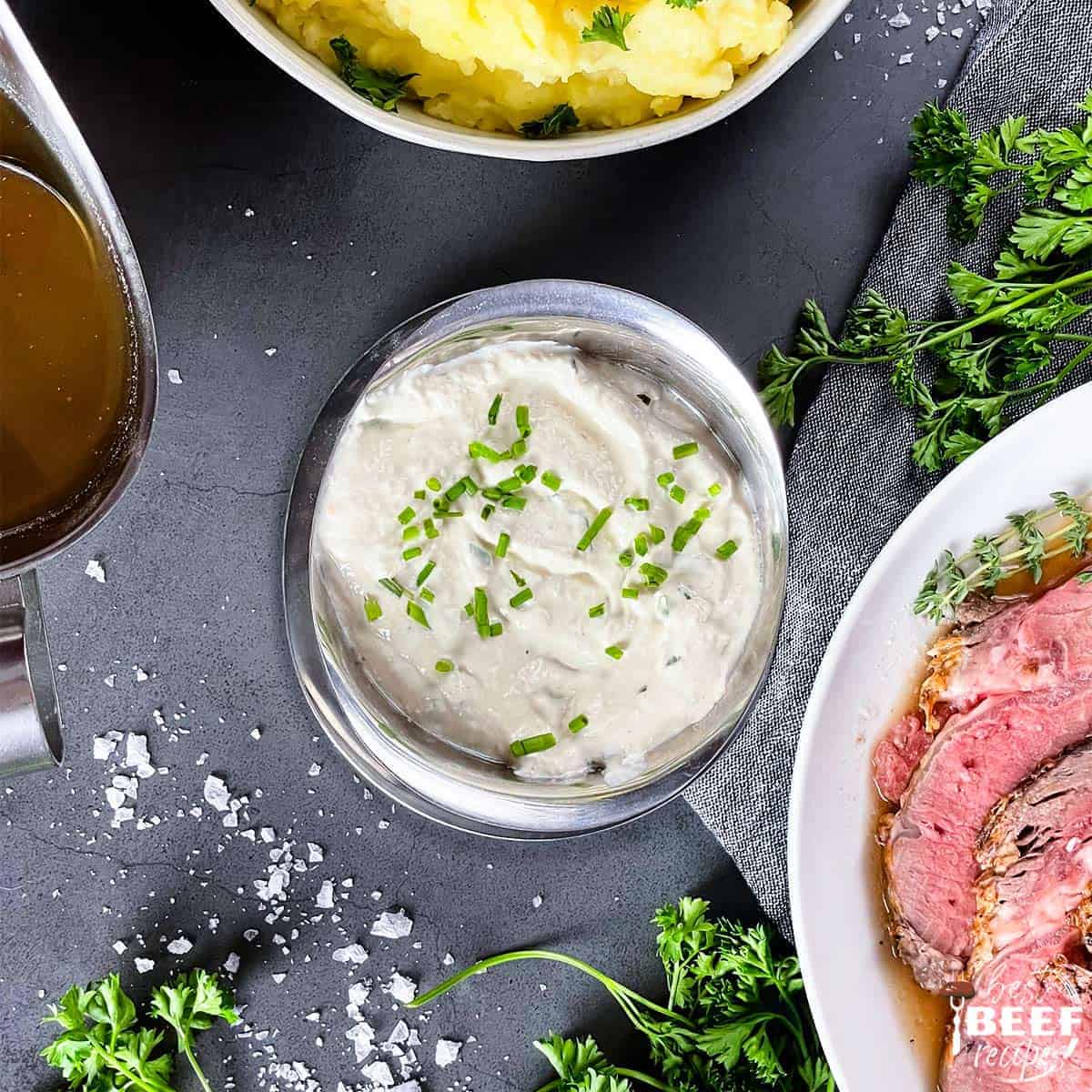 Prime Rib Au Jus
Be sure to save the drippings from the sous vide bag! This provides excellent flavor for an effortless prime rib au jus. I use low-sodium beef broth; the salt from the drippings gives plenty of seasoning. If you prefer an extra kick, add a touch more of fresh cracked black pepper.
I like to whip this up while the beef is resting. It takes no time to put together the ingredients, and only a few minutes for the au jus to reduce. You can serve au jus on the side, but I like to pour it over the sliced prime rib. This prime rib au jus is so rich and flavorful, I love having it in my fridge!
There are so many uses for my prime rib au jus. You could pour it over a batch of my Leftover Prime Rib Pasta, use it as the base for a soup, or freeze it and save it for later! I like to use it the next day as a dipping sauce for French dip sandwiches.
Try it here: Au Jus for Prime Rib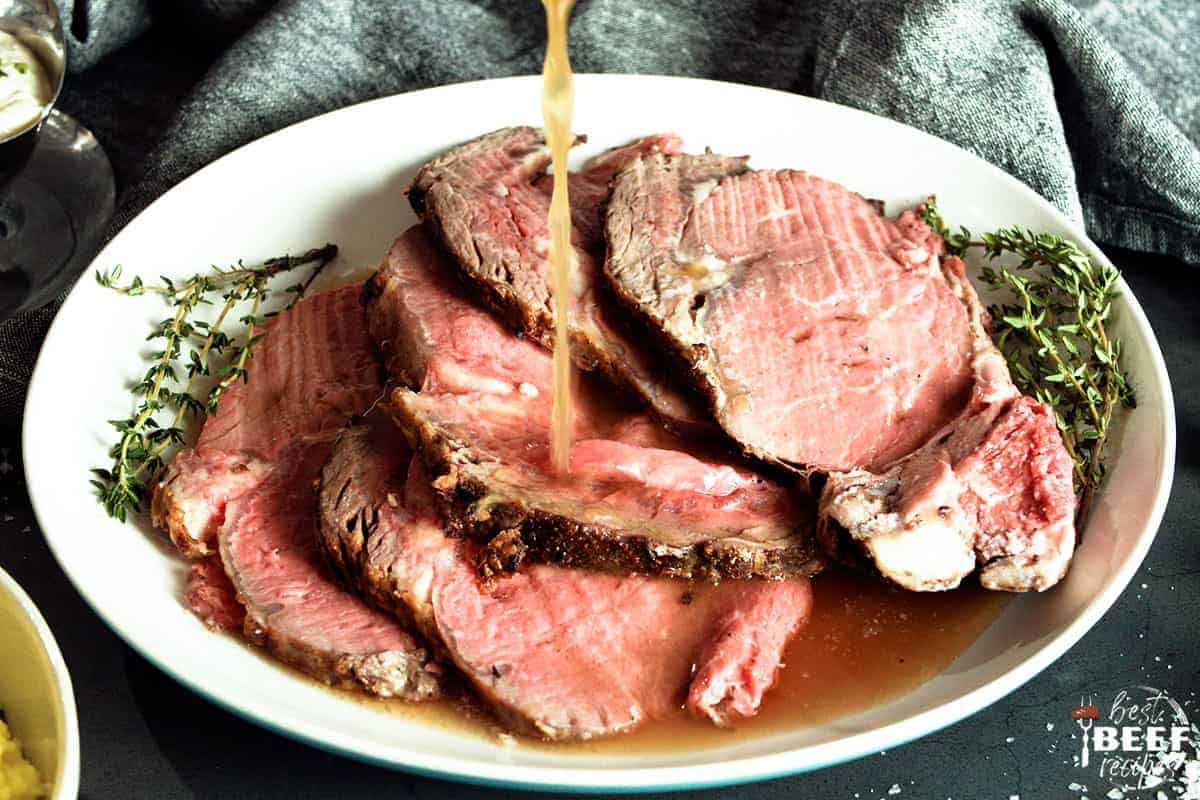 Sous Vide Prime Rib Roast FAQs
Storing and Reheating
Leftover prime rib will last 5 to 7 days in the refrigerator. For best results, store with au jus or beef gravy drizzled over top. This will help keep it moist.
To reheat, preheat your oven to 250°F. Add leftover prime rib to a roasting pan with leftover au jus, beef gravy, or beef stock, and cover with foil. Place in the oven for 10 minutes, or until heated through.
Looking for more holiday inspiration? Check out some of my other Roast Beef Recipes!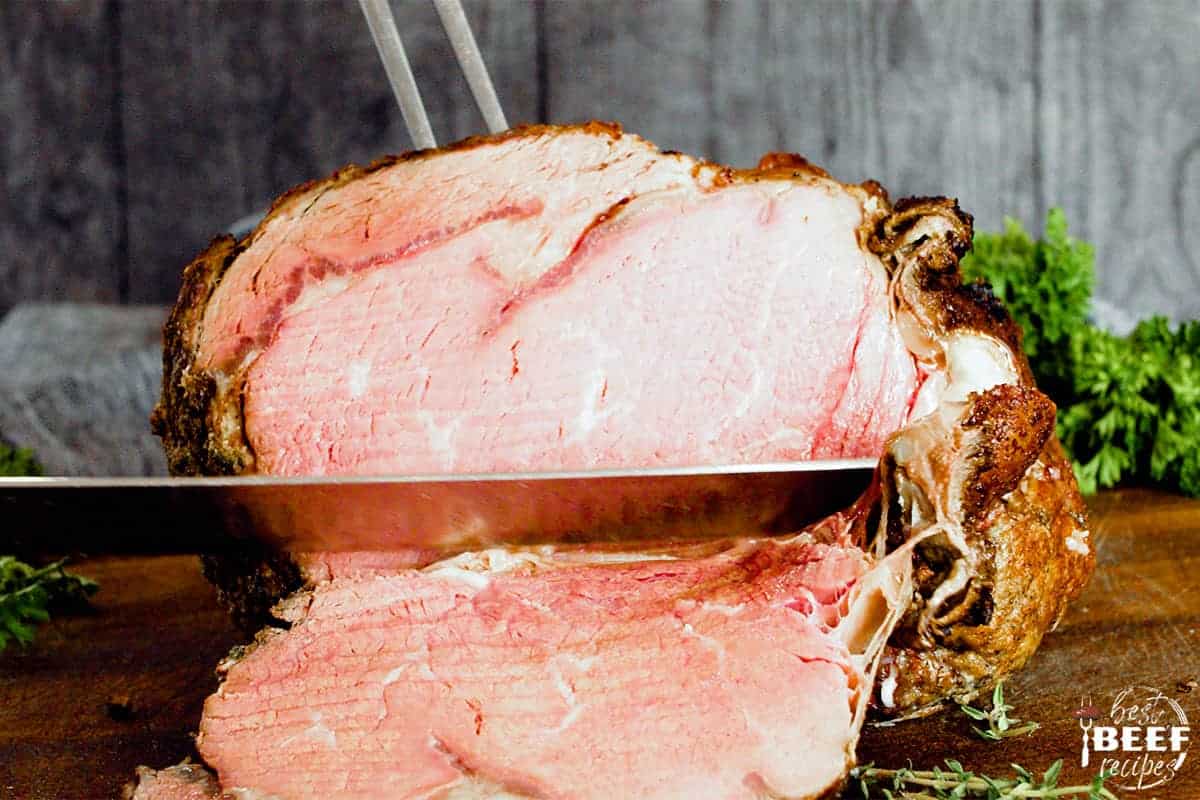 Prime Rib Roast Recipes
Try more of my best prime rib recipes for the holidays! Start off with my tips on The Best Way to Cook Prime Rib and the Best Cuts of Beef.
Smoked Prime Rib Roast
Boneless Prime Rib Roast
Instant Pot Prime Rib Roast
Air Fryer Prime Rib
Standing Rib Roast
Grilled Prime Rib with Coffee Rub
Simple Prime Rib Rub
Slow Roasted Prime Rib
There is nothing better than an amazing beef tenderloin or prime rib roast around the holiday table. Whatever your choice, it's all about the time spent with loved ones.Serve with the best Side Dishes for Prime Rib!
Best Sous Vide Recipes
Sous Vide Filet Mignon
Sous Vide Beef Tenderloin
Sous Vide Pork Chops
Sous Vide Salmon
Did you try this recipe? Leave a comment and a rating below to let us know what you think! We love to hear from you!
Read more: How to Use a Smoker Box When Smoking Meat
📋 Recipe
For more information, please see more information about Sous vide rib eye roast