Make perfectly roasted frozen vegetables in the air fryer with this quick dinner time hack! This easy air fryer recipe takes hardly any time or effort and makes for a great side dish to accompany any meal!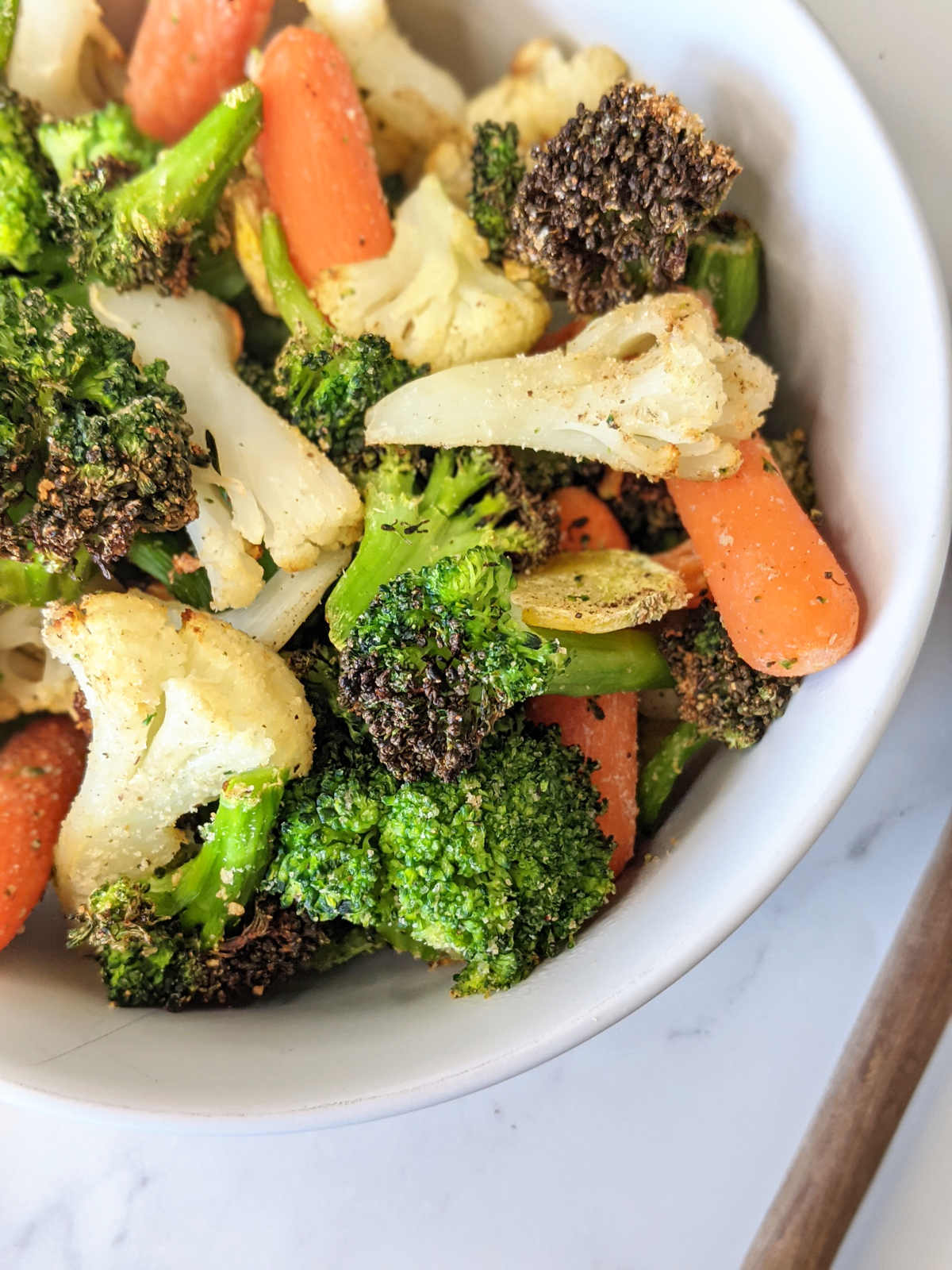 Jump to:
Why use frozen vegetables
How to air fry frozen vegetables
FAQ's
More air fryer recipes
📖 Recipe
Why use frozen vegetables
We love using frozen vegetables because they are affordable and save time in the kitchen prepping, washing and chopping.
Frozen vegetables are also picked at peak ripeness and flash frozen to retain nutrients. Nutrients breakdown from light and air so the farther something travels, the less nutrients it retains. With frozen produce you don't have to worry about that!
We typically add frozen vegetables to curries, stews, and stir fries since it's hard to make frozen vegetables taste good on their own.
That's where air frying comes in! It cooks food much faster than an oven, allowing us to achieve that perfect roasted texture faster without risking soggy vegetables.
How to air fry frozen vegetables
This step-by-step walkthrough shows the process of making air fryer frozen vegetables. It's a pretty simple process with only a few steps. A printable recipe card can be found below.
Start by preheating your air fryer at 400F for 3-5 minutes.
In the meantime, start measuring out your seasonings. You can add them all to a small bowl.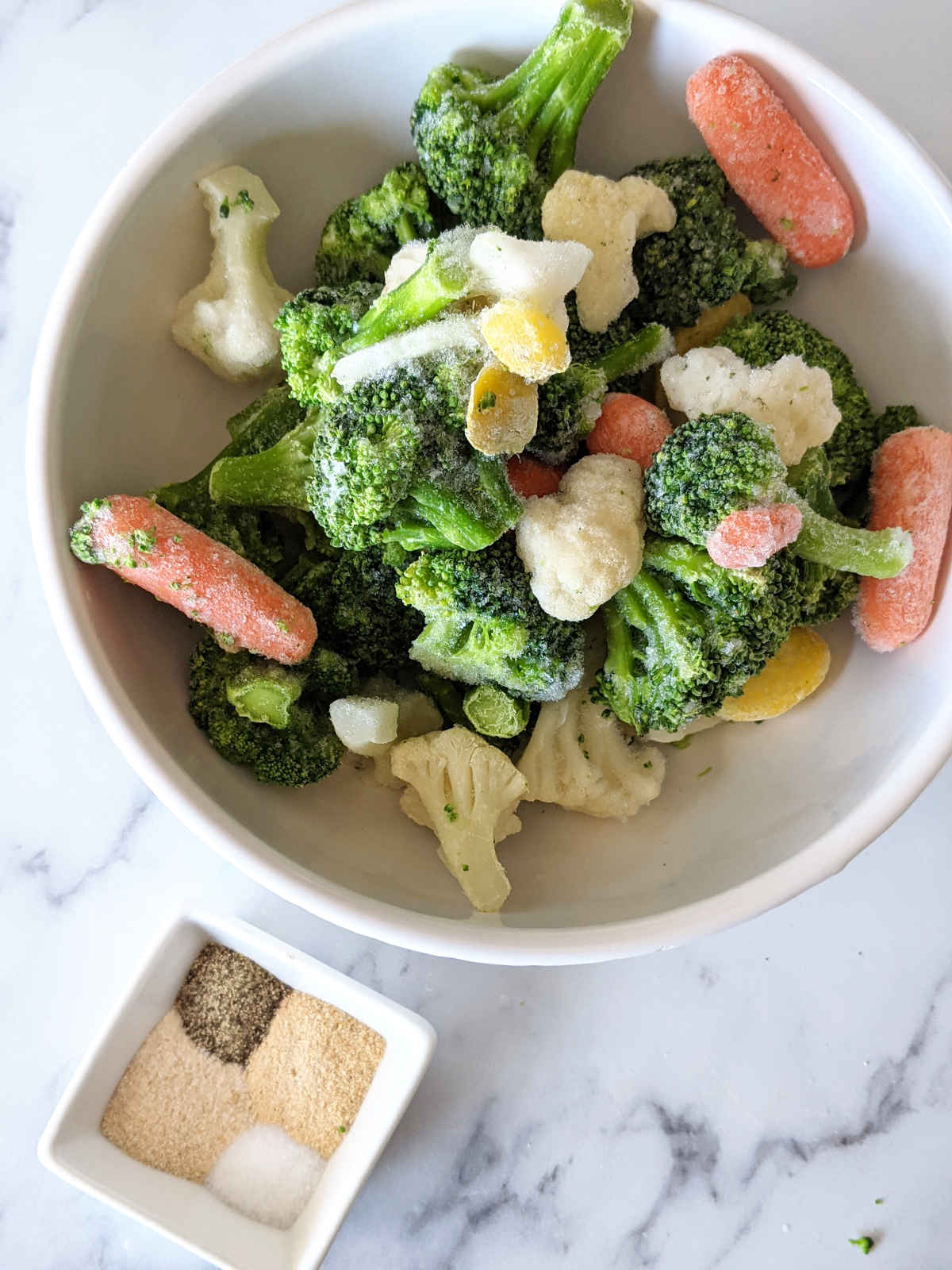 When the air fryer is ready, add your frozen vegetables to the air fryer basket in a single layer. Sprinkle the seasonings evenly over the top of the frozen vegetables and give them a good shake to disperse the seasonings a little.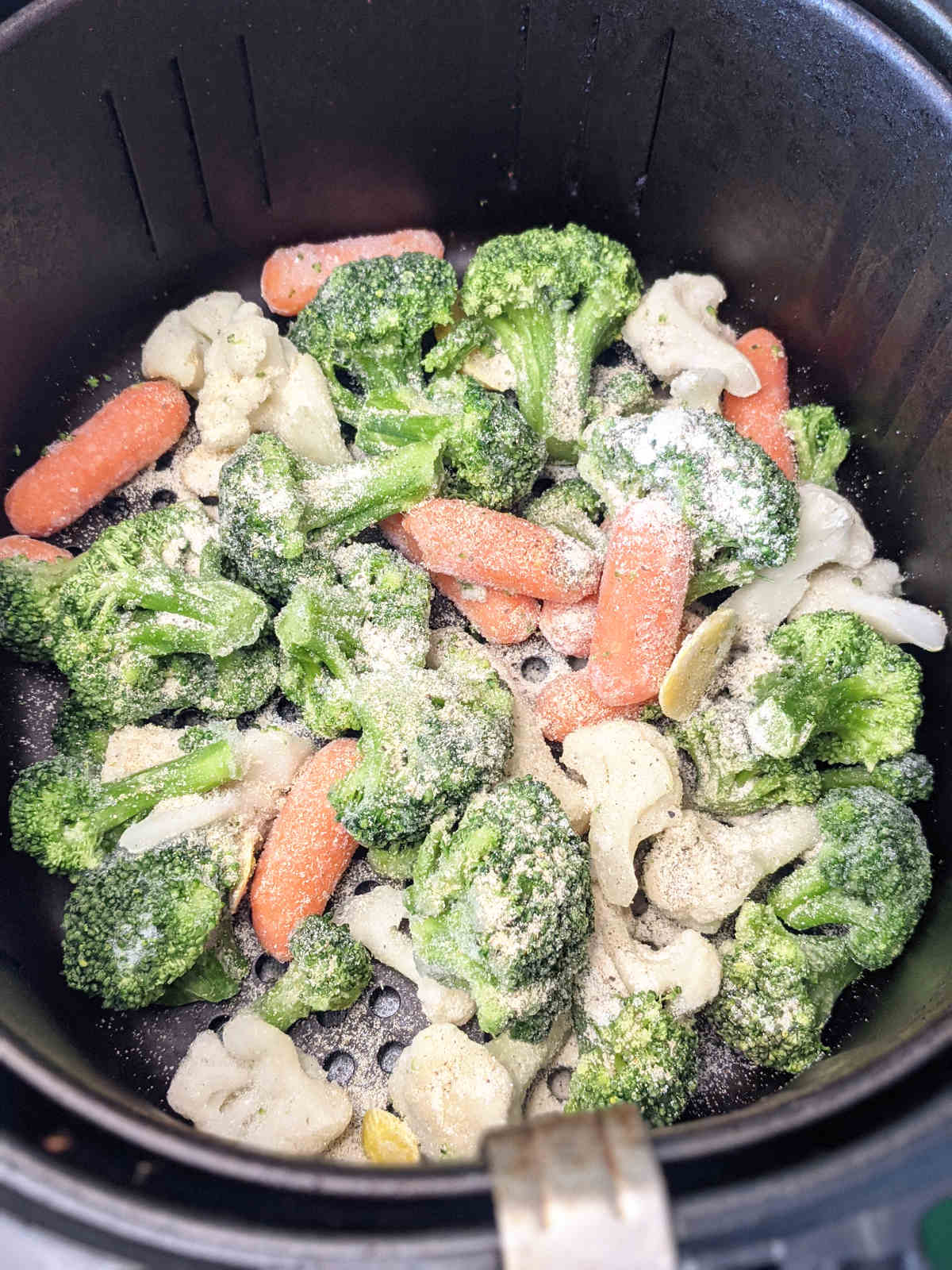 I prefer not to use oil, yet I still get perfectly roasted vegetables. The seasonings still stick well to the frozen vegetables because of the thin layer of ice/water around them. If you want, you can spritz them with a little oil before adding the seasonings.
If you have a smaller air fryer, you may need to cook your frozen vegetables in batches. Do not overfill your air fryer or you may get soggy vegetables as the ones in the center won't cook as quickly as the ones on the outer edges.
Cook for 10 minutes, then shake or stir the vegetables to redistribute them and continue air frying for 5-10 more minutes. Towards the end you'll want to check on them every few minutes to prevent burning.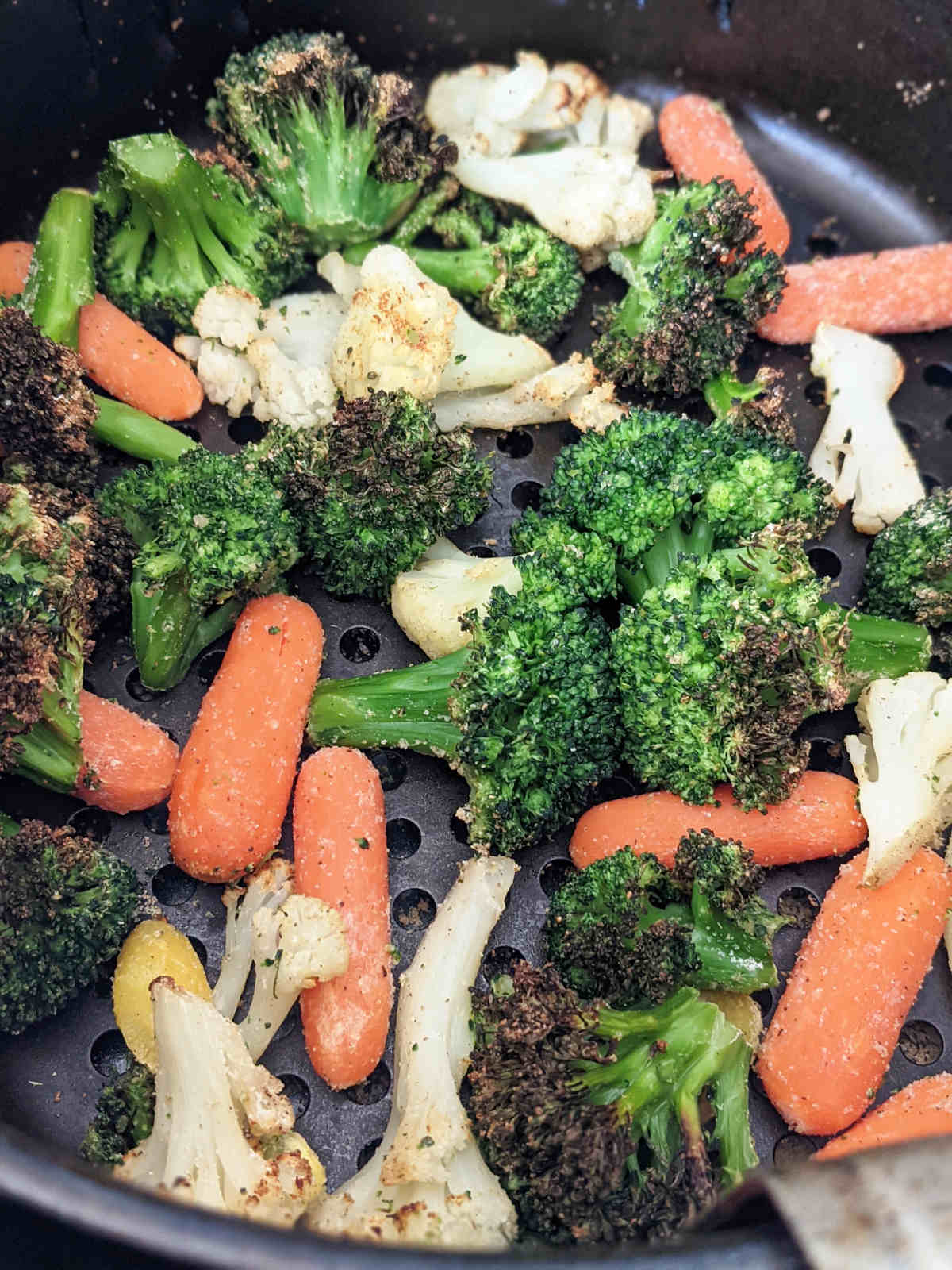 These can be reheated in the air fryer to retain crispiness but are best served right away.
Frozen vegetables make a great side dish with little effort. Feel free to switch up the seasonings. Italian seasoning is delicious or add some chili powder if you like it spicy. Nutritional yeast makes vegetables taste "cheesy" without needing dairy!
Note: This recipe was made using a Dash air fryer. If you are using a different model, you may need to adjust cooking times as these vary slightly across brands.
FAQ's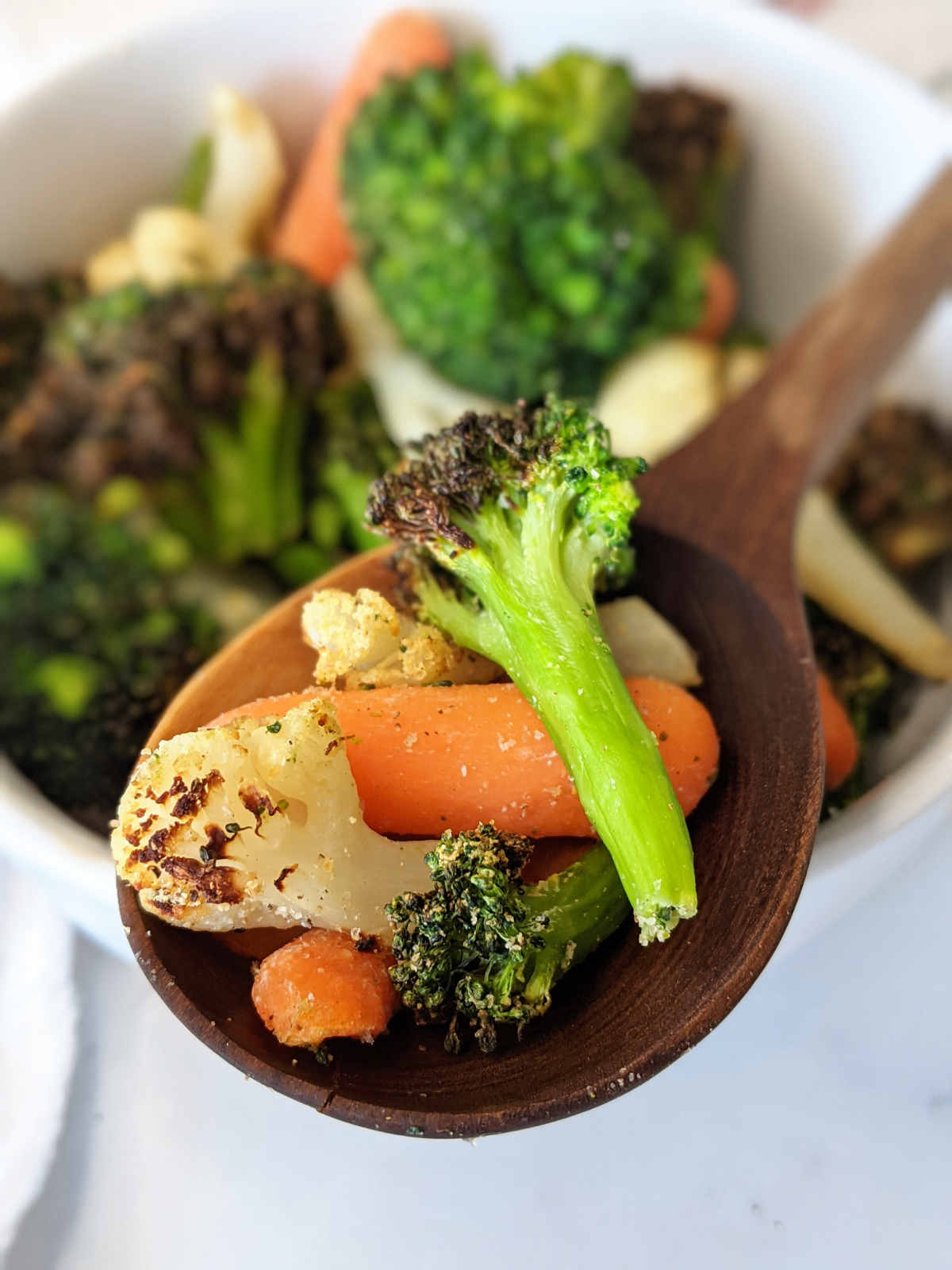 More air fryer recipes
Air Fryer Asparagus
Air Fryer Roasted Garlic
Air Fryer Marinated Tempeh
Air Fryer Cubed Sweet Potato
Air Fryer Frozen Cauliflower
Air Fryer Frozen Brussels Sprouts
If you're looking for more healthy recipes, check out our entire collection of Air Fryer Recipes.
If you enjoyed this recipe please leave a comment below and give it 5 stars! Or on Pinterest (don't forget to follow me!) and please help me share on facebook!
📖 Recipe
Through this article, we hope to help you understand Can you oven roast frozen vegetables
Detail: 🔗