September 1, 2021 | Last Updated on December 17, 2021 by Patricia Valbrun
This Roasted Peruvian Chicken takes you on a venture to Peru for tonight's dinner with its flavorful, juicy, tender Chicken and spicy, delicious creamy green sauce.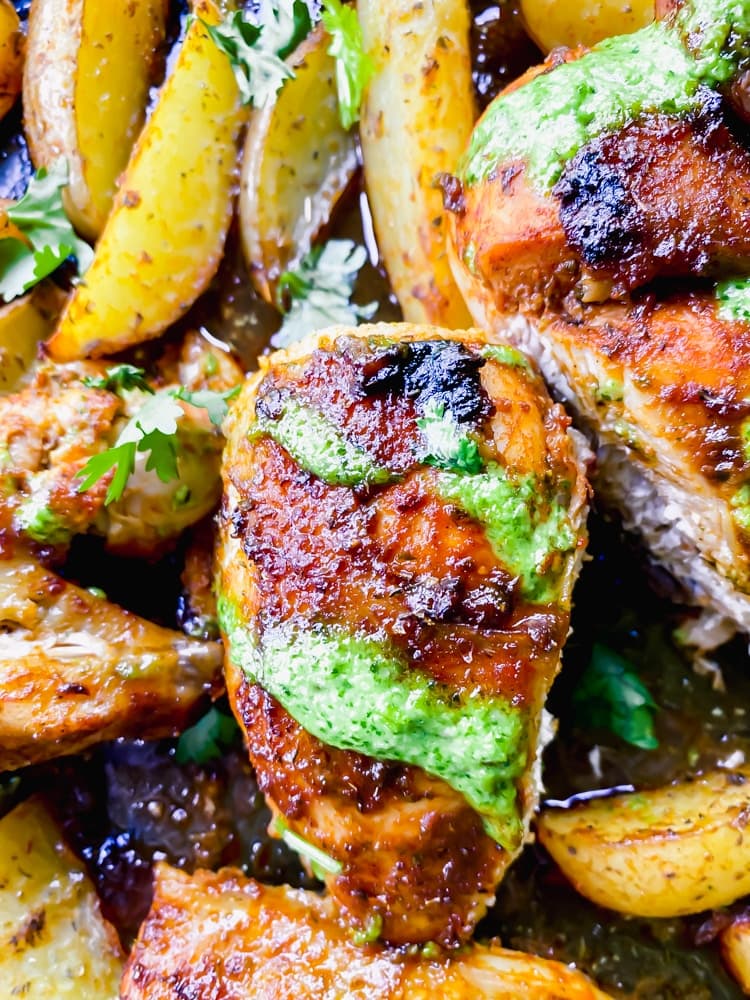 The best side for Roasted Peruvian Chicken is Spanish Rice or Fresh Roasted Vegetables.
What is Peruvian Chicken?
Known as Pollo a la Brasa, Peruvian Chicken has one of the best flavors, seasoned with the best spices. Chili paste and Aji Amarillo pepper sauce as the secret ingredient.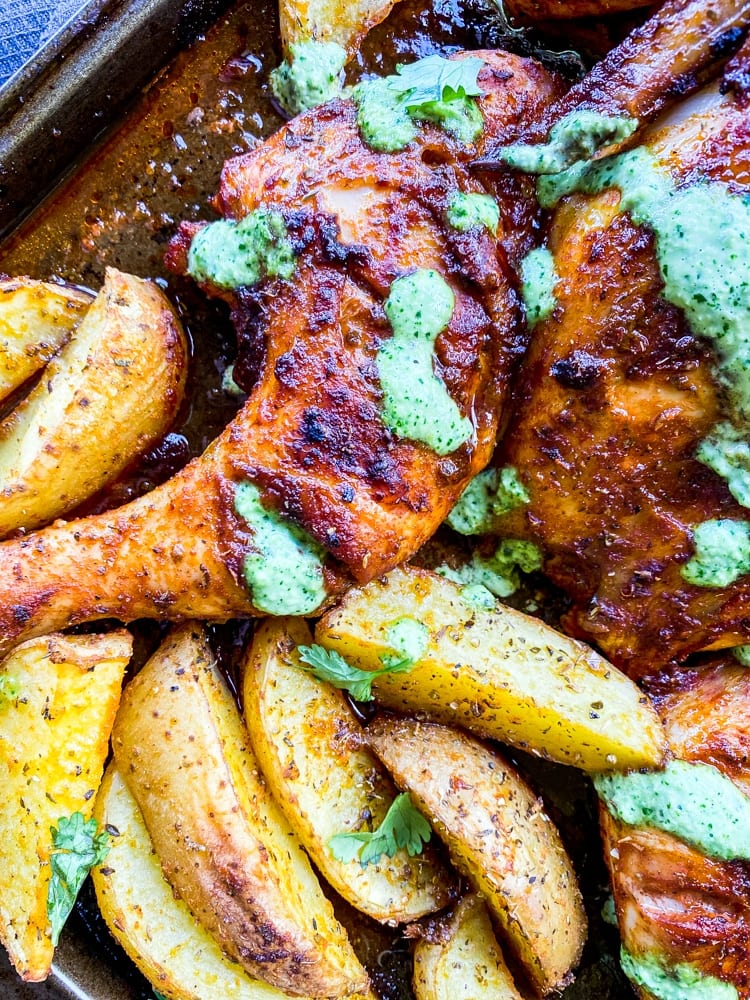 How to make Peruvian Chicken
There's no doubt this Peruvian Chicken can be made any season. You can't go without it! Peruvian Chicken holds big, bold flavors from marinating in the chilies and seasonings.
Clean and rinse the chicken with lemon and vinegar, pat dry.
Mix all your marinade seasonings together, per recipe below. Marinate chicken for 30 minutes to an hour or overnight, if you have time.
Cut the potatoes while the chicken is marinating. Use the same marinade to season the potatoes.
Bake at 400F for 60 minutes. Enjoy!
(Check below for Creamy Green Sauce recipe ! )
Aji Verde ( Creamy Green Sauce)
It's too easy! In a blender or food processor, add all of your ingredients to make this creamy green sauce and blend until smooth.
What is Aji Amarillo?
Aji Amarillo is a yellow chile grown all over Peru and mistaken for Habanero and scotch bonnet pepper but has a milder taste. You can find AJi Amarillo made into paste, at your local latin market.
If you cant find Aji Amarillo, you can also buy it here on amazon.
Peruvian Chicken Yellow Sauce
If you're looking for a milder taste, you can use sour cream, mayo, Aji Amarillo paste, lime juice, garlic, ginger, parmesan, ketchup(optional), olive oil, salt to taste.
Are you looking to spice this up a bit? Try adding 1/2 tsp of chili paste or sriracha and comparison, keeping all ingredients at the exact measurements as Aji Verde ( Creamy Green Sauce).
How to Prep a Whole Chicken
I will show you how to spatchcock a chicken in this recipe, How to Spatchcock a Chicken and How to Roast a Whole Chicken.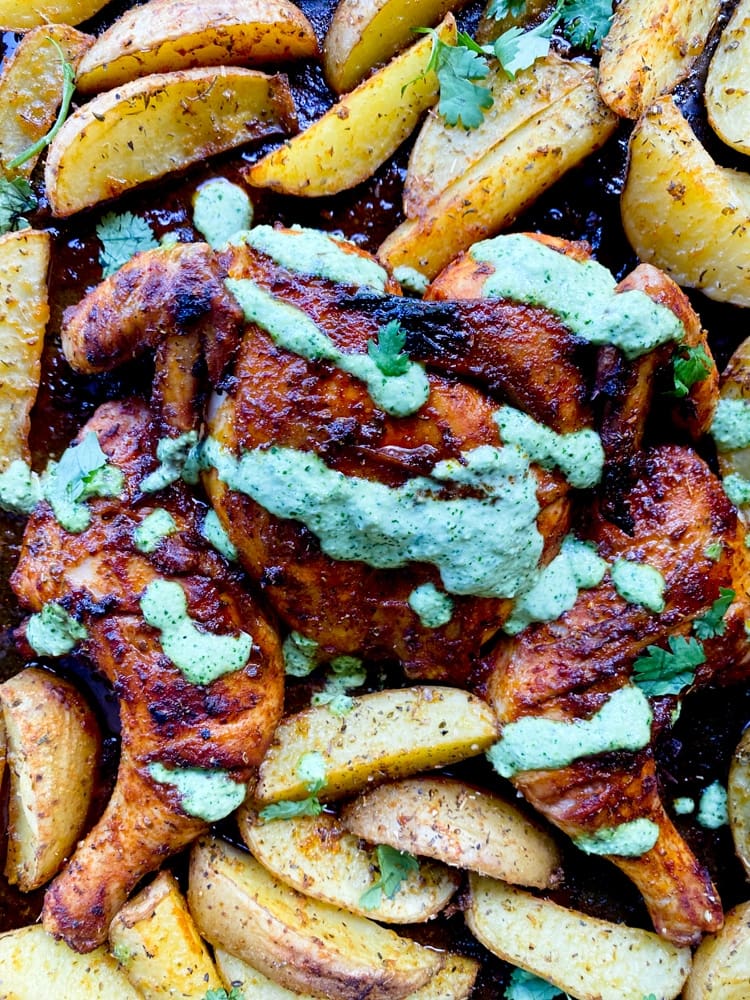 Can I Grill the Chicken?
Yes! Grill outdoors or inside on a grill pan using chicken thighs or chicken breast. This part of the Chicken is best to cook throughout on a grill pan. If cooking outdoors on the grill, feel free to use whatever you like.
Tips on Peruvian Chicken
How to Spatchcock Chicken? Check out my butterflied method in this recipe. You can also cook the chicken whole, as is, but the cooking time will vary.
Prep ahead of time! Prepping the potatoes and cilantro cream sauce will save you a load of time, as this recipe can carry a few items. Be sure to make it easier on yourself.
Cant find aji panca paste? You can use any Latin chili paste you can find at your local market or make your own. Chiles in adobo sauce are also a great option and easier to find.
Is Aji Amarillo Paste hard to find? If you live in the country, maybe, so be sure to order it here on amazon " Aji Amarillo Paste".
What is green seasoning? Also known as epis, recaito, or sofrito, green seasoning is a blend of bell pepper, onion, garlic, scotch bonnet, leaks, parsley, cloves, olive oil, and salt to taste. You can also find the full recipe here " How to make Green Seasoning" .
Can I adjust Aji Verda (creamy cilantro sauce)? Yes! If you prefer it to be spicy, you can add aji Amarillo paste or aji panca to bring up the heat. Sriracha will also be an option!
Do I have to use a whole chicken for this recipe? You can use this recipe for different parts of the chicken if cooking for a larger crowd. I suggest using a whole leg, drum, and thighs connected as my personal choice of meat.
What should I do with my leftover meat? If you have any leftover meat, store it in the freezer or refrigerator for later. Break the chicken down with your fingers, create a sauce, and make yourself a chicken birrrai taco.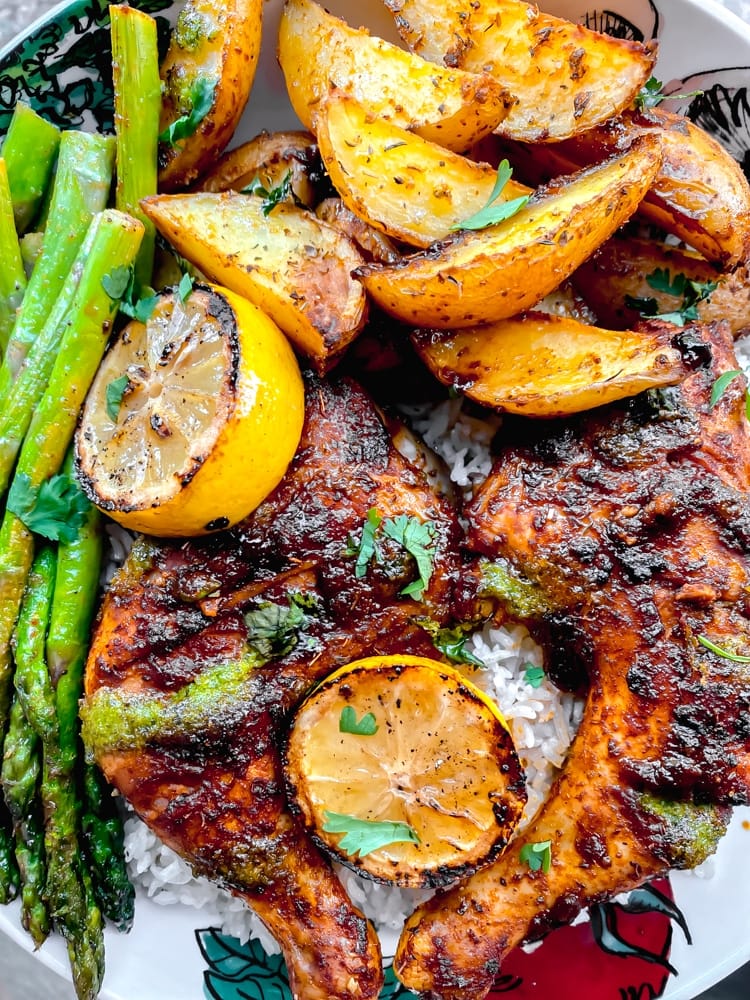 What to serve with Peruvian Chicken?
Oven Roasted Brussel Sprouts with Bacon
Twice Baked Sweet Potatoes
Yellow Rice and Beans
Fried Plantains
Would you like to see more? SUBSCRIBE to receive the more recipes! Also, follow me on FACEBOOK, PINTEREST, INSTAGRAM, YOUTUBE or TWITTER.
How did you like this recipe? Leave a comment and let me know what you think. Looking for another chicken recipe ? Try this Pineapple Jerk Chicken Kabobs recipe next!
For more information, please see more information about Peruvian roast chicken with aji amarillo sauce
Detail: 🔗