This pesto pasta salad is pasta with mozzarella cheese, olives, tomatoes and pine nuts, all tossed with fresh basil pesto. An easy side dish that's perfect for a potluck or picnic.
Pesto pasta salad is a must have for all of your summer gatherings. It's fresh, flavorful, and the whole thing can be put together in 20 minutes.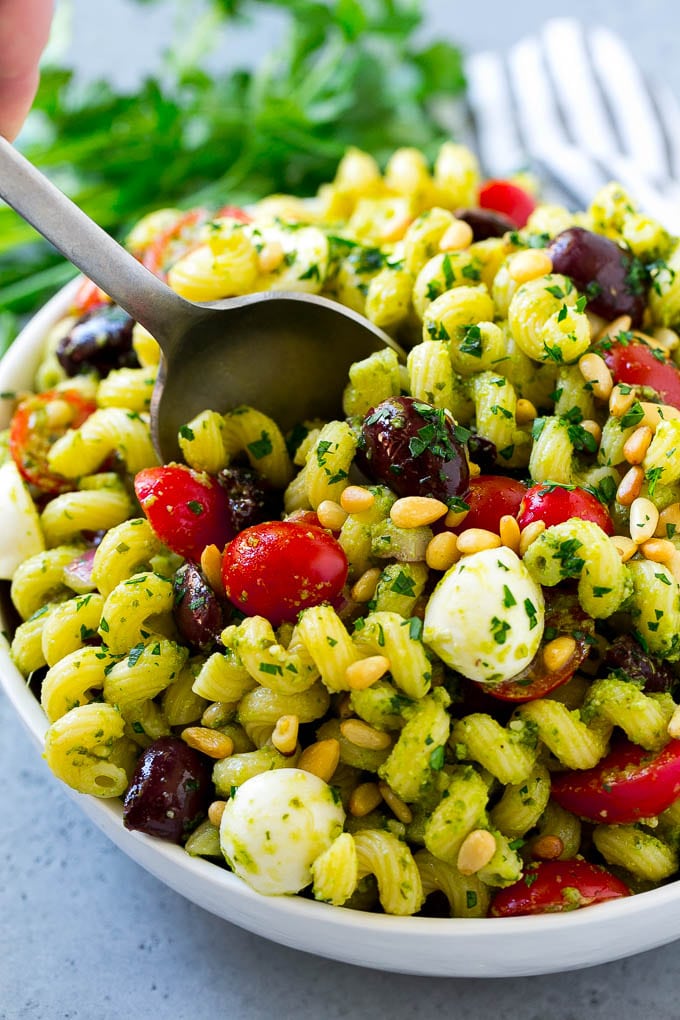 This pesto pasta salad is literally one of the best pasta salads I've ever had. That combination of fresh pesto, tender pasta, creamy mozzarella and juicy tomatoes just can't be beat! This is definitely one of my go-to recipes for summer entertaining.
HOW DO YOU MAKE PESTO PASTA SALAD?
If you're having a potluck or picnic, this pasta salad is a must-make. Al dente pasta is tossed with fresh mozzarella cheese, kalamata olives, tomatoes, and pine nuts, all tossed with a fresh basil pesto to create the perfect side dish. Your friends and family will be both impressed and satisfied with this delicious salad.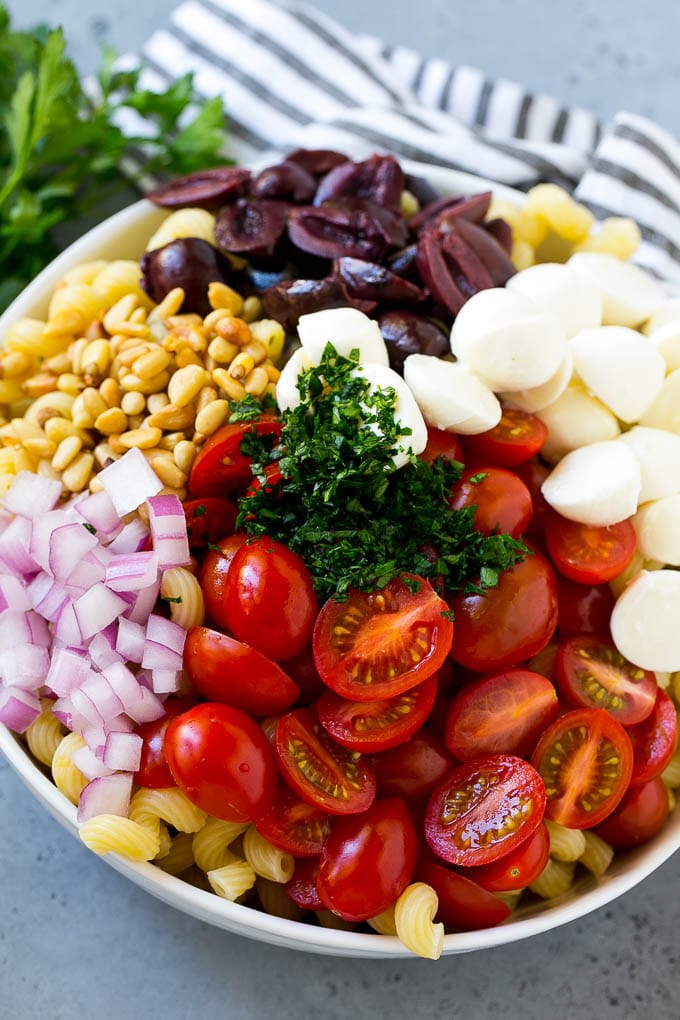 For this pesto pasta salad, any short pasta will work. I used cavatappi pasta, but other great choices are penne or rotini. Go for the fresh pesto in the refrigerated section, it has much better and bolder flavor than the shelf stabled jarred pesto. Some of the brands I like are Kirkland (Costco), Rana and Three Bridges. Also, I've learned that pine nuts can get expensive quickly, so it's best to buy just what you need from the bulk bins at the store instead a whole big bag.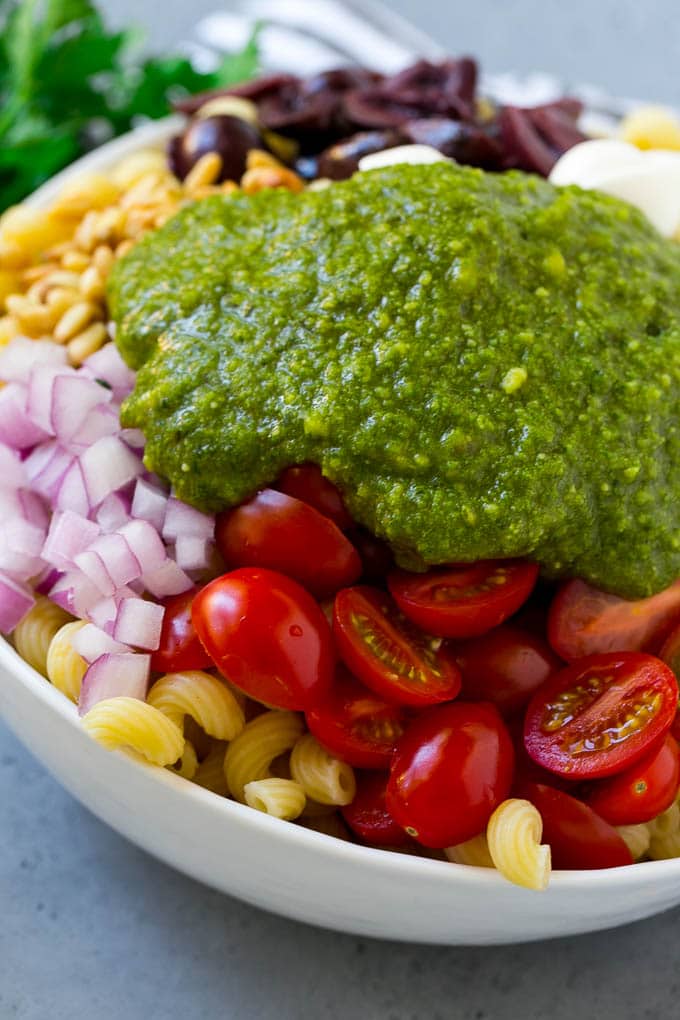 Pesto pasta salad can be made up to 6 hours before you plan on serving it. Like most foods, it's best if served immediately but will still taste great if it needs to be served later on. If you feel like adding more veggies to your salad, some great additions are artichoke hearts, roasted peppers, or peas. You can also add a boost of protein by including grilled chicken, shrimp or cubed salami.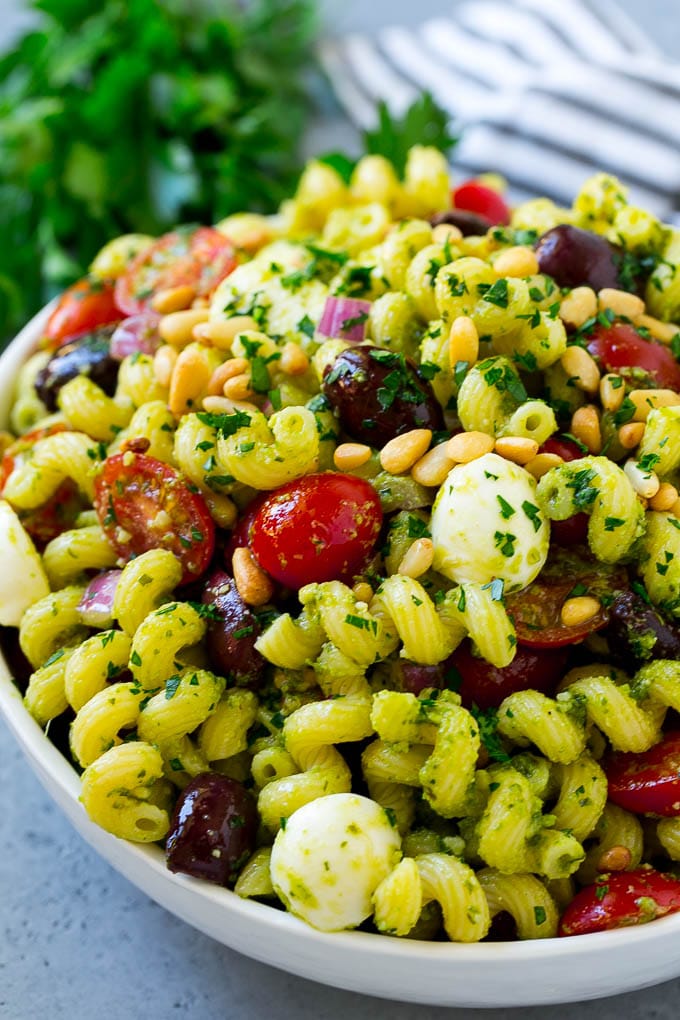 WHAT IS CONSIDERED A SHORT PASTA?
Pasta comes in all shapes and sizes. However, not just any pasta will work for every pasta recipe. Often times, you have to narrow it down to a specific category of pasta. For this recipe, we need short pasta which includes elbow macaroni, farfalle, fusilli, rotini, penne, rigatoni and any other shorter shapes.
WHAT EXACTLY IS PESTO?
Pesto is a mixture of crushed basil, pine nuts, parmesan cheese, garlic, and olive oil. It's got a strong, bold flavor that works as a great addition to many recipes. Pesto is typically used in Italian dishes such as pasta, pizza or on bruschetta.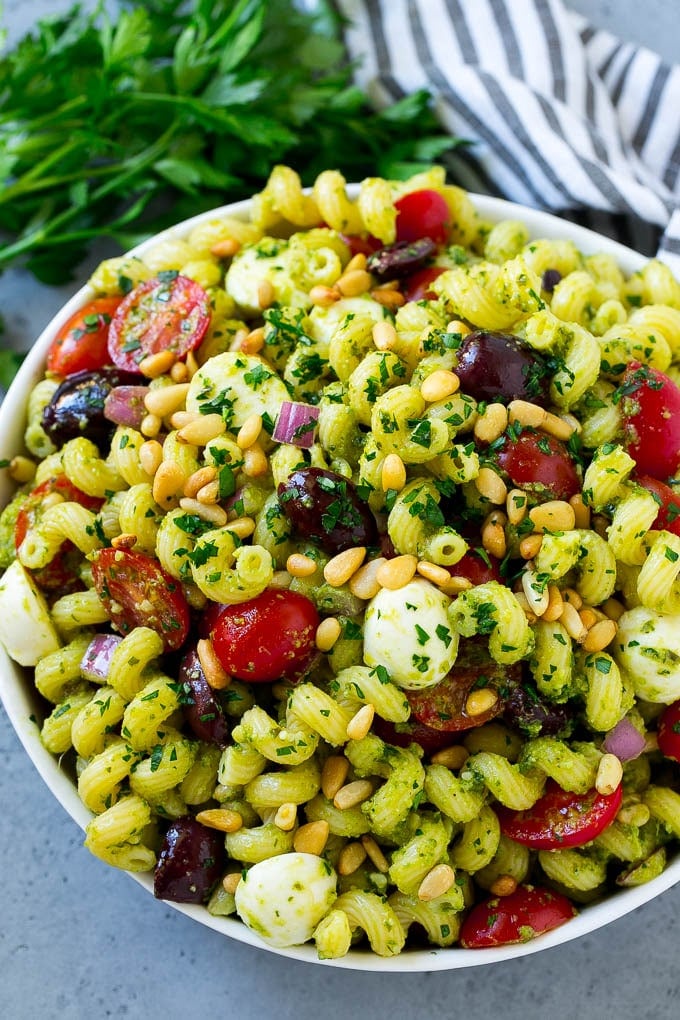 I love that this pesto pasta salad is full of tons of great flavors and textures, yet is easy enough to be whipped up at a moment's notice. My kids love it too, I just omit the red onion when I'm serving this dish to the little ones. The fact that it can be a side or a full meal is a plus for this mama's busy schedule and I'm sure it will be for yours as well!
MORE PASTA SALAD RECIPES YOU'LL LOVE
Greek Pasta Salad
60 Pasta Salad Recipes
Greek Orzo Salad
BLT Pasta Salad
For more information please see the list of Recipe for pesto pasta salad
Detail: 🔗