Tossed with a vibrant basil pesto and filled with veggies, this pesto pasta salad is fresh and delicious. Serve it for dinner, or pack it up for a picnic!
Pesto Pasta Salad Recipe Ingredients
To let the fresh basil flavor shine, I keep this pesto pasta salad recipe simple. It only calls for a handful of ingredients:
Pasta, of course! I recommend choosing a fun, curly pasta shape. We love cellentani, but fusilli would be good too.
Basil Pesto – To give the pasta salad a lightly creamy texture, I add an extra 1/4 cup olive oil to my regular basil pesto recipe.
Zucchini and summer squash – You'll be adding them to the salad raw, so make sure to slice them really thinly. I recommend using a mandoline if you have one.
Lemon juice – It makes the salad nice and bright.
Toasted pine nuts – For crunch.
Fresh basil leaves – They're a pretty, aromatic finishing touch for this pesto pasta salad.
And salt and pepper – To make all the flavors pop!
If you like, you can add a pinch of red pepper flakes for a hint of spice.
Find the complete recipe with measurements below.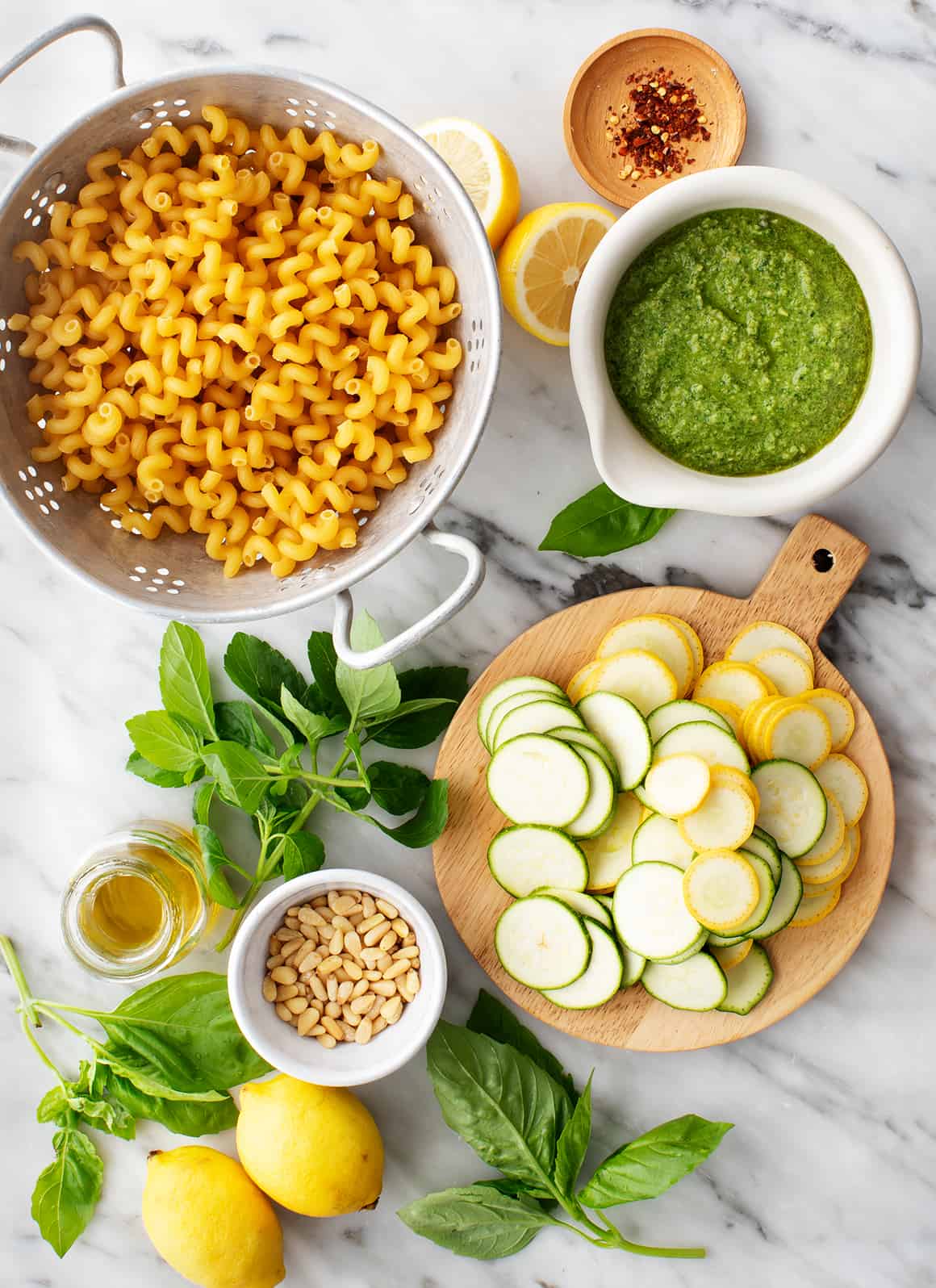 How to Make Pesto Pasta Salad
To make this pesto pasta salad, you'll start by cooking the pasta in a large pot of salted boiling water.
Make sure to cook it a little past al dente so that it doesn't harden as it cools.
And before you drain it, reserve 3/4 cup of the starchy, salty pasta cooking water. It's a key ingredient in this recipe – it helps the pesto coat the noodles and veggies, creating a rich, lightly creamy pesto sauce for the salad.
After you drain the pasta, toss it with a little olive oil and spread it on a large baking sheet to cool. Allow the reserved pasta water to cool too.
When the pasta is cool, add it to a large bowl with the pesto, zucchini, squash, lemon juice, salt, and pepper. Last but not least, add the reserved pasta water and toss to combine.
Season to taste, and top with the pine nuts, basil, and a pinch of red pepper flakes, if you like. Enjoy!
Pesto Pasta Salad Serving Suggestions
I typically think of pasta salad recipes as side dishes, but this one is so fresh and satisfying that it could easily pass as lunch or a light summer dinner. Pair it with a simple green salad, a chopped salad, or grilled veggies. If you're really flush with basil, it'd be delicious with a Caprese salad, too.
That being said, you shouldn't hesitate to serve this recipe as a side dish at a potluck or picnic. It's great with all the cookout classics – veggie burgers, corn on the cob, fruit salad, you know the drill. It's guaranteed to be a hit!
I love this recipe as written, but if you want to get creative with it, feel free. Try tossing in mini fresh mozzarella balls, shaved pecorino, or sun-dried tomatoes. Roasted cherry tomatoes would be a delicious addition too. Let me know what variations you try!
More Favorite Summer Salads
If you love this pesto pasta salad, try one of these summer salad recipes next:
Easy Pasta Salad
Orzo Salad
Cherry Tomato Couscous Salad
Easy Macaroni Salad
Greek Salad
Best Broccoli Salad
Vegan Potato Salad
For more summer salad ideas, check out this post!
For more information, please see more information about Recipe for pesto pasta salad
Detail: 🔗