Are you ready to indulge in a dessert that combines the perfect balance of crunchy, creamy, sweet, and salty? Look no further than the delightful Pistachio Cream Cheese Dessert. With its crunchy shortbread cookie base and luscious layers of pistachio goodness, this dessert is sure to become a family favorite.
Pistachio Layered Dessert: A Delight for the Senses
The Pistachio Cream Cheese Dessert is reminiscent of the classic Watergate Salad, featuring pistachio instant pudding mix, canned pineapple, mini marshmallows, nuts, and whipped topping. But with the addition of a perfectly buttery shortbread cookie crust, a creamy cream cheese layer, a smooth pistachio pudding layer, and a dreamy topping of whipped cream, this dessert takes indulgence to a whole new level. Its vibrant green color also makes it a delightful treat for Christmas festivities. If you're a fan of layered desserts, like our Lemon Lasagna and White Chocolate Lasagna, this pistachio creation is a must-try!
How to Make Pistachio Cream Cheese Dessert
You'll be delighted to know that this recipe is a breeze to prepare, taking just 10-15 minutes of prep time before refrigerating for at least an hour. Here's a step-by-step guide:
COOKIE LAYER
Smash shortbread cookies in a Ziploc bag until fine (or use a food processor to achieve a super fine texture).
Add melted butter to the bag with crumbs and mix well.
Press the mixture into a 9×13 pan to form the cookie crust.
BAKE
Preheat your oven to 350°F (175°C).
Bake the cookie crust for about 10 minutes or until golden. Let it cool completely.
CREAM CHEESE LAYER
In a mixing bowl, beat cream cheese, sugar, and whipped cream together until smooth.
Pour and spread an even layer of the cream cheese mixture over the cooled crust.
PUDDING LAYER
In another bowl, mix the pistachio instant pudding mix and milk until thickened.
Pour and spread the thickened pudding mixture over the cream cheese layer.
WHIPPED CREAM
Spread the remaining whipped cream or whipped topping over the top of the dessert.
Place the dessert in the refrigerator to set and chill.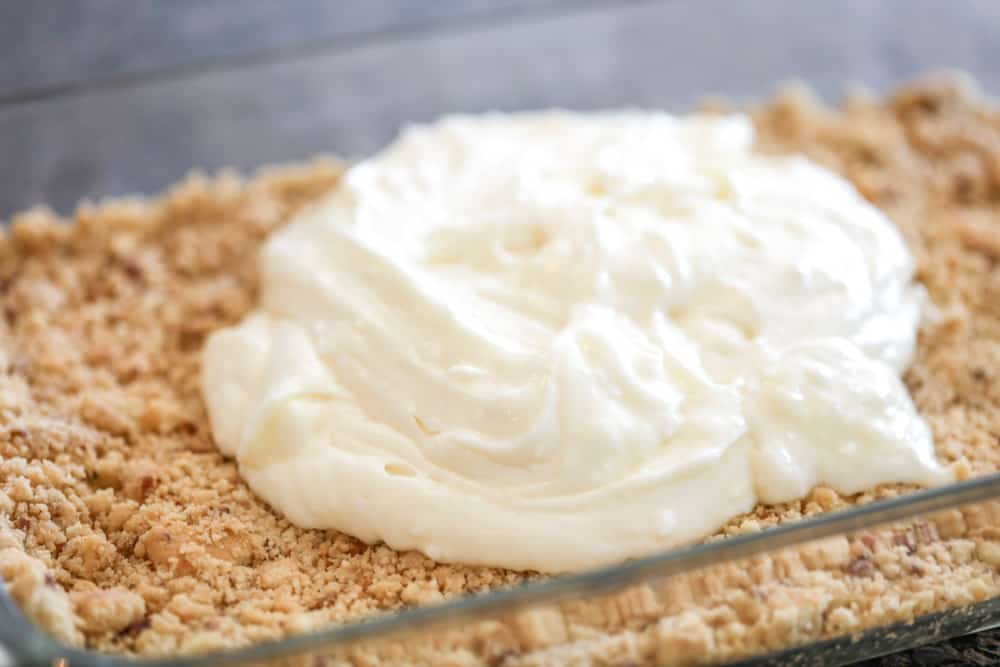 Recipe Tips for the Perfect Pistachio Dessert
Here are some tips to ensure your Pistachio Cream Cheese Dessert turns out absolutely divine:
Chill: Allow each layer to set by refrigerating the dessert as you prepare the next layer.
Pudding: Be sure to use instant pistachio pudding mix. You'll only use the powder, not prepared pudding.
Shortbread cookies: While I used Keebler Sandies for the crust, feel free to use any shortbread cookie. Golden Oreos, pistachio cookies, or your favorite cookie variation would work splendidly.
Crumby crust: If you prefer a less crumbly crust, add 1-2 more tablespoons of butter to the cookie mixture.
Milk: Whole milk is recommended for a creamy pudding texture, but you can use 2%, 1%, or skim milk if you prefer.
Toppings: Go ahead and get creative with toppings! Toasted coconut, chopped pistachio nuts, sprinkles, mini chocolate chips, or chopped nuts like pecans are all fantastic options.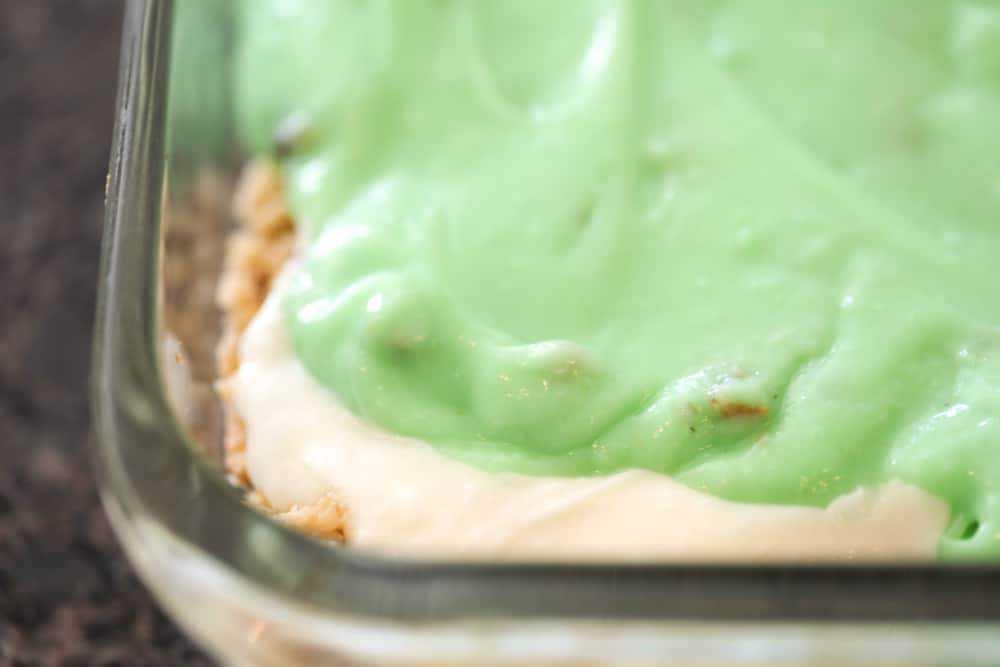 Storing Info: Make-Ahead and Leftovers
To ensure maximum freshness, it's best to make the Pistachio Cream Cheese Dessert no more than 24 hours in advance. Add sprinkles or candies on top right before serving to prevent them from discoloring the whipped cream. Simply cover the dish with plastic wrap and store it in the fridge until it's time to indulge. Leftovers can be stored covered in the fridge for 2-3 days.
We genuinely hope you savor every bite of this Pistachio treat, as it truly is the perfect dessert! For an extra nutty experience, consider serving it alongside a scoop of pistachio ice cream. This recipe has earned its place as a go-to delight in our home, and we believe you'll love it just as much as we do.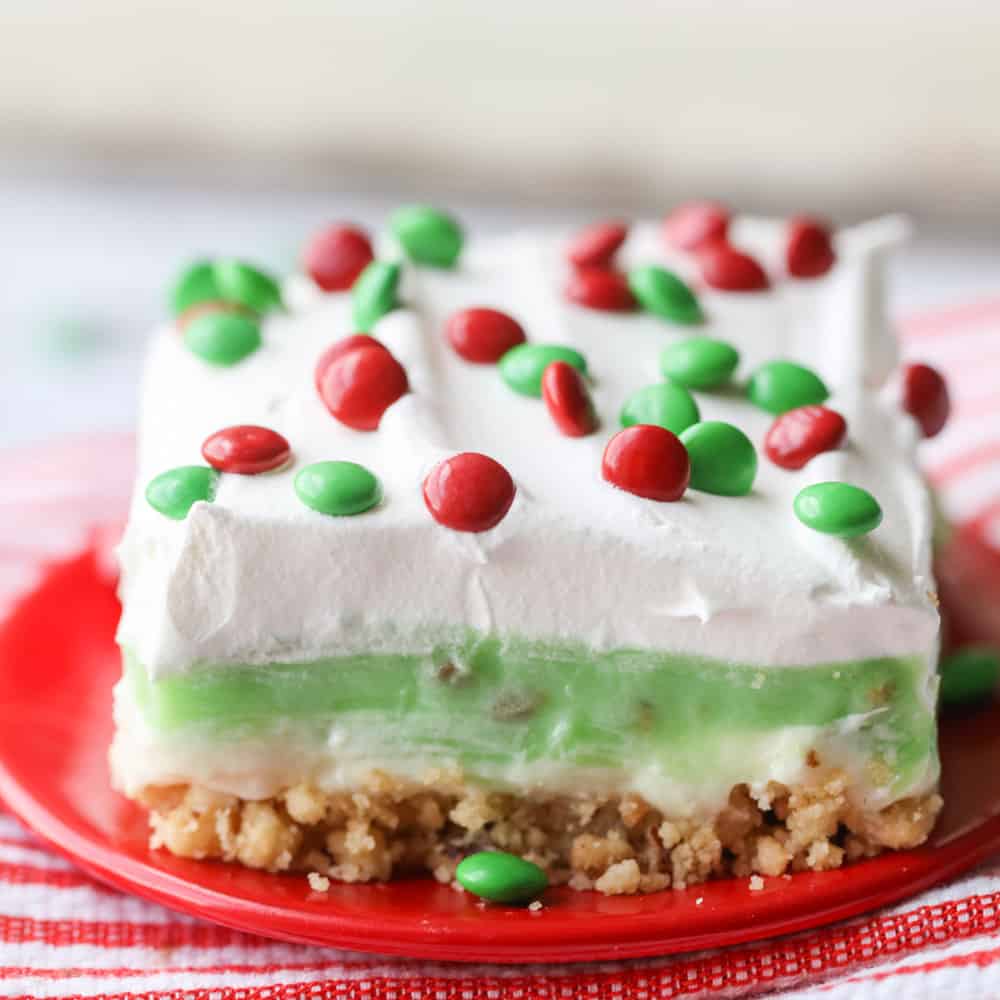 For more layered desserts, check out:
Oreo Peanut Butter Delight
Mint Trifle
Brownie Delight
Cookie Delight
Candy Bar Trifle
Remember, for more scrumptious recipes and delightful culinary inspiration, visit Family Cuisine.