This garlic herb Pork Crown Roast is a show-stopper of a dinner. It may look intimidating, but this savory dish is surprisingly easy to make with this recipe.
For other delicious and impressive main courses, try this salmon wellington and braised beef short ribs.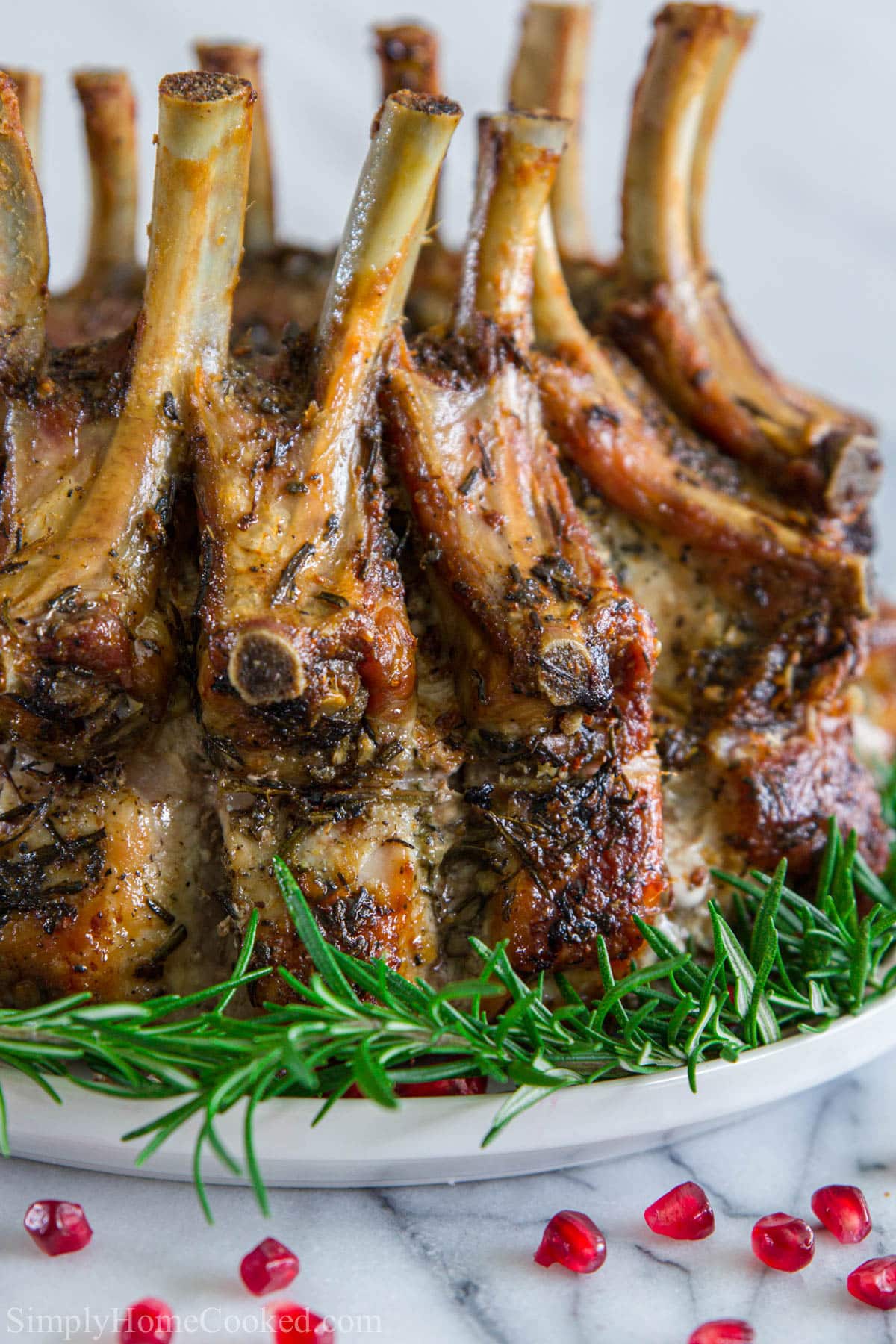 This recipe was originally posted December 1, 2017, we've tweaked it a bit since then. This post may contain affiliate links. Read my disclosure policy here.
Table Of Contents
Pork Crown Roast Recipe Details
What You'll Need
Ingredient Notes
How to Make Pork Crown Roast
Recipe Tips
Add-ins and Substitutions
FAQs
Serving Suggestions
Make This Pork Crown Roast in Advance
More Decadent Dinner Dishes!
Full Recipe Instructions
Pork Crown Roast Recipe Details
If I can think of any holiday where it's okay to go overboard with dinner, it's definitely Christmas. And this extravagant Pork Crown Roast is the perfect thing!
TASTE: This savory roast is covered in a garlic herb paste which absorbs into the meat overnight before it's baked.
TEXTURE: With a crisp outer skin and a tender juicy interior, this gorgeous Pork Crown Roast is deliciousness in every bite.
TIME: This recipe takes just under 2 hours, but only 10 minutes of prep time!
EASE: Despite its impressive looks, this recipe is so easy. You'll wow your guests with this simple, yet elegant dish.
What You'll Need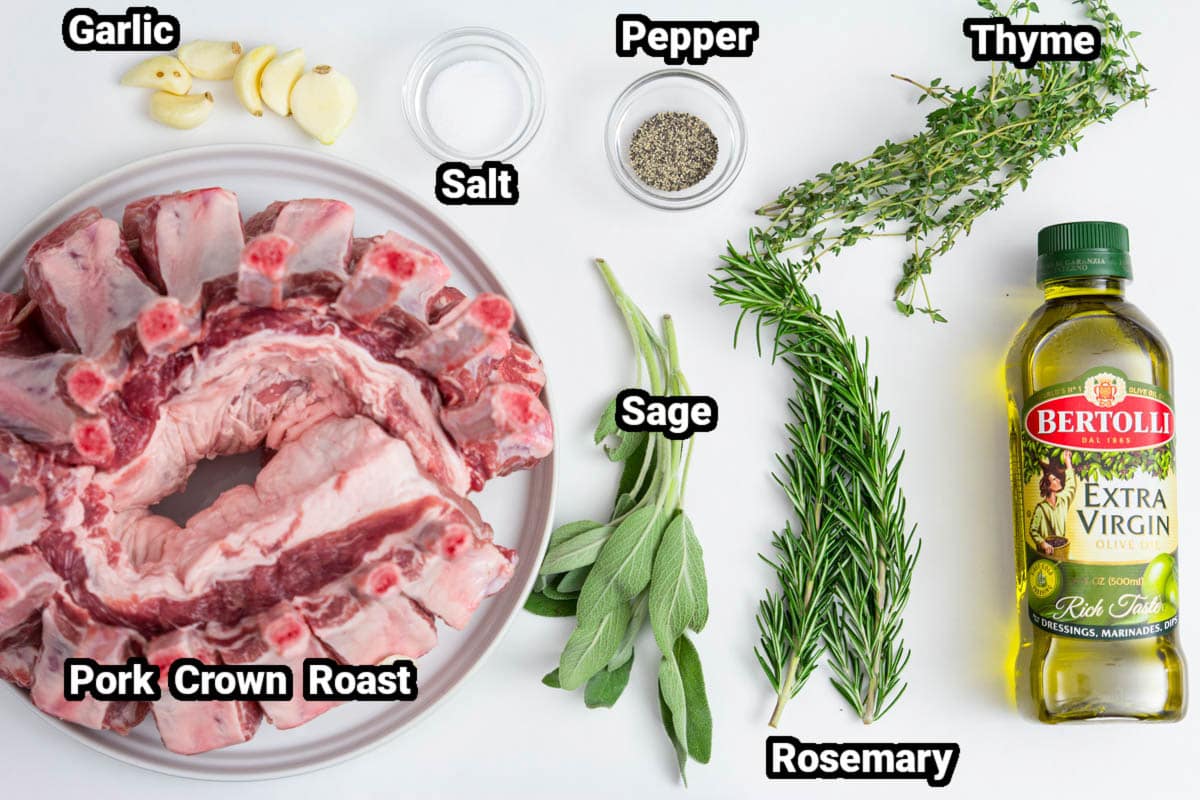 How to Make Pork Crown Roast
Make the garlic herb mixture. Remove the needles or leaves from the thyme and rosemary. Then place all the seasonings into a small food processor. Add the garlic and olive oil, and pulse on high until it forms a paste.
Pro Tip: To remove the needles or leaves from the thyme and rosemary, hold the sprig at the top and slide your fingers down. You should be able to strip the herb sprigs in one motion.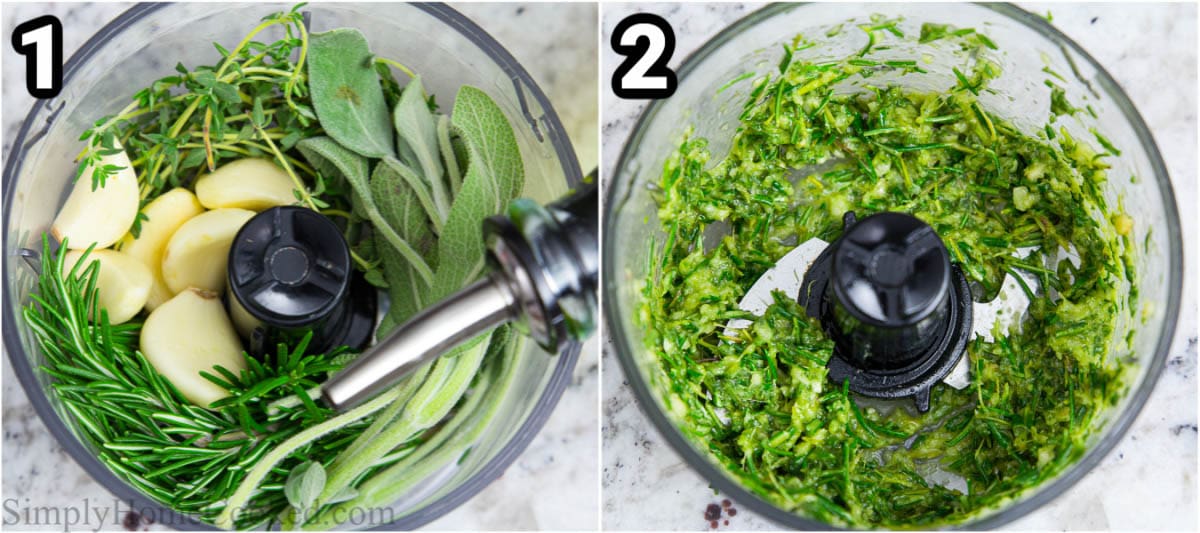 Pat the pork dry. Using a paper towel, pat the pork dry and then season it (inside and out) with salt and pepper. Then generously spread the herb paste over the entire roast.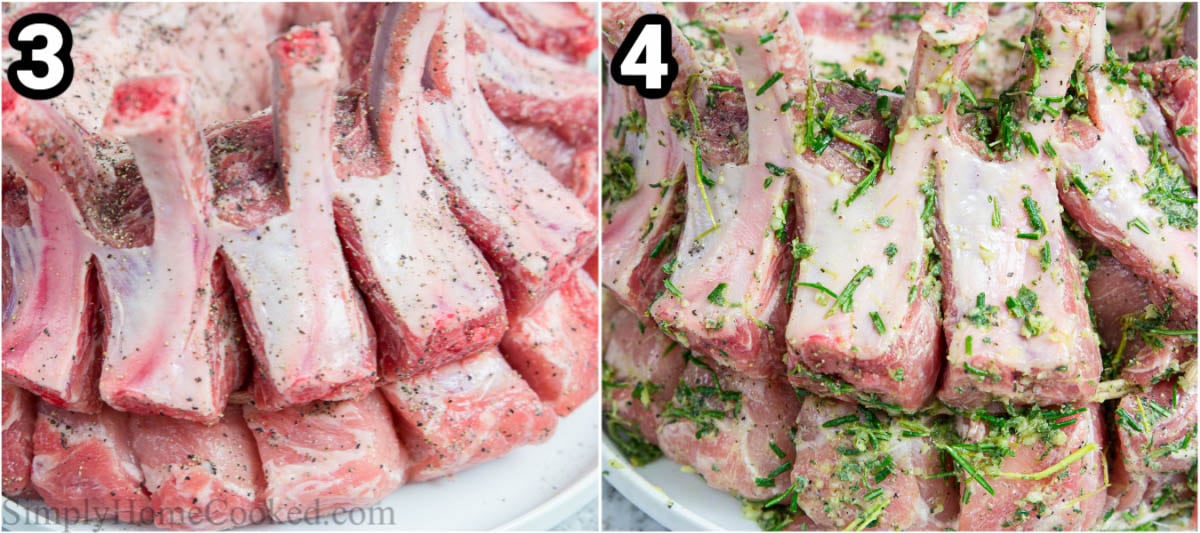 Refrigerate. Place the roast on a large plate, then tightly cover it with foil or plastic wrap, and refrigerate overnight.
Roast. Remove the roast from the foil or plastic wrap and then wrap small pieces of foil over the top of each bone. Place it in a roasting pan and bake at 400 degrees Fahrenheit for 30 minutes, then reduce the heat to 350 degrees Fahrenheit and bake for 1 hour and 15 minutes.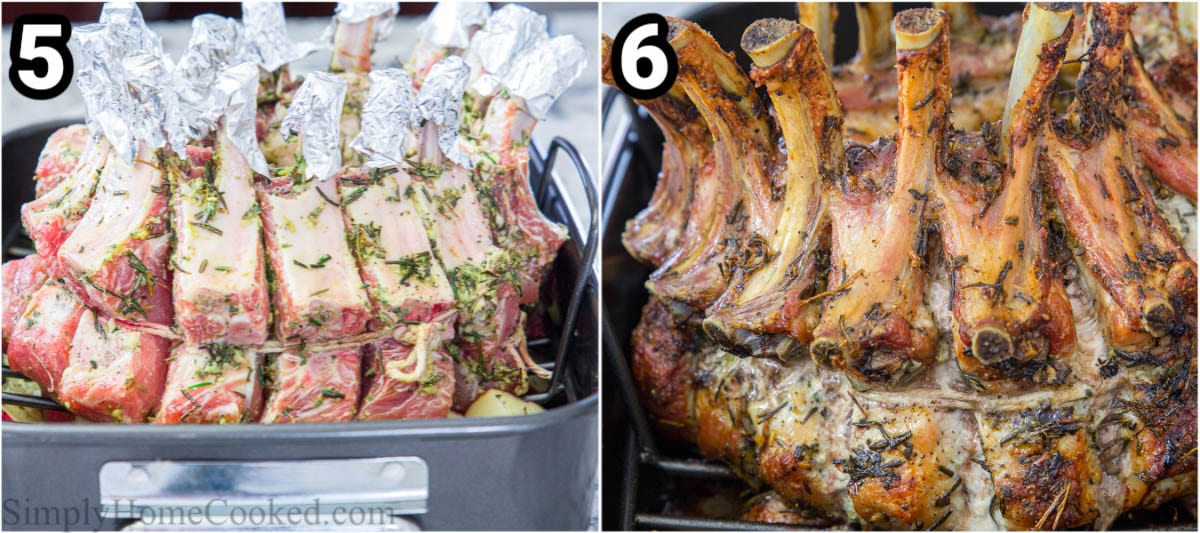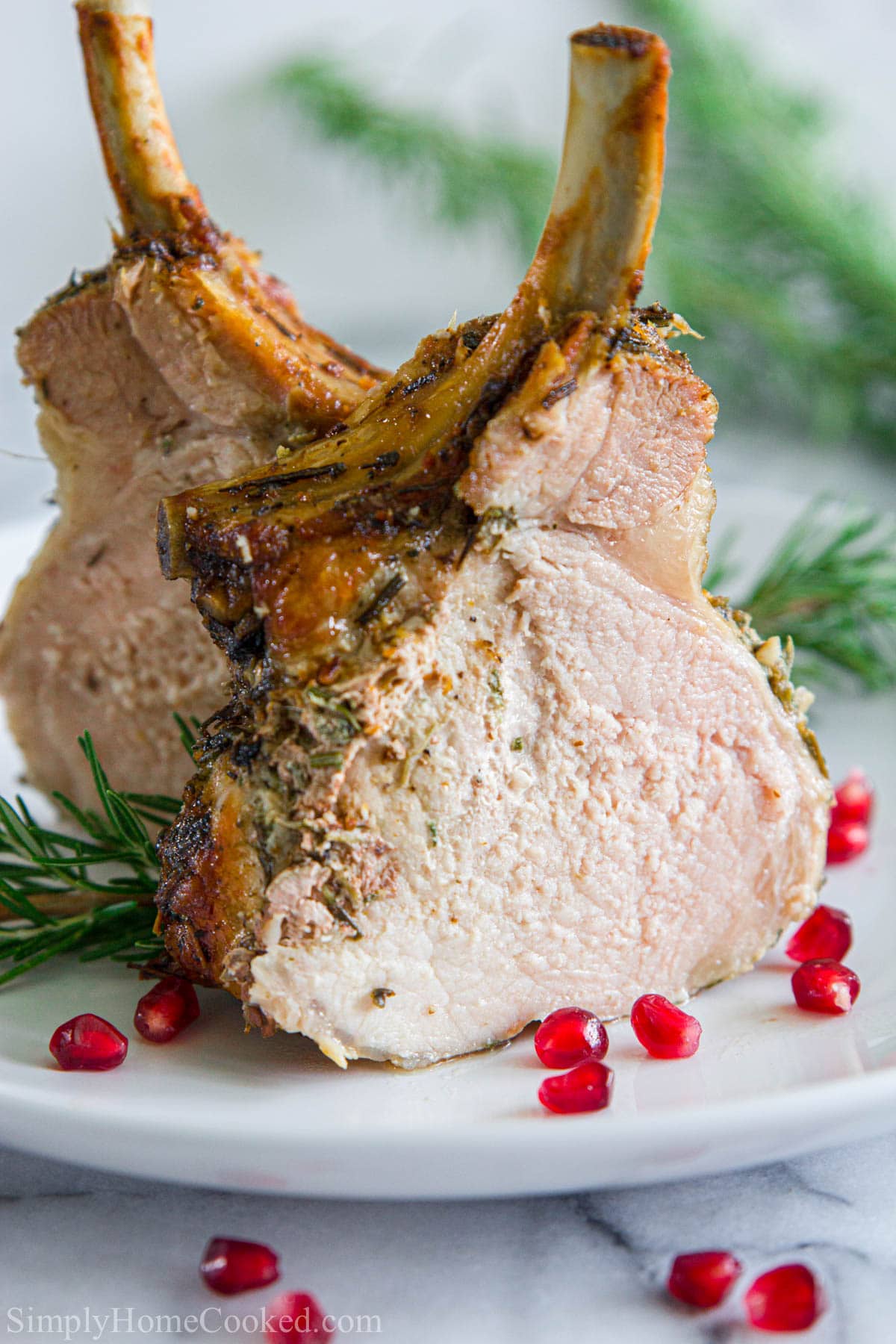 FAQs
Serving Suggestions
This Pork Crown Roast is elegant and very complementary. Here are some of the many ways you can serve it.
Potatoes: This dish is great with Crispy Baby Potatoes, Super Creamy Mashed Potatoes, Scalloped Potatoes, and Air Fryer Baked Potatoes.
Salad: Start the meal with a crisp Spinach Pomegranate Salad, Broccoli Cranberry Salad, or Cabbage Cucumber Salad. You could also serve this Easy Antipasto Salad (low carb).
Vegetables: Pair this Pork Crown Roast with Roasted Air Fryer Vegetables, air fryer baby potatoes, Air Fryer Brussels Sprouts, or Bacon Green Bean Salad.
Bread: Serve it with Buttermilk Biscuits, Buttery Brioche Bread, Focaccia Bread, or Moist Buttermilk Cornbread, and a side of Herbed Bread Dipping Oil.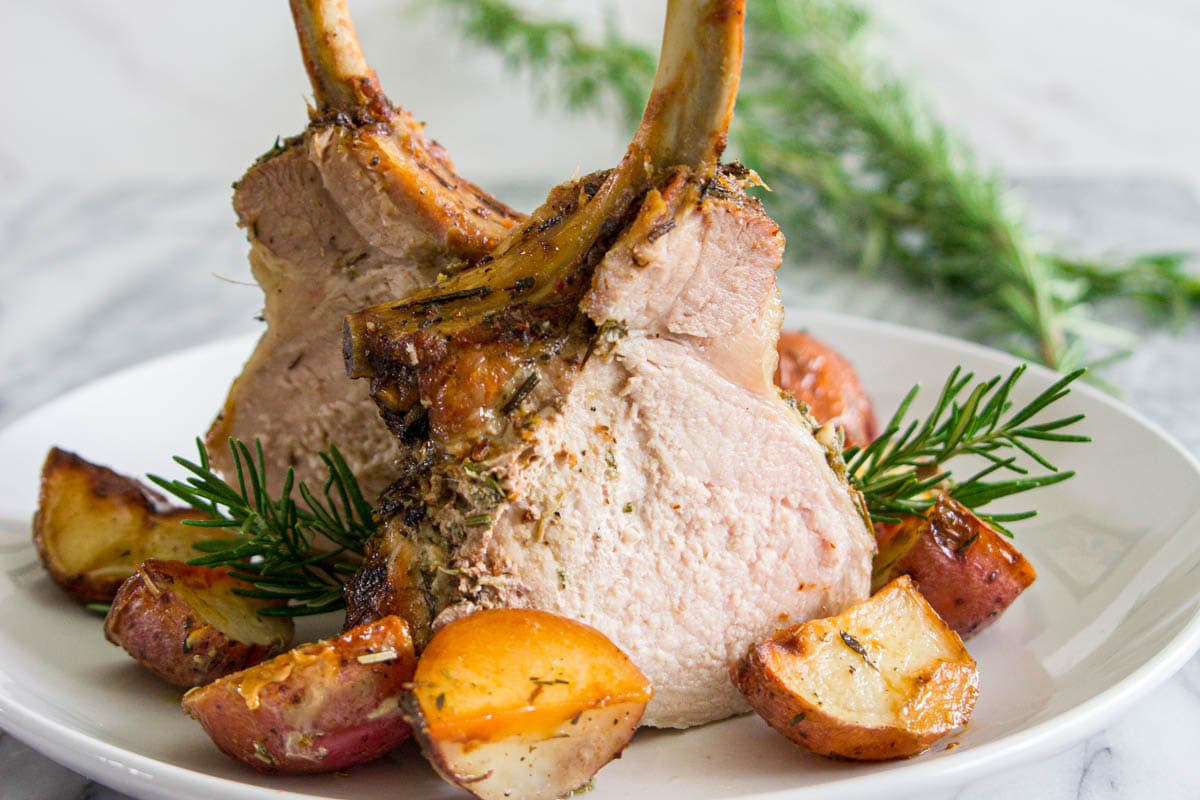 Make This Pork Crown Roast in Advance
Make ahead: You can prepare this Pork Crown Roast the day before by making the oil and herb mixture and spreading it on the pork. Refrigerate it overnight before roasting.
Storing: Store this Pork Crown Roast in the refrigerator in an airtight container or tightly wrapped with plastic wrap and foil for 3-5 days.
Freeze: If you haven't cooked the pork yet, you can store it in an airtight container in the freezer for up to 6 months. Once cooked, allow it to cool before freezing it for up to 3 months. Let it thaw overnight before reheating it in the oven.
More Decadent Dinner Dishes!
Full Recipe Instructions
Through this article, we hope to help you understand What to serve with a crown roast of pork
Detail: 🔗