Instant Pot Pork Loin – Juicy and delicious Pork Loin Roast topped with garlic, butter, and herbs, and cooked to a tender and succulent perfection in the Instant Pot! Make dinnertime way less hectic with this easy Instant Pot Pork Loin recipe. A satisfying dinner on the table and clean up is a snap!
A Low Carb and Keto-Friendly Recipe.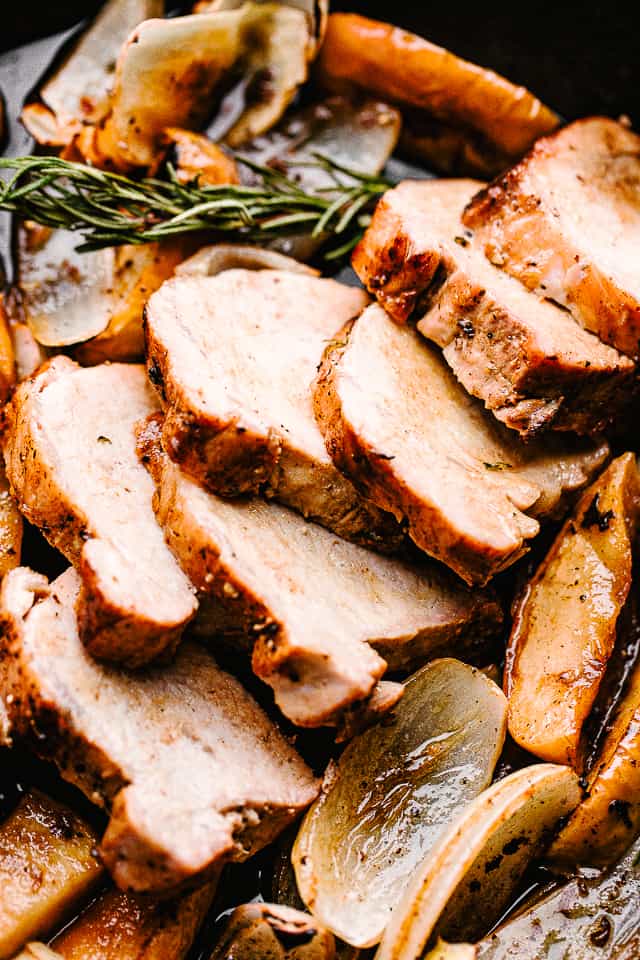 INSTANT POT PORK LOIN
Looking for big flavors with minimum effort? Mastering a Pork Loin Roast has never been easier. With just a handful of ingredients and 30 minutes, Instant Pot Pork Loin will add another dimension to easy dinners!
Don't have an Instant Pot? No worries – get my very popular recipe for cooking Pork Loin Roast in the oven.
Pork Loin is possibly my favorite cut of pork meat. It's easy to cook, has plenty of flavor, and doesn't need much babysitting, ESPECIALLY when you cook it in the Instant Pot. The Instant Pot lets you sear, cook, and sauce the pork, all in the same pot.
BUT FIRST, there are a couple of things you'll want to keep in mind when cooking pork loin in the Instant Pot.
First, make sure you get a boneless pork LOIN, and not pork TENDERLOIN. They sound similar, but are two different cuts.
Second, you will need some liquid – like, broth, wine, or beer (your choice) – we need this for the pressure cooking phase, but we also WANT this liquid for our sauce.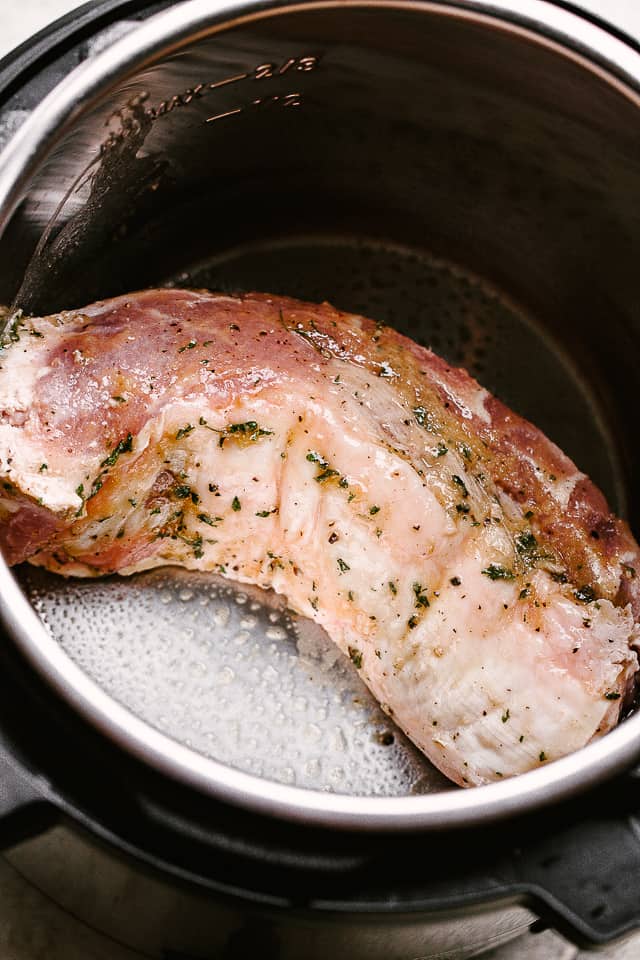 HOW TO COOK PORK LOIN IN THE INSTANT POT
We start with melting some butter and then stirring in garlic, brown sugar, and herbs.
Season the pork loin with salt and pepper, then, brush the butter mixture all around the meat.
Next, press the Sauté function on the instant pot and heat up a bit of olive oil; sear the pork loin on all sides until browned – should take about 2 to 3 minutes per side.
Remove pork and set aside.
Add liquid to the Instant Pot and scrape up any browned bits from the bottom.
Place a trivet in the IP and set the pork on top of the trivet.
Lock the lid and pressure cook at high pressure for 15 minutes.
Then, let the pressure come down naturally for 15 minutes, and quick release any remaining pressure.
Open the lid and check internal temperature with an instant read meat thermometer – it should read 145˚F. If it's less than this, you can place the lid back on the pot to let the carryover heat cook the pork to doneness. Shouldn't take more than 3 minutes.
Transfer pork loin to a cutting board and let rest 15 minutes.
In the meantime, prepare the pan-sauce: Select the Sauté function and bring liquid to a boil. Continue to cook at a slow boil for 5 minutes, or until reduced by half, stirring occasionally.
Slice the pork and serve with the pan juices.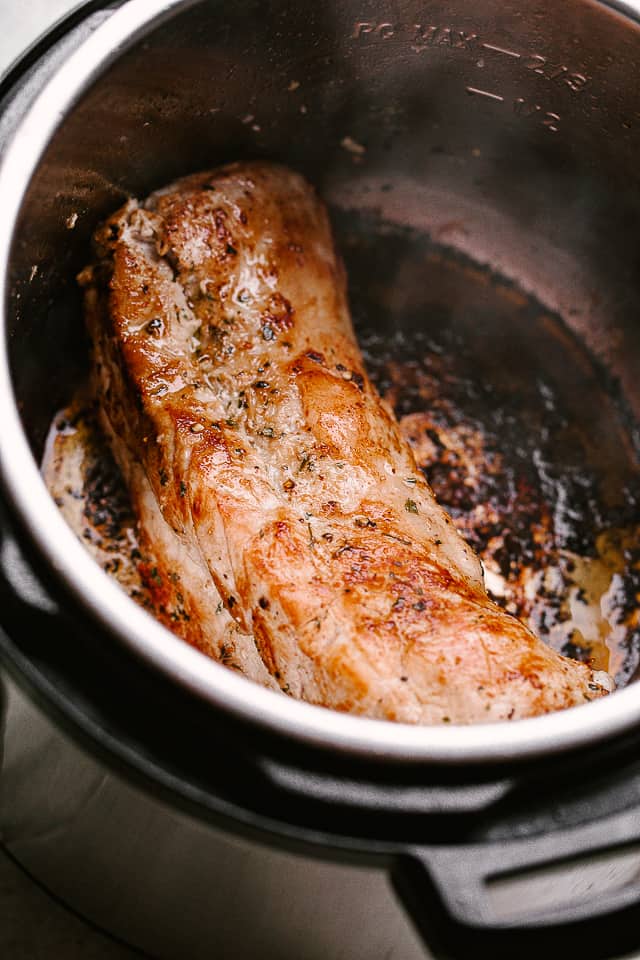 Once you serve this bad boy, you will be on pork-cooking duty for life! It's a Pork Roast recipe that is easy enough for weeknight dinners, but also impressive enough for company. I love that it cooks quickly, but remains succulent and tender and lends itself well to any variety of flavors.
TIPS FOR JUICY, TENDER INSTANT POT PORK LOIN
Take pork loin out of the fridge 20 to 30 minutes before cooking with it.
Trim visible silverskin or loose pieces of fat, but leave the fat cap in place.
Brown the pork loin before pressure cooking. Don't skip this part – it adds flavor and texture. Also, for a crispier crust, place the cooked roast on a sheet pan and pop it in a 475˚F preheated oven for 8 to 10 minutes.
A perfectly prepared pork loin should be removed from cooking at 145°F for medium doneness. The key to juicy pork is not overcooking it. Higher temperature results in a dry and stringy pork loin.
Keep in mind that cooking time also depends on the size of the pork loin. For this recipe, I used a 2-1/2 pound roast.
What I love about this recipe is, of course, the quick cooking method, but also the flavor! Garlic, herbs, butter…yum! Turns out perfect results every time. Serve this pork loin over mashed potatoes or rice, or slice it real thin and pile it on sandwiches all week long.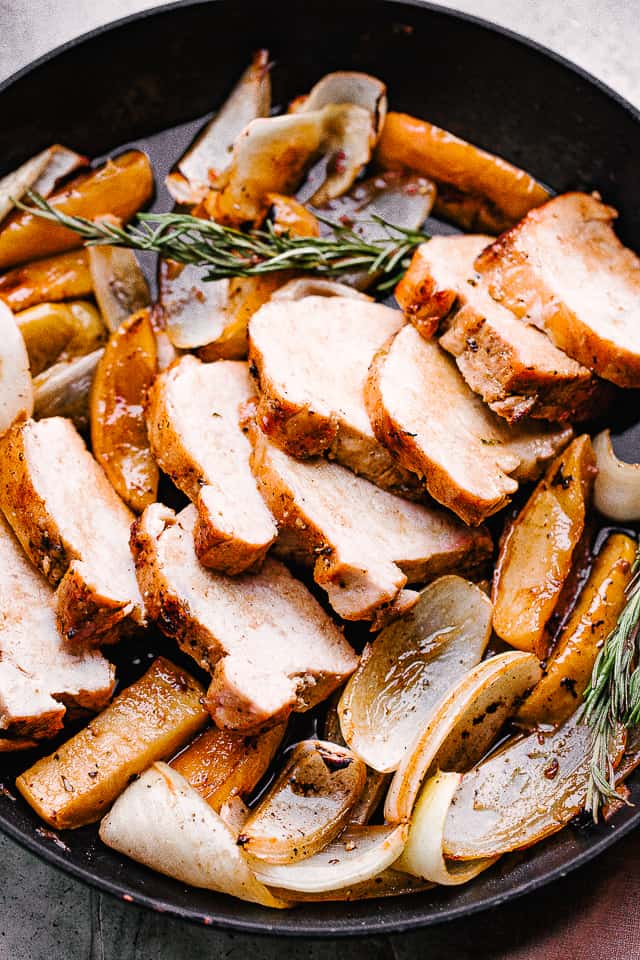 HOW TO STORE PORK LOIN LEFTOVERS
Refrigerate leftover pork in an airtight container for up to 4 days.
MORE PORK RECIPES
Instant Pot Pork Chops
Smothered Pork Chops
Roasted Pork Tenderloin with Asparagus
Garlic and Rosemary Balsamic Roasted Pork Tenderloin
TOOLS USED IN THIS RECIPE