Roasting a Pork Loin Roast in your oven with your favorite vegetables and seasonings is an easy, yet impressive dinner. You can make it for a weeknight meal or serve it to guests. You can't beat that tender, juicy pork loin and roasted vegetables!
This post is sponsored by the Iowa Pork Producers Association. All text and opinions are my own.
Reading: What goes with pork roast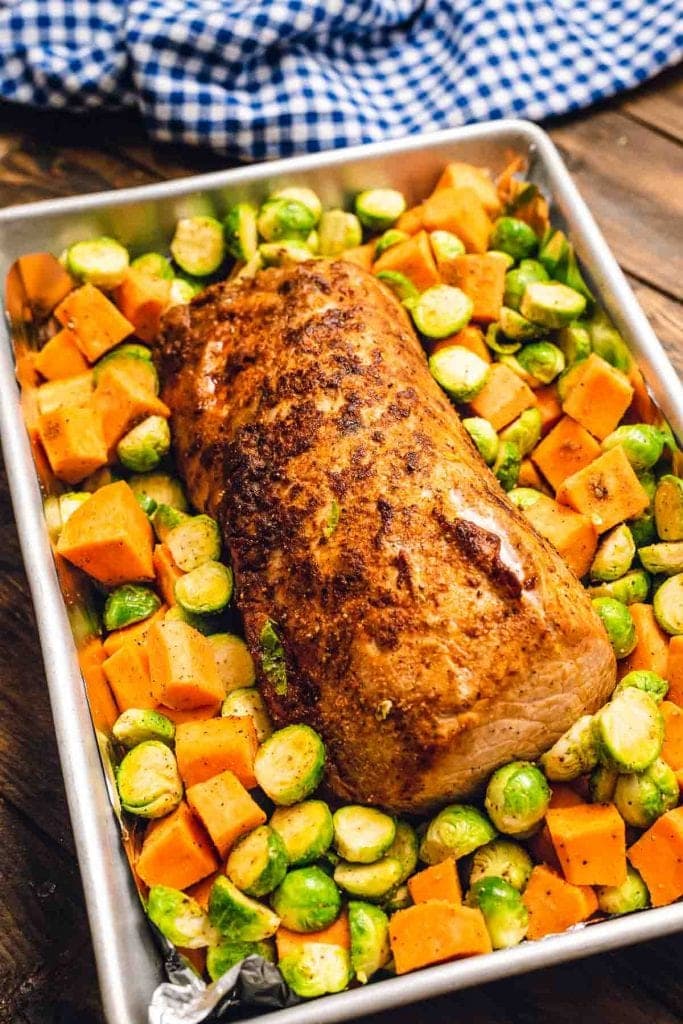 I love a delicious, tender, juicy slice of pork loin roast for dinner, especially when it's a one pan meal served with vegetables! Plus, this is easy enough to serve during the weeknight, yet it's fancy enough to serve to guests when you have them over to your house for dinner.
A versatile recipe like that is always a great one to have in your arsenal. Especially when it has a tender cut of pork and is served with roasted Brussels Sprouts and Sweet Potatoes!
As many of you know I am the proud daughter of a farmer and farming is still near and dear to my heart. When I was growing up we raised an array of livestock and also crops like wheat, soybeans and corn. Things have transitioned on our family farm to raising only soybeans and corn, so instead of raising the hogs we raise the food they eat! Even though we don't raise hogs I still love promoting the industry because of the passion I know farmers have.
Another thing farmers always have passion about is delicious meals like this one! Farming consumes most of your life and I refer to it as a "lifestyle" not a job for not only the farmers, but the family's of farmers. Since I'm not "on the farm" anymore I like to support them with meals during the busy times. I know they would love this one!
Like I said, farming is in my soul and I love sharing the amazing world of it with everyone. I was so blessed to grow up and have roots on a family farm. I love watching my kids grow up visiting the farm. I look forward to them working on it to help instill in them the same work ethic I have.
This is also why I'm so excited to spread the word about farming by partnering with the Iowa Pork Producers today!
Did you know that about one third of the pork raised in the United States is raised by my friends in Iowa? When you pick up pork at your local grocery store you are supporting family farms in Iowa and Minnesota. Pretty awesome, huh?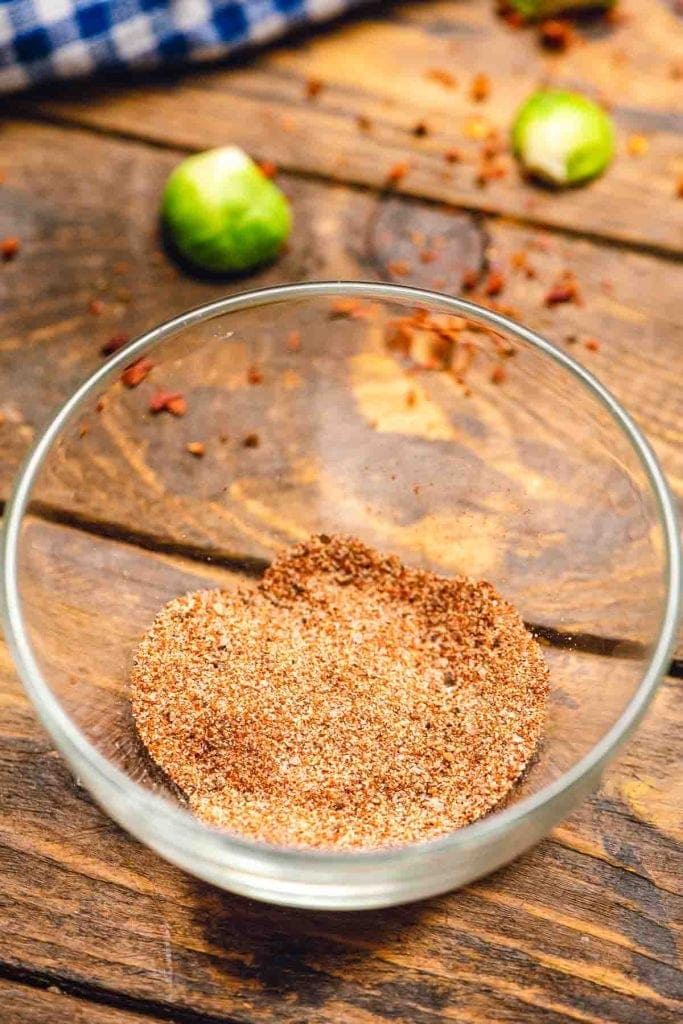 How to Make Pork Loin Roast
Read more: Did My Steak Go Bad? Tell-Tale Signs Its Not Safe to Eat
Another great thing about pork is recipes that are easy like this Pork Loin Roast! It's a quick and easy sheet pan meal that is delicious, plus easy enough to serve to your family during a busy week or fancy enough to serve to your guests.
This first step to preparing this meal is to mix up the seasoning.
Ingredients for Seasoning
Garlic Powder
Onion Powder
Salt
Ground Black Pepper
Smoked Paprika
That's it! Just combine those in a small bowl. I bet you have all of those spices in the pantry already.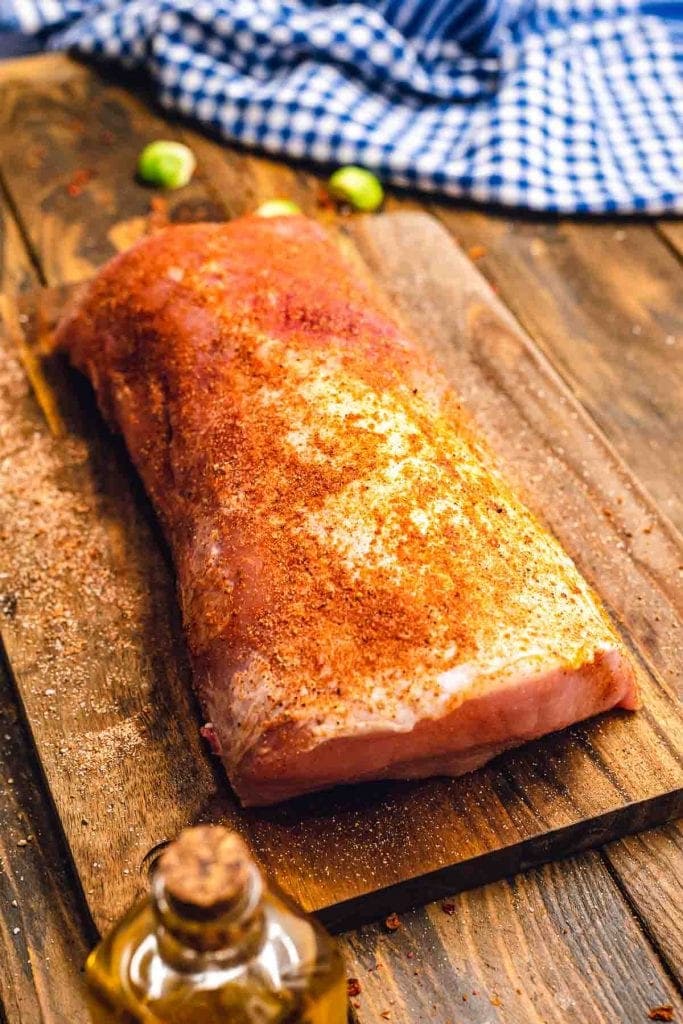 Season Pork Roast
Then season with your seasoning making sure to completely cover the entire roast.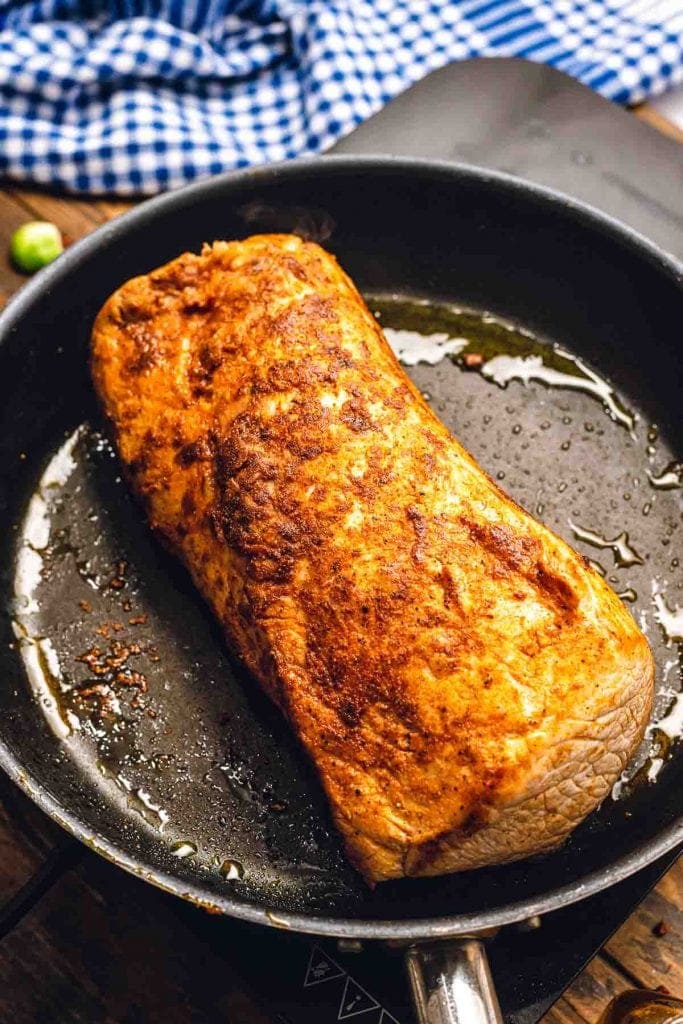 Sear
Next, heat olive oil in frying pan over medium heat. When it is hot place your pork loin in the pan and sear each side until they are browned. This should take about 2-3 minutes per side. Transfer the roast to a sheet pan lined with tin foil making sure the fat-layer is up.
Place the pork loin in preheated oven at 375 degrees F for 25 minutes.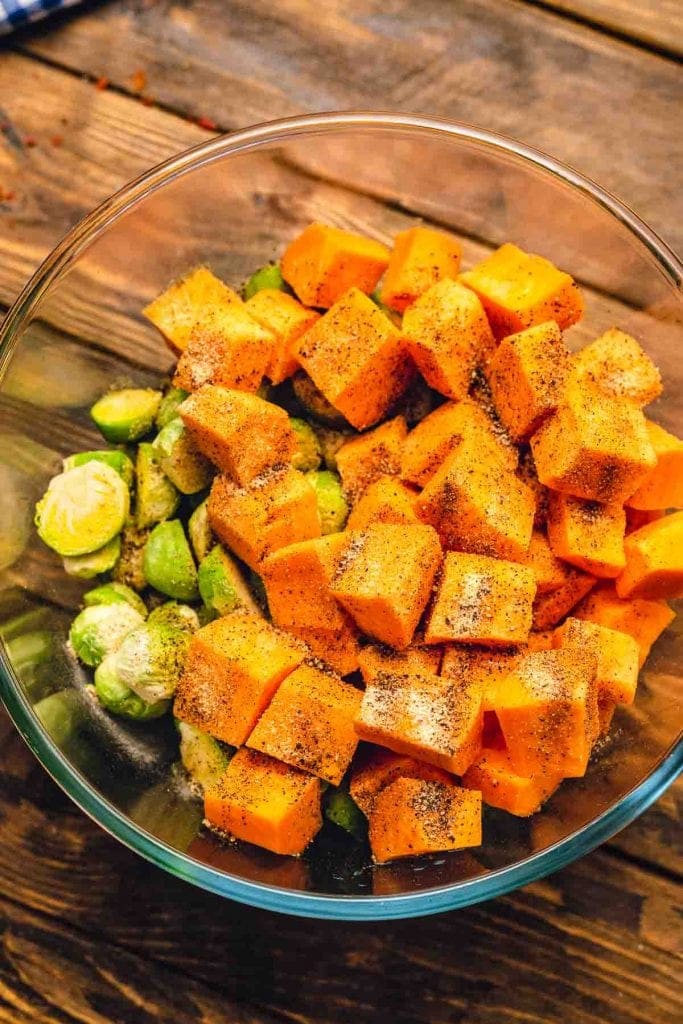 Prepare Vegetables
While the pork loin is cooking prepare you vegetables and toss them with olive oil and seasonings.
Ingredients Needed
Olive oil
Brussels sprouts
Sweet potatoes
Garlic powder
Black pepper
First wash your sweet potatoes. Then dice them into about 1" pieces.
Read more: These Funny Comebacks And Insults Are What Our Minds Are Really Made Of
Then cut your brussels sprouts in half.
Combine sweet potatoes, brussels sprouts, olive oil and seasonings in a mixing bowl. Toss to combine.
Pull the roast out of the oven after 25 minutes and add the vegetables in a single layer around the roast.
Place back in the oven and cook an additional 25-30 minutes or until the internal temperature of the roast reaches 145 degrees F. This will give you a tender, juicy slice of pork with the beautiful pink center, which is totally safe!
To check doneness properly use a digital cooking thermometer to measure the temperature at the thickest part of the cut.
Remove from oven and let rest for three minutes.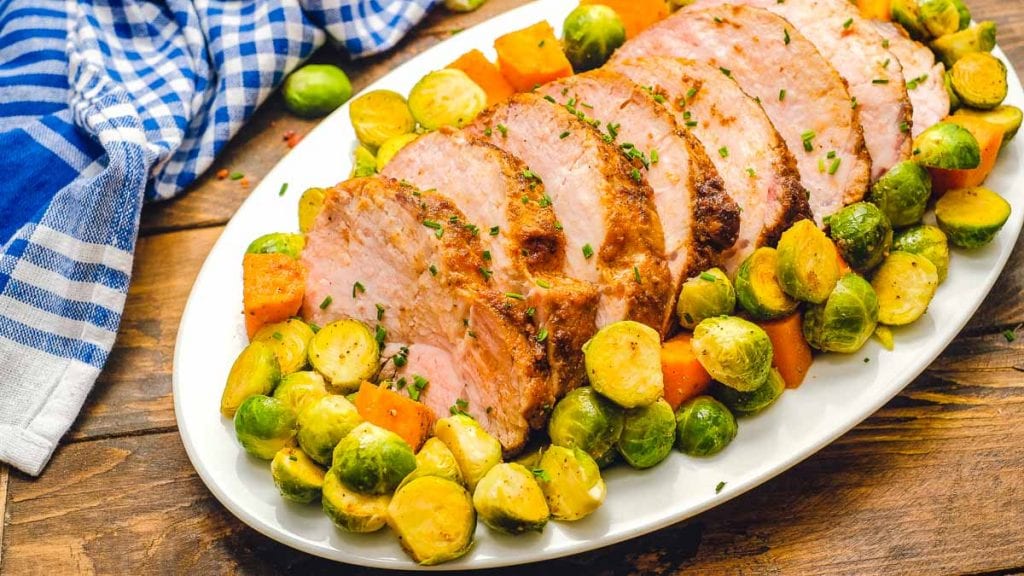 Tips and Tricks!
Here's a few quick and easy tips and tricks to making this delicious recipe!
Make sure you cook the roast cap side up.
Refrigerate leftovers for up to 3 days.
Make sure you are using a pork loin and not pork tenderloin. Pork Loin is a thicker and wider cut usually found with a fatty layer on top. Pork Tenderloin is a long, thinner piece of pork.
For this pork loin roast we recommend cooking it to 145 degrees F. This is a perfectly safe temperature for this cut of meat. Here is a quick chart for reference on other cuts of pork and their recommended cooking temperature.
We love this quick and easy meal that feeds our entire family. The best part about it is that it's packed with protein from the pork.
More Pork Recipes!
Big fan of the Instant Pot like we are? Don't miss out on this Instant Pot Pork Roast with Vegetables. Did we mention it has a delicious gravy?
If you like sheet pan recipes here's another twist using pork. Sheet Pan Parmesan Pork Chops and Vegetables is quick and easy!
Wondering how to get juicy, delicious pork chops? Parmesan Crusted Pork Chops with the best crunchy, flavorful coating!
WATCH THE STEP BY STEP VIDEO FOR THIS RECIPE BELOW:
If you enjoy watching these videos make sure you subscribe to my YouTube Channel and click the BELL icon to be notified each time a post a new video!
Try it and love it? Rate it, please!!!? Seriously though a five-star rating below will make my day! If you snap a photo, please be sure tag me on Instagram at @julieseatsandtreats or #julieseatsandtreats so I can see your yummy treat!!
Read more: Can you roast vegetables on aluminum foil?
Please see more list about What goes with pork roast
Source: https://www.julieseatsandtreats.com/pork-loin-roast/