If you're in search of a simple and delicious pork tenderloin recipe, you've come to the right place! This pork loin stir fry is cooked in a flavorful Asian sauce with just five ingredients. It pairs perfectly with white rice, a Korean spinach salad, a Korean cucumber salad, shredded carrots, radishes, fresh scallions, Sriracha, and/or Gojuchang.
Asian Pork Tenderloin Stir Fry
This pork stir fry recipe is reminiscent of Bulgogi but is quicker and requires fewer ingredients. The meat is marinated without the use of Asian pear or scallion. It's a dish that you'll want to make over and over again, especially for busy weeknight dinners. It's speedy, bursting with flavor, and won't break the bank.
How to Make the Asian Marinade for Pork Tenderloin Stir Fry
Prepare the insanely good five-ingredient Asian marinade or sauce for this recipe. You can find all the necessary Asian condiments in your pantry or at any local market: light soy sauce, sesame oil, fresh ginger, garlic, and brown sugar.
Cooking the Asian Pork Tenderloin Stir Fry
Begin by placing the pork tenderloin in the freezer for about 30 minutes until it firms around the edges. This will make slicing the meat easier. This tip is from Bon Appétit.

Thinly slice the meat, aiming for uniform slices to ensure even cooking.

Marinate the pork loin with the homemade Asian sauce for at least 10 minutes or up to 2 hours. I personally recommend marinating it for 10 minutes.

It's time to cook! Cook the pork in two batches. Heat up 1 tablespoon of vegetable oil in a large skillet over medium-high heat. Cook the first batch of loin undisturbed until it turns dark brown underneath, about 1 – 1½ minutes (depending on the thickness). Toss the meat, break it up using tongs or a wooden spoon, and continue cooking on the other side for 1 – 1½ minutes or until brown.

Season with salt and pepper if needed, then transfer to a plate.

Before cooking the remaining meat, wipe out the skillet to keep it clean. Then add 1 tablespoon of vegetable oil to cook the last batch.
Building the Asian Bowl with Pork Tenderloin Stir Fry and Veggies
Add carbs: Place a generous amount of white or brown rice in the bowl. I highly recommend using long-grain or jasmine rice. Cook the rice according to the product packaging.

Add protein: Add around 2-3 full scoops of Asian pork tenderloin stir fry to the bowl. This provides a great source of protein and adds sweetness and savory flavor to the meal.

Add veggies: Include some Korean Spinach Salad (Sigeumchi-Namul) or this addictive Korean Cucumber Salad.

Add more veggies: Include shredded carrots and radishes, or any vegetables of your choice. These should be fresh and plain, as the bowl already has plenty of flavor from the meat and spinach.

Add sauce: For spiciness, use a teaspoon (or more!) of Gojuchang or Sriracha.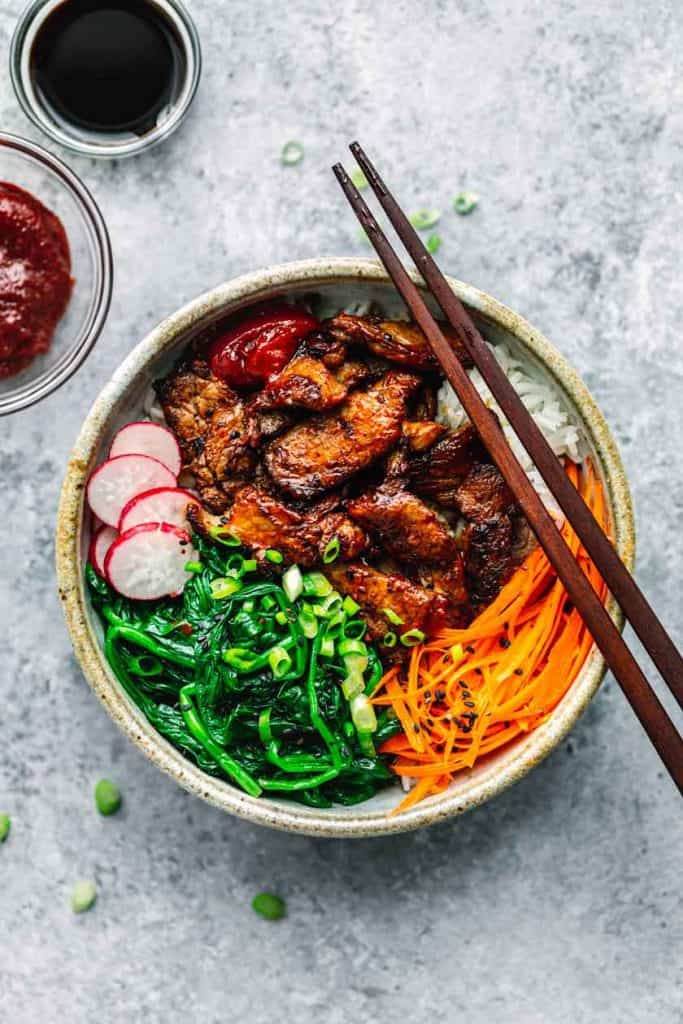 Keeping Pork Loin Tender and Juicy
Pork tenderloin is the leanest and most tender part of the animal, located between the shoulder and back legs. It's delicate and typically weighs around 1 pound. Therefore, it cooks quickly and mustn't be overcooked, as this can ruin its texture and make it tough and unappetizing.
For this Asian Pork Stir Fry, cook each side for about 1 minute since the meat is thin. Remember, the internal temperature of pork tenderloin continues to rise as it rests.
Pork tenderloin is not only inexpensive and easy to cook but also widely available. It's my go-to meat for any last-minute dinner ideas that are sure to please a crowd.
Check Out More Asian Recipes
Salt and Black Pepper Chicken Wings
Vietnamese Caramelized Pork Bowls
Minced Pork Noodles with Hoisin Sauce
Chinese Eggplant with Minced Pork
Kalbi – Korean BBQ Flanken Short Ribs
Chinese Sausage Fried Rice
Instant Pot Mongolian Beef
Singapore Noodles (Xing Zhou Mi Fen)
General Tso's Chicken
Vegetable Stir Fry with Tofu
Thai Salad Dressing
Shrimp and Green Peas Stir Fry
Hainanese Chicken Rice
Sesame Noodles
I hope you enjoy this recipe and share it with your friends! If you try it, please leave a comment and/or rating. Don't forget to subscribe for weekly recipes and follow me on Pinterest.