Pork Stew has tender chunks of pork and vegetables in a thick and hearty broth. It's so flavorful and rich, you'll have the whole family reaching for another bowl!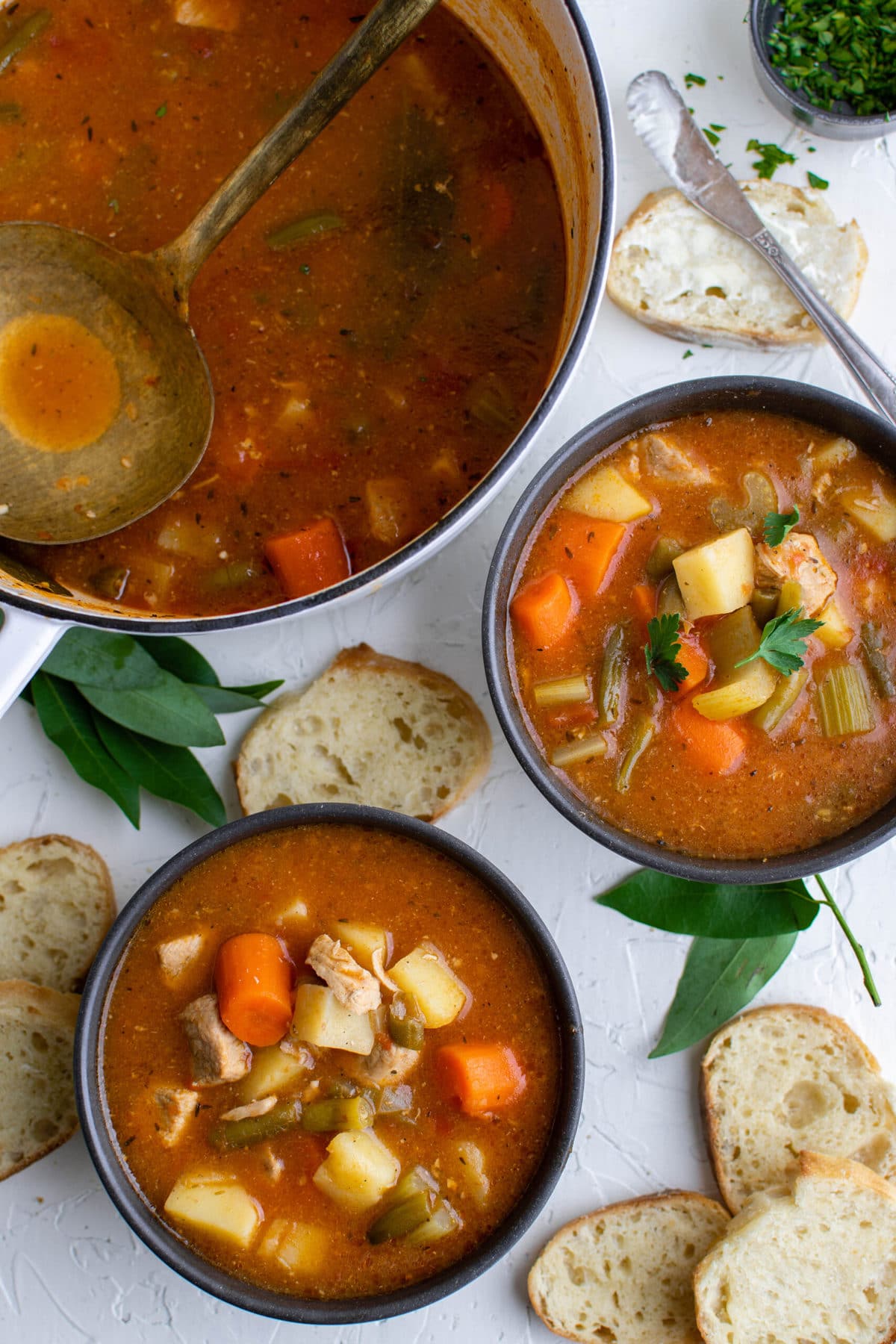 Warm your body and soul this winter with a hearty bowl of our delicious pork stew. Or try some of our other easy pork recipes for your favorite comfort food, like Skillet Pork Chops with Gravy, Baked Pork Chops, Easy Crock Pot Pork Roast.
Pork Stew Ingredients
Boneless pork shoulder or pork butt – both come from different parts of the shoulder. I always buy boneless for pork stew because I don't want to have to deal with the bone.
Butter and olive oil – I use both for browning the meat. The butter add a ton of flavor and the oil keeps the butter from burning.
Onion and celery – chopped and browned with the meat
Spices and seasonings – bay leaves, dried thyme, dried rosemary, minced garlic, salt and pepper.
Potatoes – I love a waxier potato like Yukons for this, because they aid in thickening and are nice and soft.
Veggies – I also add carrots, diced canned tomatoes and green beans.
Parsley – stir it in at the end for freshness.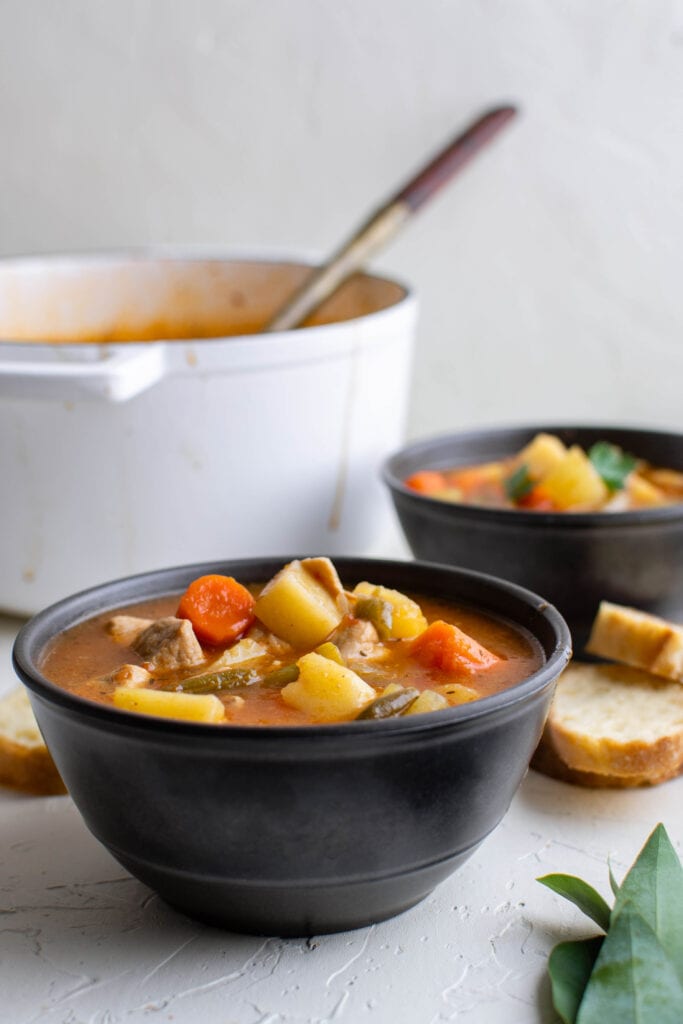 Best Pork for Stew
Pork shoulder or pork butt (sometimes known as Boston butt) is a great choice for making stew. Both cuts are dense, fatty cuts and are perfect for the "low and slow" style of cooking. It's the same cut of meat I use for my BBQ Pulled Pork Sliders, Pulled Pork Chili and Slow Cooker Carnitas.
Sometimes you can find pork stew meat already cut up, like they do with beef, but I prefer to purchase the whole roast. The chunks you find packaged up are discards and scraps from other pieces of meat put together by the butcher. They are often a mish-mash of different cuts and don't always cook evenly, resulting in some chewy, not tender, pieces.
I don't recommend leaner cuts like pork loin or tenderloin, as they can become tough when boiled.
How to Make Pork Stew
This recipe is similar to my Beef Stew Recipe. It has tender cuts of meat, vegetables and herbs all simmed together in a thick, hearty and incredibly flavorful broth. The potatoes thicken it a bit, but to thicken even more you can use a simple cornstarch slurry.
Cook pork and onions until browned.
Add seasonings, herbs, broth and tomatoes. Simmer for 1 hour.
Add potatoes, celery and carrots and simmer 20 minutes.
Add green beans and thicken (see below). Simmer additional 10 minutes.
Serve.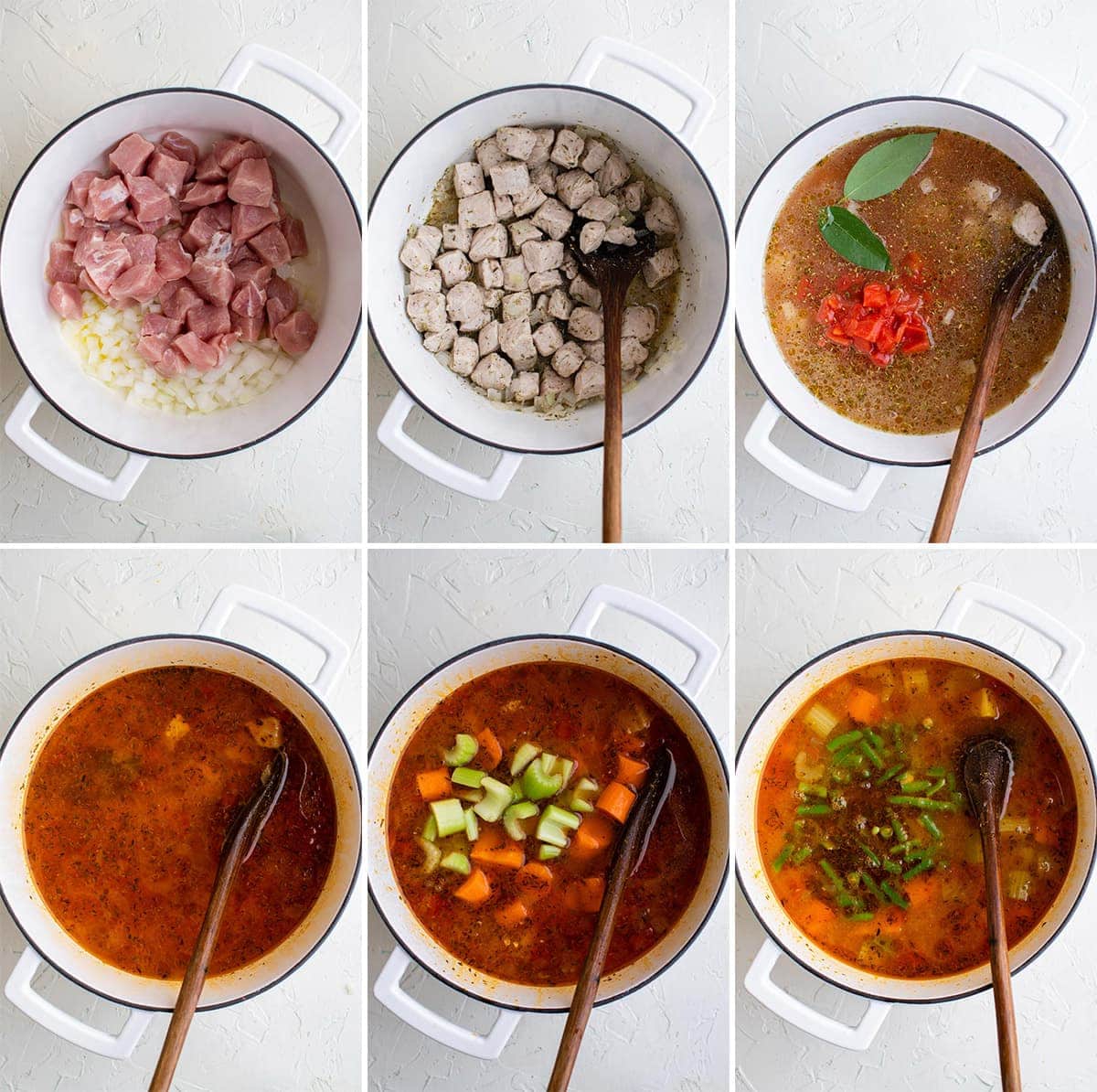 How to Serve
Ladle stew into bowls and garnish with fresh minced parsley for freshness and color, or stir some right into the soup pot. Stew is a hearty one pot meal, so it doesn't require a lot of extra dishes on the side. Serve with a crusty bread or crackers and call it good. We also enjoy it with Homemade Biscuits, Sour Cream Cornbread or Beer Bread.
Storage and Freezing
Refrigerator: Store leftovers in airtight containers in the fridge for up to 4 days. Reheat in the microwave or on the stovetop.
Freezer: Pork Stew freezes exceptionally well. Store in freezer containers, leaving about an inch of space at the top for expansion. Freeze for up to 4 months. Thaw in the fridge overnight and reheat on the stovetop or in the microwave.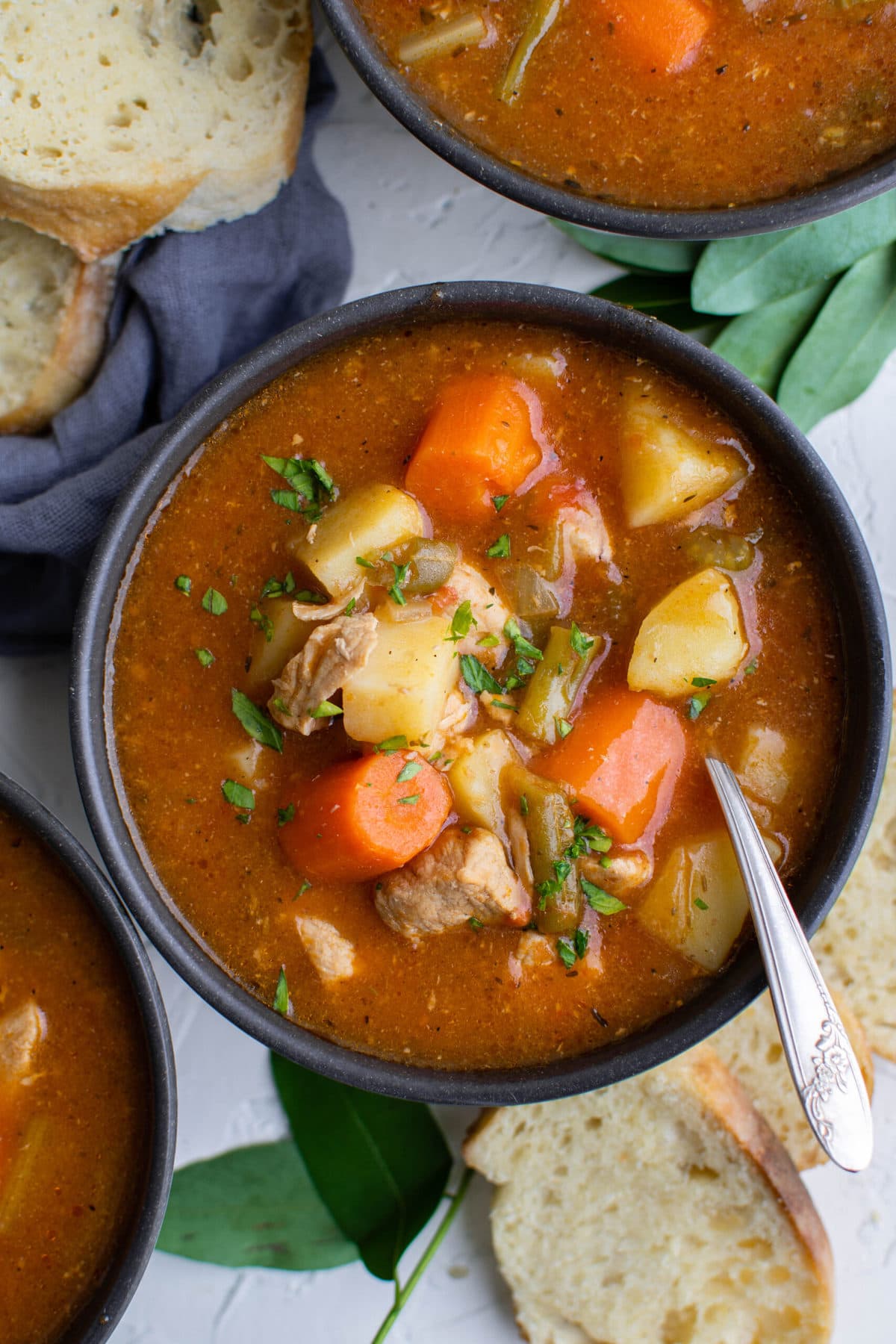 More Soup and Stews to Love
Tortellini Soup
Instant Pot Chicken Stew
Loaded Baked Potato Soup
Matzo Ball Soup
Creamy Sausage and Potato Soup
Through this article, we hope to help you understand Recipes with pork stew meat
Detail: 🔗