With the help of a pressure cooker, Oxtail Soup (Hong Kong Style Borscht) can be prepared in much less time! This hearty and flavorful tomato-based soup is cooked with oxtail and stew beef, onion, carrot, tomatoes, potatoes, and cabbage.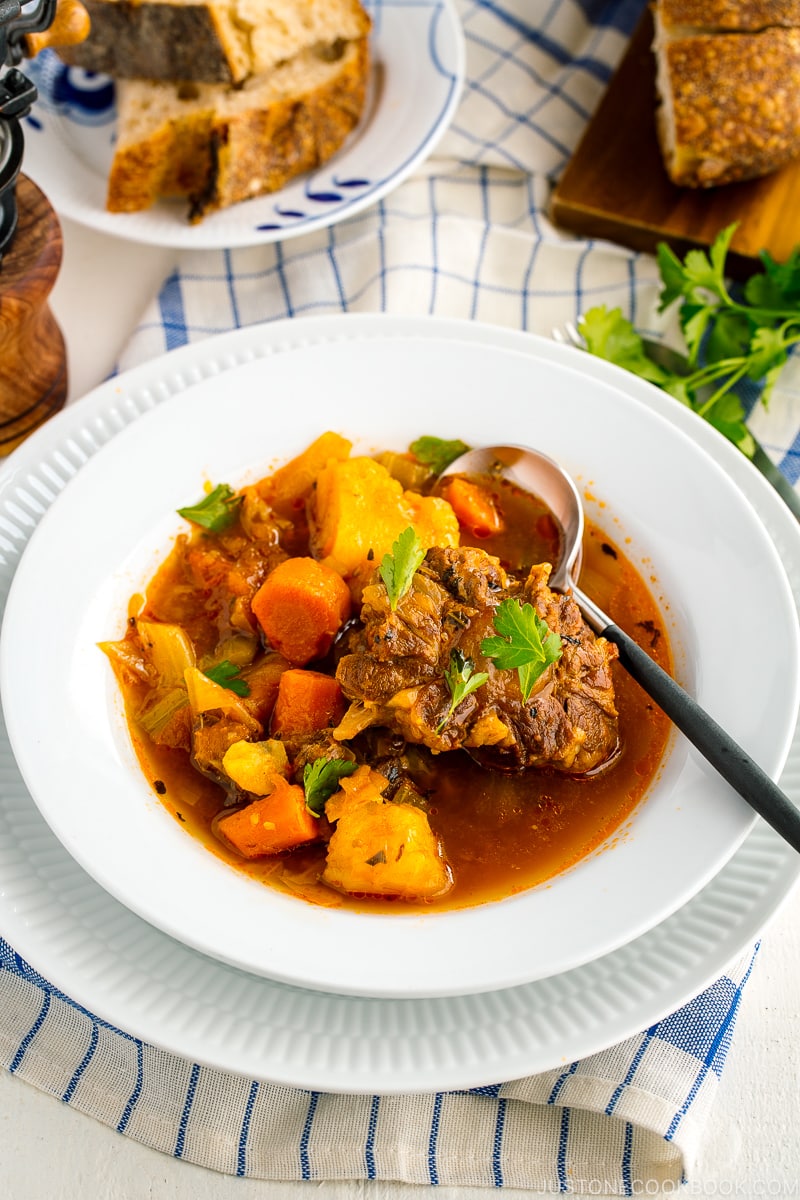 Today's recipe is the pressure cooker version of our family's favorite Oxtail Soup – Hong Kong Style Borscht. Since it's Mr. JOC's favorite comfort soup, I've been cooking this recipe with my Instant Pot to cut down on the cooking time.
For those of you who're not familiar with Hong Kong styled Borscht, it's basically an oxtail soup that uses tomatoes instead of beetroots in the classic Russian Borscht. If you love tomato base soup, you'll enjoy this rich and flavorful Oxtail Soup during the cold months.
What's Oxtail?
Did you grow up eating oxtail? Oxtail is the culinary name for the tail of cattle. Growing up in Japan, I had never heard of oxtail (牛の尾, オックステール). When I came to the U.S. and learned the word "ox" in English means a cattle, I was surprised that this particular part of a cattle is edible. I was definitely a bit uncomfortable the first time trying this meat. You should have seen my children's reaction when I told them the first time which part of the cattle they were eating when I made this soup. Well, that didn't stop us love oxtails as they give such amazing flavors, and the meat is super tender and juicy.
Each oxtail piece has a tailbone with some marrow in the center. There is not much meat surrounding the tail, and when there is, they tend to be more gelatinous.
Oxtails are great for making braises, soups and stews, and stocks. You might have tried the classic Russian/Ukrainian Borscht, Italian Oxtail Stew, Korean Oxtail Soup, Chinese Oxtail Soup, Filipino Kare-Kare to name a few.
Oxtail requires a long time to cook since it's so bony and fatty. However, with the help of pressure cooking, you can minimize the total cooking time!
Also read: Instant Pot Red Wine Oxtail Stew – a must try!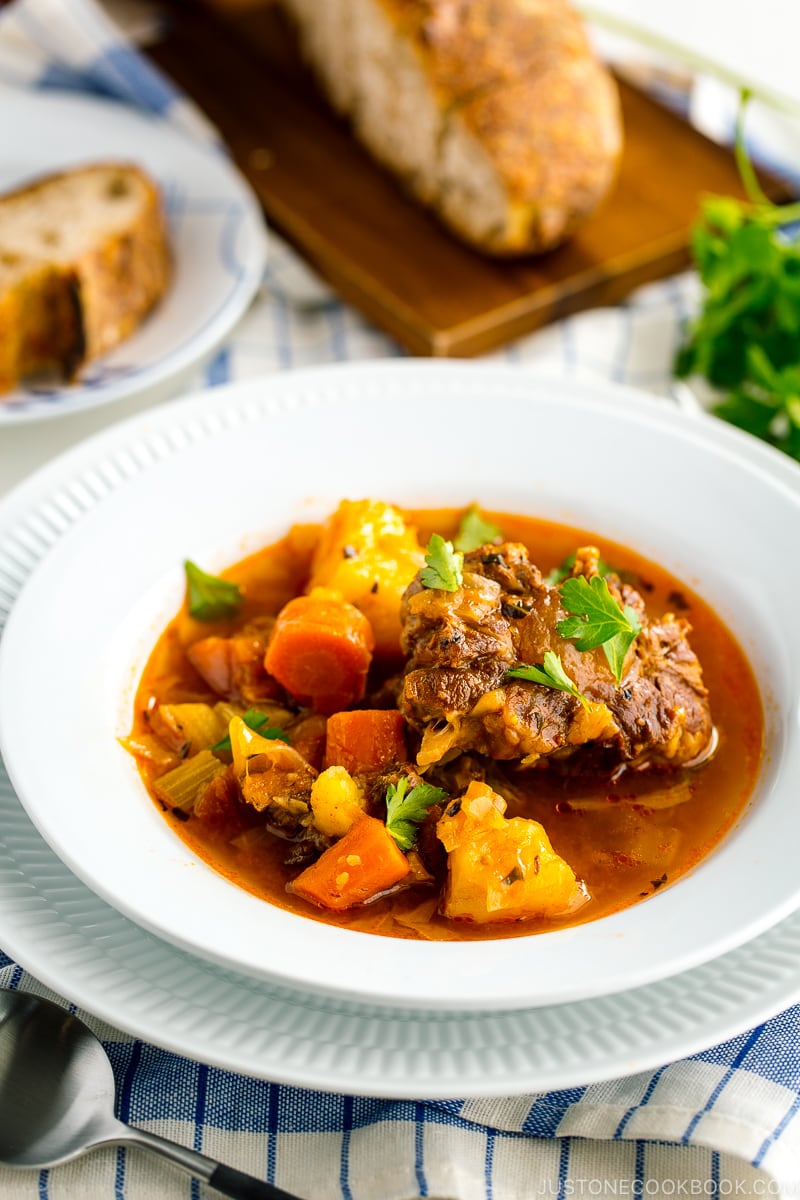 Tips for Making Pressure Cooker Oxtail Soup
Oxtail:
If you have never purchased oxtails before, you will need to go to the butcher or a grocery store with a butcher counter. If the grocery store doesn't have in the showcase, they sometimes keep them in the freezer. So keep in mind that you will need to shop at least one day before you cook this dish so you will have enough time to defrost oxtails in the refrigerator overnight.
For those of you who're not ready to eat oxtail, you can use stew beef instead. Pressure cook for 15-20 minutes (much shorter!).
Vegetables:
Make sure to saute onion and celery and get the flavor base going! I highly recommend using all types of vegetables I listed in this recipe without substituting. Each ingredient contributes nicely to the soup.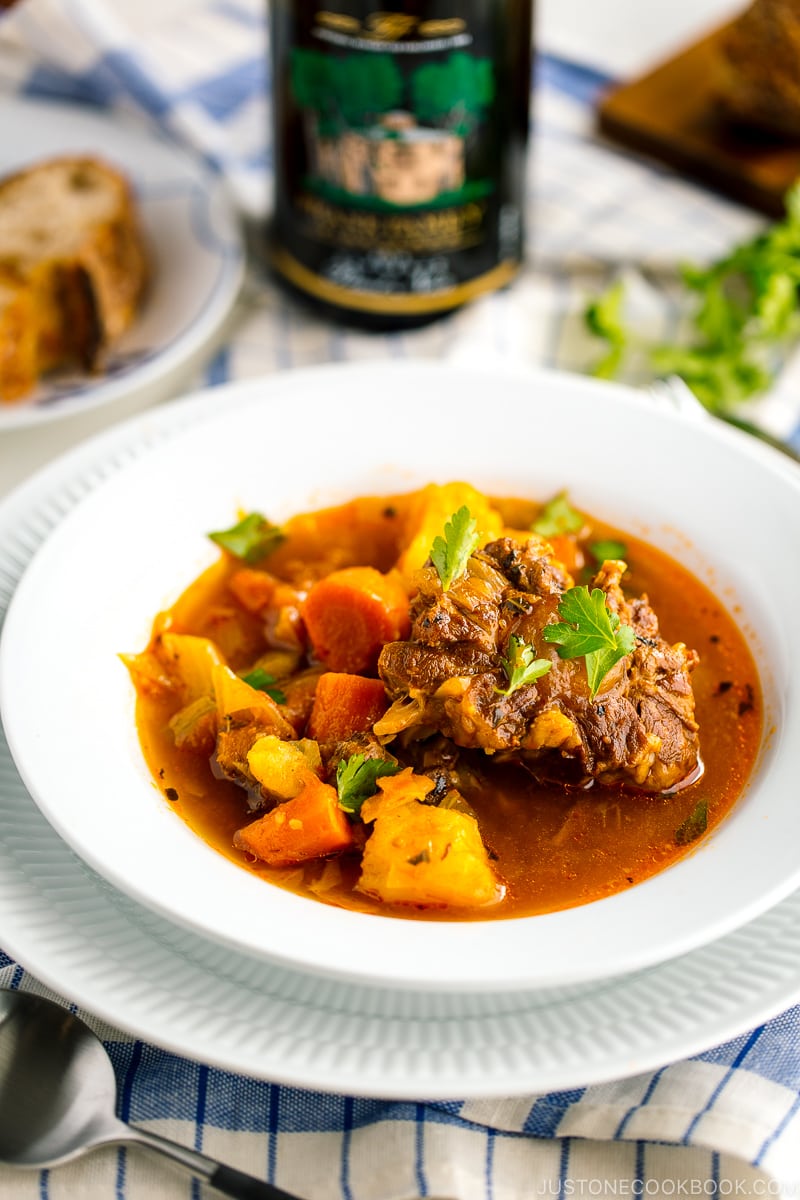 Tomato Paste:
Depends on how tomato-ey you want your soup to be, you can adjust the amount of tomato paste you put in your soup. I recommend at least 2 tablespoons to start with.
If you don't have tomato paste, you can use tomato puree or tomato sauce. For 1 tablespoon tomato paste, you can cook and reduce 2-3 tablespoons of tomato puree or tomato sauce until it is thick.
Beef Broth:
Also read: Tender Instant Pot Oxtail Recipe – Savory Thoughts
I use beef broth from Trader Joe's and I like it as it's not too salty compared to other brands. If you use other brands, please taste the soup before adding salt at the end. 🙂
Pressure Cooker (Instant Pot):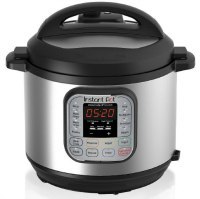 I usually use pressure cooking mode on my favorite Instant Pot (I'm not sponsored; I just love this gadget!) rather than slow cooking mode simply because I typically decide on dinner menus pretty last minute.
If you have an electric slow cooker, or slow cooking fits your lifestyle, you can definitely use this recipe as well.
Wine Pairing with Pressure Cooker Oxtail Soup
We had the opportunities to taste 3 different wines 2014 (Carneros Pinot Noir – $35, 2013 Napa Valley Cabernet Sauvignon – $52.50, and the 2013 Napa Valley Petite Sirah – $35) from Frank Family Vineyards in Napa and share them with friends over the holidays. These wines are great paired with food or enjoyed by themselves.
Among three wines, our favorite was the Petite Sirah, it was very fruity and flavorful, with hints of plums and berries. We enjoyed the Sirah with baked salmon and they worked out really well.
For the oxtail soup, we enjoyed it with cab. The cab had strong earthy flavor but yet smelled light and refreshing. The complex flavors complemented the meat and tomato-based broth.
Also read: Instant Pot Oxtail Soup – Immaculate Bites Slow Cooker
As you drink, we particularly enjoyed the spicy finish for the cab. The pinot was light-colored and easy on the palate. We would recommend drinking the pinot in the afternoon for fun as it was very sweet and fruity. It would go well with cheese and crackers, or just by itself.
No pressure cooker or slow cooker?
You can make it on the stovetop!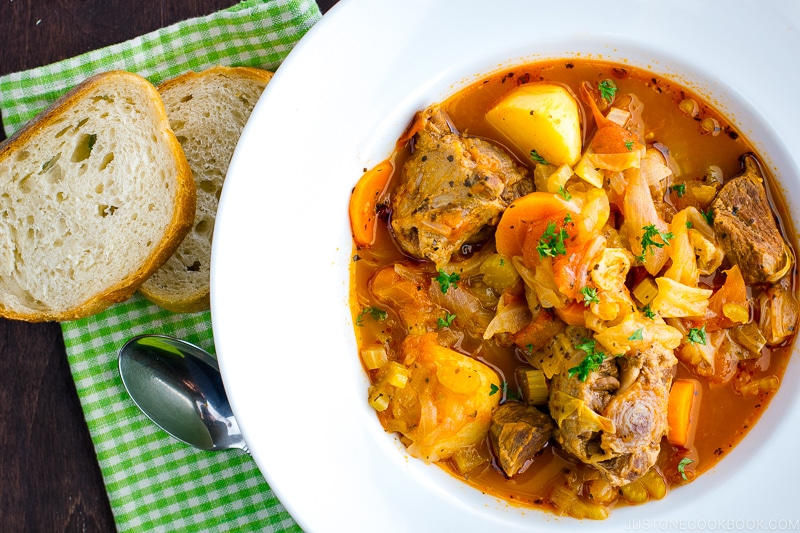 Oxtail Soup – Hong Kong Style Borscht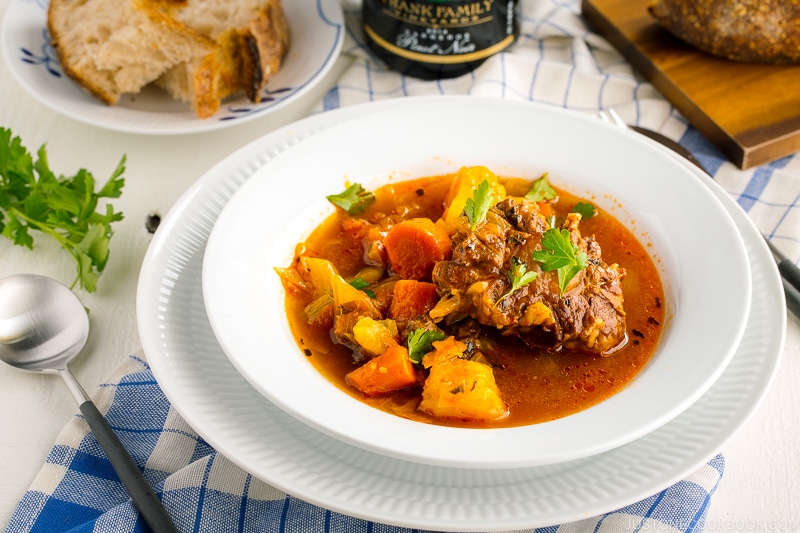 Japanese Ingredient Substitution: If you want to look for substitutes for Japanese condiments and ingredients, click here.
Sign up for the free Just One Cookbook newsletter delivered to your inbox! And stay in touch with me on Facebook, Pinterest, YouTube, and Instagram for all the latest updates.
Disclaimer: We received no compensation for the wine review. We received 3 different wines from Jarvis Communications free of charge to use in exchange for an honest review.
For more information please see the list of How to make oxtail stew in a pressure cooker