Fall off the bone tender Pressure Cooker Oxtail Stew is the world's easiest Italian comfort food. Beef oxtail osso buco is seared, braised in a red wine tomato sauce in the Instant Pot and topped in gremolata.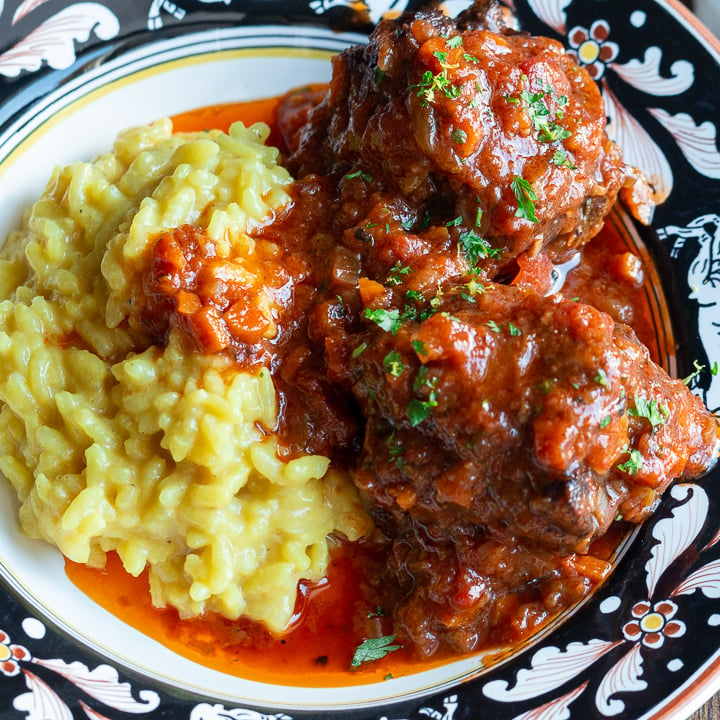 Delicious gelatin-rich braised oxtail stew is just what your body has been craving. Slow cooked flavors in a short period of time with the help of the pressure cooker (Instant Pot). Served over a Creamy Parmesan Risotto with Saffron and topped with an easy citrus gremolata, this instant pot oxtail stew is not to be missed. Just like our Instant Pot Lentil Ham Stew or ourPressure Cooker BBQ Ribs, you can get delicious slow cooked flavors and tender textures with the help of your pressure cooker.
Reading: How to make oxtail stew in a pressure cooker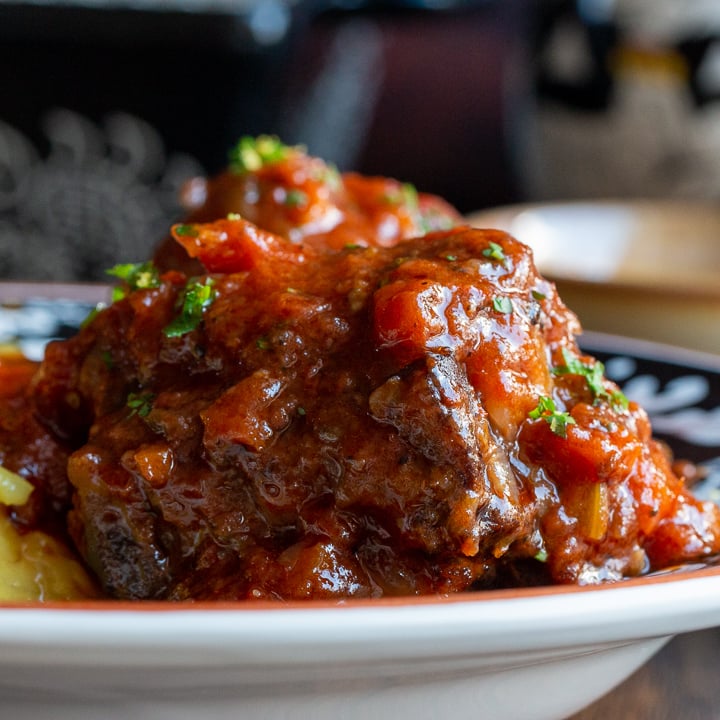 Why you are going to love Pressure Cooker Oxtail Stew
Melt in your mouth deliciousness
Perfect comfort recipe for cool autumn and winter days or any time you need a little extra TLC.
Rich and delicious due to the higher levels of collagen
All day cooked flavors in a shorter period of time.
One of our biggest fan's favorite recipes!
Recipe Tribute to one of our Original Healthy World Magazine's Subscribers
This month we are celebrating the anniversary of a very energetic, fun loving foodie follower of Healthy World Cuisine. Drum Roll Please…. Please give a warm welcome to Eha Carr.
Eha has been an avid follower of Healthy World Cuisine for over 8 years. We are passionate about food and YOU, our dear followers.
Each one of your comments or questions helps us understand you and what your needs are. Once we know that, we can help find culinary solutions or provide you with the content you are looking for. More times than not, we have found followers just like you that have become lifelong friends from around the world.
We wanted to do something special for Eha. She always brightens our day with a message, comment or stories about life in Australia. When we asked her what her favorite recipe was, she said Osso Buco with Risotto Milanese. So off we went to the market with a list but came back with one slight substitution.
Can you guess what it was? … BEEF OXTAIL instead of Veal Shanks! (Oxtail is easier to source and a little more budget friendly compared to veal shanks.)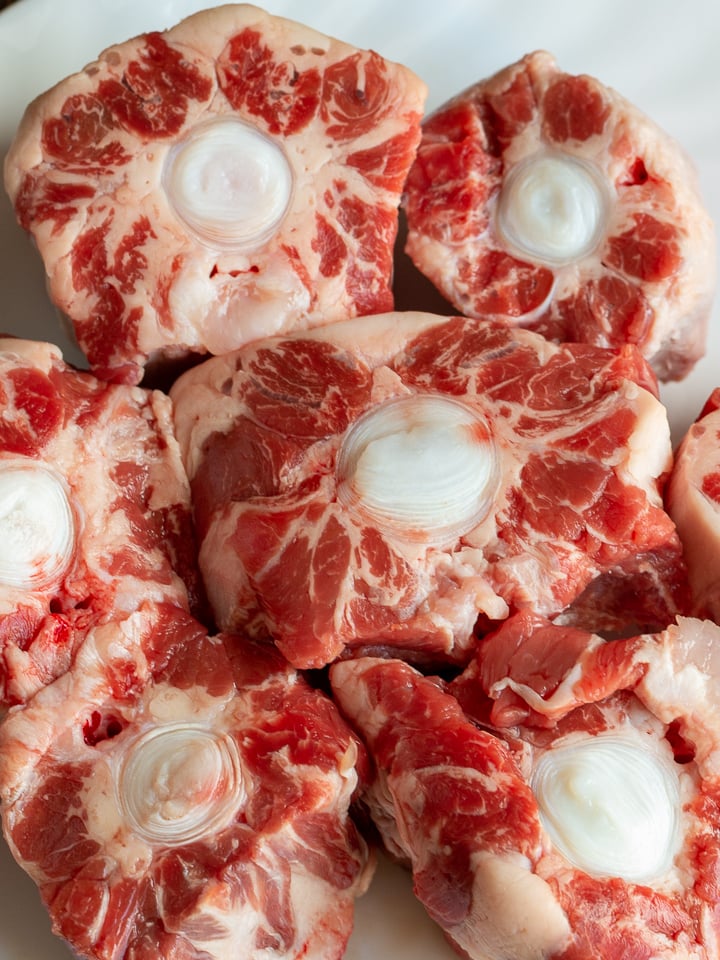 What is Oxtail?
Beef oxtail is the culinary name for the tail of a cattle. Back in the day, it used to come from an OX. However, now a days it can come from a cow (girl) or steer (boy).
Now hold on! We know you are all over there being squeamish but what you don't know is this delicious part of the steer is packed full of gelatin rich collagen and this makes the MOST AMAZING RICH sauce and meal. Oxtails are a great substitution when you cannot find expensive veal shanks for osso buco.
Read more: Red & White Wine Substitutes for cooking
An average size oxtail is about 2-4 pounds (0.9 kg – 1.8kg). The butcher usually slices these in sections about 3- 4 inches thick. At the top of the tail it is thicker and there is more meat. However, at the bottom of the tail, there is less meat and more bone.
Comparison of Oxtails vs Veal Shanks
There is less meat on a beef oxtail compared to a veal shank. However, for what it does not have in meat, it makes up for in flavor. Oxtail tastes like a richer savory beef roast and have a bit of marrow. Veal shanks are milder in flavor compared to oxtails and have more marrow. Veal shanks are expensive and difficult to come by. Generally speaking, you would need to pre-order veal for osso buco from your butcher. Oxtail, on the other hand, is a bit easier to find and less expensive compared to veal shanks.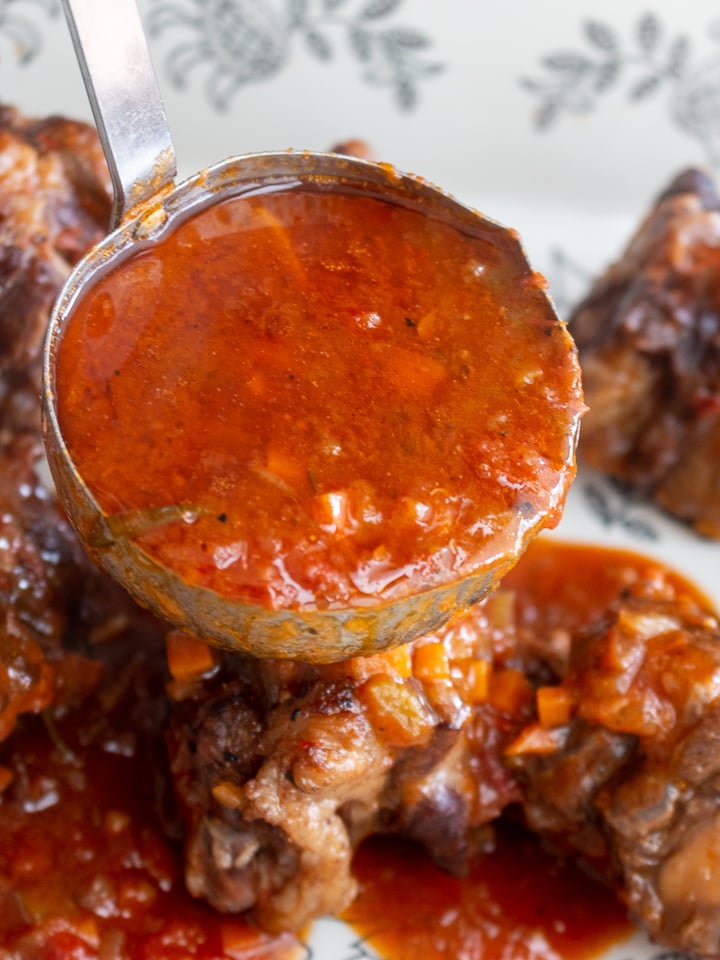 How long does it take to cook oxtail?
Old fashion oxtail stew can take upwards of 3-4 hours of low and slow cooking in a dutch oven to break down the meat, fat and tendons down to a rich and velvety stew. One can certainly do this if you have the time and can be at home.
However, if you are anything like us, time is of the essence. A great alternative is to use a pressure cooker to get your ossobuco fall apart tender in just 45 minutes with 15 minutes of natural release of pressure. Our instant pot is a necessary survival tool.
Pressure Cooker Oxtail Stew is an easy ONE-POT meal. You seal the oxtails, make the delicious Italian tomato wine sauce and braise all in the pressure cooker device. Low Fuss and Less Mess!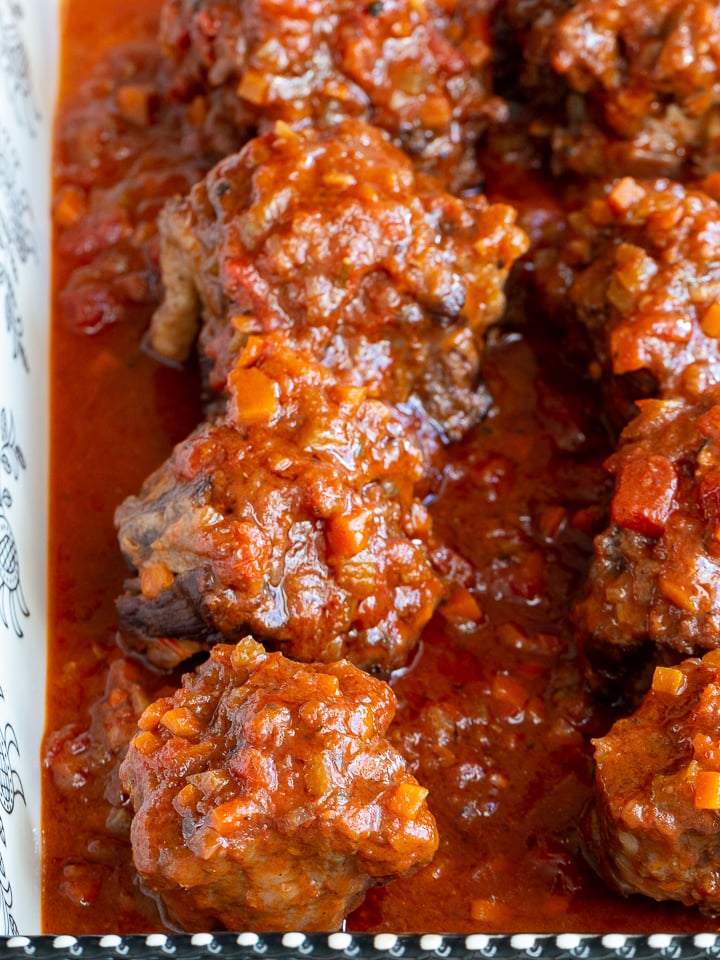 Is Oxtail Stew Healthy?
Everything in moderation is always our motto. The extra collagen in oxtails not only makes the stew rich and delicious but also gives gut health a boost. According to NIH, glutamine can improve gut barrier function in several experimental conditions of injury and in some clinical situations.
Have you ever heard of the "Leaky Gut Syndrome"? According to Harvard Health Publishing, "We have an extensive intestinal lining covering more than 4,000 square feet of surface area. When working properly, it forms a tight barrier that controls what gets absorbed into the bloodstream.
An unhealthy gut lining may have large cracks or holes, allowing partially digested food, toxins, and bugs to penetrate the tissues beneath it. This may trigger inflammation and changes in the gut flora (normal bacteria) that could lead to problems within the digestive tract and beyond." Be sure to try our Nourishing Slow Simmered Beef Bone Broth for another delicious recipe with loads of collagen to improve your digestive health.
Ingredients
Oxtail: oxtail, beef or veal shanks can also be used in this recipe. Beef shanks are the leg portion of the cattle. Because they are such a used muscle, beef shanks are usually tougher than oxtail. If you cannot find oxtail, beef or veal shanks a delicious chuck roast recipe is sublime. (You will need to cut your chuck roast into pieces and cook for less time (35 minutes on high stew method in your pressure cooker and natural release for 15 minutes. We will include this option in the recipe card below for you.) If you love the idea of those slow roasted flavors, you may want to check our Slow Roasted Moroccan Spiced Leg of Lamb that uses the lamb leg (shank).
Read more: Yacht Stewardess Training to Work as Interior Crew
Soffritto: Mixture of onion, carrots and celery is the holy trinity of Italian aromatics for the beginning of delicious sauces. The ratio of ingredients is 2-parts onion: 1-part carrot: 1-part celery. Of course, we added garlic to the mix too. Heck, why not!
Bay Leaves: Dry whole bay leaves adds so much flavor and aromatics to this recipe and others like our Tuscan Slow Braised Beef, Immune Boosting Chicken and Rice Soup and our Curried Ham Lentil Soup.
Tomatoes: Canned or fresh tomatoes adds a deep flavor to the sauce. We used chopped canned tomatoes to this recipe.
Red Wine: We suggest adding whatever you are drinking at the moment. However, a dry wine is best in this beef osso bucco. At the moment, we are enjoying a delicious cabernet sauvignon. A little for the Pressure cooker oxtail stew and a lot for the chef!
Beef Broth: Essential ingredient. It gives the sauce the right balance of flavors and is needed for instant pot functionality. You need at least 1 cup of liquids in a pressure cooker.
Fresh or Dried Herbs: Herbs like rosemary, thyme, etc. are all delicious in this recipe. Feel free to use fresh or dried. We just happen to have a few fresh herbs pots in our home. Believe it or not we have not killed the herbs yet!!! (smiling)
Olive Oil: We love Mie Radici's Nocellara Organic Reserve extra virgin. You will need a moderate amount to prevent the oxtail from sticking during the browning process.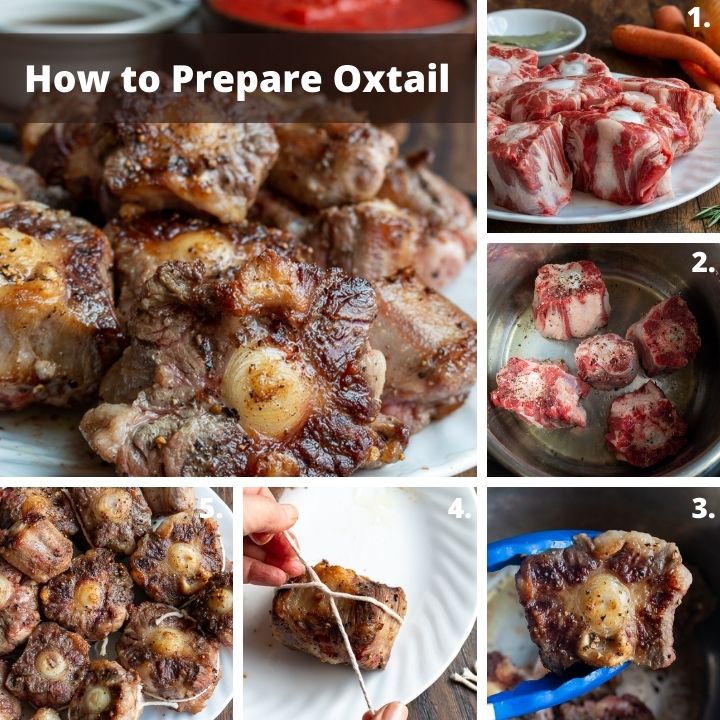 Steps to Prepare Oxtail
Have your butcher cut it in thick 3-4-inch segments.
Trim away any extra fat you can. Be careful and hold the oxtail with a towel and with a sharp knife cut down. Leave some fat on as this is where the flavor comes from and it is difficult to remove all.
Dry your oxtails well with a paper towel.
Make sure your oxtails come to room temperature for about 30 minutes to 1 hour before cooking to allow them to cook evenly.
Do NOT tie your beef oxtail BEFORE your sear and brown as the ties will just come off during the cooking process. You will wait until after you sear your beef oxtails to wrap in butcher's twine. When the oxtails are browning, they will start to shrink a little bit as the fat cooks off. That is why you need to wait.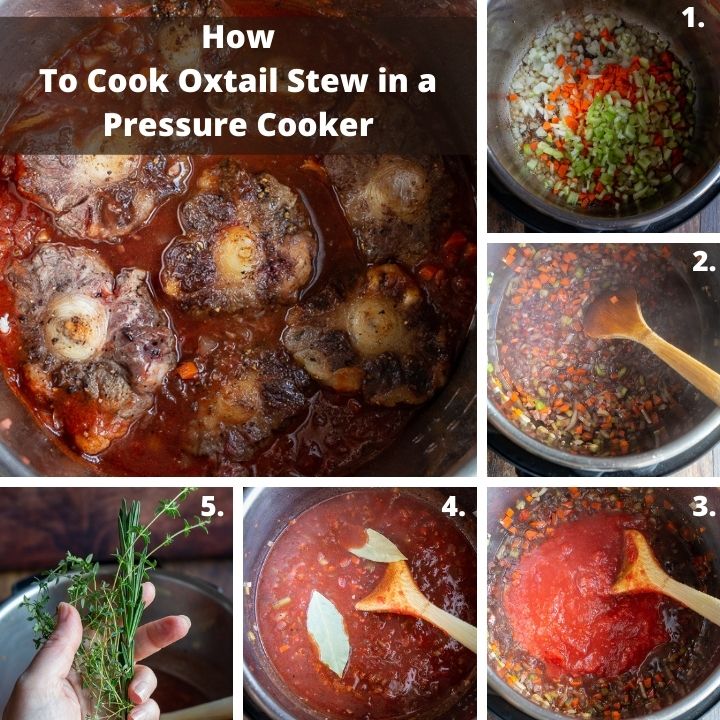 How to Cook Oxtail Stew in a Pressure Cooker?
Season the oxtail well with salt and pepper on both sides. Sear and brown the beef oxtail in your instant pot (pressure cooker). Use the sauté function on high and brown on all side.
To prevent the meat from falling off the bone, tie up the sautéed oxtail in butcher's twine. You can also use tooth floss. It's probably best to use a plain floss as spearmint or fruity tutti is not the best flavor addition to this recipe. (Smiling)
Sear the oxtail on all side in olive oil. There is no need to flour it first. As an extra bonus, this keeps this pressure cooker oxtail stew recipe gluten-free and low in carbs.
Now, remove the seared oxtails and sauté the soffritto and garlic until translucent in the instant pot.
Add, wine to glaze the pan. Then add tomatoes, beef broth, bay leaves and season to taste.
Seal the lid to your pressure cooker and set to high pressure cook for 45 minutes. Once time is up, allow the pressure cooker to do a natural release for 15 minutes and then can vent and release steam.
Remove the cooked beef oxtail from the pressure cooker. Remove the butcher's twine and set aside tented to aluminum foil to keep warm.
Set your pressure cooker to sauté setting for about 15 minutes or until the liquid has reduced by half and is thick and rich. There is no need to be putting corn starch in here to thicken. The natural gelatin rich oxtail provides a delicious natural sauce.
Serve your delicious oxtail osso buco over Milanese risotto, polenta, mashed potatoes or even noodles. Garnish with lots of gremolata.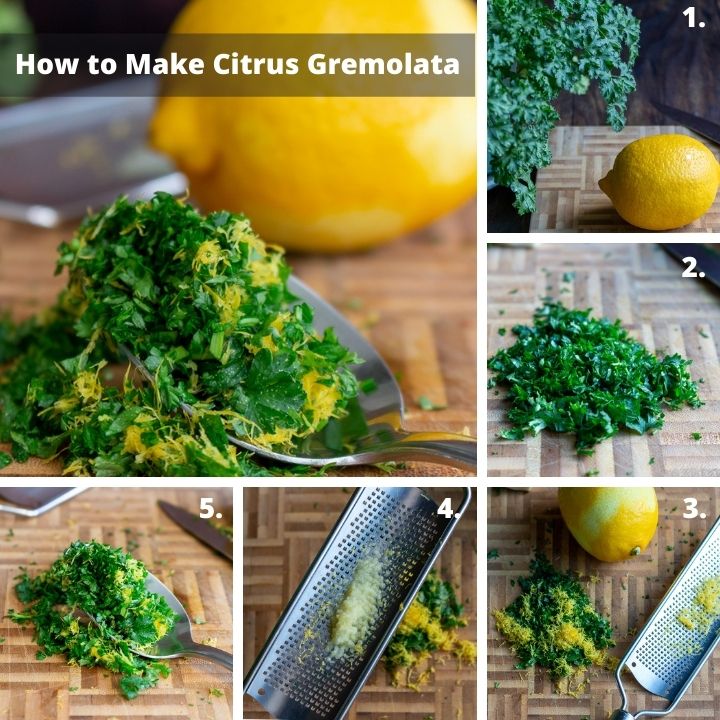 How to Make a Citrus Gremolata?
Citrus gremolata is a simple topping for ossobuco. It contains only 3 simple ingredients…
Parsley – chopped finely
Lemon zest
Grated garlic
Have you ever made gremolata before? It's so easy to make, refreshing addition to this rich stew and also great on our Homemade Tagliatelle Pasta with Zucchini Blossoms and our Farfalle Aglio e Olio with Breadcrumbs.
Frequent Asked Questions (FAQ's)
Did You Like Our Recipe? Leave a ⭐⭐⭐⭐⭐ rating and/or a review in the comments section below. Your feedback is always appreciated! Follow us for more delicious recipes on Pinterest, Instagram, Twitter and Facebook! Don't forget to sign up for our email list for more free recipes.
Read more: Top 9 korean beef stew galbi jjim
For more information, please see more information about How to make oxtail stew in a pressure cooker
Source: https://www.hwcmagazine.com/recipe/pressure-cooker-oxtail-stew/