Quinoa Black Bean Salad is one of my favorite quinoa salad recipes. This quinoa and black bean salad is made with quinoa, canned black beans, frozen corn, black olives, red pepper, onion, cilantro and avocado all tossed in an amazing honey lime quinoa salad dressing. This vegan quinoa salad is a healthy side dish to serve with grilled chicken or fish or serve it as a satisfying vegan main.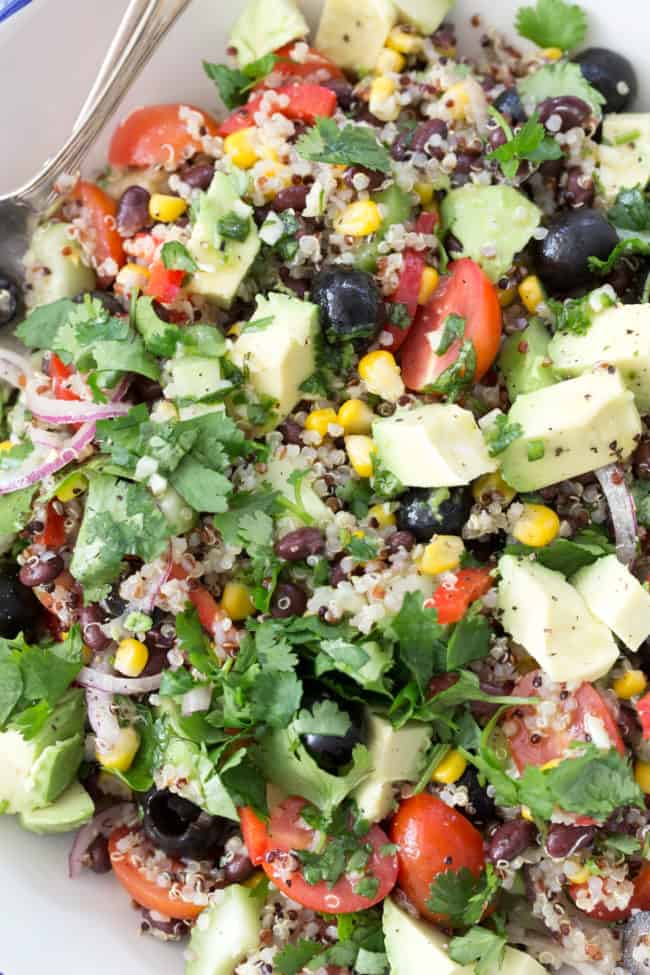 One of my favorite things to make are big beautiful salads cluttered with fresh organic produce, and I in particular love a good quinoa salad with avocado.
This quinoa salad is rich with fresh Mexican flavors and has a delicious mix of healthy ingredients, including plenty of avocado, all tossed in an incredible honey lime quinoa salad dressing.
Quinoa Black Bean Salad Recipe
This vegan quinoa salad is one of my favorite quinoa salad recipes and it comes together in about 30 minutes start-to-finish. It's similar to my Mediterranean Quinoa Salad, which is also a family favorite!
Cooked quinoa
Cucumber
Red pepper
Onion
Heirloom or regular cherry tomatoes
Canned black beans
Cooked frozen corn
Black olives
Avocado
Cilantro
Quinoa salad dressing
How to Make Mexican Quinoa Salad
Mix salad dressing ingredients. Combine ingredients in a mason jar and shake well. Refrigerate before serving.
Cook quinoa. Add water and quinoa to saucepan and bring to a boil. Place lid on saucepan and reduce heat to low. Simmer for 20 minutes. Remove from heat and set aside to cool in pan.
Prepare vegetables. While the quinoa cooks, chop the ingredients, and place in a large bowl with rinsed and drained black beans.
Toss ingredients. Toss cooled quinoa, cucumber, red pepper, onion, cherry tomatoes, black beans, corn, black olives, avocado and fresh cilantro together in a large bowl.
Add dressing. Toss the salad with enough vinaigrette to lightly coat the salad ingredients. Chill before serving.
Enjoy. Serve with extra vinaigrette if desired.
Quinoa Salad Dressing Recipe
I love this honey lime vinaigrette! I've made it with lime juice and with orange juice – depending on what I had on hand. They both work just fine for this dressing. I've kept things on the mild side here, so if you like a wee bit of heat, then add another 1/2 teaspoon or so of finely minced jalapeno to the mix.
Fresh lime juice (or orange juice)
Extra-virgin olive oil
Honey (you can use pure maple syrup instead of honey to make this vegan quinoa salad)
Fresh cilantro
Garlic
Fresh jalapeno
Ground black pepper and sea salt to taste
How to Make Quinoa Salad Dressing
Using a wire whisk, mix the ingredients in a small bowl or add the ingredients to a mason jar, seal lid tightly, and shake
Chill in the refrigerator before using.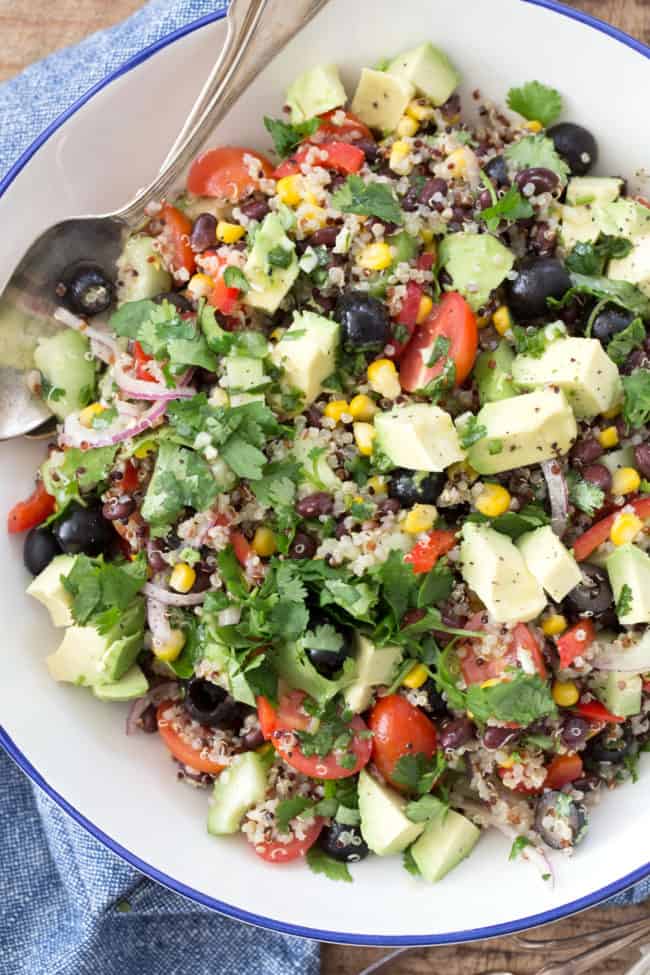 How to Cook Quinoa
Rinse. Pour quinoa in a fine mesh colander and rinse under cold running water for about 30 seconds.
Cook. Add it to saucepan and pour water or broth over it and stir.Bring the mixture to a boil, then reduce heat to low, cover with lid and simmer 15-20 minutes. Don't remove the lid.
Remove from heat. As soon as the water is absorbed, remove from heat and set aside for 8-10 minutes before fluffing with a fork.
Tips for Making it Perfect and Fluffy
Rinsing it before cooking will help remove the natural coating on it called saponin which makes it taste bitter and can cause foam.. And it will also make the texture softer softer.
Be sure to set aside for 8-10 minutes after cooking before you fluff with a fork.
Is Quinoa Healthy
In case you're wondering – is quinoa healthy – the answer is, yes! Quinoa is very nutritious. Quinoa is a gluten-free seed that's rich with plant protein and all nine essential amino acids. It's considered an ancient grain. Ancient grains include a variety of wheat (spelt, Kamut, freekeh, bulgur, farro, and grains such as millet, barley, oats, teff and soghum, as well as pseudocereals (which are seeds that are consumed like grains) such as quinoa, armaranth, buckwheat and chia. Ancient grains tend to provide more vitamins, minerals and fiber than other grains like rice, wheat and corn. (1)
Anti-inflammatory. Quinoa is rich with antioxidant and anti-inflammatory compounds, which are called flavonoids (quercetin and kaempfero).
Gluten-free. It's a seed not a grain …so it's gluten-free.
Protein. It's a complete source of protein, providing 8-9 grams of protein per cooked cup (it's one of the most protein rich foods we can eat), making it an excellent source of protein for vegetarians and vegans, weight loss diets or anyone wanting to add more plant protein to their diet. It's also a good source of complex carbohydrates, fiber, iron, manganese and magnesium (2)
Carbs. It contains about 39.4 grams of carbs per cup (cooked). Carbs make up 21% (cooked), and about 83% of these carbs are starches with the rest consisting mostly of fiber. (3)
Weight Loss. It's relatively low in calories with one cup of cooked quinoa containing only approximately 222 calories.(4) It's a smart choice to add it to your wellness and weight loss program, as it's high in protein which can increase metabolism and reduce appetite. (5) Also, being a good source of fiber, consuming it may also increase feelings of fullness, so we may eat fewer calories (6)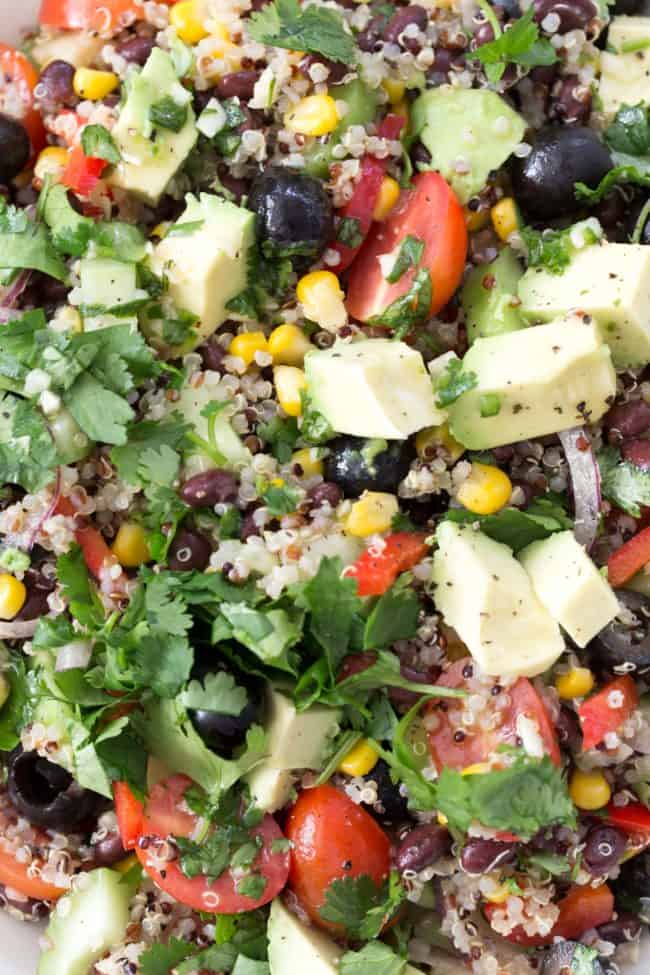 Looking for more healthy quinoa salads to serve?
Best Quinoa Salad
Black Bean and Corn Salad
Southwest Quinoa Salad
Mediterranean Quinoa Salad
Crunchy Quinoa Tabbouleh Salad
Kale Quinoa Salad
Quinoa Beet Salad
Beet Kale Quinoa Salad
Want more ideas? Check out all my healthy quinoa recipes.
Please see more list about Quinoa black bean corn salad
Detail: 🔗