As an Amazon Associate I earn from qualifying purchases. Please see my Privacy Policy for more details.
This Raw Veggie Chopped Salad is perfect for summer parties, potlucks and BBQs. Full of flavor and no lettuce needed. You can easily double the recipe to feed a huge crowd. Vegan, gluten free, nut free, soy free and oil free!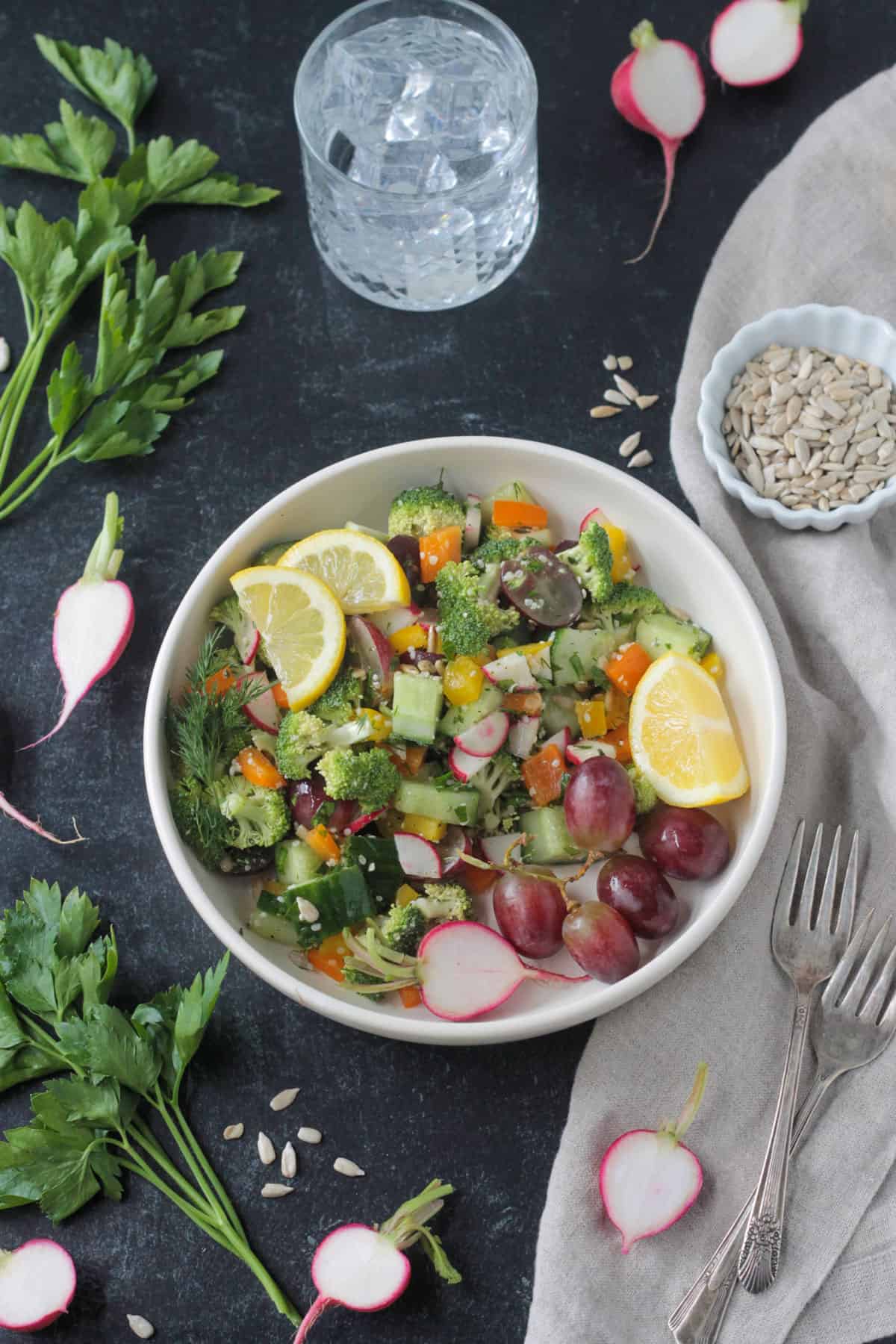 Salads are perfect for quick lunches and a first course before dinner. They also travel really well, so pack 'em up for parties, potlucks and BBQs!
To ensure you don't get bored of this veggie wonderland, change up your ingredients often, try different dressings and toppings, add fruit for a little sweetness and, sometimes, you can even leave out the lettuce!
This Raw Veggie Chopped Salad is a favorite and there's not a leaf of lettuce in sight!
This salad has it all: crunch from the raw broccoli and peppers, freshness from the herbs, a spicy bite from the radishes, cucumbers and grapes that are clean and crisp, seeds that are filling and hearty and a lemony oil-free dressing to bring it all together.
Ingredients you need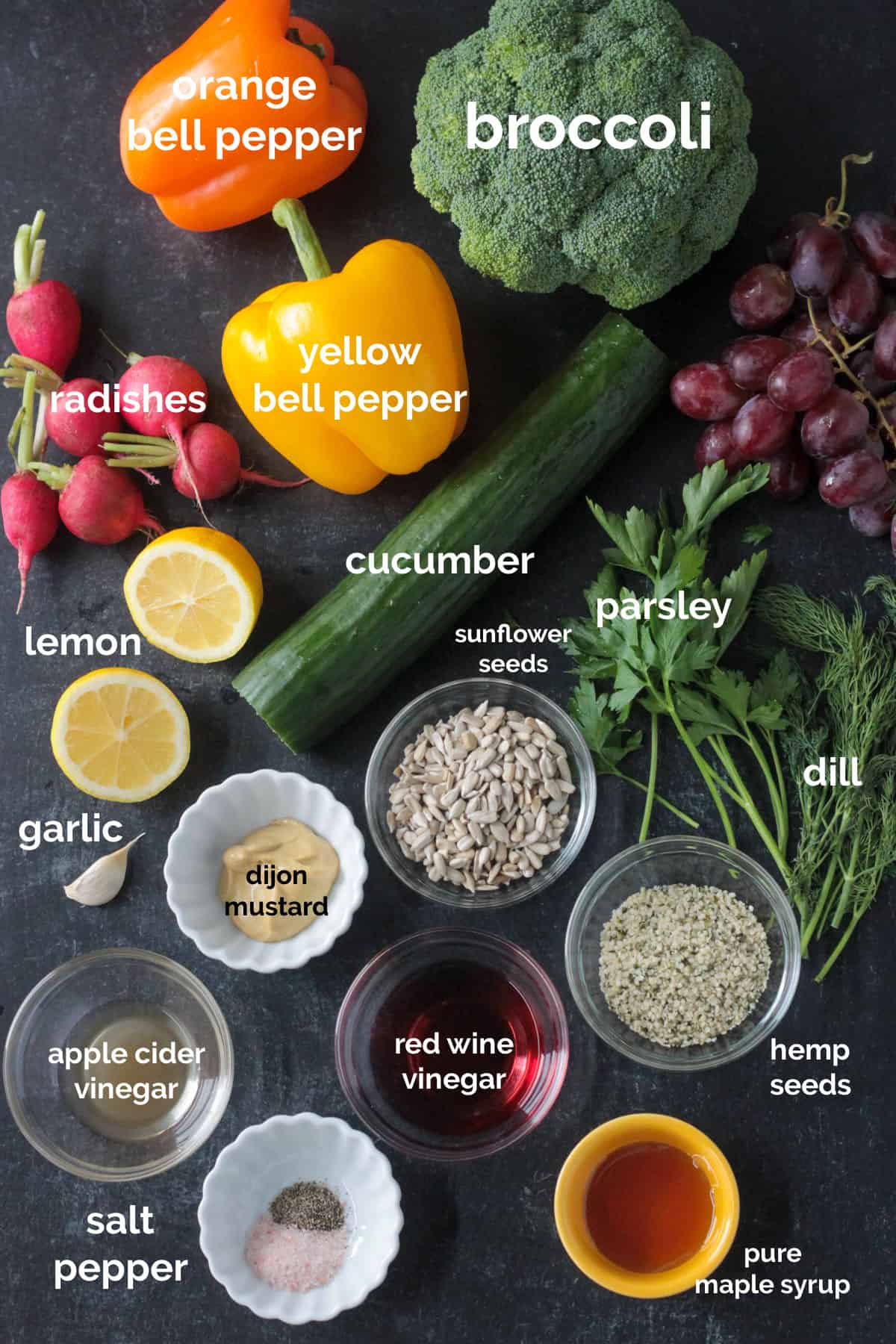 Ingredient notes and substitutions
The key to this incredibly healthy salad is super fresh ingredients. Fresh herbs are key! Please don't make this with dried herbs, I promise it won't be the same.
This is the perfect salad for summer when peppers, cucumbers and radishes are growing plentiful in gardens and can be found in every farmers market.
The chopped broccoli, sunflower seeds and hemp seeds add real staying power to fill you up without filling you out!
And, I love the addition of red seedless grapes for a little sweetness.
You don't need a lot of dressing for this colorful raw salad because the fresh herbs bring a ton of flavor. But, the dressing is quite strong in the flavor in order to compete with all the hearty vegetables. So, don't be alarmed if you try the dressing on it's own and think it's a bit overpowering. Once mixed with all the other ingredients, it will be perfect!
Substitutions: Feel free to leave out any veggies you don't like and double up on the ones you do. Other yummy raw options would be cauliflower florets, shredded carrots, or chopped zucchini. Feel free to throw in some nuts, like walnuts or almonds instead of, or in addition to, the seeds.
How to make the recipe
Aside from a bit of chopping, this chopped salad recipe is really easy to make.
In a large mixing bowl, place the chopped broccoli (1), chopped orange and yellow bell peppers (2), chopped cucumbers (3), and sliced radishes (4).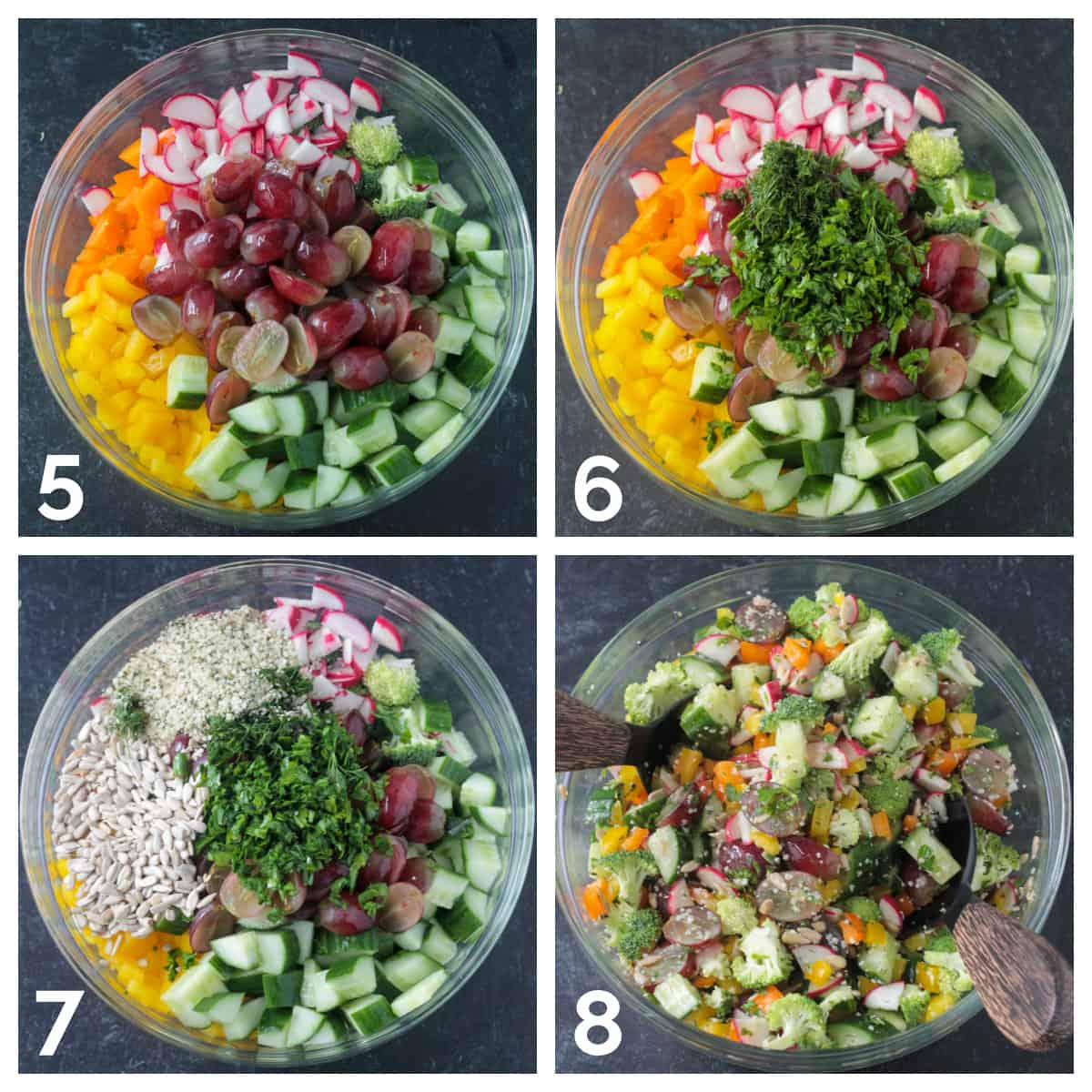 Add the halved red grapes (5), chopped fresh parsley and fresh dill (6), and sunflower seeds and hemp seeds (7). Mix all the ingredients well (8).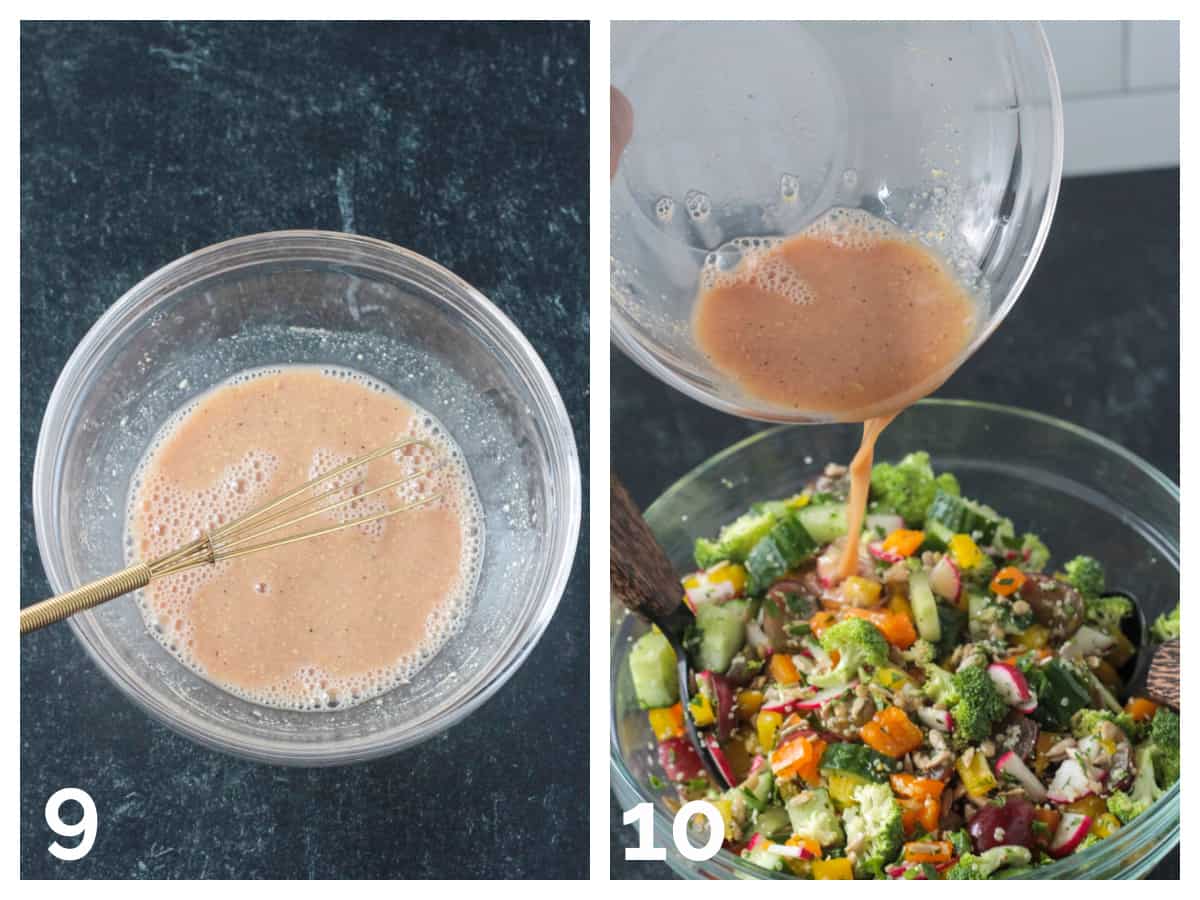 Whisk the dressing ingredients in a small jar or bowl (9). Pour the dressing over the salad (10) and mix well to combine.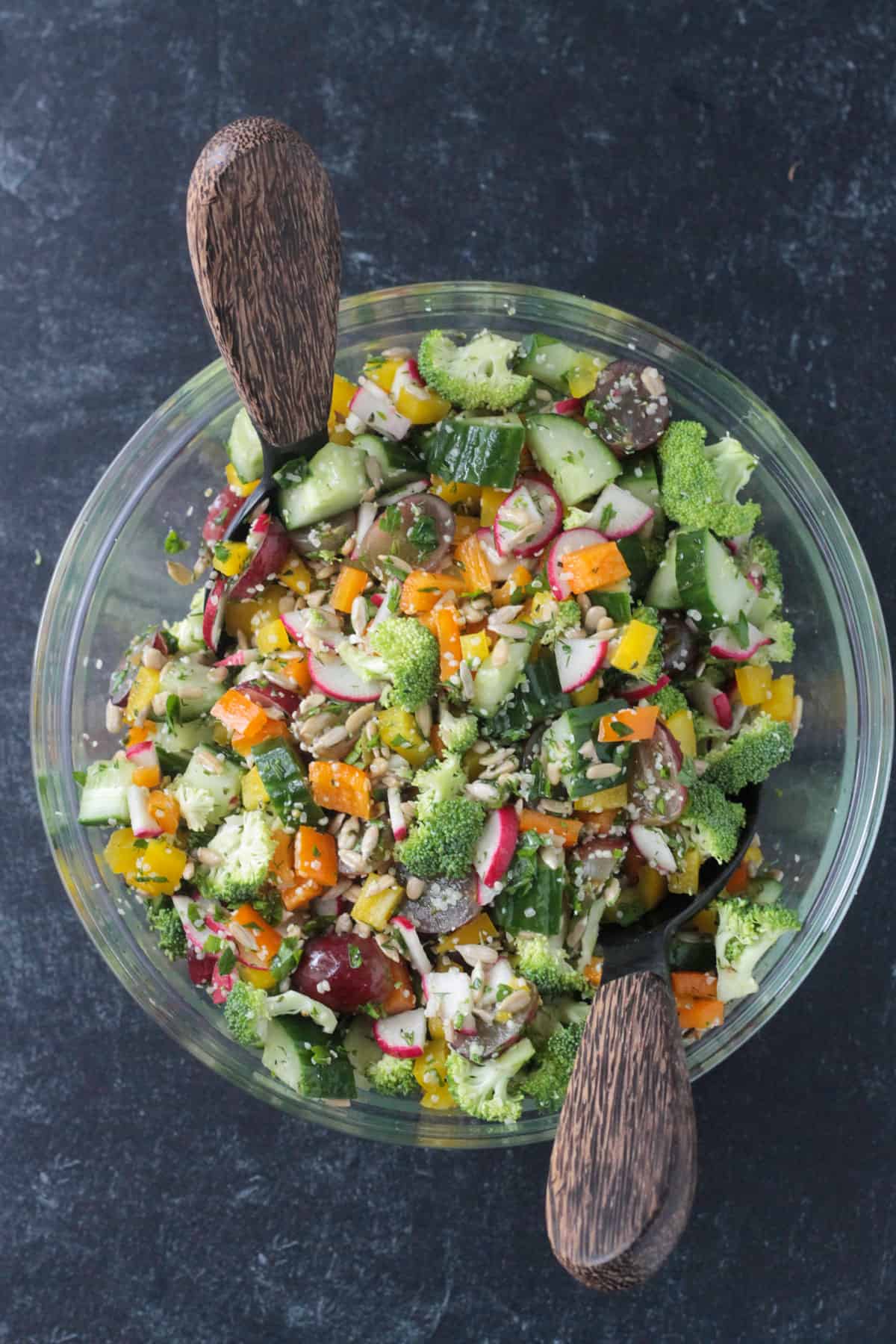 You can serve it right away, but it's better if you prep it ahead of time and let the flavors mingle for an hour or two in the fridge. You can even make it a day or two in advance.
Storage
This veggie chopped salad will keep well for 3 to 4 days in an air-tight container in the fridge.
Do not freeze this salad.
Pro tips and tricks
~ Chop all the veggies about the same size.
~ Use fresh herbs, not dried!
~ Switch it up!
Add diced avocado right before serving.
Toss it with chopped romaine or spinach.
Add olives or vegan feta.
Toss it with cooked and cooled quinoa.
Add chickpeas or white beans.
~ Make this salad ahead of time and let it mingle with the dressing for at least an hour or two. I like to toss the salad once or twice during this time so the dressing completely covers all the veggies. The veggies will start to soak up the dressing and soften just a bit, while still maintaining their crunch.
~ Double it up to serve a crowd.
~ This Raw Veggie Chopped Salad is vegan, gluten free, nut free, and oil free!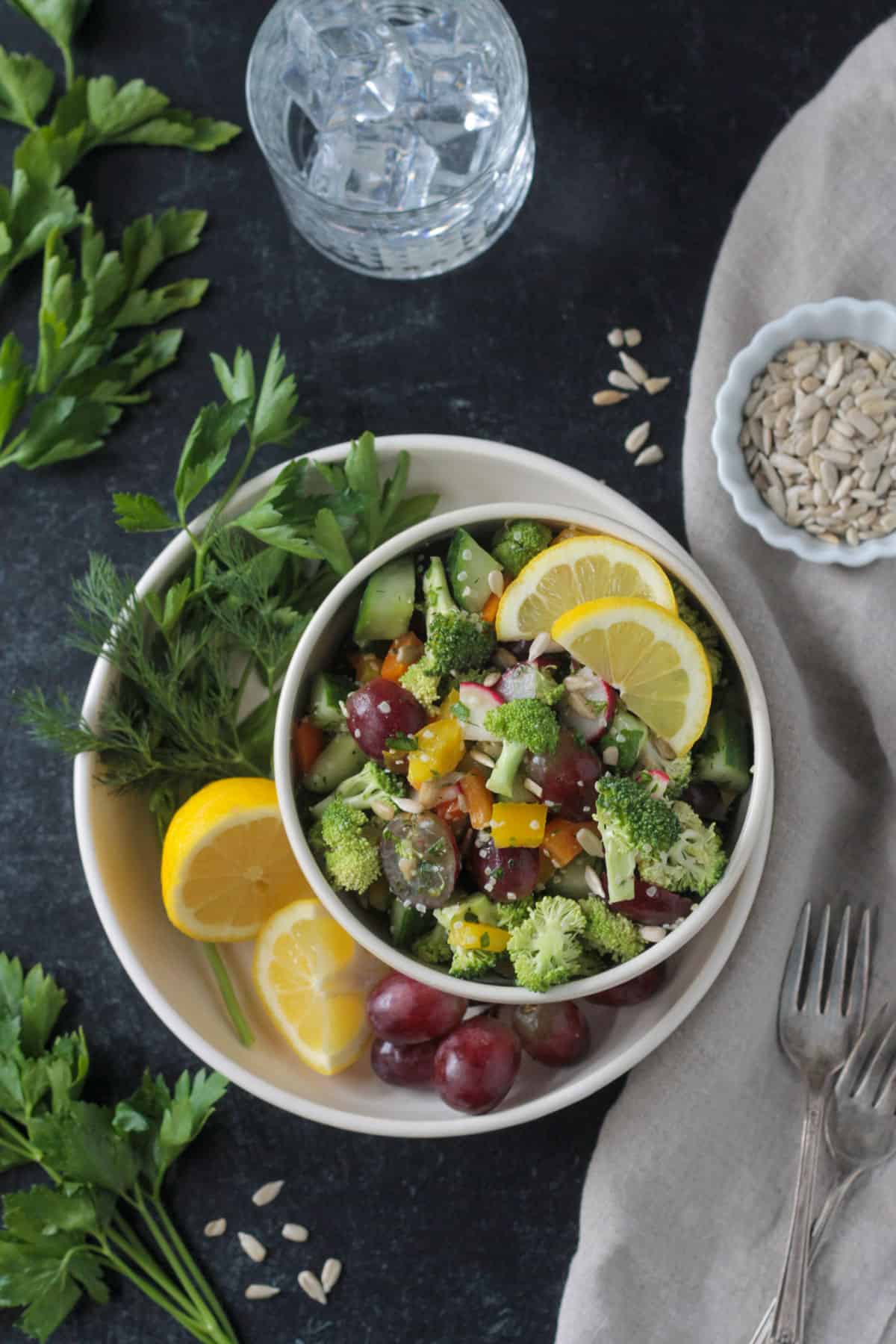 FAQs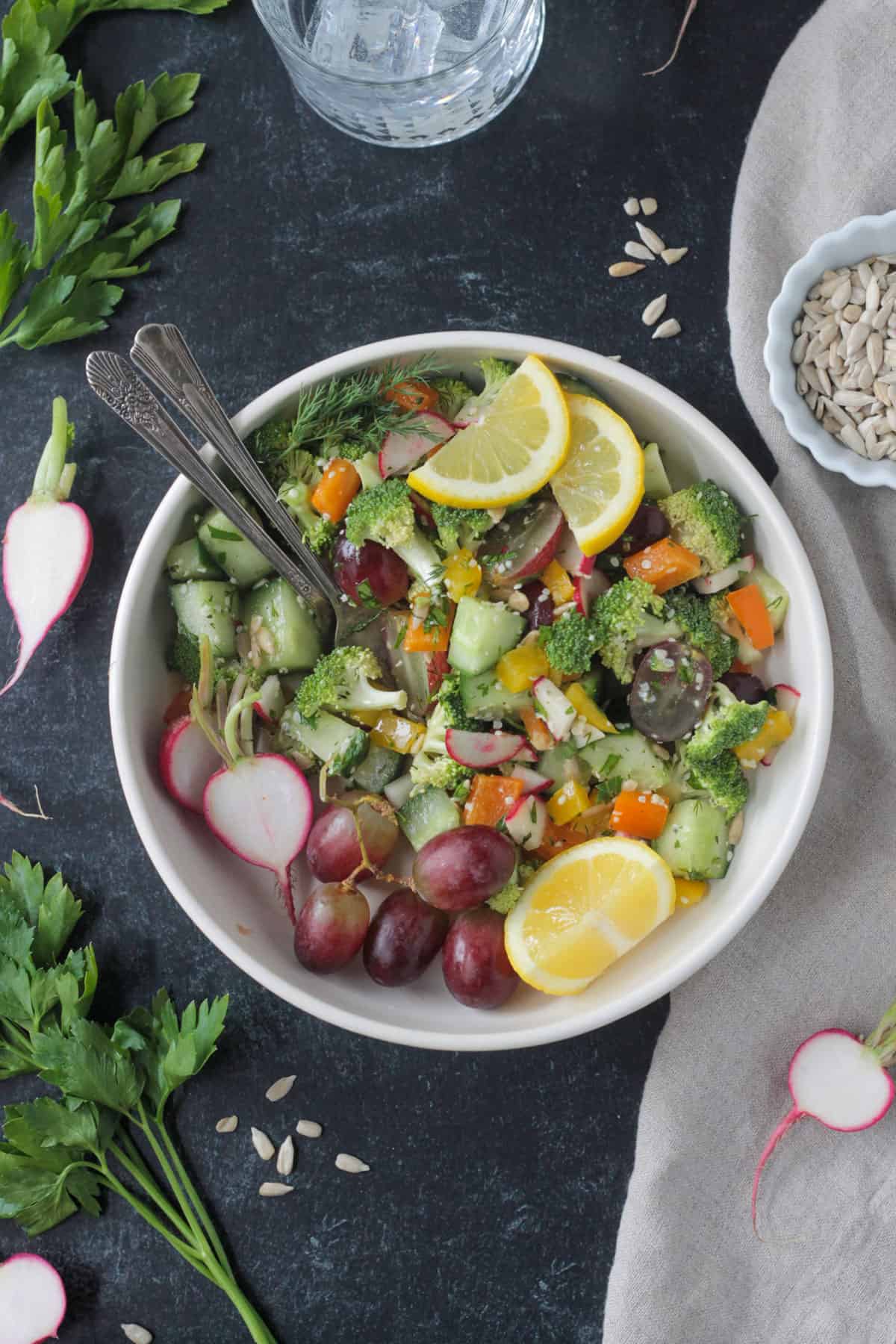 More vegan salads with no lettuce
Sugar Snap Pea Salad
Cucumber Chickpea Salad
Healthy Broccoli Salad
Summer Pasta Salad
Raw Corn Radish Salad
Hearts of Palm Salad
I hope you love this recipe as much as we do! If you tried it, please use the rating system in the recipe card and leave a comment below with your feedback. Be sure to sign up for my FREE Newsletter to be the first to get my NEW recipes! You can also follow me on Instagram, Facebook, and Pinterest. For even more easy family recipes, be sure to check out my cookbook, The Meatless Monday Family Cookbook!
For more information, please see more information about Vegetables to put in salad
Detail: 🔗