Are you looking for a simple and delicious sponge cake recipe? Look no further! This easy-to-follow recipe will guide you step by step to create a fluffy and moist sponge cake. Whether you want to enjoy it as a snack cake or use it to make layered cream cakes, this recipe will be your go-to!
About Sponge Cake Recipe
Sponge cakes are known for their light and airy texture. In this recipe, eggs are whisked with sugar until they become frothy and pale. By folding in the dry ingredients, you create a batter that will result in a perfectly soft and fluffy cake.
This recipe is designed for a small batch, perfect for beginners. However, feel free to scale up the ingredients to make a larger cake and experiment with different flavors.
Ingredients for Sponge Cake Recipe
Eggs: Whipped to create a sponge-like texture.
Sugar: Adds sweetness to the cake.
All-Purpose Flour: Makes the cake light and airy.
Oil: Provides moisture to the cake.
How to Make Sponge Cake Recipe
Pre-preparation
Preheat the oven to 180 degrees C.
Line a 7-inch square cake pan with parchment paper.
Sift flour, baking soda, and baking powder into a bowl.
In another bowl, mix milk, oil, and vanilla.
Making Sponge Cake Batter
In a large bowl, beat the eggs until frothy using an electric beater or a stand mixer.
Gradually add sugar while continuing to beat until the mixture becomes light and fluffy.
Gently fold in the dry ingredients and the wet mixture.
Baking
Pour the batter into the prepared pan and bake for 30 minutes.
Once baked, remove from the oven and let it cool completely.
Slice and serve!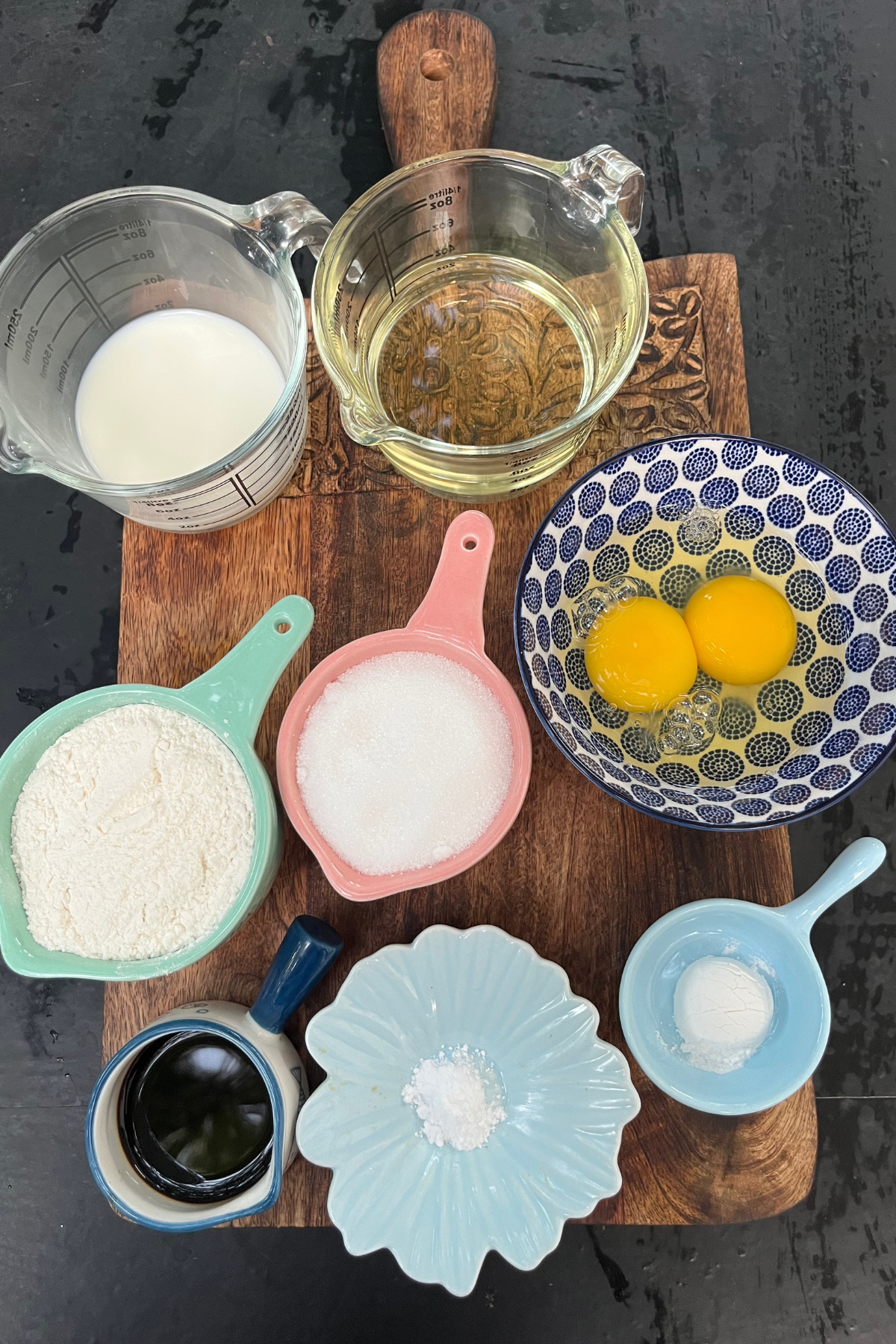 Why This Sponge Cake Works?
Whisking the eggs and sugar until they're light and fluffy is crucial for a fluffy sponge cake.
While melted butter can be used, using oil in this recipe ensures a super moist cake.
If you detect an egg smell, you can add a small amount of almond extract along with vanilla.
Using an electric beater or a stand mixer makes the job easier, but a hand blender works too.
Tips & Tricks
Whip the eggs until they're light and fluffy before folding them into the dry ingredients.
Once you add the dry and wet mixture to the whipped eggs, fold gently or mix briefly with a mixer. Be careful not to overmix.
Avoid resting the batter for too long. Bake it as soon as it's ready.
Be cautious not to overbake the cake, as it may turn dry. Bake it just right!
This cake can be enjoyed as a snack cake or used to make layered cream cakes.
Storage & Serving
Store the cake in an airtight container at room temperature for up to 2 to 3 days. If you prefer, you can refrigerate it for up to a week. This versatile cake can be served as a tea cake or used to create delightful layered cakes.
For more tasty recipes and inspiration, follow Family Cuisine on Instagram, Facebook, Pinterest, YouTube, and Twitter.
Remember, if you have any questions or need assistance, leave a comment or email me at [email protected], and I'll be happy to help.
IF YOU MAKE THIS RECIPE OR ANYTHING FROM FAMILY CUISINE, BE SURE TO POST IT AND TAG ME SO I CAN SEE ALL OF YOUR CREATIONS! #FamilyCuisine AND @FamilyCuisine ON INSTAGRAM!
📖 Recipe
Sponge Cake with Step by Step Pictures
Start by sifting the flour.


Add baking powder.


Include baking soda.


Sieve well and set aside.


Mix the wet ingredients. Take oil in a bowl.


Add milk.


Add vanilla.


Mix well until it is emulsified.


Take eggs in a bowl.


Start beating until fluffy.


Beat until the eggs are light and fluffy. It will take around 5 minutes.


Keep beating until it reaches the desired consistency.


Gradually add sugar little by little.


Beat until creamy.


Add half of the flour.


Add half of the milk mixture.


Fold gently.


Line a baking pan with parchment paper.


Pour the batter in.


Spread it evenly.


Insert a toothpick to check if the cake is baked or not.


Slice and serve.

Frequently Asked Questions
What makes a sponge cake light and fluffy?
Whipping the eggs until fluffy and light is the key to creating a good sponge cake.
How to make the best sponge cake?
I use oil to make the sponge cake moist, but you can also use melted butter as a substitute.
Can we overbake a sponge cake?
Avoid overbaking the cake, as it may turn dry. Bake it just right! If it's overbaked, you can moisten it by brushing it with some simple syrup.
With these simple techniques and tips, your sponge cake will turn out perfect every time.
Enjoy your delicious homemade sponge cake!