Red Wine Beef Stew with Mushrooms and Carrots is the ultimate cool weather comfort food.
Reading: When to add mushrooms to beef stew
Red Wine Beef Stew with Mushrooms and Carrots has fall-apart pieces of hearty beef, caramelized mushrooms, tender carrots and onions, all brought together in a mouth-watering wine and bacon infused sauce flavored with garlic and thyme.
When the weather turns crisp, I love to have a stew simmering away in the kitchen. It's just so cozy and I adore how fragrant and homey the house smells. Kind of like Crockpot French Dip Sandwiches or Instant Pot Pork Chili, there really just is something about the smell of comfort food!
One of the great things about stew is that after prepping and putting your stew together, all that's left is to just patiently wait for it to simmer away into fabulousness. Serve it up with a crusty loaf of bread and dinner can be ready whenever you like and it's usually even better the next day.
How to make Red Wine Beef Stew with Mushrooms and Carrots
To make this stew, start by cooking bacon. The bacon crumbles in the stew really add a nice depth of flavor and the drippings do the same to the beef that you will brown for the next step.
If you are a fan of curing your own bacon, my Homemade Hickory Smoked Bacon is seriously awesome in stew!.
Dust large chunks of chuck roast cut into two inch cubes with flour. Season with salt and pepper, and brown them in the bacon drippings. Cook them in two batches at a medium-high temperature so that they are not crowded and will brown as opposed to steaming in the pan.
Read more: how to prepare boiled crab legs | Family Cuisine
I like to use a dutch oven that has a lid for stew, usually my favorite is my cast iron because it browns meats and veggies so well.
While the meat is browning, make sure to have all your vegetables cut up and ready.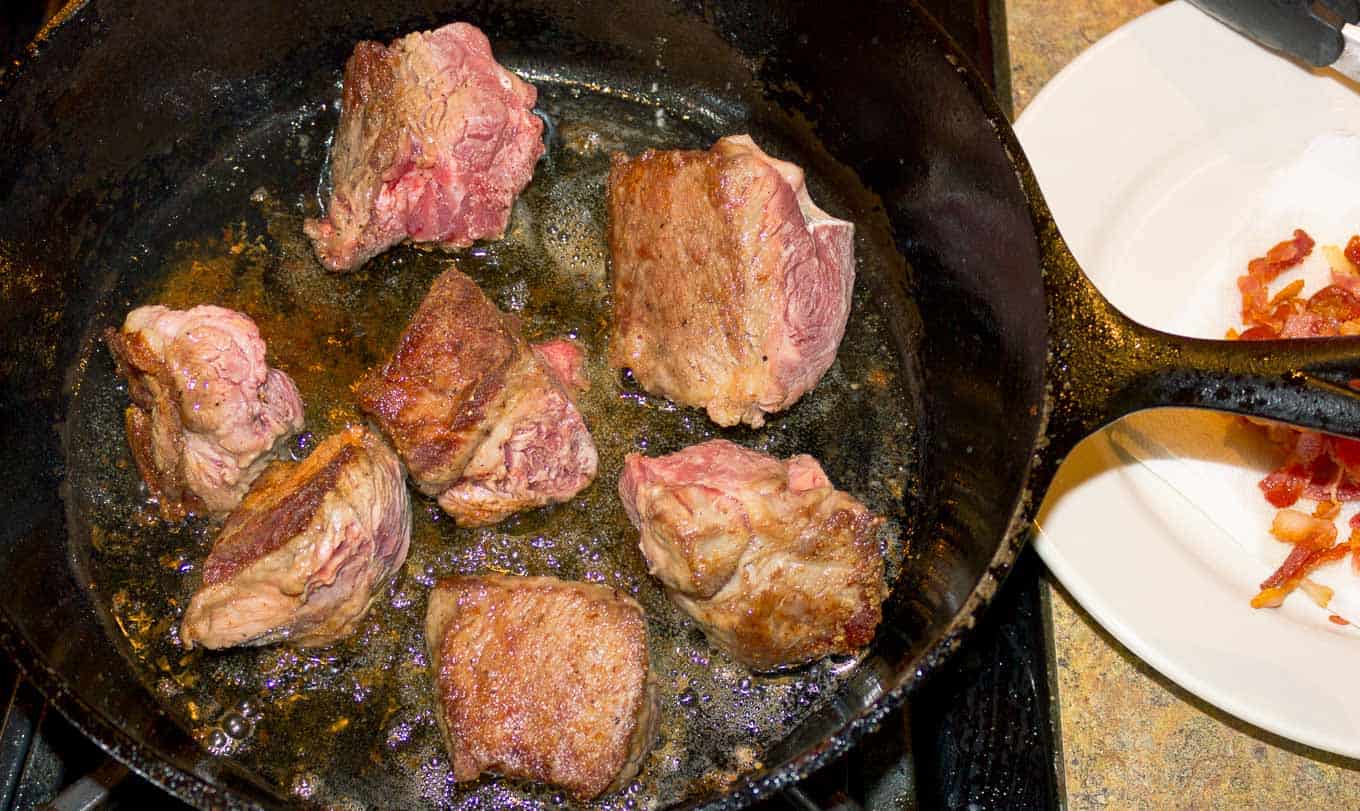 After the meat has browned, remove it to the plate with the bacon crumbles. Add the mushrooms and a sprinkle of salt and cook them until they begin to brown. Dry mushrooms caramelize much better then damp ones, so if you washed as opposed to wiping them, make sure they are dry.
Remove the mushrooms to the meat and bacon plate. Add the carrots and onions and another pinch of salt. Cook until they start to brown.
I like my stew vegetables tender but not mushy, so I cut them larger since they will be cooking for an extended length of time.
Why do I add salt when I cook the mushrooms and then again with the carrots and onions? It helps to draw the moisture out so that they will sweat and brown better. It also has the added advantage of seasoning the dish.
Add the garlic and tomato paste. Cook for a minute to brown the tomato paste and then add the wine to deglaze the pot along with the herbs, scraping up all the yummy bits of flavor from the bottom of the pot. Simmer until the wine has reduced by half.
Make sure to use a full bodied, dry red wine without too much oak. Burgundy is the traditional French wine of choice, but choose the one you would like to drink with your finished stew. Do not use red cooking wine from the baking aisle of the grocery store. The idea of this hurts my heart and will not do your stew justice.
Read more: how to use a hard boiled egg mold | Family Cuisine
Next, add the beef, mushrooms, and bacon back into the pot. Add beef stock and bring to a gentle simmer. Cover and cook for about two and a half hours until the beef is the perfect fork tender consistency.
Stock over broth? Yes! Stock has a deeper depth a flavor due to how long it is cooked for and the fact that it is cooked with the bones and marrow. Also stock is not salted as opposed to a broth or bouillon which usually is.
Next, remove the lid and raise the heat until you have a gentle boil, simmering for about 15 minutes to thicken the sauce. Skim any fat if needed.
If the sauce is not as thick as desired, whisk a 1/2 cup of cold stock or water with 2 tablespoons of flour. Add to the stew, while using the tines of a fork to strain for lumps. Continue to cook for 5 minutes until the stew reaches the desired consistency. It will also thicken as it cools.
Serve Red Wine Beef Stew with Mushrooms and Carrots over butter noodles, whipped mashed potatoes, seasoned rice, or by itself. A loaf of crusty bread is a must to wipe up every last scrumptious smear of sauce.
Other cozy, cool weather recipes to try are my Herb Butter Spatchcock Chicken and Crispy Roasted Chicken with Mushrooms and Cream.
FOLLOW ME on Pinterest and make sure to Pin this Now!
Leave me a comment or rating below! I'd love to hear from you!
Some of the links in this post may be affiliate links – which means if you buy the product I get a small commission (at no extra cost to you). If you do buy, then thank you! That's what helps us to keep Savor with Jennifer running.
Read more: List of 10+ calories in bowl of beef stew
Through this article, we hope to help you understand When to add mushrooms to beef stew
Source: https://savorwithjennifer.com/red-wine-beef-stew-with-mushrooms-and-carrots/