Indulge in this mouthwatering Peanut Butter Chocolate Layer Cake recipe, featuring layers of moist chocolate cake, luscious peanut butter frosting, and a generous sprinkling of chopped Reese's peanut butter cups. Get ready for a delightful treat that is rich, delicious, and guaranteed to bring smiles to your loved ones' faces!
Peanut Butter & Chocolate Bliss
While I was busy capturing the perfect shot of this cake, it hit me once again how close I am to putting myself in harm's way, as my husband often warns me with an anxious glance. Balancing on tables, counters, and chairs to get just the right angle for that perfect photo can be quite a risky endeavor. One day, my makeshift photography props might not cooperate, and I'll either break the camera I'm holding or worse, injure myself. It's an accident waiting to happen.
To make matters safer, I frequently rely on my trusty three-step stool for those overhead shots or when I need a more dramatic angle. However, on this particular day, I found myself in the kitchen without it. I didn't feel like making the journey to the other room to grab the stool, so I grabbed a chair instead. Standing on the seat, I began to lean back on the backrest to capture the desired angle. That's when I suddenly realized I was tilting backward, dangerously close to falling into the wall and onto the dog bowl stand with its sharp corners. Fortunately, I regained my balance just in time. Who knew that food blogging could carry such unexpected hazards? But when I have delectable creations like this cake to share, it absolutely makes it all worthwhile!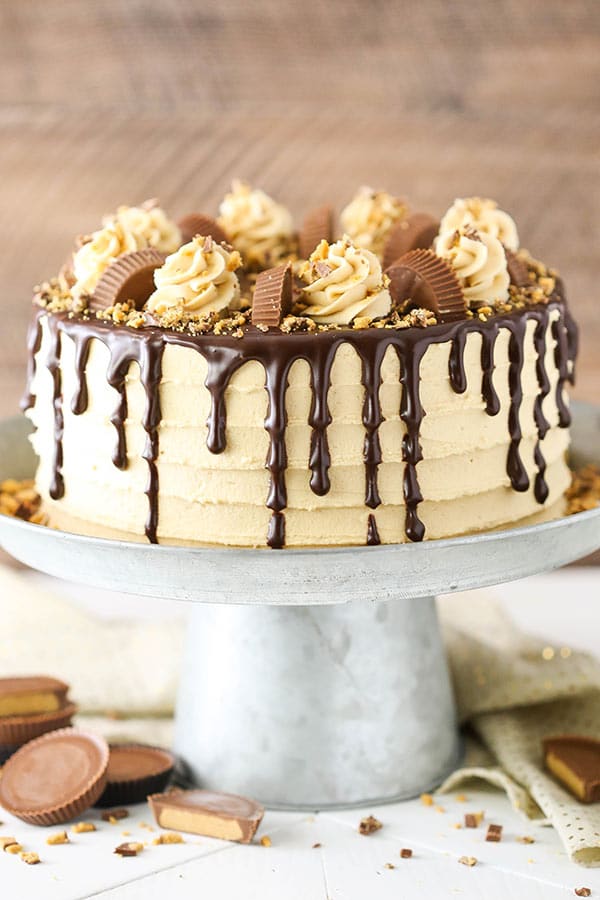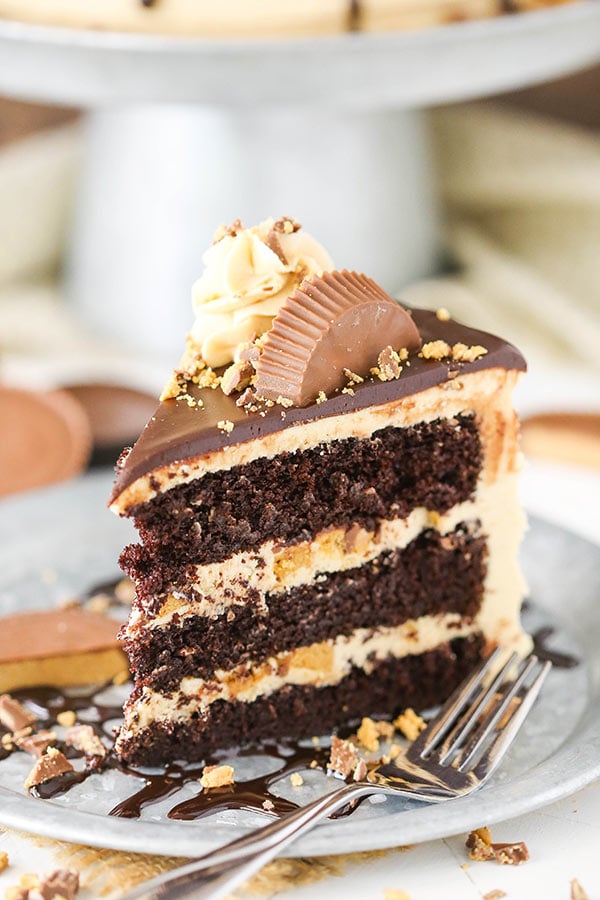 How to Indulge in Peanut Butter & Chocolate Delight
This extraordinary cake begins with layers of moist and heavenly chocolate cake. I used my Easy Moist Chocolate Cake recipe from a couple of weeks ago and transformed it into this magnificent layered cake. The cake batter comes together effortlessly by first combining the dry ingredients, then mixing in the wet ingredients. Finally, you incorporate the hot water, resulting in a cake batter that is not only quick to prepare but also very forgiving.
Between each layer and enveloping the entire cake, you'll find a delectable peanut butter frosting that sets the stage for pure bliss. To elevate the peanut butter flavor to new heights, I added chopped Reese's cups between each layer. It's a dream come true for every chocolate and peanut butter enthusiast out there!
Once the cake is fully frosted, prepare to dazzle your taste buds with a luxurious ganache that cascades down the sides and gracefully blankets the top. The decorative stripe pattern created by the frosting on the sides adds an enchanting ripple effect to the drizzled ganache. To complete this edible masterpiece, I couldn't resist adding extra Reese's cups and frosting for good measure. The final result is not only delicious but also an absolute delight to behold. If you're eager to recreate this confectionary wonder, be sure to check out the video just above the recipe for a step-by-step demonstration.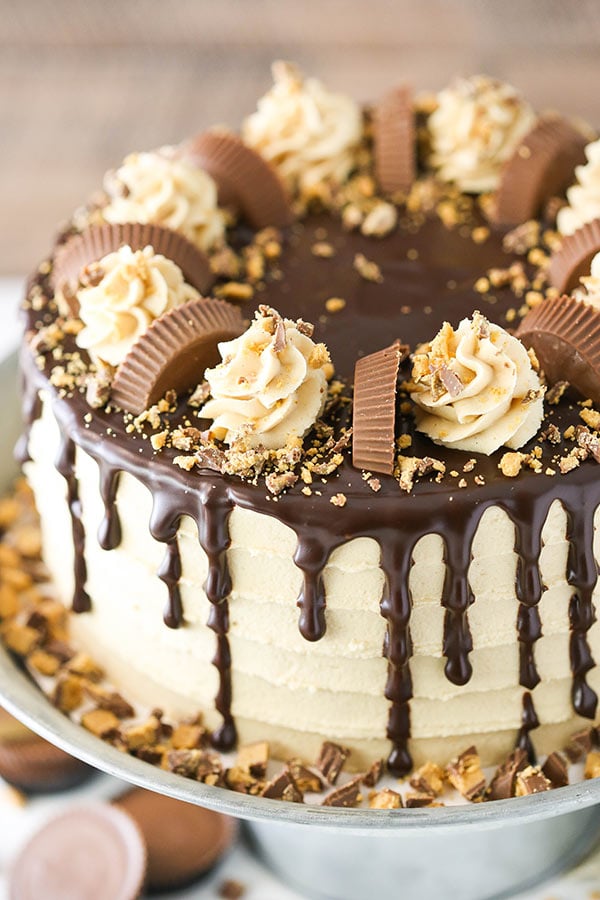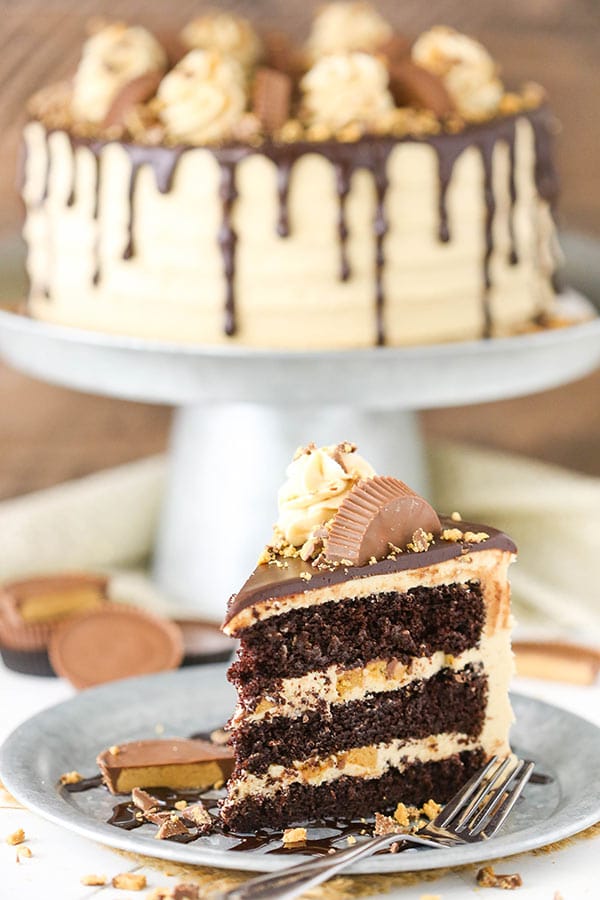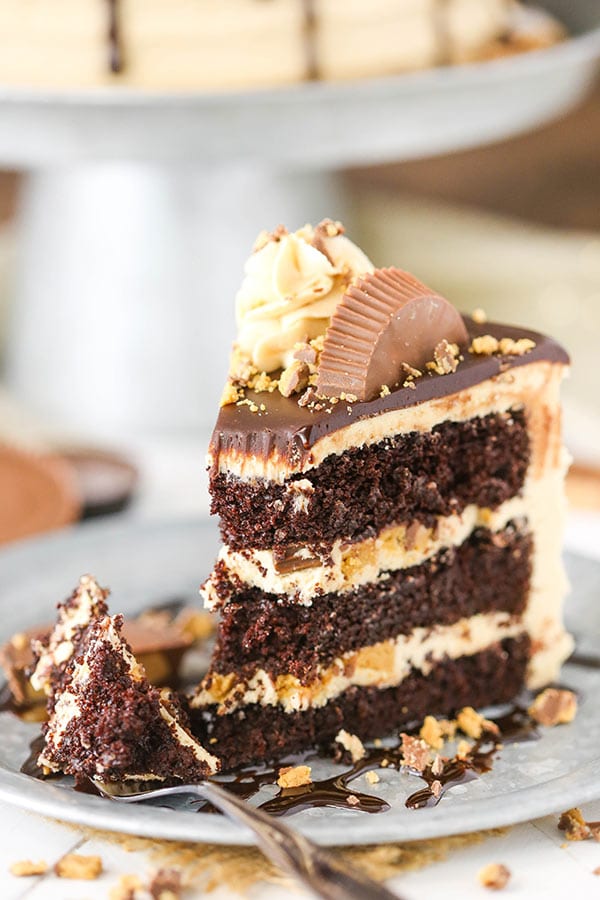 You might also like:
Peanut Butter Chocolate Buckeye Cupcakes
Mini Reese's Peanut Butter Cheesecakes
Reese's Peanut Butter Chocolate Icebox Cake
Peanut Butter Truffle Chocolate Cake
Peanut Butter Chocolate Mousse Cake
Peanut Butter Cookie Dough Brownie Layer Cake
Print and enjoy this delectable creation! Your taste buds will thank you.
Other Recipes You Might Like: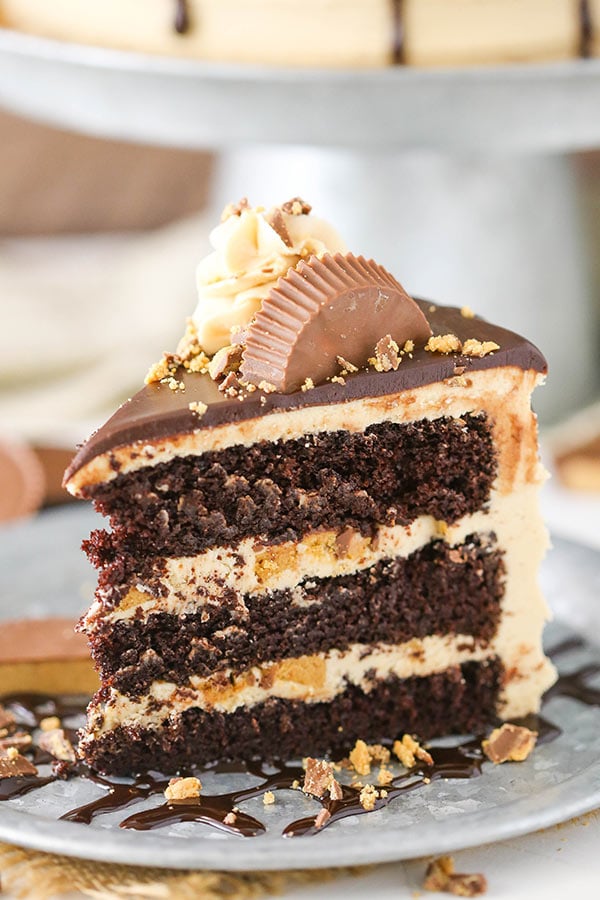 This post may contain affiliate sales links. Please read my disclosure policy.