This post may contain affiliate links. Please read my disclosure policy.
Full of tender beef and gravy – this rice and beef tips recipe is so flavorful and satisfying for any night of the week. Your whole family will devour it!
Reading: Rice and stew meat recipe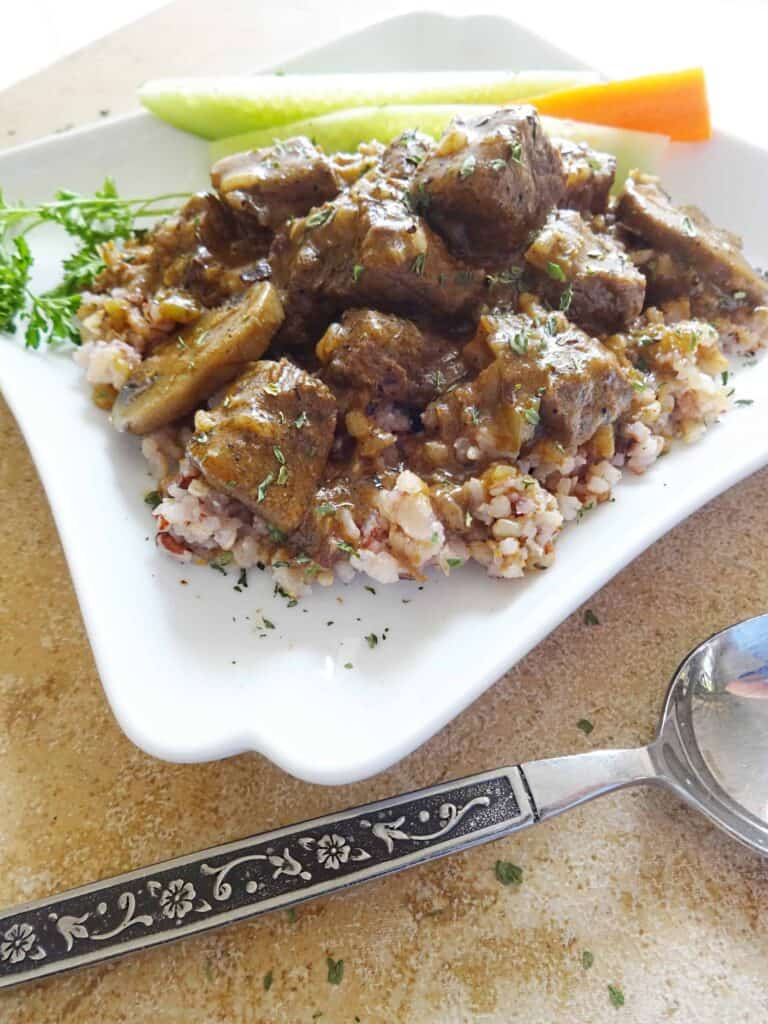 You will start with stew beef meat that will be seasoned and slow cooked to hold in the flavors and allow for tender, fall-apart beef.
Mushrooms, herbs and spices, and the other vegetables add incredible flavor and nutrition.
What You'll Need
2 Tbsp butter
2 Tbsp oil (olive or avocado preferrably)
2 pounds beef stew meat, cut into 1-inch cubes
½ tsp each salt
½ tsp black pepper
1 tsp each dry thyme, basil, oregano, marjoram
Read more: how to make deviled eggs out of soft boiled yolks
2 Tbsp paprika
2 Tbsp garlic , minced
3-4 large mushrooms, white or crimini, sliced thickly (about 1-½ cups)
1 cup celery, chopped (2 large stalks)
3 cups beef broth (or stock)
3 Tbsp flour (all purpose)
How to Make Rice and Beef Tips
Low and slow is the way to go with these beef tips … BUT, you will want to cook high and fast at first.
Meaning, the beef will be more tender if you cook it quickly on high heat. Once all the ingredients are added and you cover the dish, you will then lower the heat and cook slowly for the next hour.
During this time, all the flavors will meld and combine to create a wonderfully flavorful dinner that even the most refined palate will appreciate.
Start with a smoking hot cast iron Dutch oven. Add your butter and oil and then the beef once the butter is melted. Cook on medium-high (I had my burner set at 8) for 5 minutes before stirring to turn beef to the uncooked side.
Read more: List of 14 asian beef stew instant pot
Total cooking time will be 10 minutes before adding other ingredients. You want to seer the outside of the beef so it retains all the delicious juices, which also makes the beef more tender.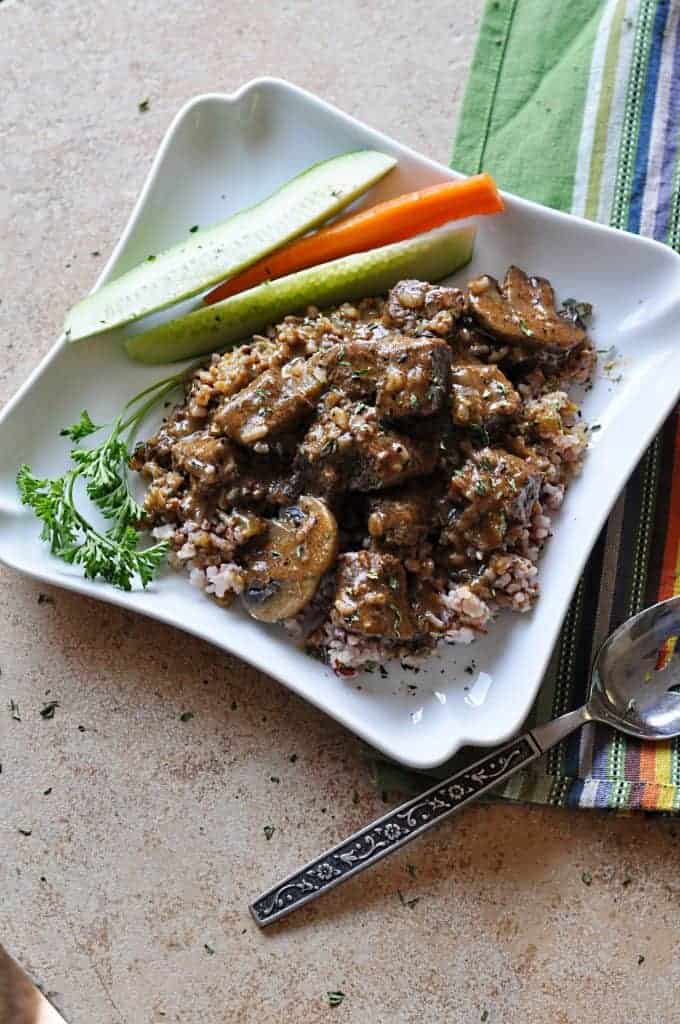 I love the rich flavors in this beef tips recipe. Goes great with the rice to absorb all the extra gravy!
Many of the recipes I came across when creating this recipe called for brown gravy mixes … but I cry foul, as gravy is so easy to create yourself with some good broth and a thickener like flour. You can also make it gluten free or flour free with the right mix.
But … please … say no to the packaged gravy mixes. It's so easy to make gravy that they're really not necessary. Homemade gravy is no harder to make, and it is so much healthier when you know what is in your food.
A bit of flour sprinkled over the broth, or you can create a slurry of flour mixed with broth for your gravy. Using a fork or whisk, you can combine your flour and broth nicely to create a smooth gravy.
What Meat For Beef Tips and Rice?
I used stew meat for my beef tips, but other good cuts of beef are chuck or round or sirloin. Choose a good cut of beef that's not too tough or fatty but not extra lean.
What Goes With Beef Tips and Rice?
Good pairings for beef tips are corn, salad, green beans, broccoli, carrot dishes. Think about varied colors. This dish is mostly browns and tans with the beef and rice. So if you add purples, oranges, greens, yellows – that would be perfect to combine.
What are some tips to make beef tender?
Cooking quickly at high temperatures is the best tip for making beef tender. Get your iron skillet smoking hot (6-8 on the stove top). Don't add oil to the pan, but oil and season your beef on a plate before adding to the pan. Massage the oil and seasonings into the beef.
Once the pan is very hot and beginning to smoke a bit, add your beef pieces. They should sizzle heartily. Let them cook for at least 5 minutes. Watch for the meat to be cooked through about halfway before turning.
Once you turn the meat, cook for the same time as before. If 5 minutes on the first side, cook for 5 minutes on the second side. Keep in mind, the first side is the most crucial for keeping in the juices.
After the meat is seared and browned, covered slow cooking on low will finish the process of tenderizing the meat.
Read more: Slow Cooker Vegan Beef Stew and Dumplings
Remember to Pin for Later!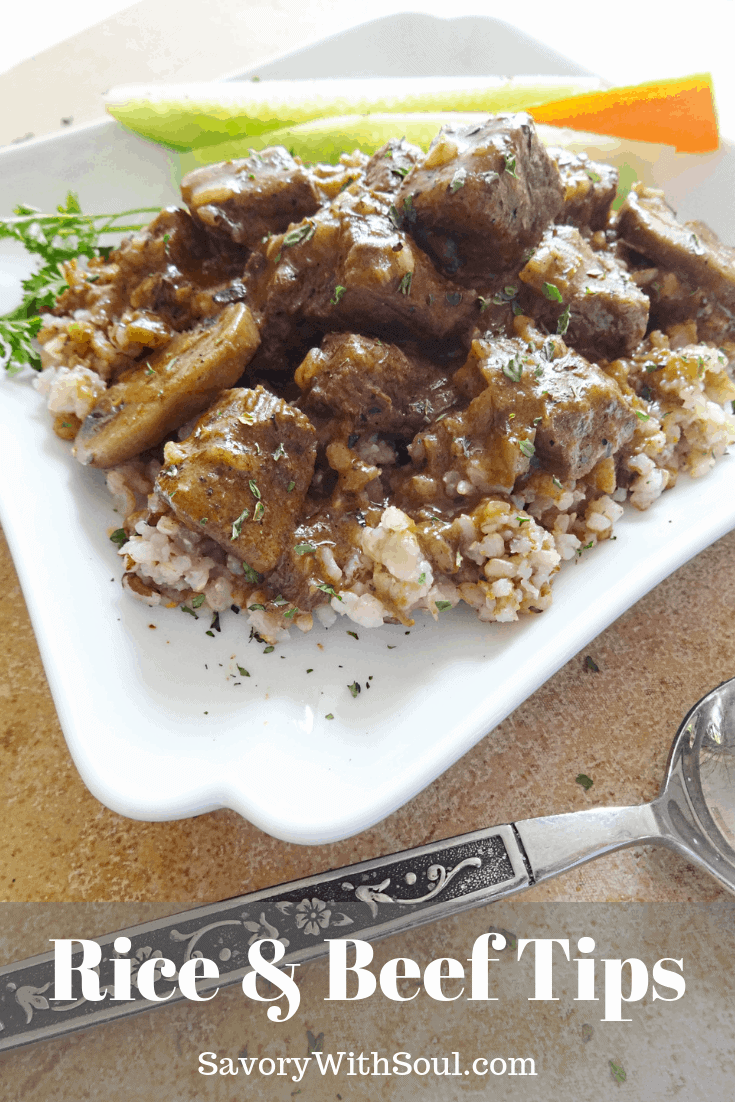 For more information, please see more information about Rice and stew meat recipe