This rice salad recipe will brighten up any fall or winter meal! Studded with pomegranates, pistachios, and herbs, it's a stunning, fresh holiday side dish.
Reading: rice dish recipes vegetarian
Today, we're partnering with POM Wonderful because Jack and I love pomegranates! He likes to snack on them and I like to use them in salads, dips, and more. They're known for their antioxidant goodness, and they're a good source of fiber, but most importantly (for me), they add a brilliant ruby red pop of color and a sweet burst of flavor to holiday recipes like this one!
Rice Salad Recipe Ingredients
Here's what you'll need to make this easy rice salad recipe:
Rice, of course! I used a mix of wild rice, brown rice, and basmati rice, but just one or two varieties of rice would work just as well. Steer clear of short grain rice – wild rice, long grain white rice, and long grain brown rice have the best texture for this recipe.
Pomegranates – They add the perfect pop of bright color and flavor.
Herbs – Mint leaves and finely chopped parsley fleck this rice salad with green, and they add lovely fresh flavor.
Scallions and garlic – They add savory depth of flavor to contrast with the sweet, tangy dressing and fresh herbs.
Nuts, for crunch! I love the bright green color of pistachios in this recipe, but walnuts would be great too.
Read more: best vegetarian dish with brown rice
To tie it all together, I make a warmly-spiced citrus dressing with cinnamon, cumin, coriander, fresh orange juice, maple syrup, white wine vinegar, and olive oil.
To make this recipe, start by cooking the rice. As it cools, whisk together the dressing. Then, lightly sauté the scallions and garlic. Stir the cooked rice into the pan, along with the nuts, half the dressing, and some parsley. Transfer the brown rice salad to a serving dish, drizzle it with more dressing, and top it with more parsley, mint, and fresh pomegranate arils. Serve at room temperature or slightly warm, and enjoy!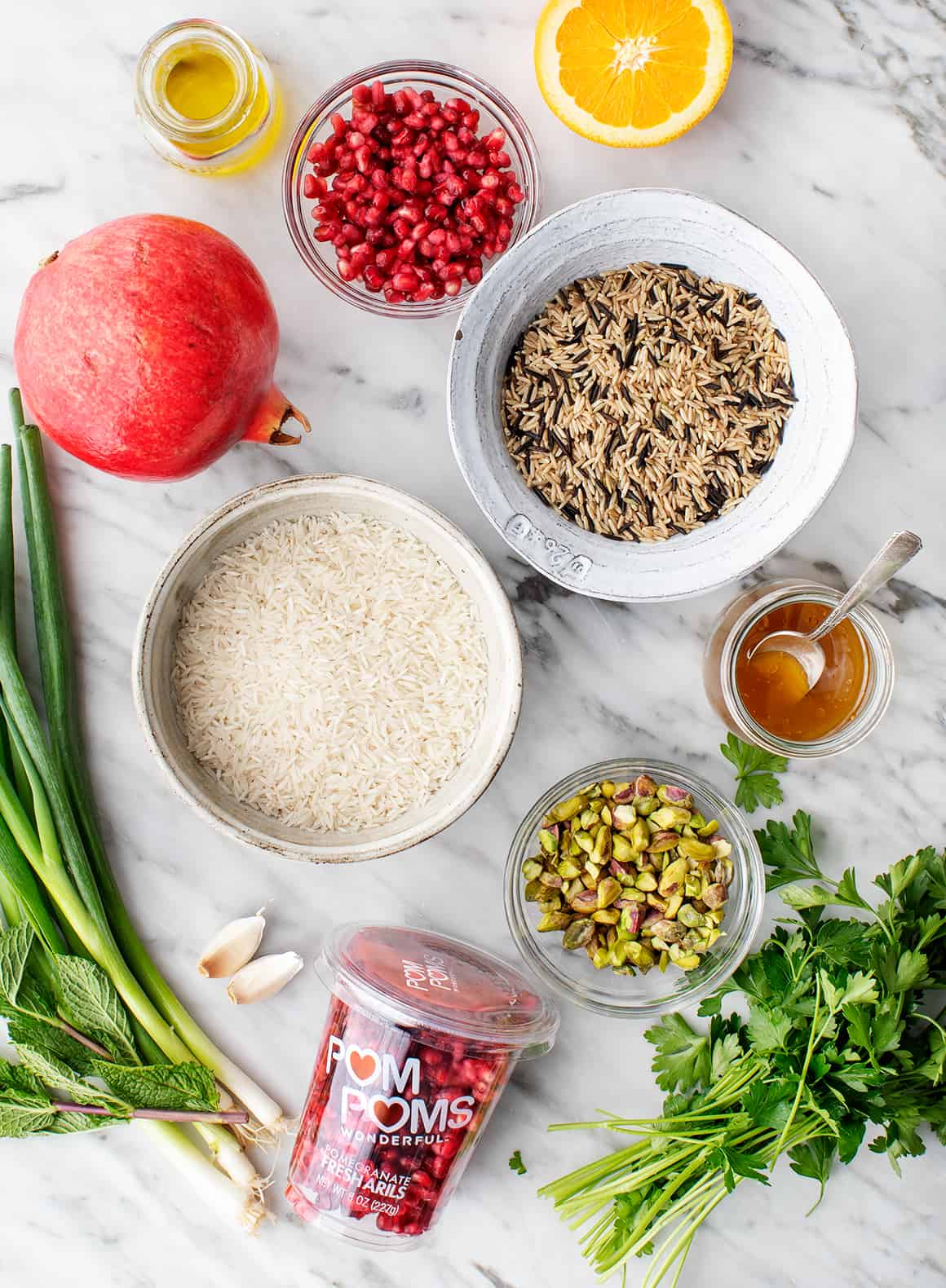 Easy Rice Salad Recipe Tips
Get ahead. If you cook the rice and make the dressing in advance, this dish comes together in minutes.
Lighten it up. If you'd prefer to serve this recipe as a lighter veggie side dish, substitute cauliflower rice or broccoli rice for some or all of the regular rice.
Make it a meal. I love to enjoy this rice salad as a meal on its own! I top it with roasted chickpeas for protein and serve it with a roasted veggie like Brussels sprouts, cauliflower, broccoli, or butternut squash with a drizzle of tahini sauce. It tastes just as good at room temperature as it does warm, and it holds up well on the go, so pack it for a healthy lunch (see this post for my best lunch-packing tips and ideas!).
More Favorite Grain Recipes
Read more: Indian-Spiced Spinach (Saag)
If you love this festive rice salad recipe, try one of these simple grain recipes next:
Cilantro Lime Rice
Lemon Couscous
Herbed Farro
How to Cook Quinoa + Favorite Quinoa Recipes
Best Buddha Bowl
Roasted Veggie Grain Bowl
Sweet Potato Quinoa Bowl
And for more healthy rice recipes, check out this post!
If you have extra pomegranates after making this recipe, add them to cookies, top them onto salads, sprinkle them over hummus, stuff them into squash, or enjoy them as a snack!
Special thanks to POM Wonderful for partnering on this post!