Best Beef Recipes is an Amazon Associate. We receive compensation for purchases made through affiliate links.
My Leftover Roast Beef Sandwich Recipe will change the way you use roast beef leftovers! This easy ciabatta sandwich recipe, complete with homemade remoulade sauce, cream cheese, and caramelized onions, is the best way to use leftover roast beef.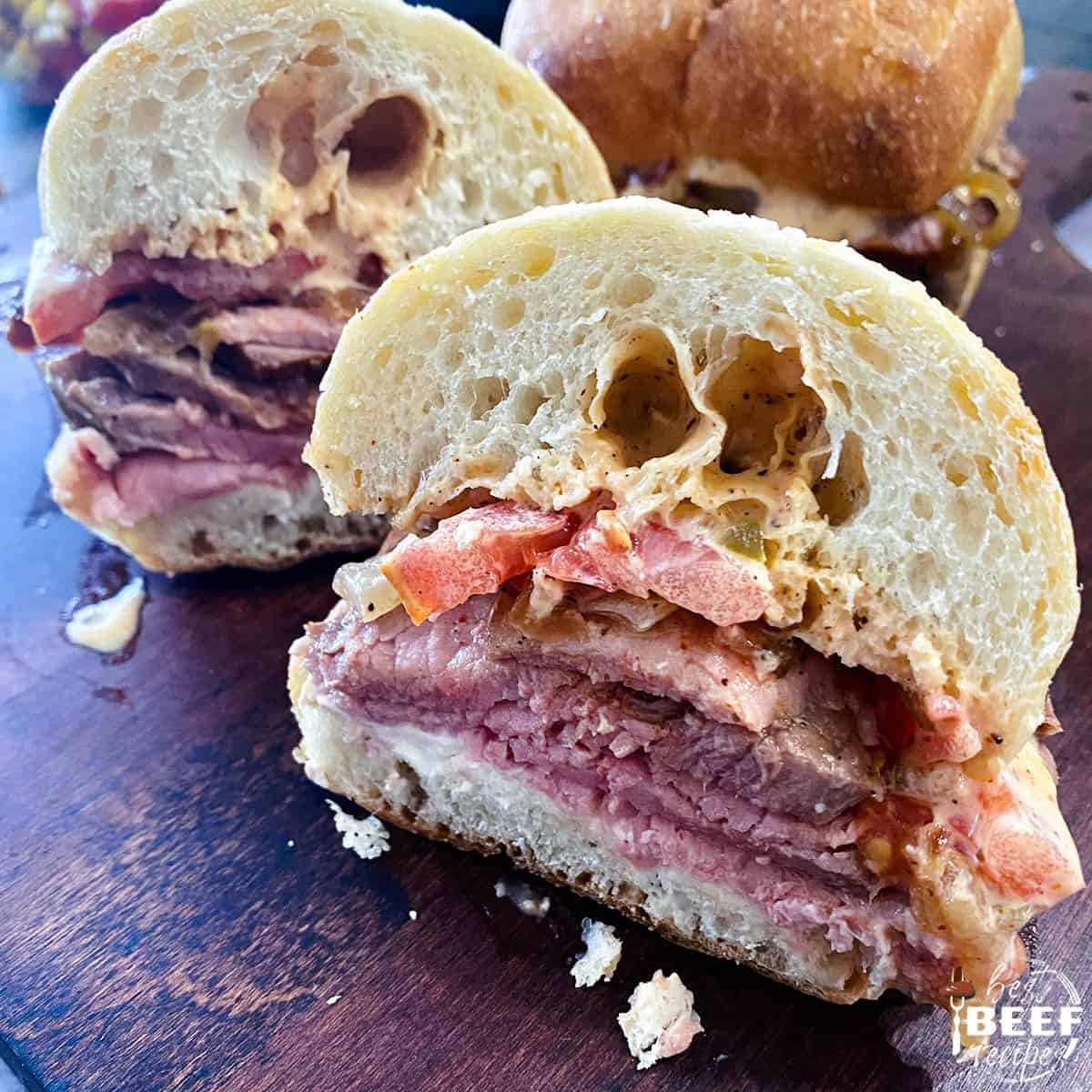 Jump to:
Best Roast Beef Sandwich Recipe
Hot Roast Beef Sandwich FAQ
Roast Beef Sandwich Ingredients
How to Make a Roast Beef Sandwich
Variations
What to Serve with a Roast Beef Sandwich
📌 Pin it for later!
📋 Recipe
Best Roast Beef Sandwich Recipe
Roast beef is one of my family's favorite dinners, whether we're enjoying a prime rib for the holidays or a pot roast during the week. But, with any roast beef recipe, there are always leftovers!
One of my personal favorite ways to use leftover roast beef is to make a hot roast beef sandwich. There is nothing quite like a super flavorful sandwich with roast beef leftovers. Even better if you make the sauce and toppings from scratch!
This leftover roast beef sandwich recipe is my secret to getting the most out of leftovers. I make it using a homemade remoulade sauce and caramelized onions, and it stands out as the best beef sandwich I have ever had. It's amazing for pot roast or as an idea for Prime Rib Leftovers.
I guarantee you will feel the same way with just one bite!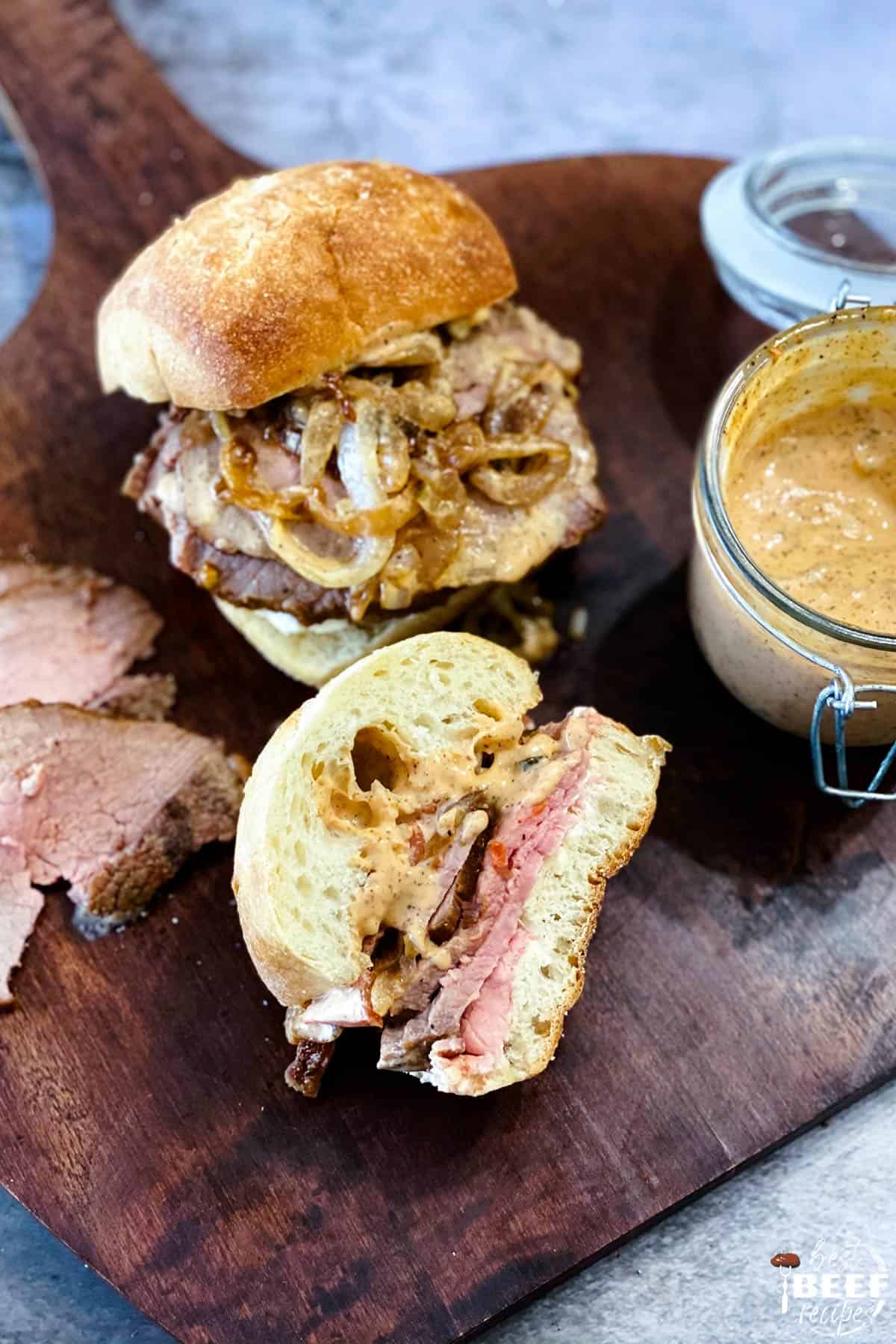 Hot Roast Beef Sandwich FAQ
Roast Beef Sandwich Ingredients
Sandwich rolls of choice (I recommend ciabatta)
Cream cheese
Remoulade sauce
Caramelized onions
Tomato (optional)
Leftover roast beef – try one of my roast beef recipes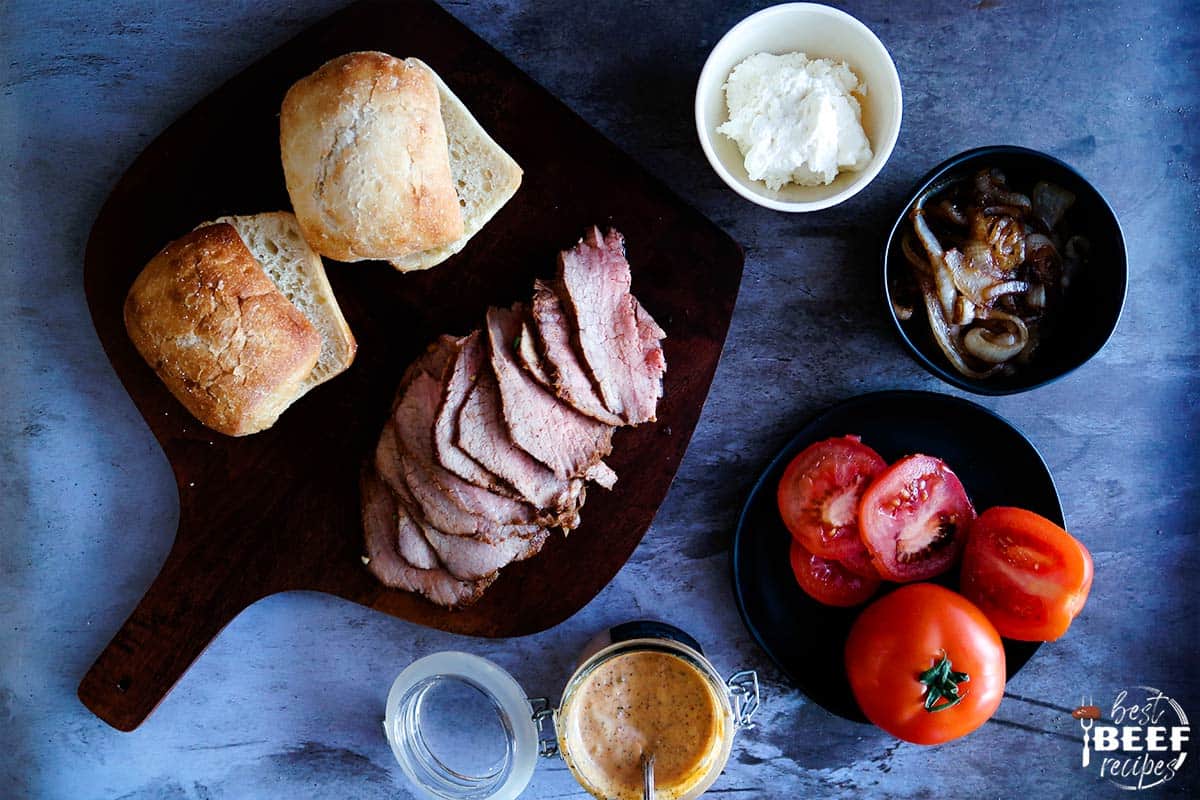 How to Make a Roast Beef Sandwich
Prepare caramelized onions and remoulade sauce (store-bought can also be used).
Spread cream cheese on the bottom roll of your sandwich bun.
Add slices of leftover roast beef, or leftover shredded roast beef, over the cream cheese.
Top with caramelized onions, then tomato (optional).
On the top bun, spread remoulade sauce. Join the sandwich, cut in half, and serve!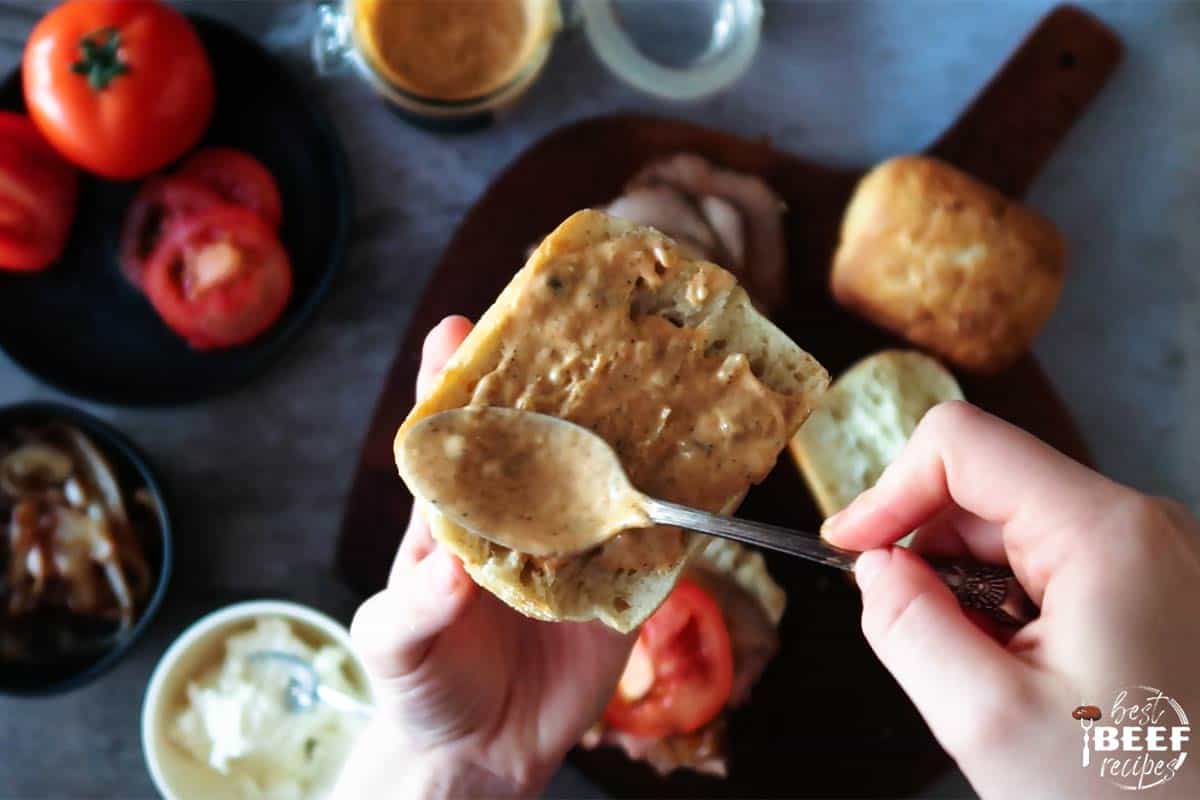 Variations
Remoulade sauce and caramelized onions are not the only way you can enjoy an incredible leftover roast beef sandwich recipe! Here are a few of my favorite variations on this leftovers sandwich:
Roast beef sandwich with horseradish sauce: Prepare creamy horseradish sauce to use as sauce for the sandwich (no cooking required). Pair with cheddar cheese and arugula, and enjoy cold or as a hot roast beef sandwich by warming it slightly.
Arby's roast beef sandwich/Arby's beef and cheddar: Make your homemade roast beef sandwich into one like the classic from Arby's by preparing it with a toasted sesame seed bun, cheddar cheese sauce (see: how to make cheese sauce), and copycat red ranch sauce. To make the red ranch sauce, combine ½ cup ketchup with 3 Tablespoons red wine vinegar or apple cider vinegar, ⅛ teaspoon garlic powder, ⅛ teaspoon onion powder, and 3 Tablespoons sugar. Double for enough to make 4 sandwiches. For best results, heat in a saucepan over medium-heat after mixing, then cool. Alternatively, use a variety of Country French dressing.
Au jus sandwich: Make it a french dip sandwich by heating au jus sauce for dipping and serving it hot with melted provolone, Swiss, or Mozzarella cheese.
What to Serve with a Roast Beef Sandwich
A nice green side salad
Serve with roasted vegetables, like carrots, broccoli, or asparagus on the side
Try adding steakhouse mushrooms
Serve with roasted potatoes or chips
Did you try this recipe? Leave a comment and a rating below to let us know what you think! We love to hear from you!
📋 Recipe
Please see more list about How to heat up roast beef for sandwiches
Detail: 🔗