The best, juicy roast Beef Tenderloin slathered with a delicious garlic butter. Serve with an optional red wine sauce (jus)!
It's so easy to roast a juicy beef tenderloin that melts in your mouth with every bite. Even better when served with a rich and rustic, easy to make red wine sauce (or jus).
A gourmet choice, just as good as a Prime Rib with a garlic herb crust! Our beef tenderloin recipe is perfect for Christmas, New Years or to simply spoil yourself with an indulgent weekend dinner! Worth every penny when perfectly roasted to your desired preference.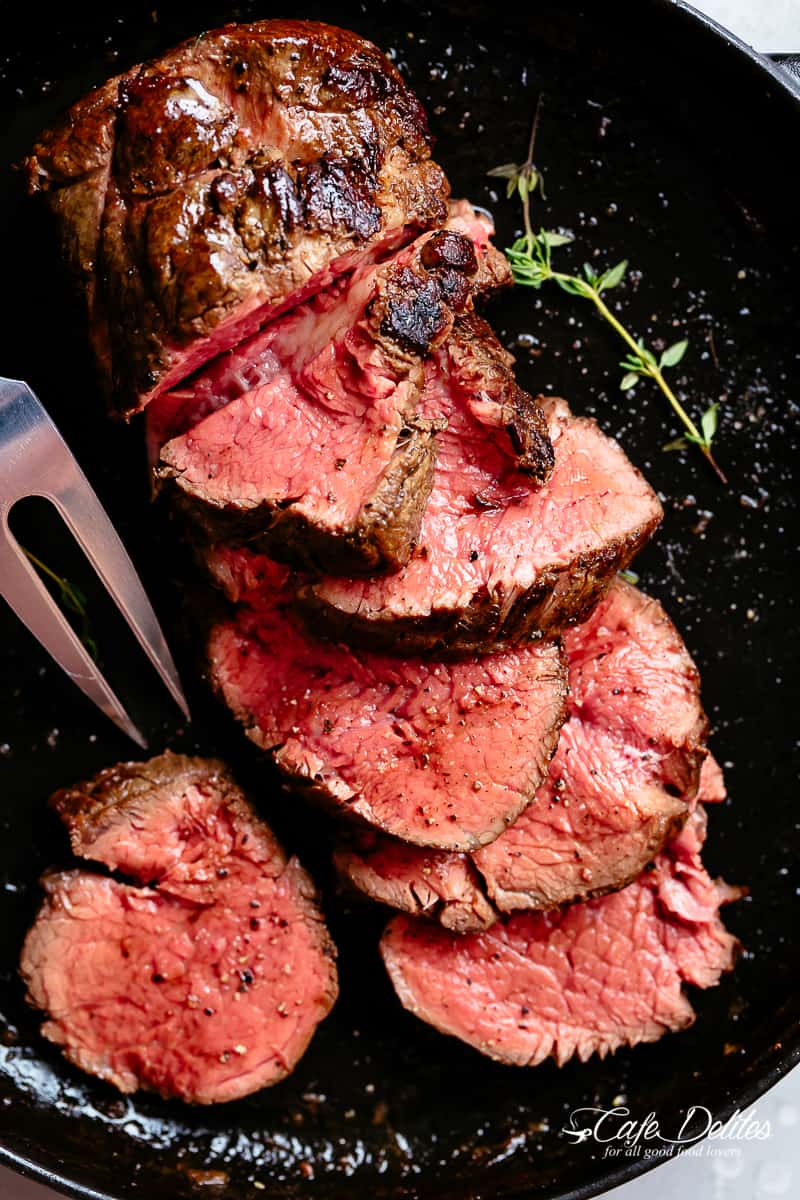 Whole tenderloins are sold as either:
Unpeeled — the fat and silverskin remain.
Peeled — the fat is removed, silverskin is intact.
Peeled with silverskin removed and side muscle (chain) left on or off.
Unpeeled whole tenderloins are cheaper to buy but require more work to prepare for roasting. The most expensive option of beef tenderloin is the third option. It requires less prep work by you since the fat and trimmings have been removed. Some butchers also tie it for you, ready for roasting straight away.
WHAT IS THE BEST WAY TO COOK BEEF TENDERLOIN?
The best way to cook beef tenderloin in two easy steps: sear first, then roast in the oven to finish it off. You get the best, crispy browned exterior without drying it out. It's easier than you think!
Next, the red wine sauce. It's completely optional, so easy and absolutely incredible. You will feel like a gourmet chef serving this beef tenderloin to your guests.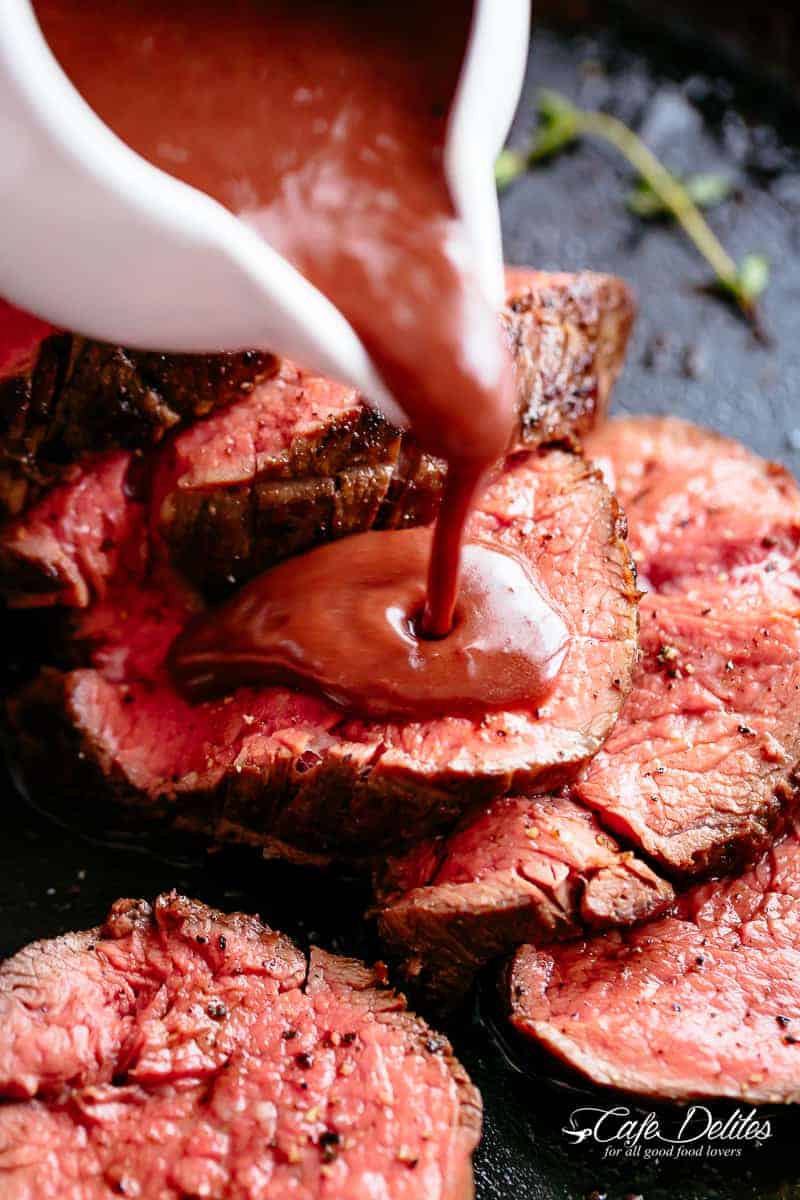 HOW TO TRIM A BEEF TENDERLOIN?
SILVERSKIN: First, trim the Silverskin of the tenderloin if it has been left on (the thin, silver membrane that remains tough when cooked — see images below). Run a knife just under the membrane and carefully slice it off.
CHAIN: Your tenderloin may still have the chain attached, which looks like a fatty thin piece of meat running down the length of the tenderloin. You will need to remove this also. Reserve the chain and use it in our Slow Cooker Beef Stew.
HALVE: Cut the tenderloin in half to create two small roasts. Easier to roast than a whole tenderloin, giving you the option of roasting each one with different durations. We roast one medium rare and the other well done, leaving it in the oven longer, pleasing everyone in our family.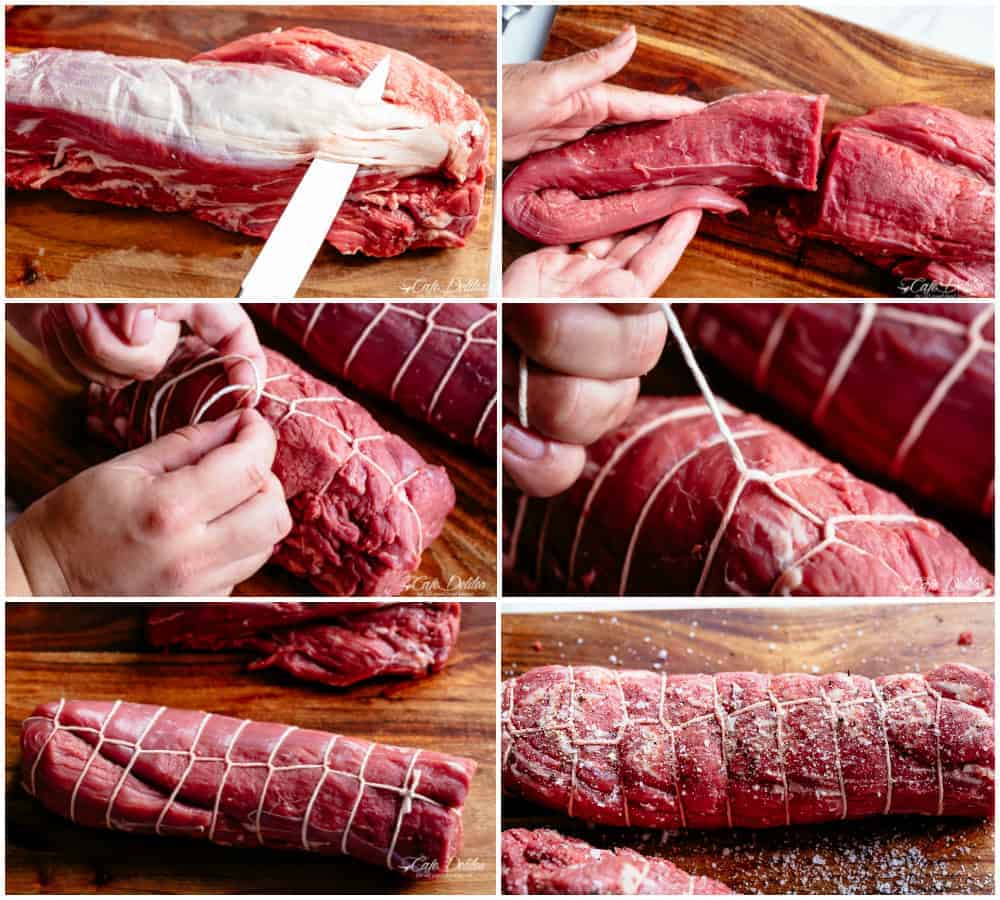 HOW TO TIE A ROAST
Use kitchen twine to tie your roast firmly with 1-inch intervals, but not too tight that the beef loses its shape and bulges out. This helps keep them compact while roasting, ensuring they cook evenly.
A whole beef tenderloin has a thinner, tapered end. Tuck it under before tying it up so it's the same thickness.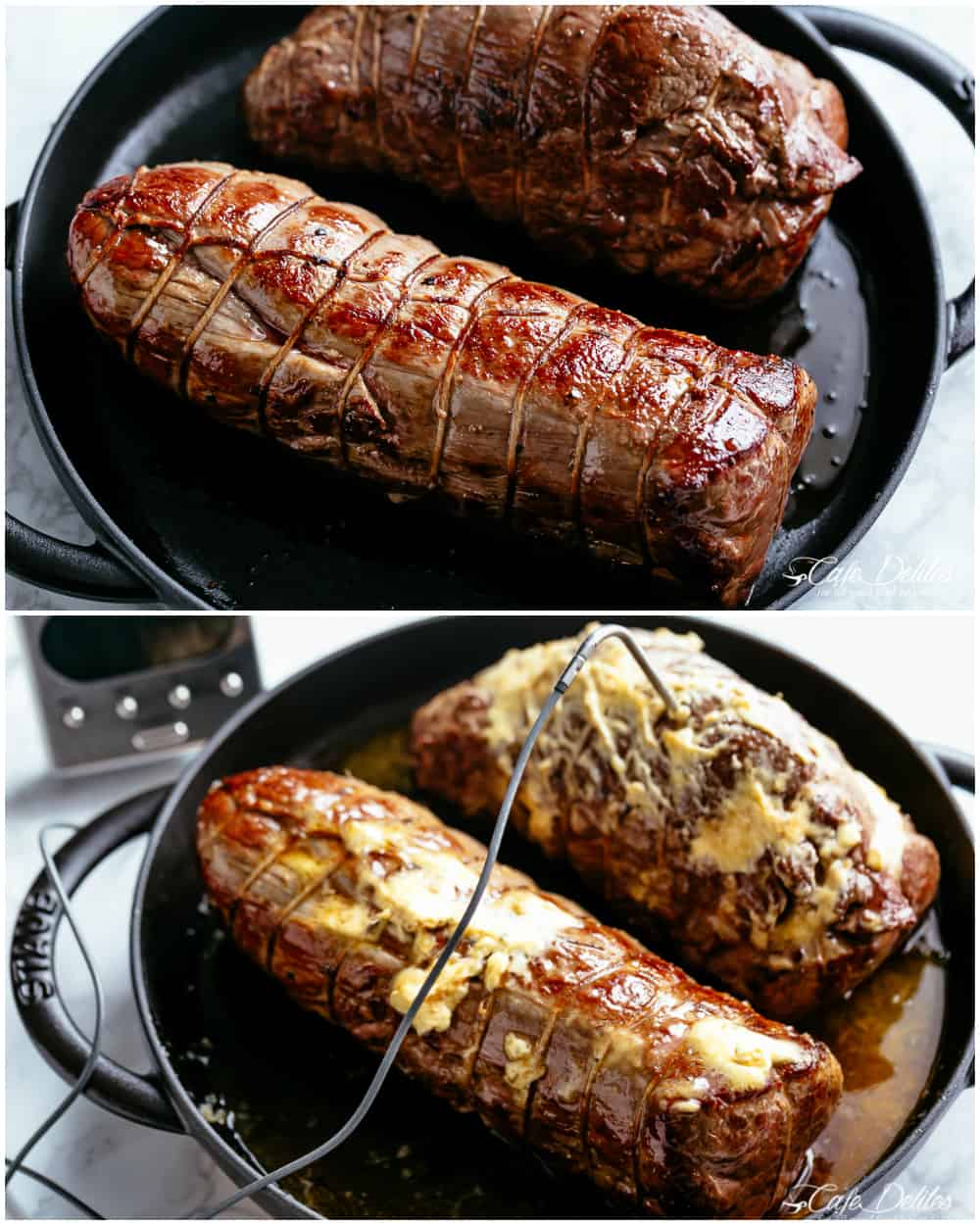 HOW DO YOU COOK A WHOLE BEEF TENDERLOIN IN THE OVEN?
Pat tenderloins dry and refrigerate them, uncovered for 12 hours or overnight (if time allows). This is optional and helps get the crispy outer edge when searing. If you don't have the time, don't worry! You will still get good results.
Season the surface of the tenderloin with a thin layer of coarse salt and pepper. Salt brings out the beef flavour in the tenderloin.
Sear in a hot skillet or pan over medium-high. Cook, undisturbed, until browned, then turn and repeat until browned all over. So all together, you need to sear it on 3 or 4 sides to get a nice colour all over (about 3 minutes per side).
Slather with a garlic, Dijon butter and transfer to the oven to continue roasting. If you don't have an oven proof pan, transfer the roasts to a shallow baking dish or pan and continue on from there.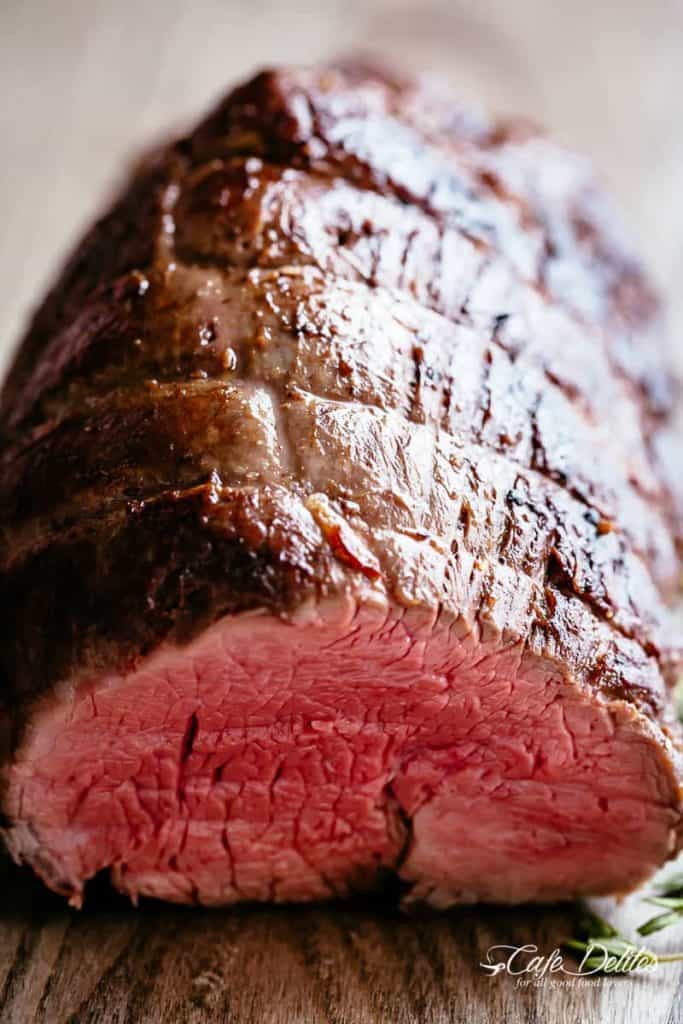 WHAT TEMPERATURE SHOULD YOU COOK A BEEF TENDERLOIN?
Beef tenderloin roasts at 430°F (or 220°C).
HOW LONG DO YOU COOK BEEF TENDERLOIN?
Use a probe thermometer to check the internal temperature.
Rare: 115°F – 120°F.Medium-rare: 120°F – 125°F.Medium: 130°F – 135°F.
Keep in mind that the temperature will continue to rise about 5-10 degrees while the meat rests. Let it rest at room temperature for 10-15 minutes before slicing to let the juices redistribute and absorb back into the meat, guaranteeing juicy and tender results.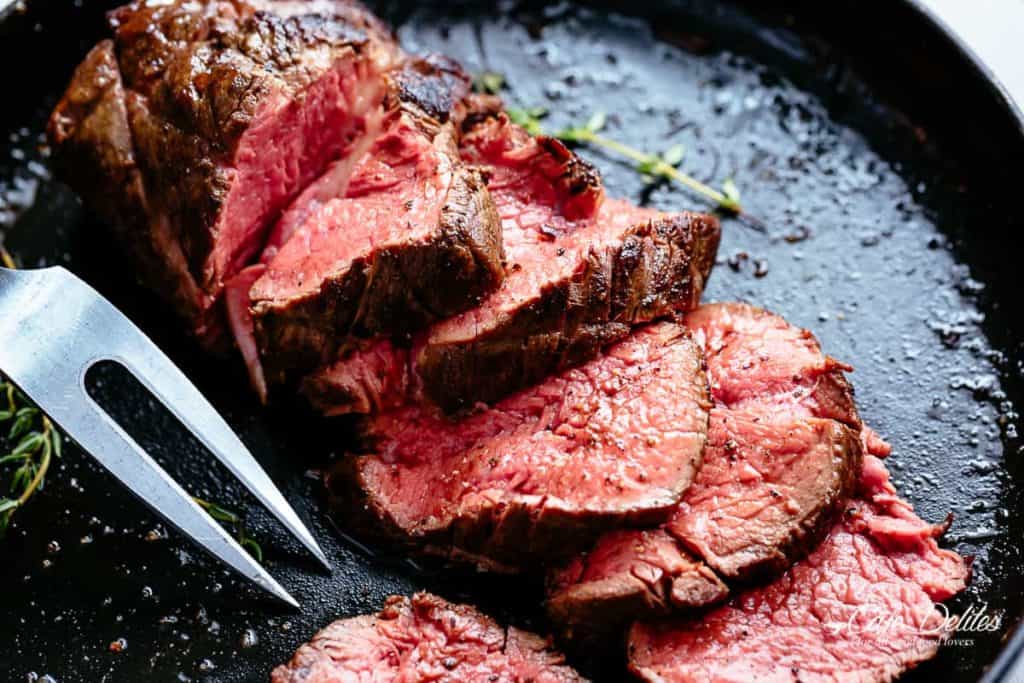 Looking for more steak or beef recipes? Try these!
Pan Seared Garlic Butter Steak & Mushroom Cream SauceGarlic Butter Grilled Steak & ShrimpGarlic Herb Prime Rib
Through this article, we hope to help you understand How to roast a beef tenderloin in the oven
Detail: 🔗