Spatchcock Turkey is the fastest, easiest Thanksgiving Turkey recipe you'll ever use. This bird cooks so fast, you won't believe it!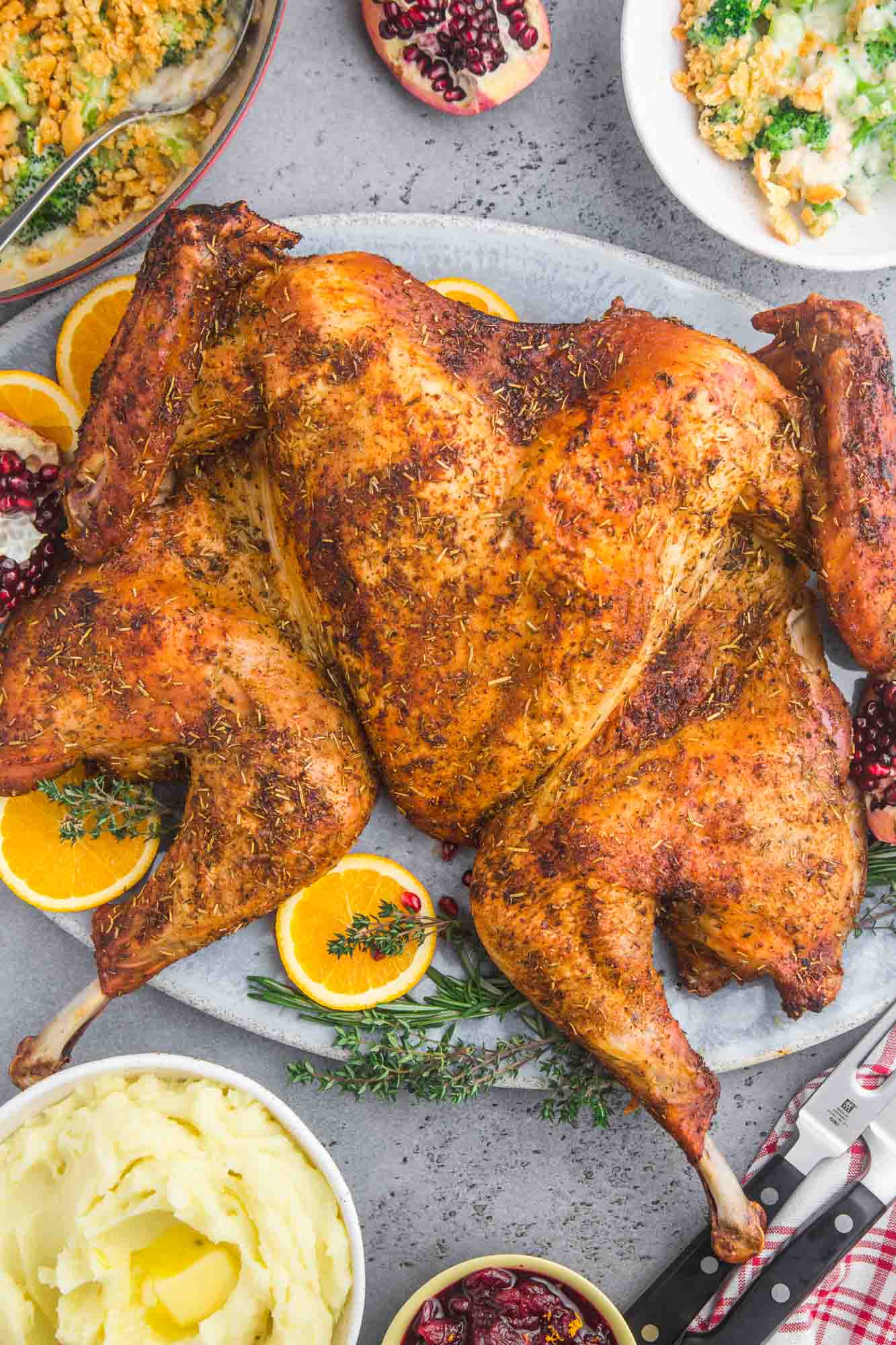 I'm sharing a Spatchcock Turkey recipe with you today, complete with instructions on how to properly spatchcock a turkey. Learn how to butterfly a whole turkey, and how to roast it so it's beautifully browned, juicy, and delicious.
Even better, you won't have a dried out turkey breast. Roasting a turkey the traditional way, the breast often cooks faster than the dark meat, so you may end up keeping the turkey in the oven too long, or not baking it enough. This results either in breast meat that is overcooked, or thigh meat that is undercooked.
This spatchcock method cooks all parts of the turkey at the same rate, making every bite tender and juicy. Plus, all of those turkey parts will be juicy and extra brown and crispy.
Also read: How Long To Cook A Spatchcocked Turkey Per Pound? – De Kooktips
I love making Spatchcock Chicken as a crispy, roast chicken dinner. Spatchcock chicken is also amazing on the grill. The process is similar to this, just on a smaller scale.
Why You'll Love This Recipe
The Turkey Cooks Faster: Spatchcock turkey cooking time is much less than the cooking time for roasting a whole turkey the traditional way. Butterflying the bird creates more surface area, which means the meat cooks more evenly and in less time.
Simple Instructions: Never Spatchcocked a turkey before? No worries, I have you covered. It only takes a few strategically placed cuts to flatten a turkey for roasting.
Gorgeous Presentation: I love the way a spatchcock turkey looks on a big platter, surrounded by pretty garnishes. I think your Thanksgiving guests will be impressed too.
Even Browning: You know how when you roast a turkey, the breast is perfectly browned but the lower parts stay a bit dull? That won't happen here. All of the exposed skin gets brown and crispy when you spatchcock a turkey.
Key Ingredients
Complete list of ingredients and amounts can be found in the recipe card below.
A Turkey: You can spatchcock and roast any size turkey using this method. In these images I am using a smaller turkey. It was 12.5 lb(5.7kg). A larger turkey can be used, see notes for tips for spatchcocking and roasting a large turkey.
Turkey Seasoning: I have a fabulous dry rub that I use on turkey that you should definitely try. Otherwise, you can use a combination of dried or fresh herbs, paprika, 2 tablespoons of salt, and a teaspoon of pepper.
Olive Oil: Rubbing down the turkey with oil promotes browning and crisping, plus it helps all of the seasonings to stay put.
How to Spatchcock a Turkey
Spatchcock is another word for "butterfly" when it comes to meat. It's a term that, in this context, basically means, "cut it almost in half so that it lays down flat". Here's how you do it:
Prepare: Preheat the oven to 425°F/220°C. Remove the neck and giblets from the turkey and dry it off with paper towels if needed so that it isn't too slippery.
Make the first cut: Place the turkey breast side down on a sturdy cutting board. Using kitchen/poultry shears, cut along one side of the backbone from the tail towards the neck.
Remove the Backbone: Then use the shears to make another cut on the other side of the backbone in order to remove it. Save the backbone to make turkey stock later!
Score the Breast: From the inside of the turkey, use a sharp knife to score the space in the center of the breast bone. This will help immensely in the next step.
Flatten the Turkey: Flip the turkey over so that you're looking at the breast. Adjust the turkey legs so that they face outward, and press down on the turkey breast with force until you hear the breast bone cracking. Keep pressing until the turkey is flattened.
Adjust: Now, flip over the legs as shown, so that they are facing the sides. This will help protect the breast meat so that it doesn't overcook. Tuck the wings behind the bird (as if the turkey is reclining on a warm beach).
Roast the Spatchcocked Turkey: Brush the turkey on both sides with olive oil or melted butter and season on all sides with your turkey seasoning. Place the turkey on a rack on a rimmed baking sheet and roast until done.
Rest: Allow the turkey to rest for at least 15 minutes after you remove it from the oven.
How long to cook a spatchcock turkey?
The amount of time needed to roast a spatchcocked turkey will depend on the size of the turkey. You should use a kitchen thermometer (definitely not the thermometer that came in the turkey – throw that away, it's useless) to test for doneness. A smaller, 12-14 pound turkey will take approximately 1-2 hours to cook in a 425°F/220°C oven. I suggest testing for doneness around the 60 minute mark.
How to know if a spatchcock turkey is done?
Cook until the breast meat reaches an internal temperature between 160°F/70°C and 165°F/74°C. The dark meat should be at least 175°F but it's fine if it reaches up to 200°F.
Recipe Tips
Also read: Spatchcock Turkey Recipe | Easy Thanksgiving Turkey
Cover if needed: If your turkey is browning too fast, cover it with aluminum foil to avoid burning.
Prep Ahead of time: Spatchcock the turkey and refrigerate it until you're ready to cook it. Allow it to sit at room temperature for about 15 minutes before putting it in the oven.
Let it rest: Resting the turkey after roasting is very important. This will let the juices redistribute so that they don't run out when you cut into it.
Spatchcocking a larger turkey: I was able to use a normal sized half sheet roasting pan and rack to do this small turkey, but a larger turkey will need some different equipment. Try using a large roasting pan, or a full sized rimmed baking sheet. If you have a smaller oven, you may need to check to see what size pan will fit.
Use good tools: A strong pair of kitchen shears and a sharp chef's knife will be your best friend when it comes to this bit of butchering.
What to serve with Spatchcock Turkey
Also read: Spatchcocked Turkey with Sage Butter and Gravy
This turkey roasting method is perfect for Thanksgiving. Be sure you have all of your Thanksgiving recipes ready!
For the turkey, you need this Turkey Seasoning Blend. If you want to, you can use this turkey brine recipe on your spatchcock turkey too.
Side dishes are the second best part of Thanksgiving. Green Bean Casserole, Sausage Stuffing, and Crock Pot Mashed Potatoes are musts. Oh, and don't forget the Cranberry Sauce!
Desserts ideas: Turkey Cupcakes, Sweet Potato Pie, and Pumpkin Layer Cake will all be delicious.
FAQs
I hope you learned some new tricks here, and I know that you are going to love how easy and fast it is to roast a spatchcocked turkey. Happy Thanksgiving!
Through this article, we hope to help you understand How long to roast spatchcock turkey