Garlic Herb Butter Roast Turkey recipe is succulent and tender on the inside with a golden, buttery skin and so much flavour!
How to cook a perfect Roast Turkey without brining this holiday season! Dried out breasts and meat are a thing of the past with our perfect Turkey Recipe. Slathered with a garlic herb butter then oven roasted to get the most perfect, juicy meat and golden brown skin.
Thanksgiving made easy!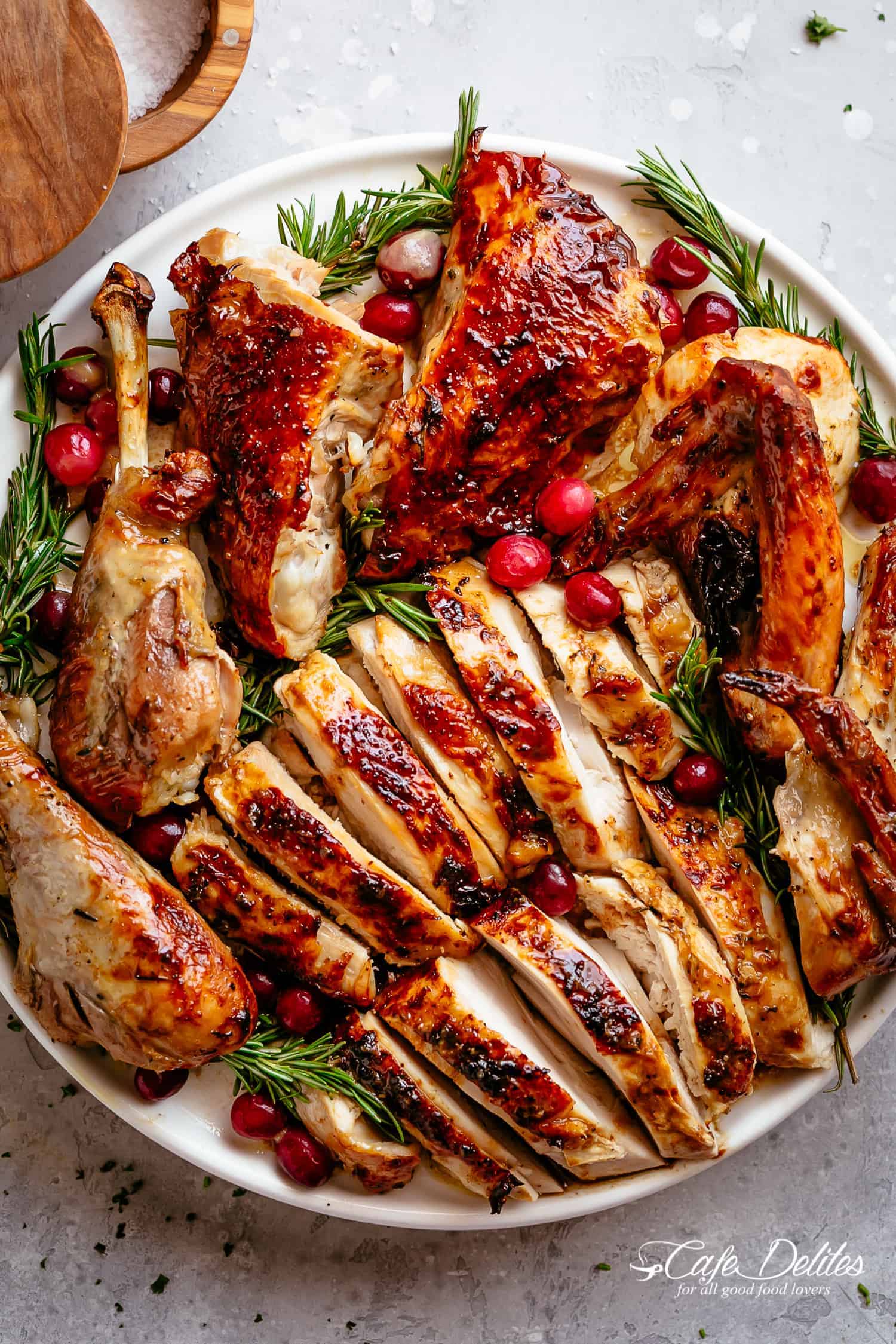 Roast Turkey
One of our most loved and favoured holiday dinner is a juicy roast turkey. With each Thanksgiving through the years, my mother learned the art of roasting turkey and became well-known for her succulent roasts.
Many people brine their turkey for hours, sometimes days, or cook their turkey on roasting racks. We generally don't do any of that, preferring to roast it belly down right at the beginning to keep those important juices recirculating through the meat.
We create our own 'roasting rack' with garlic heads halved horizontally, so some of the flavoured pan juices cook right into the breast from the outside keeping it moist. The white meat roasts away from the heating element, preventing your turkey from drying out.
After the success of our Garlic Herb Butter Roast Chicken, it was high time to share with you all our perfect roast turkey recipe.

HOW TO PREPARE A TURKEY
Turkey THAWING
First, if you have a frozen turkey, you will need defrost it COMPLETELY in the refrigerator with the plastic packaging or bag intact. Place it in a large, deep roasting pan to prevent leaks running through your refrigerator shelves while it defrosts. Allow 24 hours for every 3-4 pounds (or 1.5-2 kg).
In short, your turkey will need 2-3 days to completely defrost depending on the size of your bird.
A quicker method for defrosting is to submerge the turkey in cold water (30 minutes per pound or 500g). Make sure your turkey is in a leak proof bag to submerge it in and change the water occasionally to keep it cool.
It can take up to three hours to get the chill out of the turkey (depending on the size of the bird). Allow it to come close to room temperature before cooking so it roasts evenly.
Once it has defrosted, pull out the neck and giblets (discard them or use them in soups or stews). Rinse the turkey inside and out and pluck out any stray feathers.
Pat dry with paper towel before roasting.

HOW TO COOK A TURKEY
Use a pan without the roasting rack (the garlic head halves create the 'rack').
Line your pan with parchment paper or foil to avoid the skin from sticking.
Stuff the cavity with halved garlic heads, lemon slice (optional) and sprigs of herbs to infuse flavour into turkey from the inside with the heat of the oven.
Tie the legs together and tuck the wings under its back to prevent the legs and wings from spreading out.
You can wrap the wings tips in foil for the first half of roasting if the heating element in your oven is at the top, or you have a small oven, or to prevent them from charring.
ROASTING
Before roasting, slather it with garlic herb butter all over AND under the skin to help retain all of the juices. I find melted butter works better to get all of those flavours evenly over the bird.
Place turkey, breast-side down, over garlic, lemon and herbs. The aromatics will continuously cook through the meat — from the inside and outside.
Slather it with the garlic herb butter during the cooking process. This creates an incredible golden skin.
Take your time. Don't speed up the cooking process while roasting as it may cook unevenly.
A meat thermometer is crucial to help you know exactly when your turkey is cooked through.
If you love stuffing, cook it separately instead of stuffing it in the cavity to prevent the juices from absorbing into the stuffing instead of the meat. Stuffing generally adds more cooking time to your turkey which can also dry out the meat.
You can also pour any remaining pan juices over the stuffing to get those flavours in that way.

WHAT TEMPERATURE TO COOK A TURKEY
Roast the turkey, breast-side down, uncovered, at 390°F (200°C) for fan forced ovens, or 425°F (220°C for standard ovens for 30 minutes. (For a turkey over 15 pounds, you will need 45 minutes.)
Turn turkey over (breast-side up) with a pair of tongs, a clean tea towel or oven mits (heat-proof gloves) and baste with pan juices.
Slather with half of the butter and season with salt and pepper.
Reduce heat to 325°F |165°C (for standard ovens), or 300°F | 150°C (fan-forced). Roast for a further hour, uncovered.
Brush turkey again with remaining butter and roast for 30 minutes.
Baste again, then continue roasting for a further 30 minutes or so, depending on the size of your bird.
*Tent loosely with foil if starting to brown too fast.*
(For an extra large turkey, you may need to roast your turkey for an additional half hour to an hour.)
Use a meat thermometer inserted between the breast and leg. It should read 165°F | 75°C. This is the USDA recommended internal cooked temperature of turkey.
For extra crispy skin, broil in the last 5-10 minutes of cook time, keeping your eye on it so it doesn't burn.
HOW LONG TO COOK A TURKEY
Cooking time varies depending on a few things:
Turkey size. Generally, a turkey needs to cook for about 13-15 minutes per pound.
Temperature of your turkey before roasting: If your turkey is cold and not close to room temperature when it goes into the oven, it will take longer to roast. If it is at room temp temperature, it may take less time.
Your oven.
ROASTING TIME:
Approximate times:
10 pound | 5kg: 2 hrs 15 min
12 pound | 6 kg: 2 hrs 35-45 minutes
14 pound | 7 kg: 3 hrs
16 pound | 8 kg: 3 hrs 15-20 min
18 pound | 9 kg: 3 hrs 45-55 min
20 pound | 10 kg: 4 hrs 15-20 min
Remember: this is just an estimate. Check the temperature early on to ensure you're not over or under cooking. Insert your meat thermometer between the breast and leg. It should read 165°F | 75°C (breast should read 160°F (70°C). The turkey will continue to cook for several minutes after you remove it from the oven, so it's best to take it out about 5 minutes before it reaches the suggested temperature.
If you don't have a meat thermometer, pierce the breast meat with a knife. The turkey juices should run clear, not pink.

ALLOW IT TO REST
Once your turkey is cooked through, transfer it to a marble cutting board or serving plate. Tent with foil to keep it warm, and allow it to rest for 15-30 minutes, depending on the size of the turkey (the bigger it is, the longer it will need to rest).
MAKING TURKEY GRAVY
Strain pan drippings. Use a metal spatula to scrape any bits of meat stuck to the bottom of the roasting pan.Melt butter in a small pot.Add in flour to make a roux.Slowly pour in your pan drippings. If you don't have enough, you can top it up with chicken stock.Season with salt and pepper (only if needed)Add in Worcestershire sauce, herbs or other seasonings to suit your taste.
We love making our turkey gravy just before we eat, but you can make it ahead. Just warm it up right before dinner, adding a little extra stock if needed.
Turkey Gravy Recipe Here!
What sides go with turkey?
StuffingHoney Garlic Roasted CarrotsRoast potatoesCreamy Mashed PotatoesSweet potato CasseroleRoasted Sweet PotatoesCreamed SpinachCranberry SauceBrussels SproutsGravyCorn
Looking for more Turkey RECIPES? Try these!
Crispy Skin Slow Cooker TurkeyOne Pan Juicy Herb Roasted Turkey & Potatoes With GravyCrispy Beer Roast Turkey Legs
How To Make Roast Turkey: Watch the Video
For more information, please see more information about Best roast turkey recipe ever
Detail: 🔗