This Roasted Beet Salad with feta is made with beets that are roasted to perfection and tossed with a delicious balsamic vinaigrette that is both enticing and perfect for any easy brunch, lunch, or dinner. Tossed with toasted pine nuts and fresh thyme, you'll love this well-rounded beet recipe!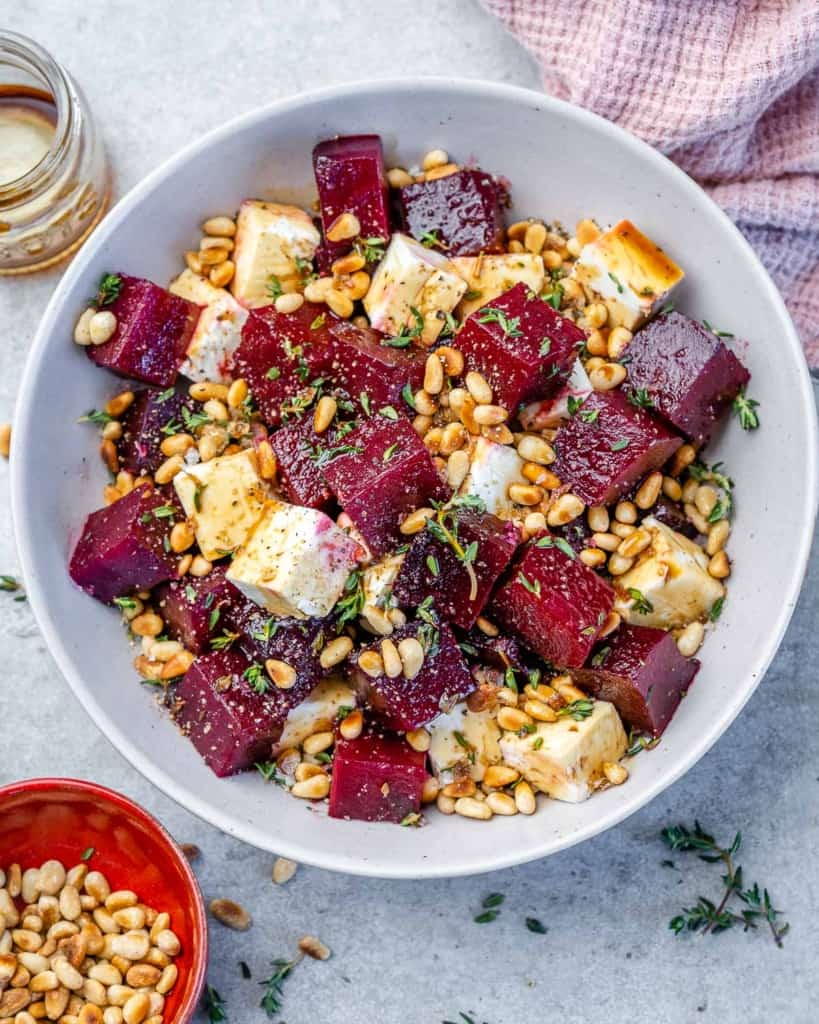 Perfectly roasted beets offer some of the best flavors out there. Earthy with a little bit of sweetness, beets are the ultimate choice for a healthy meal. Rich in flavor and made with only a handful of ingredients, this healthy beet salad recipe with feta cheese is a great meal to enjoy on its own or accompanied with any main protein.
Why You Will Love This roasted beet salad
Healthy: This salad is naturally gluten-free, vegetarian, low in calories, and so nutritious!
Easy to make: Seriously so easy to prepare, all you do is roast the beets and combine all of the ingredients in a bowl. Simple as that!
Great for meal prep: Since you can make a large batch of this at one time, it's great for enjoying for a few days afterward.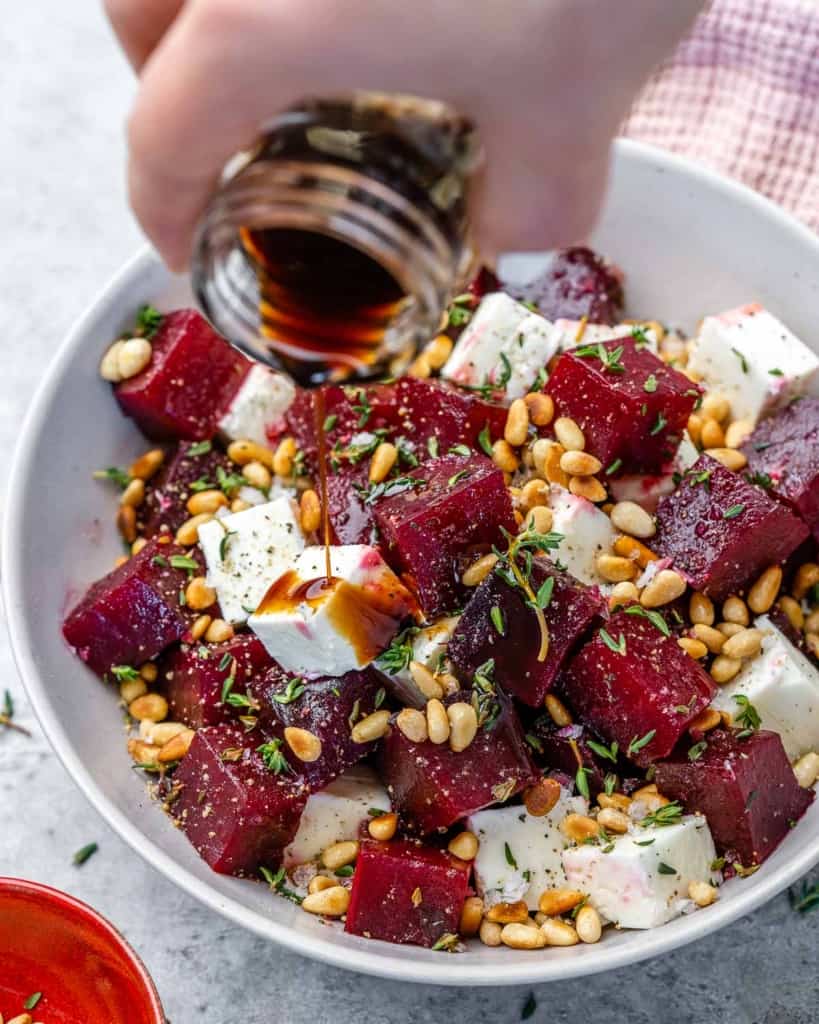 Ingredients You Will Need for this recipe
These are just a list of ingredients you will need to make this roasted beet salad recipe. The full measurements are listed further down below.
beetsolive oilsalt and pepperpine nutsfeta cheesebalsamic vinegarfresh thyme or oregano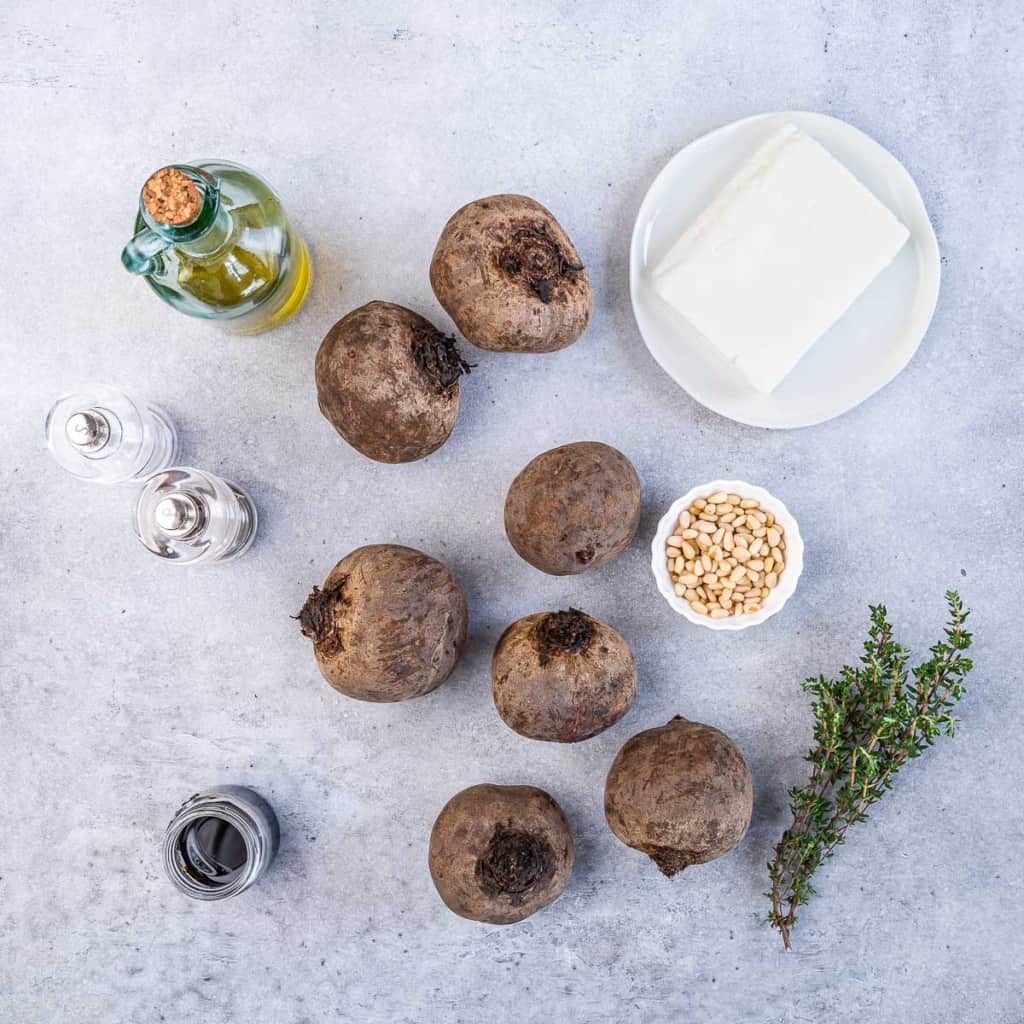 How to Make Roasted Beet Salad
First, preheat the oven to 450° Fahrenheit.
Protect your hands: Put some plastic gloves on before preparing the beets.
Cut and discard the tops and bottoms of the beets. Place in a baking sheet and rub with a generous pinch of salt, pepper, and one tablespoon of olive oil on all sides.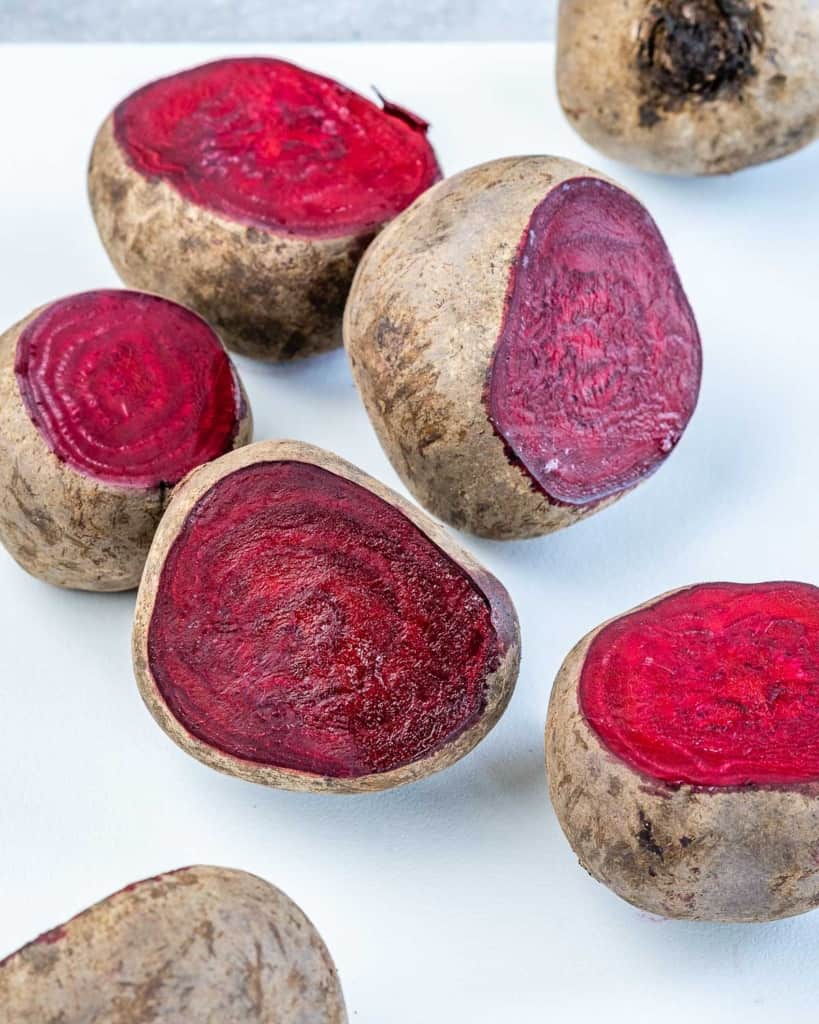 Tight cover the beets in the baking sheet with aluminum foil. Bake until fork tender.
Meanwhile, toast the pine nuts. Place them in a clean pan and set over medium-low heat. Shake the pan continuously, until the nuts are fragrant and golden brown. Once the nuts are done, immediately transfer to a small bowl, to avoid overcooking the nuts.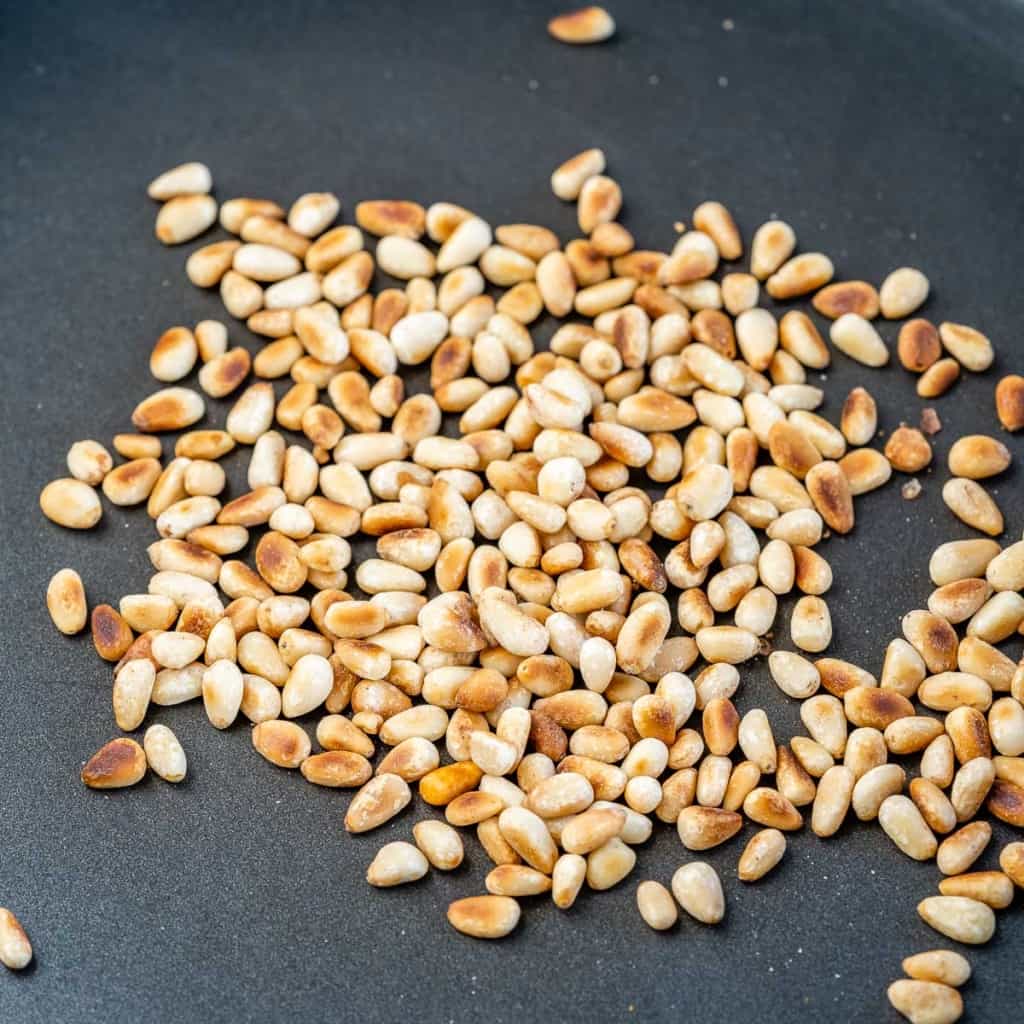 Then, use a sharp paring knife to lightly peel the roasted beets, then cut into cubes. Place into a salad bowl.
Add in the cubed feta, pine nuts, rest of the olive oil, vinegar, and fresh herbs. Gently toss to combine and season with salt and pepper.
What to Eat with This Roasted Beet Salad Recipe
Healthy Mac and Cheese
Salmon Piccata
Sweet Potato Chili
Parmesan Baked Asparagus
Honey Glazed Carrots
Healthy Asparagus Soup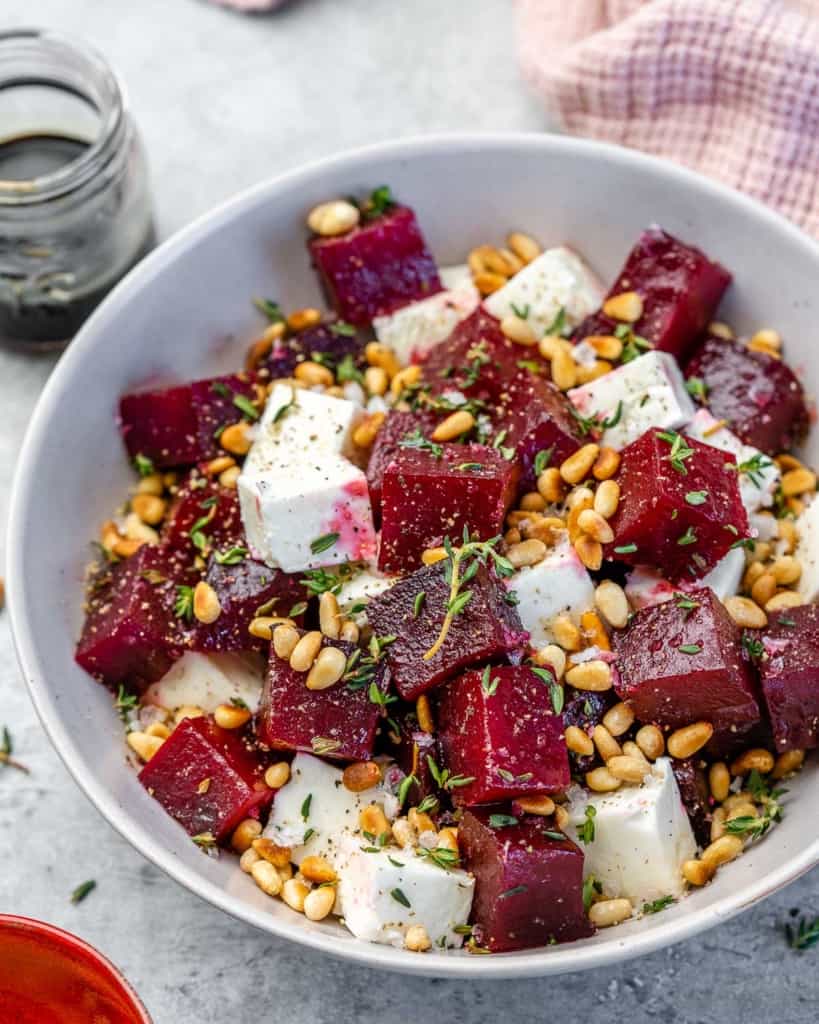 Recipes Notes and Tips
Store any leftovers in an airtight container in the refrigerator for three to four days.
Be sure to use fresh herbs for the ultimate flavor.
Don't forget the plastic gloves if you don't want the beets to stain your hands! Also, be sure to protect any countertops.
You can prepare this roasted beet salad in advance if you would prefer. Just be sure to store it in the refrigerator.
When choosing the beets, be sure to pick any that are similar in size so each of them is prepared in the same amount of time.
Firm beets are what you want to use for this recipe. Avoid beets that are too soft.
Since the beets are being roasted with the skin on, then be sure to scrub the beets really well prior to roasting.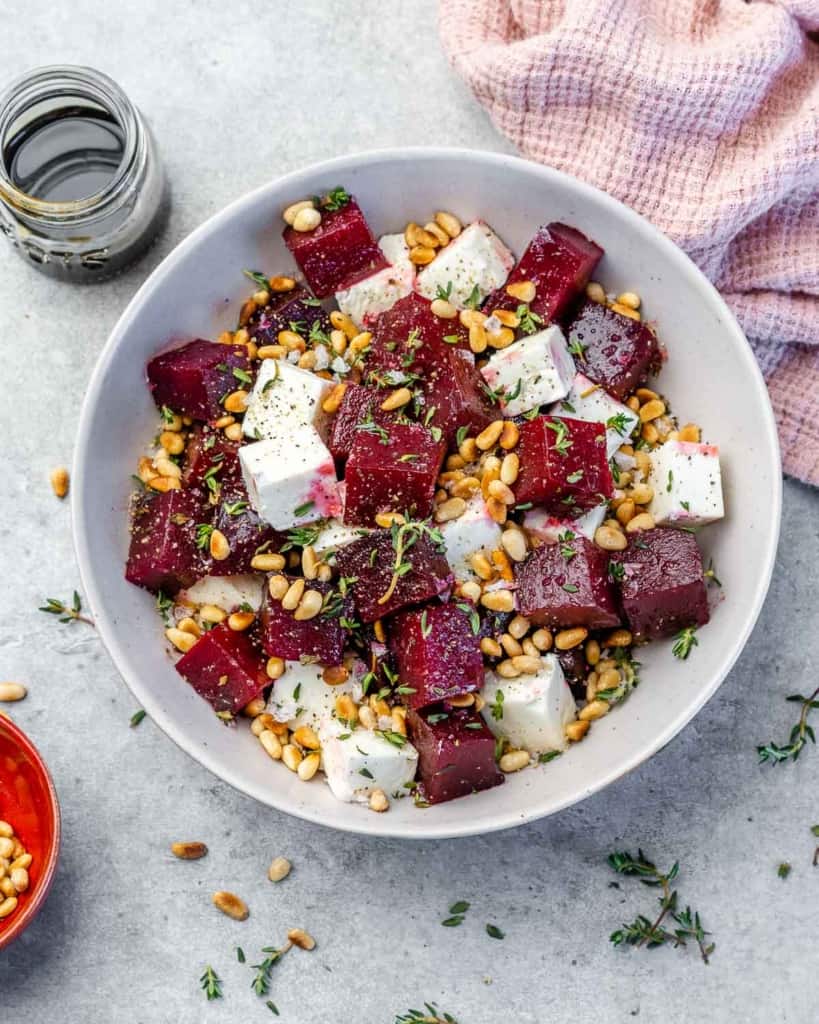 Frequently asked questions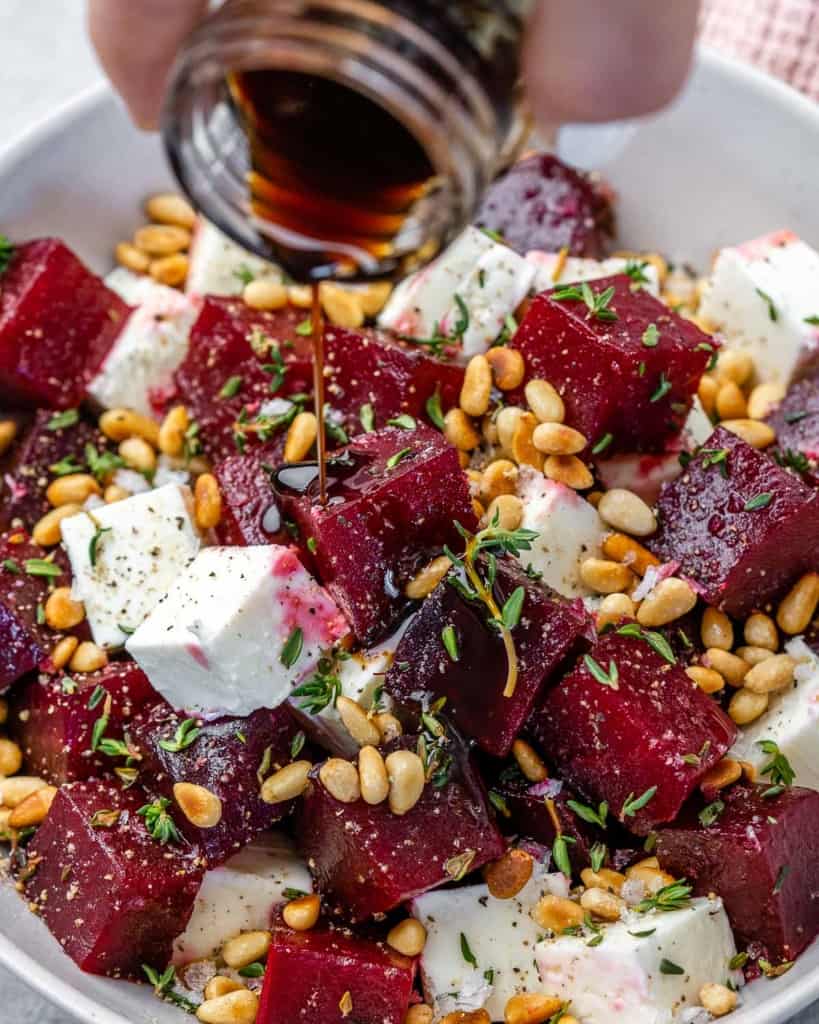 other recipes to check out
Easy Macaroni Salad
Chickpea Salad Recipe
Brussels Sprouts Salad
Butternut Squash Salad
Salmon Avocado Salad
Easy Mustard Potato Salad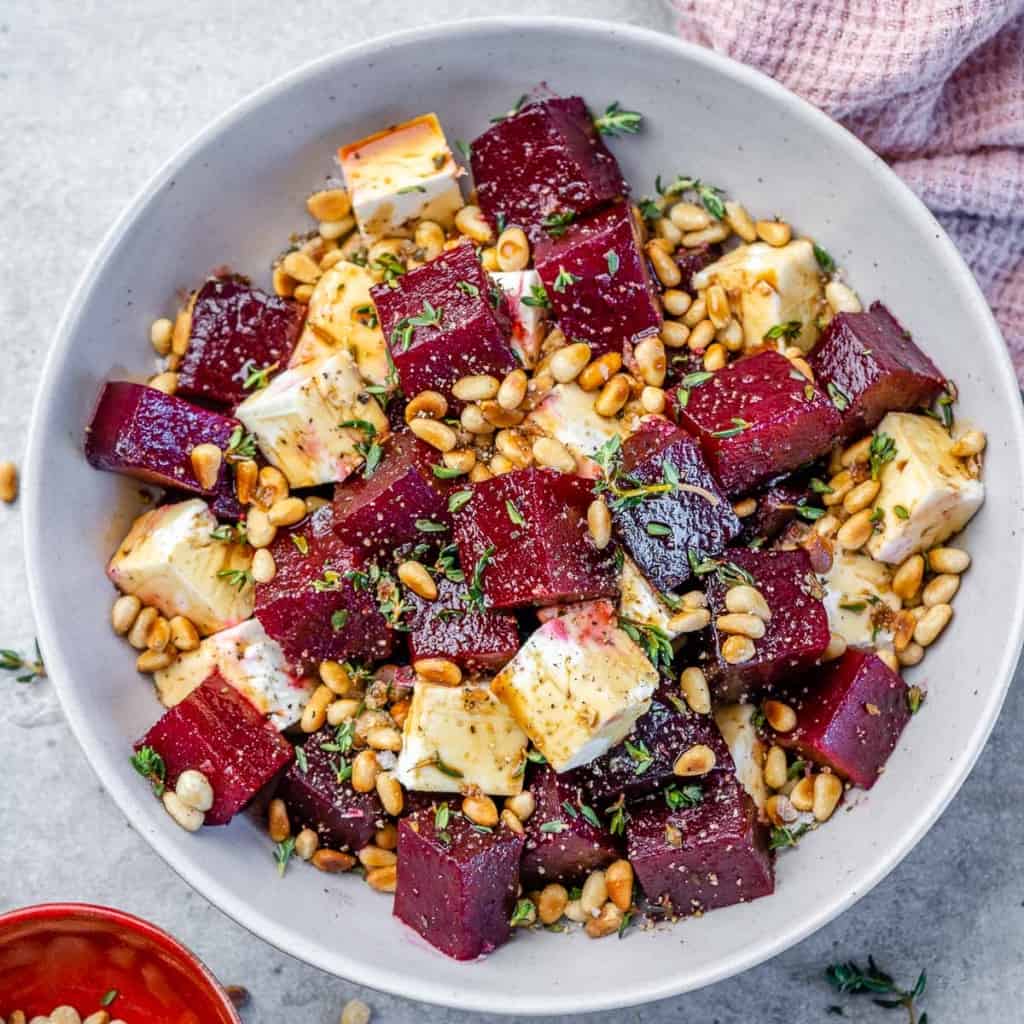 If you try a recipe and you like it, leave us some feedback in the comment section below, and don't forget to rate it! We would love it if you shared it with friends and family.
Finally, please use our hashtag #healthyfitnessmeals on INSTAGRAM for a chance to be featured! FOLLOW Healthy Fitness Meals on FACEBOOK | INSTAGRAM | PINTEREST | TWITTER for all of our latest blog posts and recipes.
For more information, please see more information about Recipes for beet salad with feta
Detail: 🔗