Roasted boneless leg of lamb is full of flavor and perfect for special occasions and holidays. The boneless lamb is stuffed with rosemary, parsley, and garlic then rolled up and roasted until it's pink, tender, and juicy. Perfect served with a salsa verde and roasted potatoes.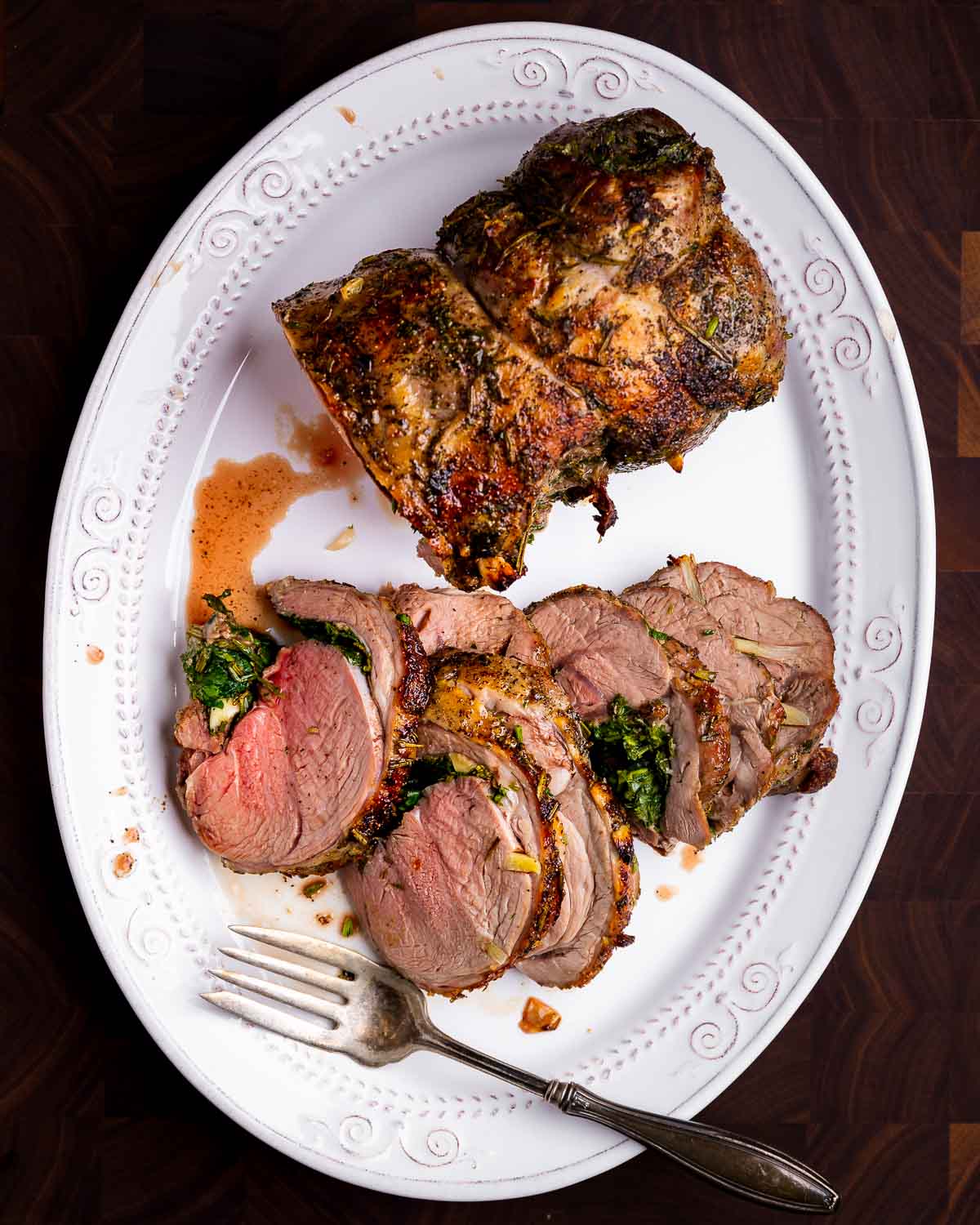 Reading: Roasted boneless leg of lamb
As Spring approaches, I find myself pondering the age-old question, "which meat should I roast for Easter?".
While I love the fennel and orange flavor in porchetta and appreciate the crowd-pleasing neutrality of a turkey breast, I almost always lean toward lamb and more specifically, this roasted boneless leg of lamb.
And since we're on the topic of Easter, do make sure to make pizzagaina for breakfast and Pastiera Napoletana for dessert. There. Now your whole meal is set! 🙂
Boneless leg of lamb is mild in flavor and tender enough to appeal to those who don't always enjoy lamb which is perfect for Easter when you're feeding a crowd.
Read more: Kickin' Grilled Chicken Legs – Craving Tasty
And the garlicky herby filling seals the deal.
I usually serve with a salsa verde as well as it pairs perfectly with the roasted lamb.
My salsa verde recipe doesn't include mint, however, when I'm making it to serve with lamb, I always add mint in addition to the parsley.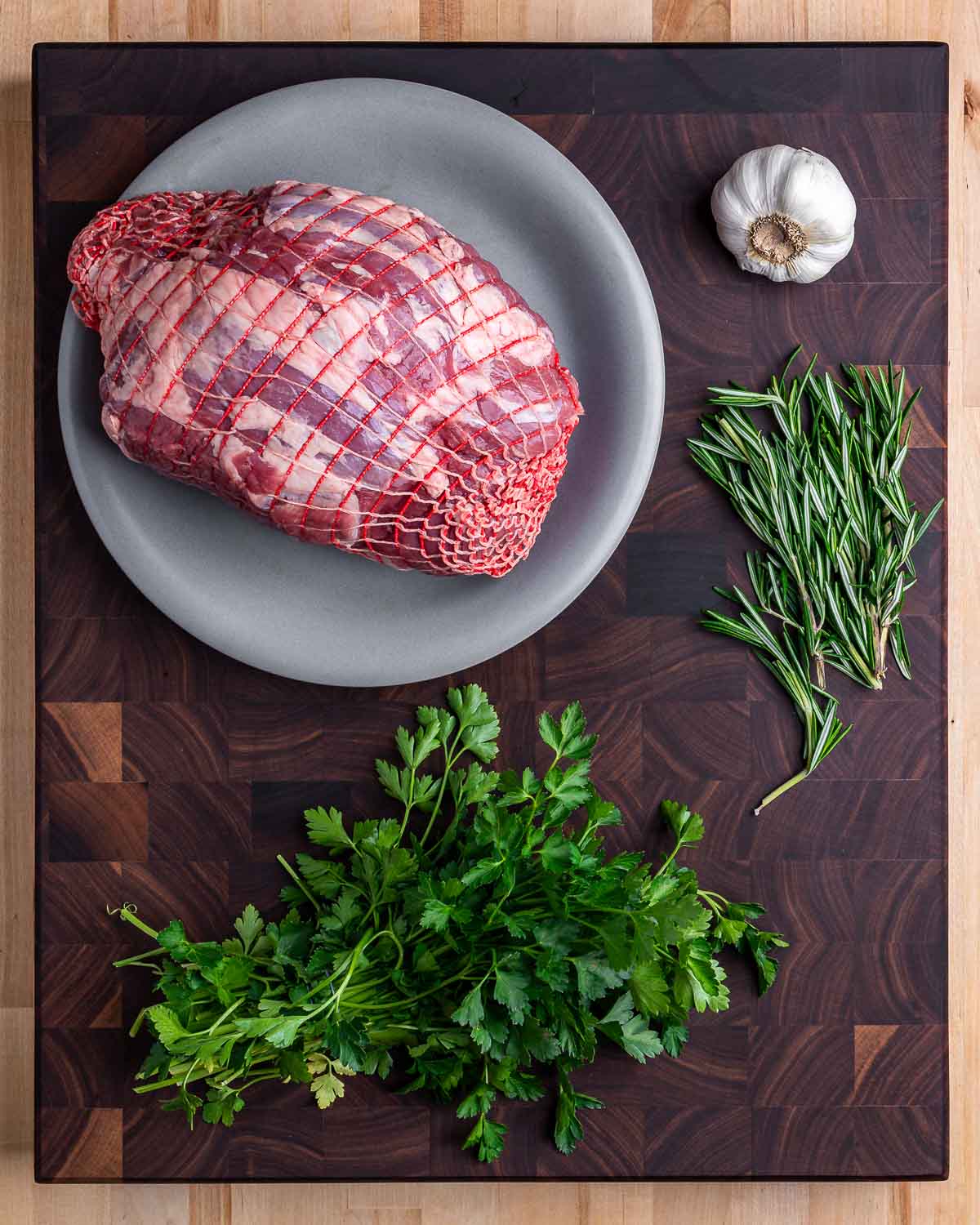 How to make it
Each number corresponds to the numbered written steps below.
Preheat the oven to 450f and set the rack to the middle level. Begin by mincing 5 cloves of garlic into a paste. Also, cut another 10 cloves of garlic into pointed slices for stuffing later on. Mince 5 tablespoons of fresh rosemary and a ¼ cup of parsley.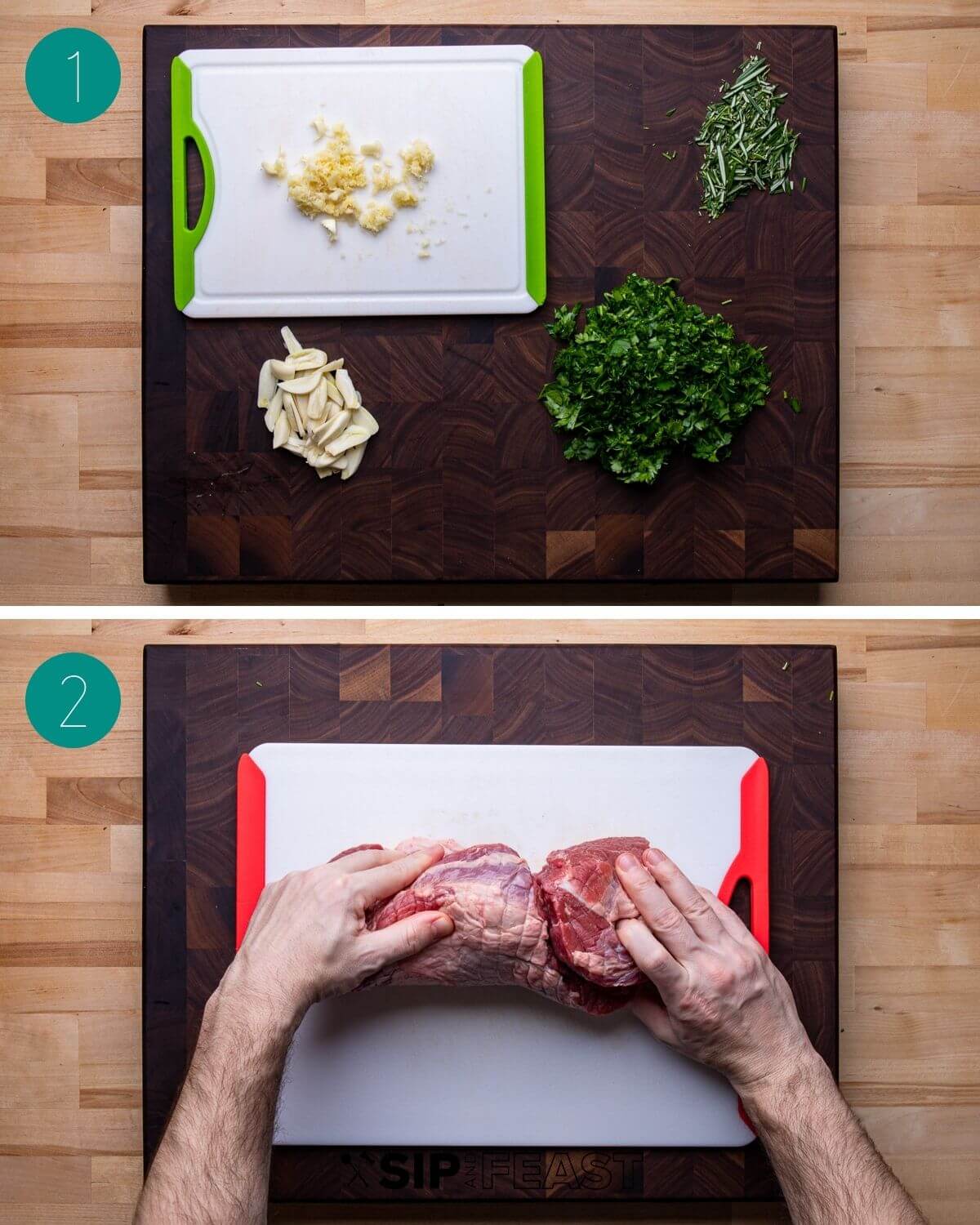 Dry off the leg of lamb with paper towels (this will help with better roasting). In pic 2, I am demonstrating how the lamb should look after being rolled. You want a cylinder formation for even cooking.
Open the lamb up (inside facing up) and drizzle a tablespoon of olive oil on the lamb's interior. Season with half of the kosher salt and pepper and all of the garlic paste. Note: Use ¾ to 1 teaspoon of kosher salt per pound of meat for the whole roast.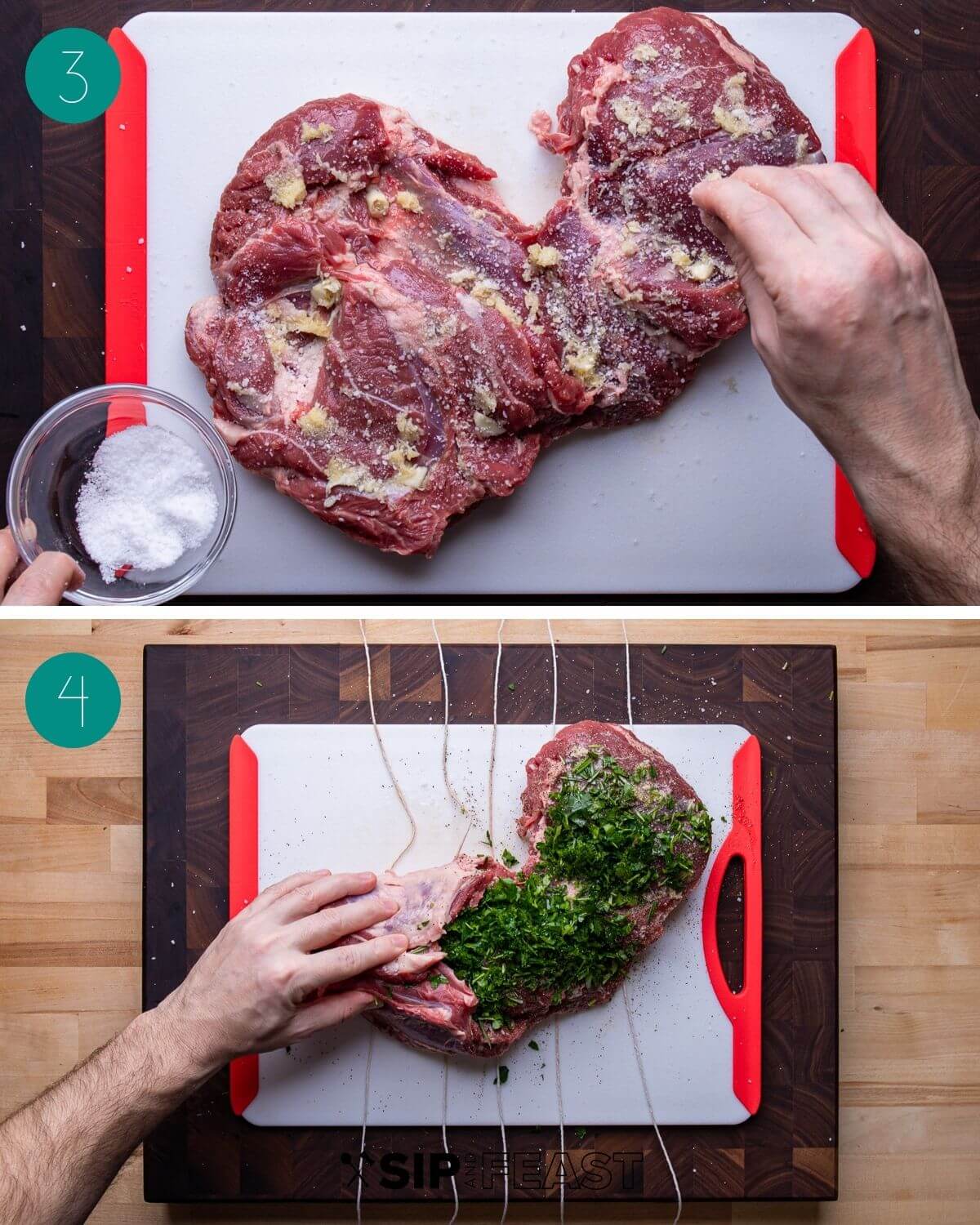 Sprinkle all of the parsley and half of the rosemary into the inside of the lamb. Lay pieces of butcher's twine out and tie the lamb tightly into a cylinder. In the accompanying YouTube video, I demonstrated how to tie a butcher's knot. You don't need to do this, but it does help to get a tighter cylinder. In the pic above I simply tied regular knots about 2 inches apart.
Once the boneless leg of lamb is securely tied, begin cutting slits into all of the exterior areas of the lamb. Make each slit about 2 inches apart and the depth of the garlic clove pieces.
Read more: Simpletruth.Com/Maple Roasted Vegetables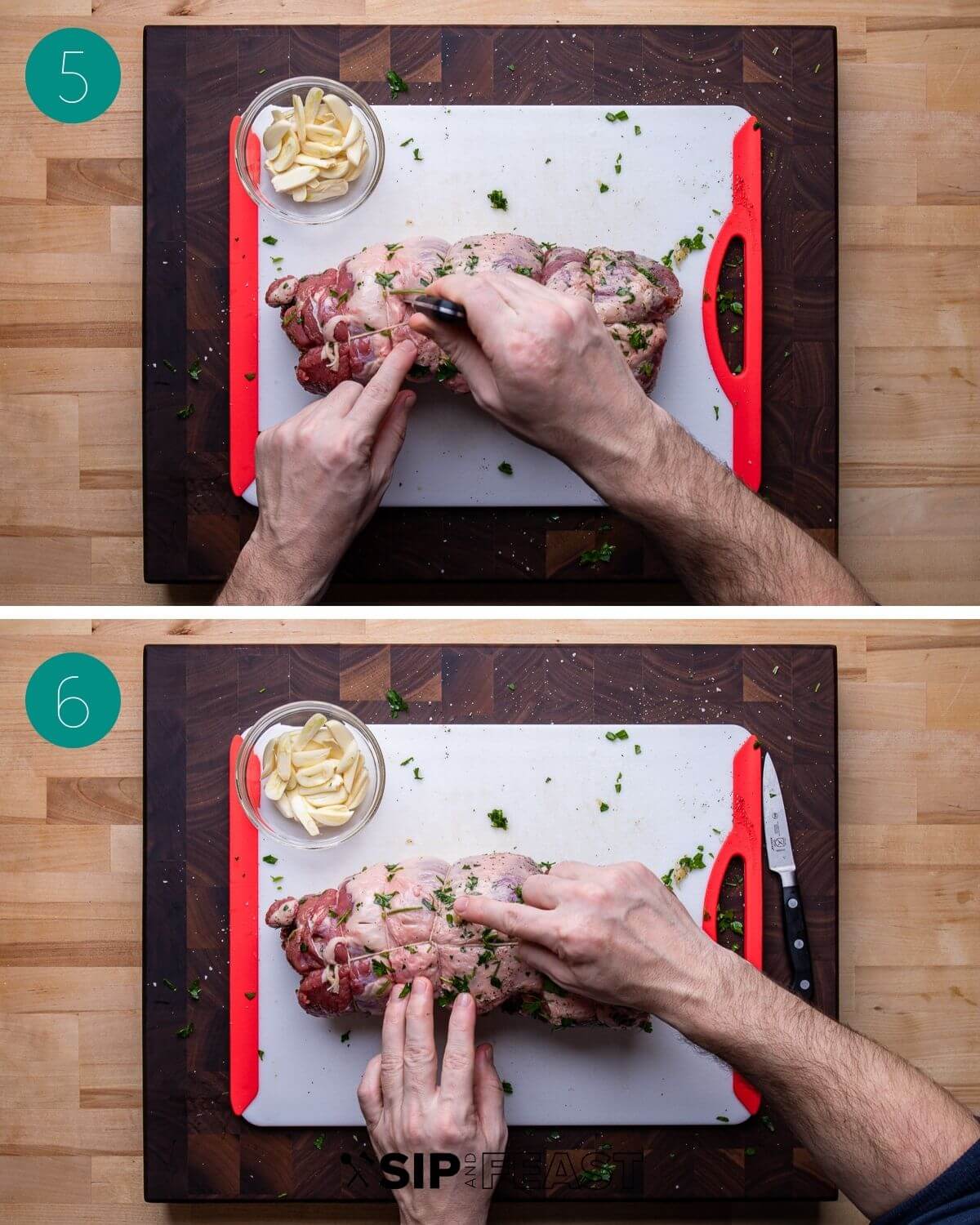 Push the garlic pieces into the slits. Don't worry about using all of the garlic, but try to get a good amount in there. If you love garlic, take your time and get it in there!
Coat the lamb with the remaining olive oil. Use your hands tospread it all over. Season the lamb's exterior with the remaining salt, pepper, and rosemary.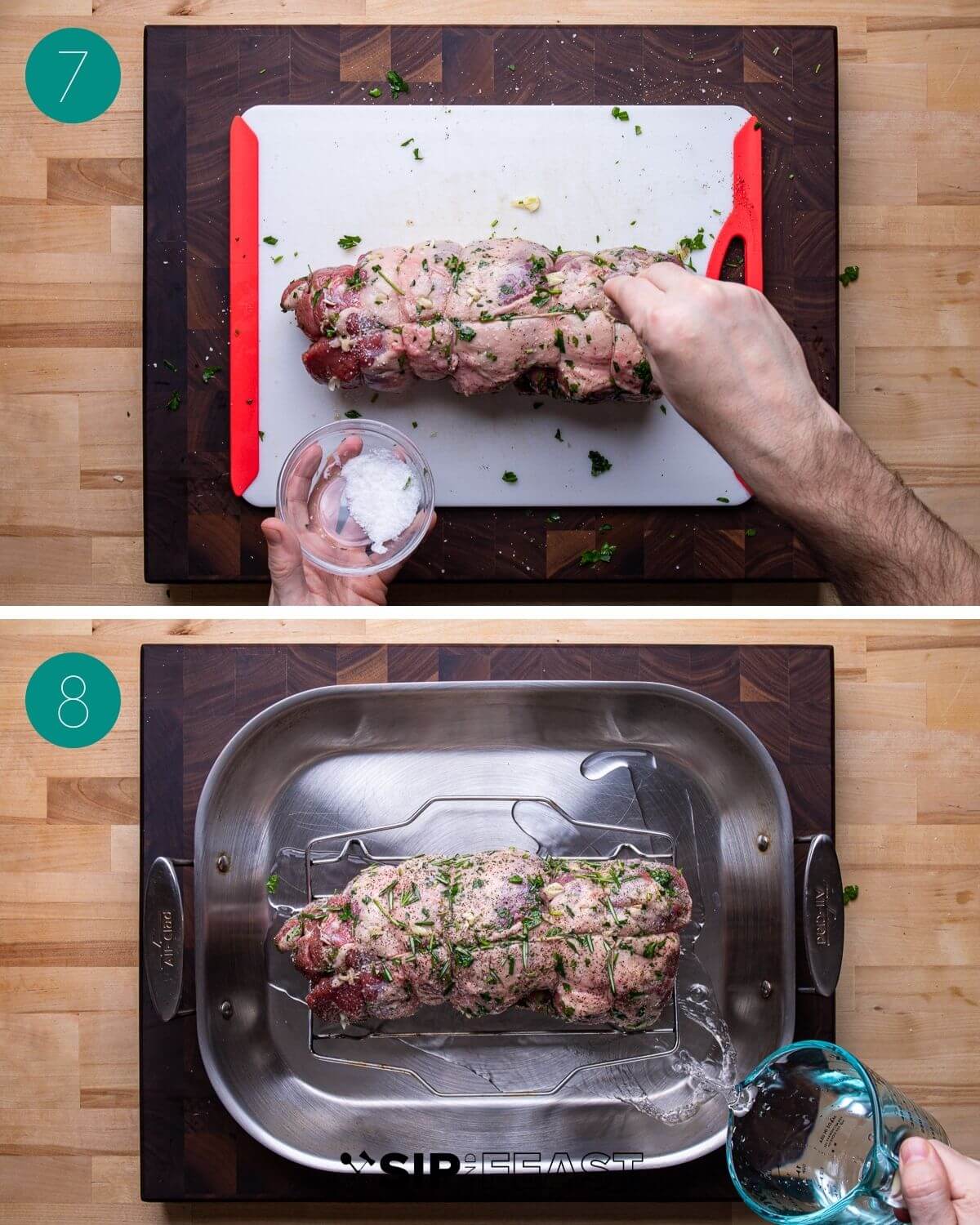 Place the seasoned lamb on a wire rack in a roasting pan. Pour 1 ½ cups of water into the roasting pan making sure to not pour too high and hit the lamb's underside.
Roast the lamb for 15 minutes then turn the heat down to 350f. Continue roasting until the internal temp reaches 130f. Once the temp hits that level, remove the lamb from the oven and tent with foil for 10-15 minutes before carving. During the resting stage, the interior of the lamb will climb to 135-140f making it a perfect medium-rare to medium. If you want it more on the rare side remove the lamb at 120-125f internal temp. Note: It is so much easier to use an oven-safe digital thermometer for accurate cooking. Simply place the probe exactly into the center of the lamb and set the temp timer to your liking. Regardless, the lamb should take about 15-20 minutes per pound to cook so make sure you keep an eye on the time as a small roast can cook quickly.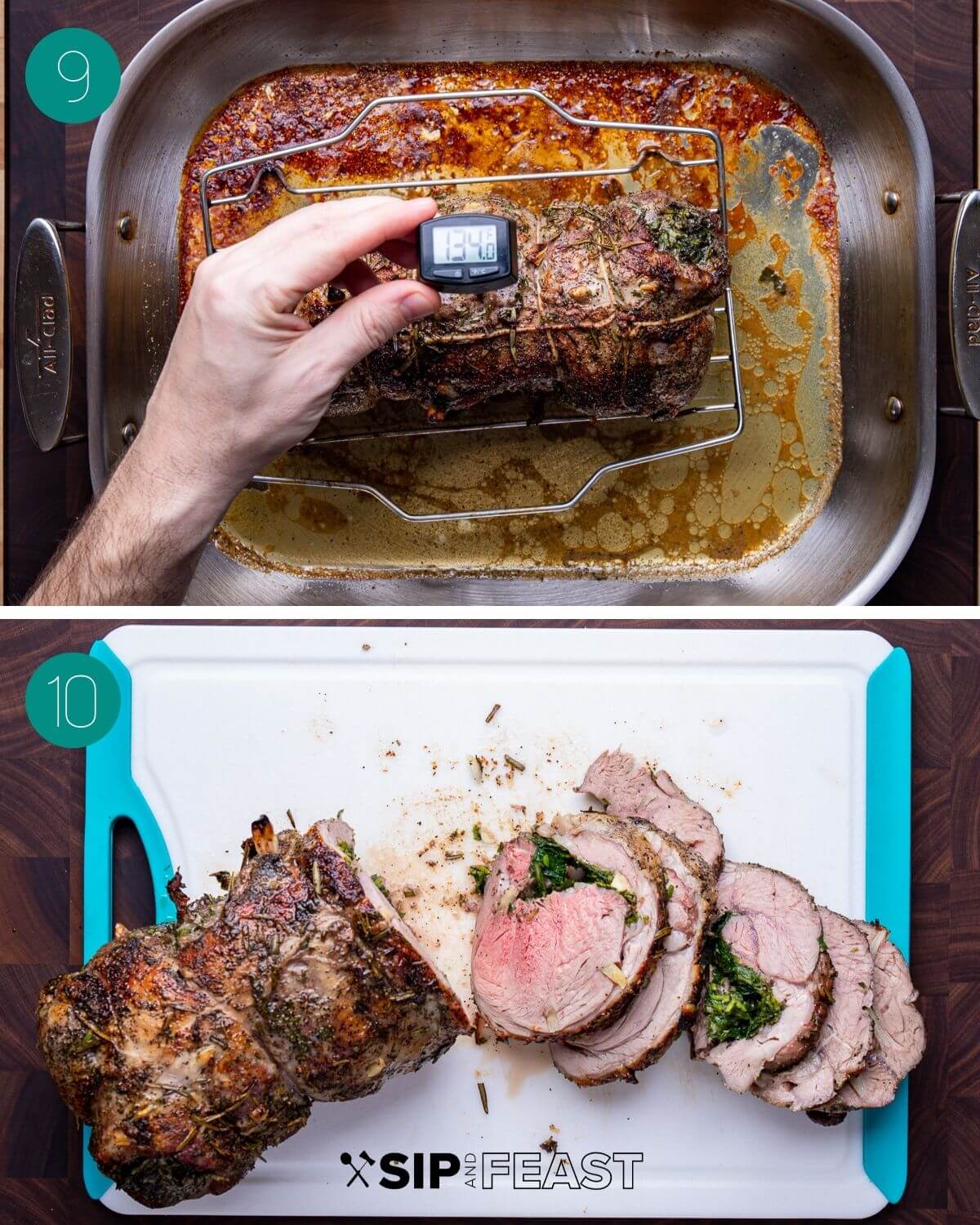 After 10 to 15 minutes of resting, slice the lamb. The outside parts will be the most well cooked and the center will be the rarest. Enjoy!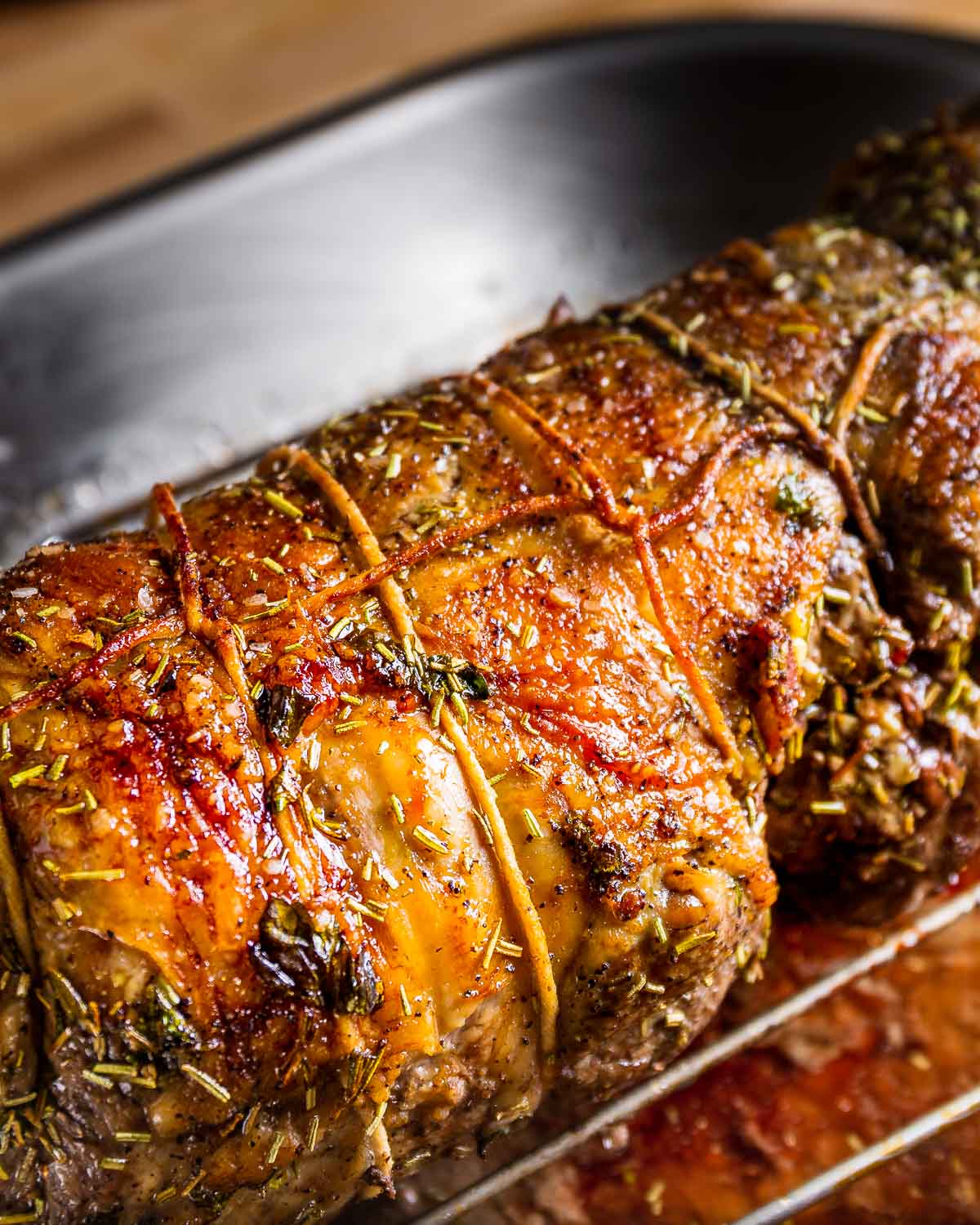 Top tips for perfect roasted boneless leg of lamb
The lamb. Boneless leg of lamb can run the gamut when it comes to pricing. When we were buying ours for the dish, we priced it anywhere from $6.99 to $14.99 per pound. We decided to try the $6.99/pound from Costco and were not disappointed, although we did find that the lamb we used for our video last year was a bit more tender. The lamb in the video was pricier as it was purchased at our local butcher.
The temperature. We cooked the lamb until it was 130f to achieve a medium-rare center. We prefer our lamb to be on the medium-rare to medium side as opposed to beef which can be a bit rarer. Use an oven-safe digital thermometer to ensure the temperature is exactly where you want it.
The seasoning. We love the combination of rosemary and garlic with lamb and included parsley in this as well. Another great option would be to use mint and/or oregano. Feel free to use whichever herbs you prefer.
Resting. As with any roasted (or grilled) meat, it's best to just let it rest for 10-15 minutes before carving. This allows the moisture to reabsorb back into the meat and ensures a juicy roast!
Making ahead. You can definitely prepare the uncooked lamb a day ahead of time with the herbs and garlic. It will achieve similar results to a dry brine if stored uncovered in the refrigerator for 24-48 hours. Remove the lamb from the fridge about 2 hours prior to roasting.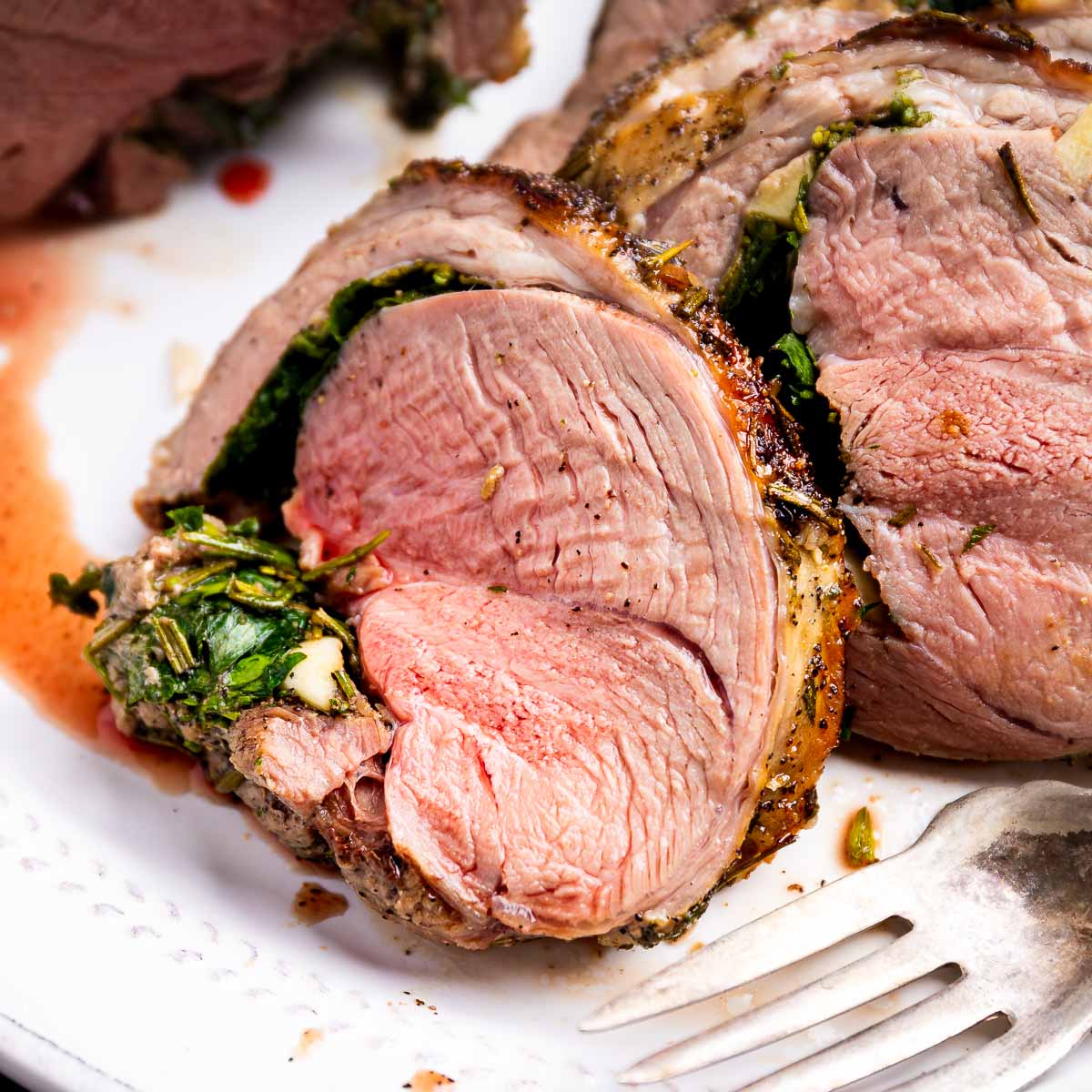 What to serve with rosemary and garlic roasted boneless leg of lamb
Crispy roasted potatoes – With Lemon and garlic, these are our favorite side to serve with lamb!
Roasted garlic mashed potatoes – Airy mashed potatoes filled with buttery garlic flavor.
Green beans with tomato sauce – Similar to the Greek version that's often served with lamb in Greek restaurants.
Baked cauliflower – With Pecorino cheese, Sicilian oregano, and breadcrumbs.
Baked artichoke hearts – Canned artichoke hearts in a white wine, lemon, garlic mixture topped with seasoned breadcrumbs.
Sauteed broccoli rabe – The classic sauteed with garlic and olive oil.
Italian American Lasagna – More of a first course than a side, we almost always make lasagna for Easter in addition to lamb.
If you've enjoyed this roasted boneless leg of lamb with rosemary and garlic recipe or any recipe on this site, give it a 5-star rating and leave a review.
Some people learn by watching. If you're that type of person, you can find most of our recipes on YouTube and our Facebook Page.
Read more: Cook time pork tenderloin grill
Through this article, we hope to help you understand Roasted boneless leg of lamb
Source: https://www.sipandfeast.com/roasted-boneless-leg-of-lamb/