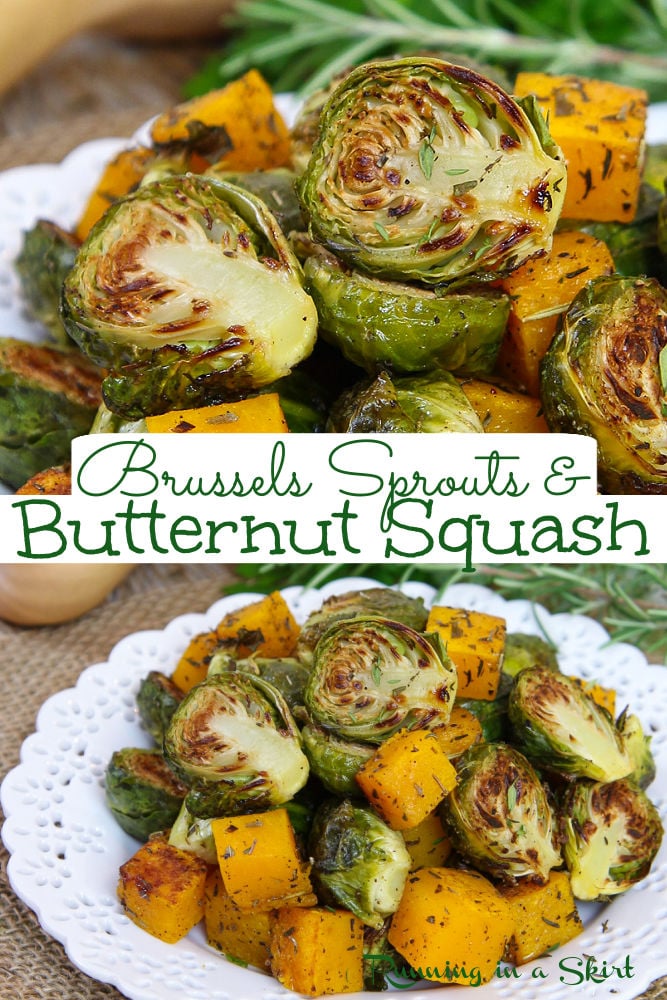 This Roasted Brussels Sprouts and Butternut Squash recipe is the perfect easy and healthy side dish for fall. This delightful combo of oven-roasted veggies is perfect for everything from a simple dinner to the holiday table including Thanksgiving or Christmas.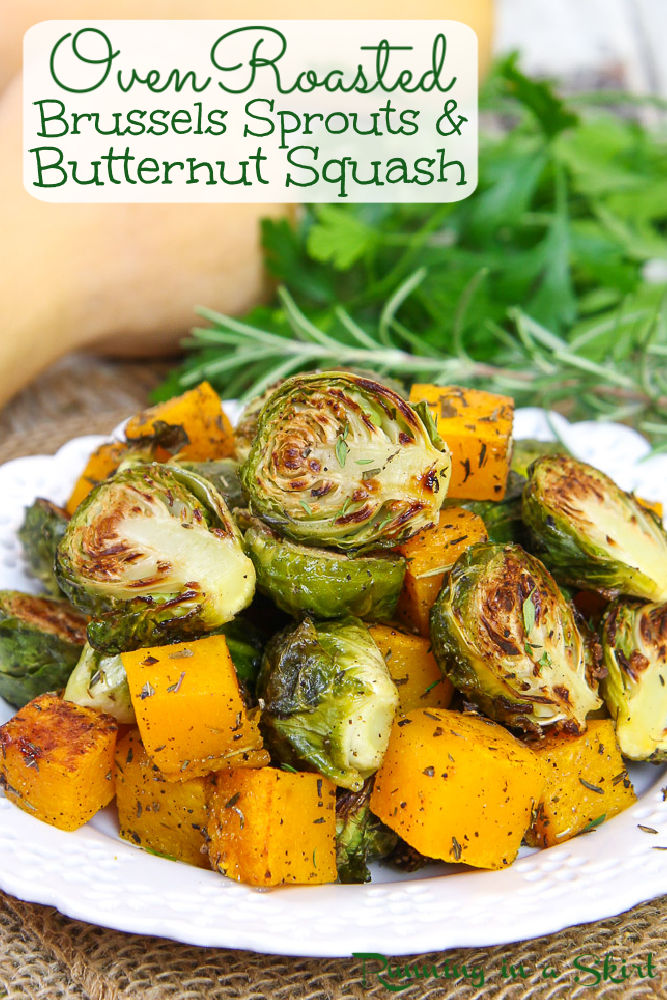 Roasted Brussels Sprouts and Butternut Squash
Look no further for the perfect fall side dish! My Roasted Brussels Sprouts and Butternut Squash recipe is so simple to make with just 10 minutes of preparation and only four ingredients. It hits all those cozy fall flavors you crave this time of year. It also happens to be vegan, vegetarian, gluten-free, keto, paleo, and dairy-free!
This is not the brussels sprouts or squash dish of your youth. If you've been served mushy, steamed sprouts or butternut squash and didn't like it, it's time to give these veggies another try. When cooked correctly- ROASTED- they are super flavorful, crispy and anything but mushy and downright flavorful.
In fact, this unexpected combination of fall vegetables will have your taste buds popping with delight! This dish just happens to be simple enough to throw together for a weekday dinner but it tastes yummy enough to be a side dish during the holidays (Thanksgiving or Christmas) or even a weekend dinner party.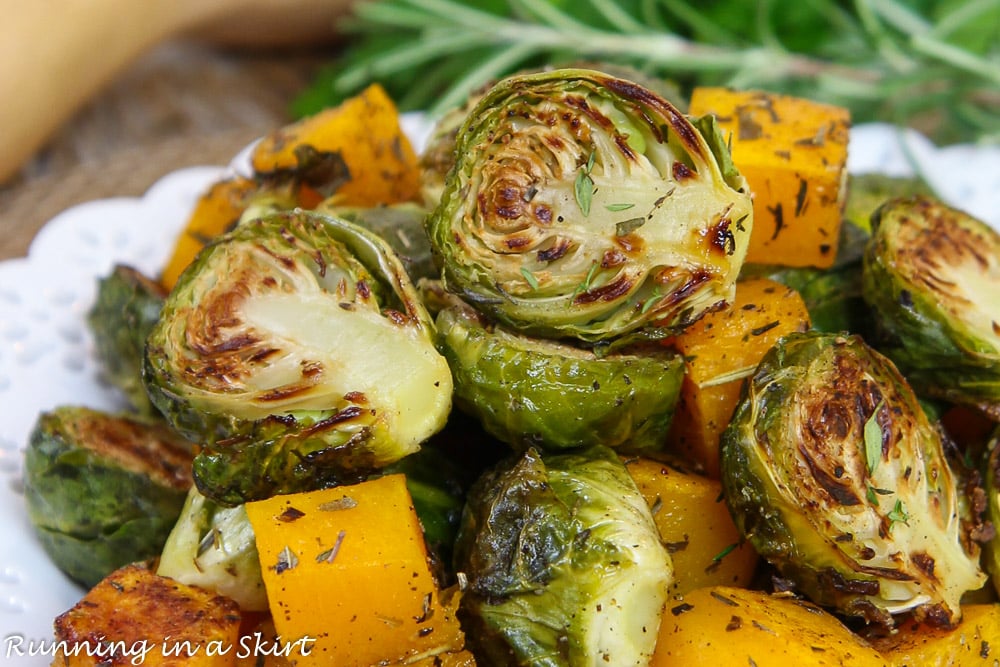 This Oven Roasted Brussels Sprouts and Butternut Squash Recipe is Easy & Healthy!
The best thing about this Oven Roasted Brussels Sprouts and Butternut Squash is how simple it is to make. Many recipes featuring these two veggies are a bit fussy with a sauce or glaze… but I propose these gorgeous veggies are tasty enough to stand on their own with just some fresh herbs. If you are looking for easy side dish recipes… this is it!
The combination of tastes and textures in this fall side dish is rich and delicious. Plus this recipe is very healthy and made with just a small amount of olive oil- letting the flavors of the vegetables shine. See my notes below on the health benefits of both vegetables and the cooking method.
This is also a great recipe because it's made in the oven which means most of the cooking time is hands-off, so you can be doing other things like cooking the rest of your meal or taking care of two toddlers. 🙂
Is butternut squash healthy?
YES! Butternut Squash is a super healthy vegetable that has many important vitamins and minerals. It's a low-calorie vegetable that's high in Vitamins including vitamin C and b-carotene. It's also rich in potassium – more than a banana!
It is a "starchy" vegetable which means it has more carbs than some other vegetables like leafy greens or summer squashes.
Are Brussels sprouts healthy?
YES! Brussels sprouts are a healthy vegetable. They are also high in vitamins (especially vitamin K an C,) fiber and antioxidants. They are also low in calories and happen to be one the best plant-based source of omega-3 fatty acids.
Why roast vegetables?
Roasting vegetables with dry heat is my favorite way to keep veggies because it brings us the flavors. It makes them crisp on the outside and tender on the inside. I love how simple roasting is, that it has easy clean up and it's a very healthy way to prepare them because it uses very little extra fat.
Ingredients:
Brussels Sprouts: Look for Brussels sprouts that still have an intense green color and have the leaves tightly formed around the center. To prepare the sprouts cut off the end, especially if it has browned, and then slice them in half.
Butternut Squash: You'll need a small to small-medium Butternut Squash for this recipe. Look for one that is firm and has a long neck. The ones with the longest neck are easier to chop into cubes for this recipe. You can buy pre-chopped butternut squash but it's not that hard to cube yourself. You'll want to make sure your cubed Butternut Squash is about the same size as the brussels sprouts. See below for my step-by-step instructions to do it.
Dried Herbs: I used fresh Herbs de Provence for my Roasted Brussels Sprouts and Butternut Squash because I love the combination of herbs including thyme and oregano. I like to mix my own! See below for some additional herbs ideas.
Olive Oil: Use a good quality olive oil. I like this one for roasted vegetables.
Salt & Pepper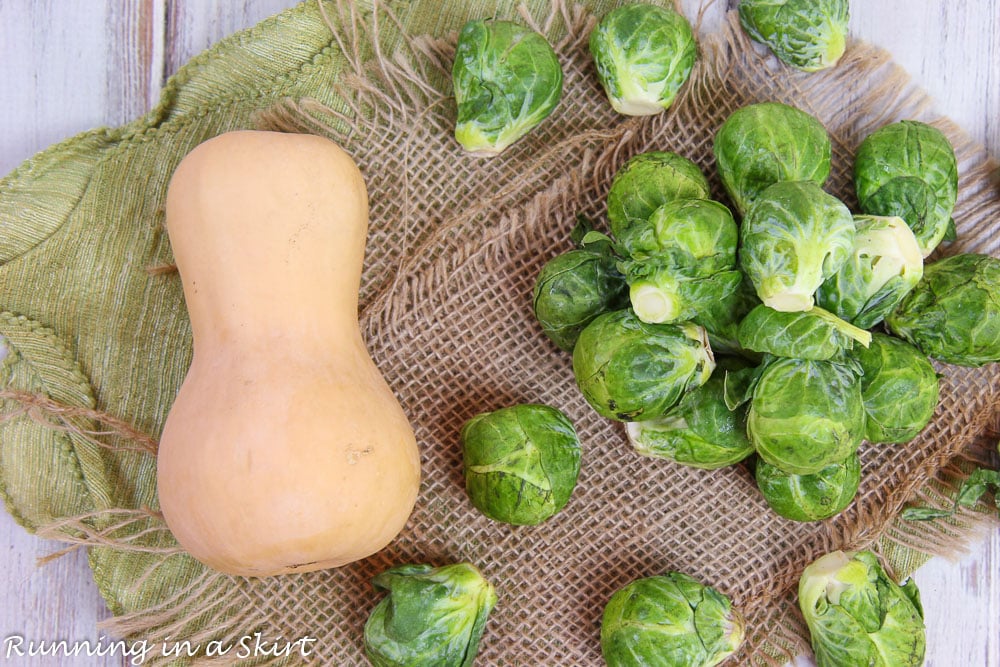 How to Cube Butternut Squash:
The only challenging part of preparing this Roasted Brussels Sprouts and Butternut Squash recipe is cutting the squash into cubes. Once you know a few tricks it's actually really easy to do. Here are the step-by-step instructions to dice it at home. My two biggest secrets and tips are to microwave it a bit first so it is easier to cut. My second is to make sure you have the right tools. A GOOD sharp knife and cutting board are critical. See how to do it below.
Start with the whole butternut squash. Pierce the skin a few times with a sharp knife-like you would do a baked potato before cooking it.
Microwave the entire butternut squash for 3 minutes. That should be just enough to make it a bit softer to cut but not really cook it.
Allow the butternut squash to cool.
Once you can touch it without it being too hot, cut off the top and bottom so it doesn't roll around on you. Then cut it into two pieces right where it starts to narrow. Cut those pieces down the middle to expose the flesh of the squash.
You can then scoop out the seeds. You can cut of the skin with your sharp knife or a ve
From there you can cut the narrow part of the squash into rectangular pieces which are simple to the cube. If you still need the squash from the part with the seeds, just cut it into cubes as best as possible. You will get the more uniformed cubed pieces from the neck of the squash though.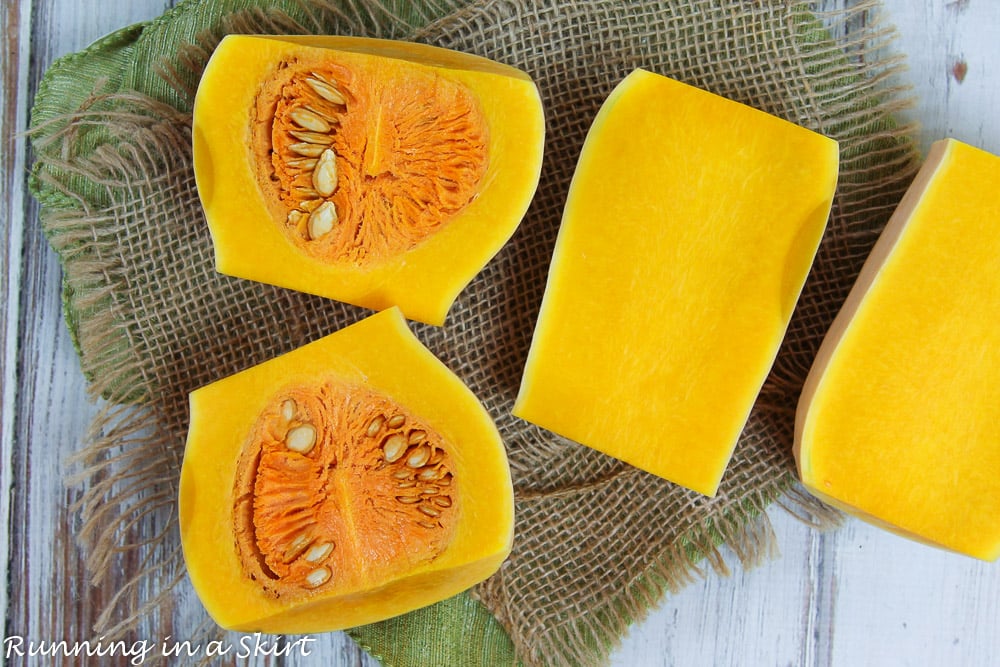 How to Make Oven Roasted Roasted Brussels Sprouts and Butternut Squash:
Preheat your oven to 425 degrees. Spray a baking sheet with cooking spray. You can line it with foil or parchment paper for easy clean-up if you'd like.
In a large bowl toss together the brussels sprouts, cubed butternut squash, drizzle of olive oil, and herbs de Provence. Add salt and pepper to taste.
Put the brussels sprouts and butternut squash mixture on a baking sheet and spread out the vegetables evenly. Get them in a single layer. Try to make them touch as little as possible. The more space the vegetables have the crispier they will get when you roast them.
Cook for 20-25 minutes or until the veggies are fork tender and slightly browned. I like the leave mine for an extra couple of minutes to get the charred edges.
Serve immediately.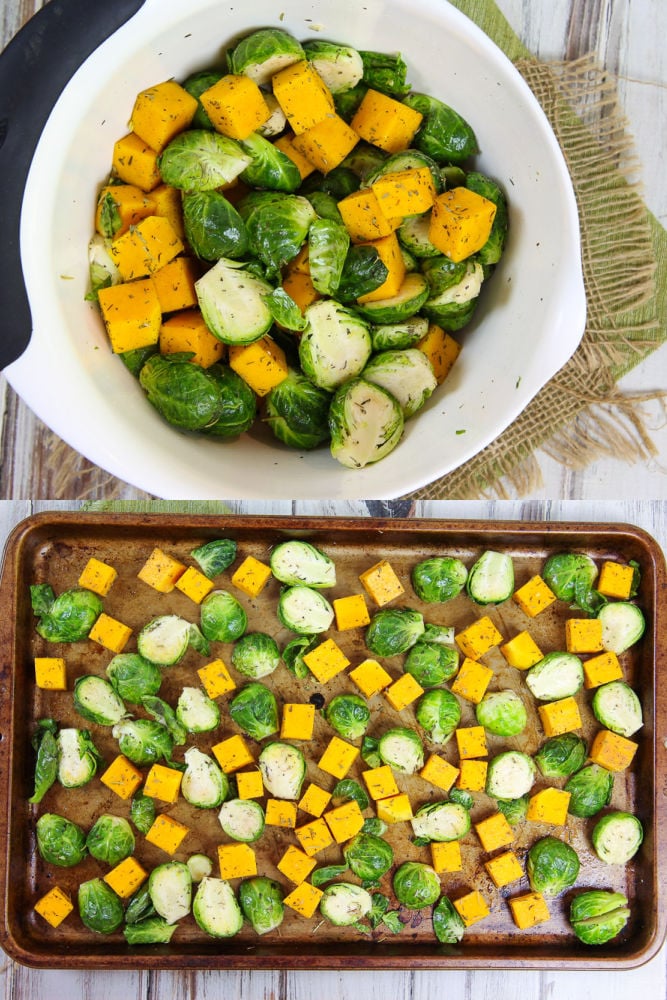 Variations & FAQ
I love this Roasted Brussels Sprouts and Butternut Squash recipe as written but here are some fun ways to mix it up.
Change the Herbs: You can use your favorite herbs! Other wonderful seasonings would be Italian Seasoning, thyme, or rosemary.
Make it Garlicky: Add garlic powder or garlic salt to make it more garlicky.
Make it Festive: Add dried cranberries to make this a complete Thanksgiving side dish.
Make it Nutty: Add some pecans, walnuts, or pumpkin seeds at the end of the roasting to make it nutty.
Make it Sweet: Toss it with cinnamon before cooking and then after cooking add maple syrup.
How do I store this recipe?
Store any leftover in an airtight container in the fridge for up to 5 days. You can reheat any leftovers in the microwave but it's also even more delicious to reheat them in the oven to crisp them up again.
Can I make this ahead of time?
I would not recommend making this entire dish ahead of time to serve for a holiday or dinner party. To save time you can cut the squash and the Brussels sprouts ahead of time and store them in an airtight container in the fridge. When it's time to roast them just toss them with the olive oil and spices and put them in the oven. You can safely reheat this dish but it does taste so much better right out of the oven. Because of that, I would make this one of the last things you make if you are making a nice dinner including Thanksgiving for Christmas.
Why are my roasted Brussels sprouts mushy?
There are a few reasons your Brussels spouts might be mushy. If you overcook them they can turn mushy and have a terrible flavor. Roasted vegetables including these can also be mushy if you roast them on a crowded pan. The vegetables need a little space to turn crispy and brown correctly.
Should brussels sprouts be blanched before roasting?
No, you do not need to blanch either your Brussels sprouts or butternut squash before roasting them.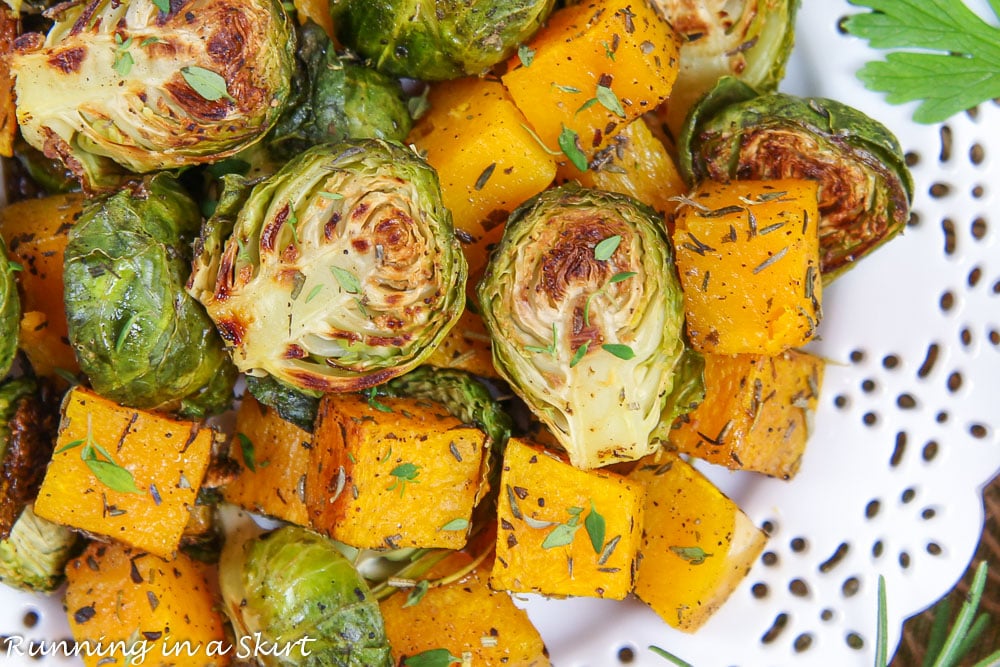 Roasted Brussels Sprouts and Butternut Squash – The Perfect Fall Side Dish!
This Oven Roasted Brussels Sprouts and Butternut Squash recipe really is the perfect fall side dish. The flavors are incredible and it pops with flavors and colors. The combination of vegetables is super healthy and I love how it comes together with only 4 ingredients and 10 minutes of hands-on time.
I hope you enjoy it as much as my family did!
Make it a Meal:
Apple and Sage Vegetarian Stuffing
Hidden Veggie Cauliflower Mac & Cheese
Parmesan Garlic Mashed Cauliflower
Crock Pot Mashed Potatoes
Chopped Kale Salad with Cranberries
Lentil, Sweet Potato, and Feta Salad
Pumpkin Cornbread
More Healthy Roasted Vegetables to Try:
Maple Balsamic Roasted Brussels Sprouts with Cranberries
Roasted Garlic Brussels Sprouts
Oven Roasted Sweet Potatoes and Brussels Sprouts
Oven Roasted Broccoli and Mushrooms
Roasted Butternut Squash
Garlic Lemon Parmesan Roasted Broccoli
Parmesan Garlic Roasted Asparagus
Roasted Parmesan Ranch Cauliflower
Herb and Garlic Oven Roasted Baby Red Potatoes
If you make this recipe, I'd love to hear what you think! Leave a comment and a star rating ★ below. Make sure to follow me on Instagram, Pinterest, and Facebook too!
Pin for later…
Please see more list about Roasted brussel sprouts and squash
Detail: 🔗