Cornish Hens are easy to roast and impressive to serve! A homemade dry rub takes this show-stopping dinner party recipe from great to amazing with no fancy ingredients.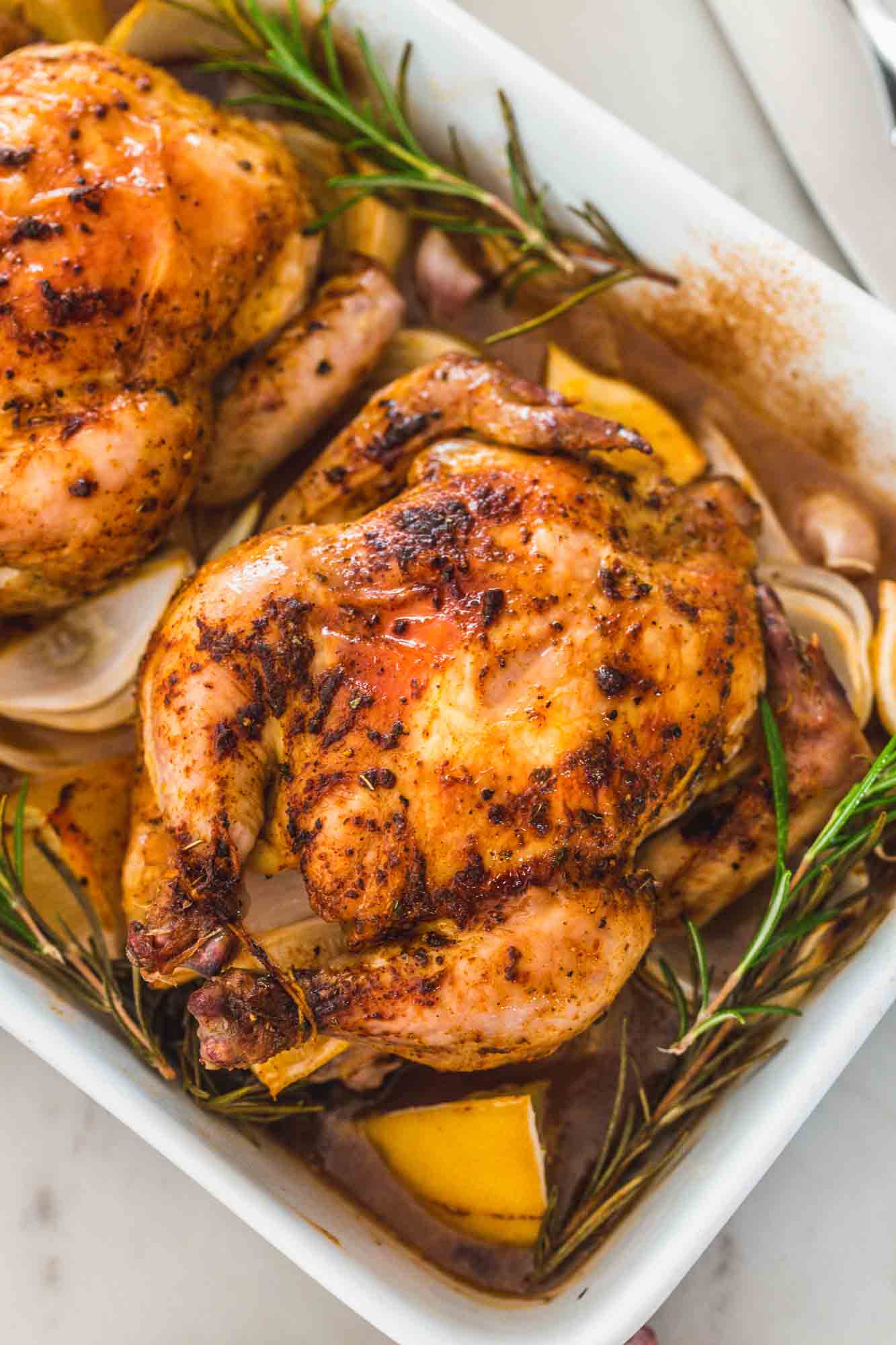 I love chicken, but sometimes it gets old, making the same few recipes repeatedly. These Roasted Cornish Hens are a game-changer with minimal work and a decadent presentation, too! This simple dry rub recipe brings so much extra flavor to the game birds while you kick back and enjoy family time before dinner.
Reading: How to roast cornish hens
If you're looking for more dinner party recipes, you might like this cocktail sauce recipe, creamy roasted sweet potato and carrot soup, bacon wrapped asparagus, or grilled shrimp kabobs.
Why You'll Love this Recipe
An easy dinner recipe. This looks like it took hours of work in the kitchen, but truly it only takes a few minutes of prep time and about an hour to roast completely. Add some roasted veggies to the menu, and dinner is done!
Perfect for holidays. I love serving Cornish hens for Christmas Eve dinner or a romantic date night at home.
Stunning yet simple. These individual Cornish game hens look so fancy but are as easy to make as a simple roast chicken. Plus, they're ready much faster with so much juicy flavor, too.
What are Cornish hens?
Are you sick of the same basic chicken recipes? Fear not! These Cornish game hens look and feel fancy but it's just another breed of chicken!
Also known as Rock hens, these types of chicken are a variety of broiler chicken. They're a lot smaller than regular chickens — only about 2 pounds each when they're mature enough to cook.
They're usually served whole since butchering them takes longer than is worth. However, you can always use the leftovers for a chicken salad or simple leftover tacos!
Read more: Roasted Cauliflower
You can use the same roasting recipe for a 4-pound chicken, or check out my easy roast chicken recipe.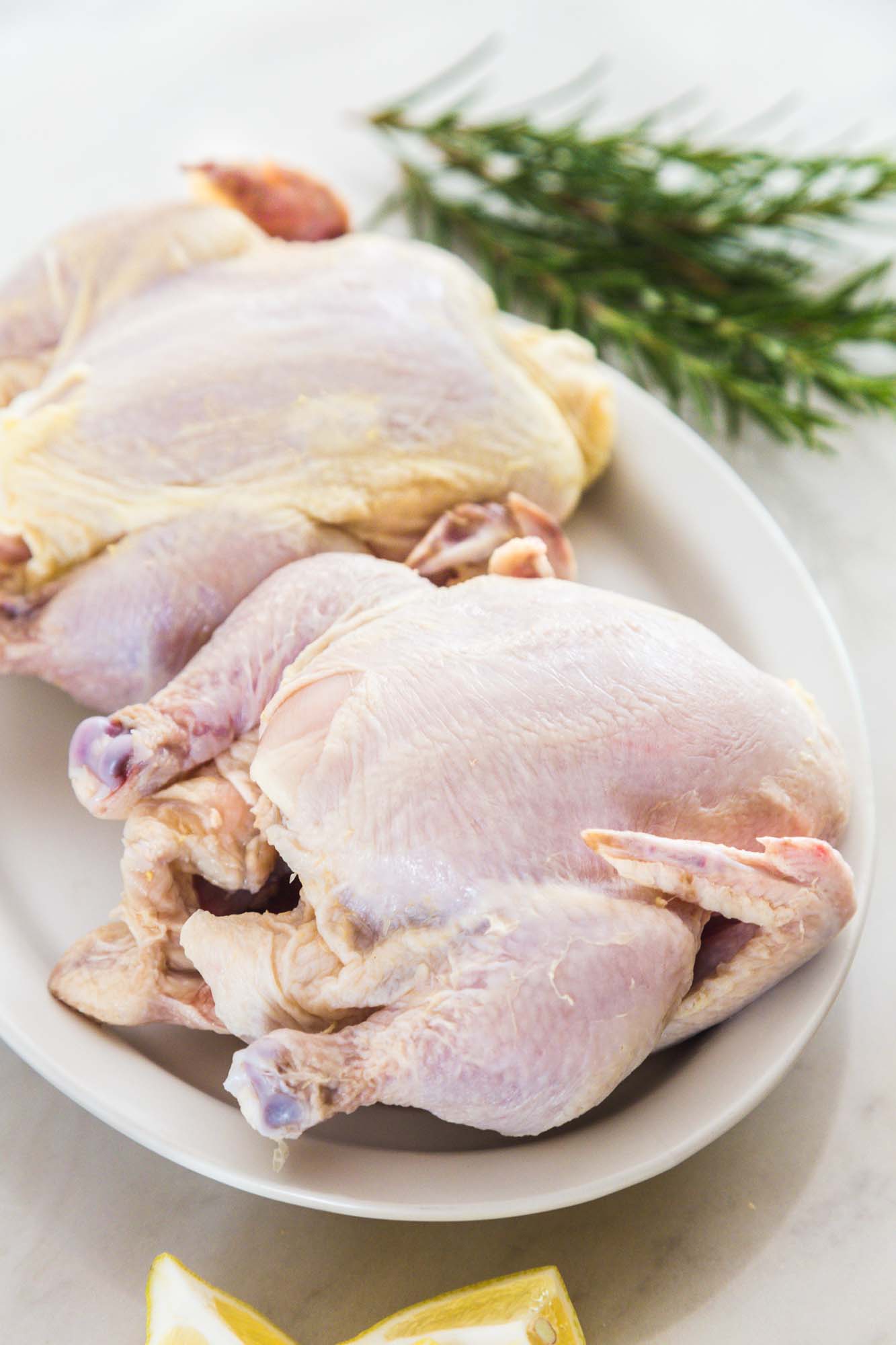 Dry Rub
To get the best flavor from your Cornish hens, you'll want to use a dry rub. It's a simple homemade rub made with ingredients that you already have in your kitchen! Here's what you'll need: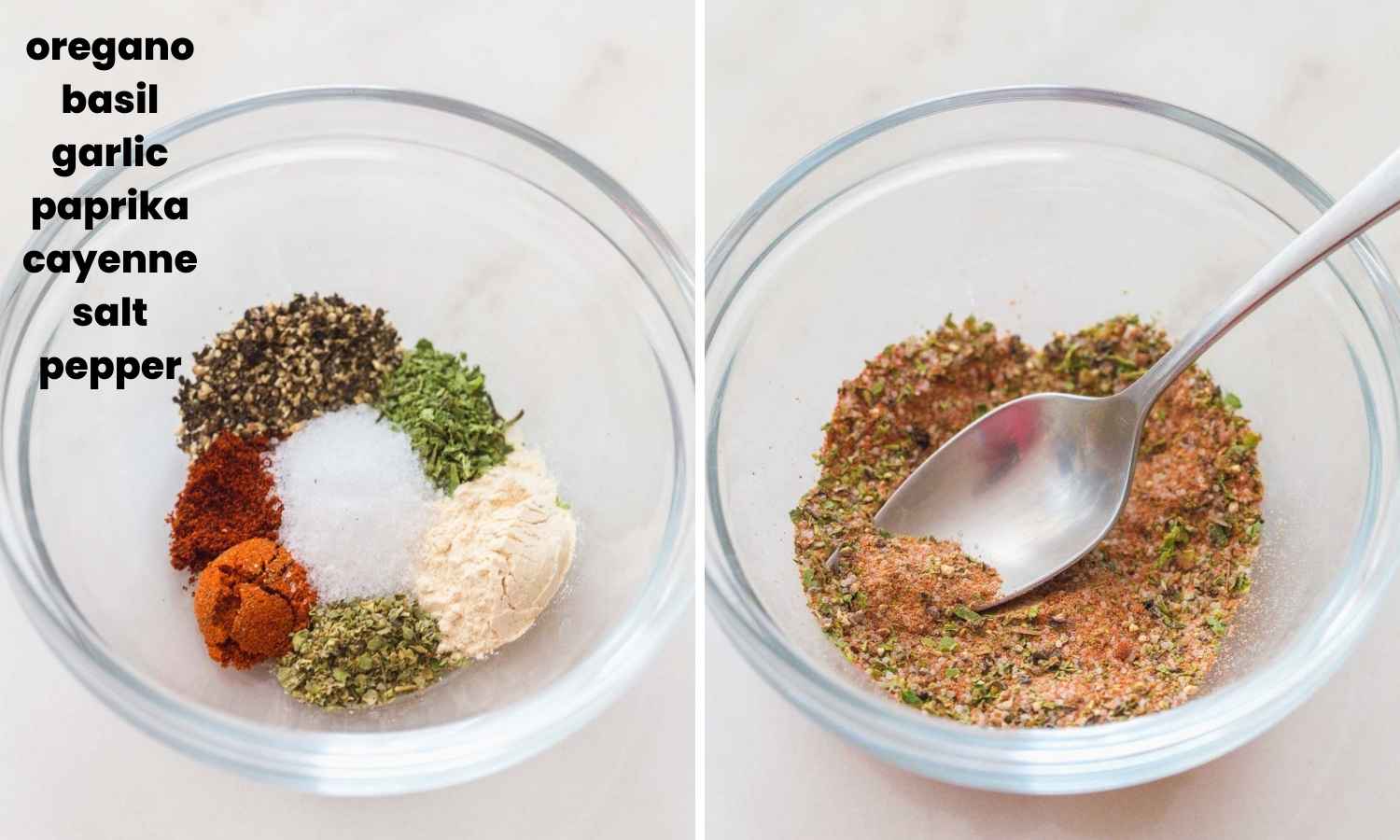 Looking to prep these game hens in advance? Try this amazing brine recipe! It adds so much moisture and flavor deep into the meat of the bird.
The Ingredients
Here's what you'll need: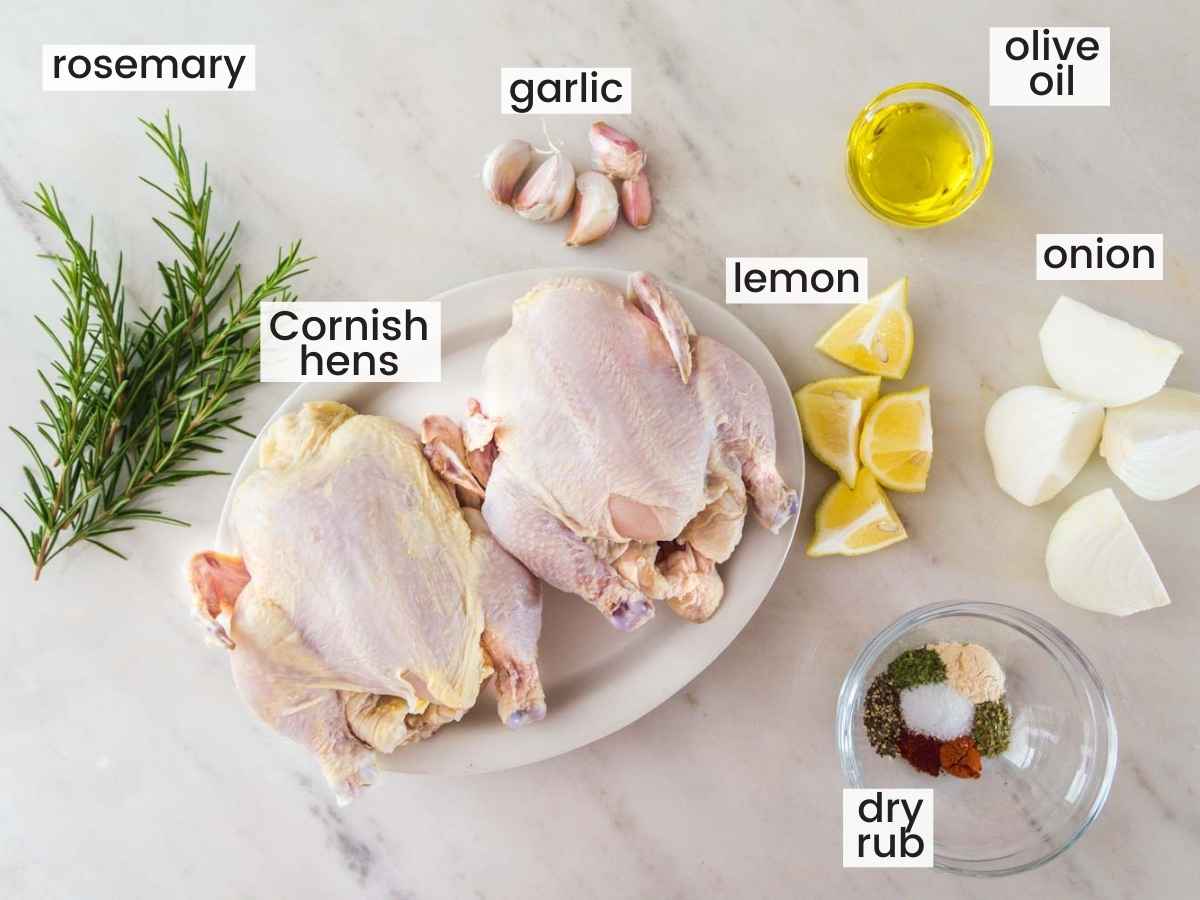 Complete list of ingredients and amounts can be found in the recipe card below.
Whole Cornish hens: When planning your dinner party, you can plan one hen per guest for a generous serving, or one bird per couple if you've got more to serve. I buy Cornish hens frozen, and thaw them in the fridge overnight.
Yellow onions: Roasted onions add great flavors and are delicious, too! You'll use them in the hens and underneath them.
Rosemary: Whole sprigs of rosemary add the best aromatic flavor! Be sure to remove them before serving.
Garlic: I don't make much without garlic. It's got that pungent flavor that's perfect for roasting.
Lemon: Poultry is always enhanced with a little lemon juice. Roasting the lemon wedges brings an amazing lemony flavor to everything in the oven.
Olive oil: If you want the crispiest skin on your roasted Cornish hens, you need a little oil! It also helps the dry rub stick to the bird.
For the dry rub
Garlic powder: I love this seasoning because it's sweeter than raw garlic and adds so much flavor to anything it touches.
Oregano: Dried oregano will work for this recipe. It's so aromatic, get ready for your kitchen to smell amazing!
Basil: I love the sweet freshness of basil. It adds a great herbaceous element to this dry rub seasoning.
Smoked paprika: You can also use regular paprika in a pinch, but I love the extra smokiness this adds to the dish.
Chili powder: I use chili powder in all my rubs! You can also use cayenne pepper for a spicier end result.
Salt: Everything needs a little salt to bring out the natural flavor! You may want to add more depending on your tastes.
Pepper: That fresh cracked pepper taste is such a delicious burst! You can always add more or less to fit your preferences.
How to Cook Cornish Hens
Follow these steps for the best roasted cornish hens:
Prep the Cornish hens. First, dry each bird and stuff the cavity of each hen with onion, garlic, lemon wedges, and a sprig of rosemary. Truss the legs with butcher twine and tuck the legs behind the bird. This step is optional, but it's totally worth the effort for a beautiful presentation.
Season. Then, drizzle with some olive oil and season with the dry rub mix. Rub it in with your fingers for the best flavor.
Fill the roasting dish. Add the rest of the onion, garlic, lemon, and rosemary sprigs to the roasting pan. Put the stuffed Cornish game hens on top, and drizzle it all with olive oil.
Add liquid. Next, add a little water or chicken stock to the pan. This helps keep the hens moist while they roast.
Roast hens. Now, roast the birds uncovered until the skin is golden brown and the internal temperature reaches 180 degrees F. The juices should also run clear! Remove the hens and let them rest for a few minutes, tented with aluminum foil. You can also reduce the juices for a few minutes to create a delicious sauce!
Serve. To serve these whole roasted Cornish game hens, cut each in half and serve with mashed potatoes, rice, or roasted veggies.
Top Tips
If you're trying to impress your family at the next holiday dinner, use these tips and tricks for the best Cornish game hens every time:
Trussing is optional but recommended. When you're prepping your Cornish hens, trussing the legs is optional, but I find it holds the aromatics better and makes a nicer presentation.
Use a meat thermometer. If your Cornish hens are large, you may need to cook them for a bit longer. Always check the internal temp — at least 165 degrees F on the thickest part — to make sure they're cooked right and safe to eat! I recommend the Thermapen or this cheaper alternative.
Roast your side dish, too. Make dinner even easier! Change things up and add some potatoes and carrots with the aromatics to roast and serve with the hens.
Make it richer. Take it to the next level by adding softened butter with minced garlic under the breast skin. Use your fingers and try not to tear the skin.
Add cornstarch. If the sauce does not thicken easily, thicken with a cornstarch slurry in a small saucepan over medium heat. To make, mix 1 teaspoon of cornstarch with 1 teaspoon of liquid, like broth or water. Add that to the sauce and whisk to thicken.
Other ways to cook cornish hens. If you want to try something else, check out my grilled Cornish hens recipe, and my Air Fryer Cornish hens.
Storing Tips
Read more: Grilled Cod Fish Tacos Recipe
It's easy to prep Cornish game hens for a crowd because it's as easy as one per person! However, if you have leftovers, they will last up to 4 days in the fridge and up to 3 months in the freezer!
You can reheat them in the microwave or a warm oven. If you want the best reheated Cornish hens, keep a little of the pan drippings when you're done, and reheat them in a skillet with the juices to keep the meat moist and flavorful.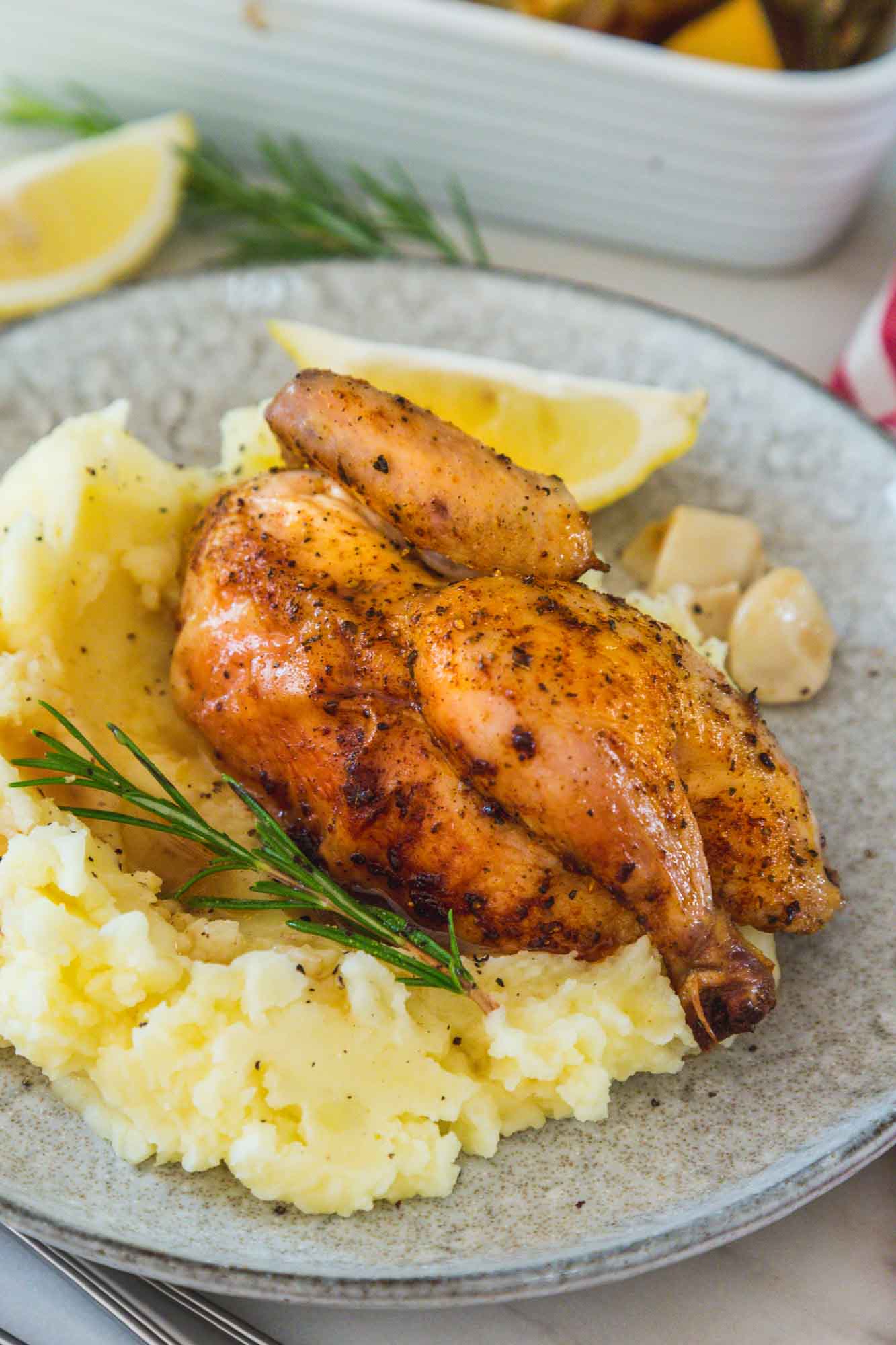 What to Serve with Cornish Game Hens
Keep dinner fancy with this decadent One-Pot Mushroom Risotto. It's super creamy and topped with Parmesan cheese. Or serve with Creamy Parsnip Puree, and Roasted Broccolini for a restaurant-style meal.
If you're serving this for a holiday meal, try these Brown Sugar Glazed Carrots, creamy Green Bean Casserole (No canned soup!), and Crockpot Mashed Potatoes! They all are a must for your holiday dinners.
Potatoes and poultry are made for each other. These smashed new potatoes with garlic and herbs are a delicious side dish that's crunchy and creamy. And don't forget the salad too!
You'll never believe you can make dinner rolls in just 30 minutes! This recipe is faster than thawing and baking frozen rolls.
Now that you're a pro at roasting cornish hens, you're ready for your next date night! Feel free to change up the dry rub until it's perfect for your taste buds. Make sure to Pin this recipe so more people can enjoy it too!
Read more: How to Connect a Propane Tank to a Grill the Right Way
For more information please see the list of How to roast cornish hens
Source: https://littlesunnykitchen.com/roasted-cornish-hens-recipe/