Oven Roasted Green Beans can be served as an appetizer or a side dish, and they are so easy to make!
These fresh green beans are roasted with a light drizzle of olive oil, garlic, and a bit of parmesan cheese. Roasting green beans in the oven makes them crispy on the outside, but they remain tender and delicious inside. Serve them as a finger-food appetizer with a dip or as a healthy side dish.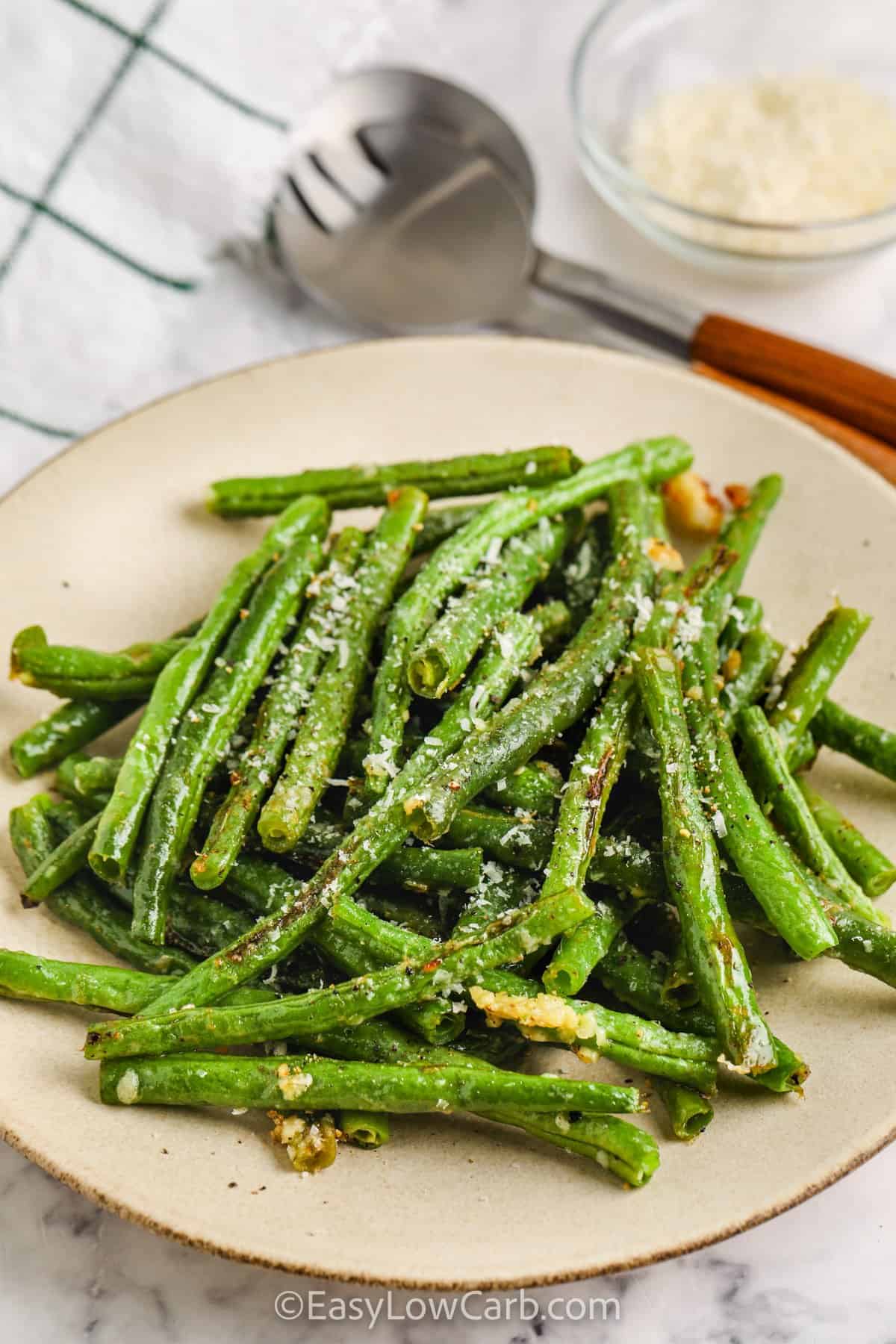 Roasted Green Beans
© Easy Low Carb.com
PIN IT to your SIDE DISHES Board for later!
Follow Easy Low Carb on Pinterest for More Great Low Carb Ideas!
The Best Green Beans!
Low carb green beans are a low-carb lover's secret snack and side dish recipe. Easy to find and affordable, green beans are long on flavor and short on prep.
Roasting green beans in the oven keeps them crispy on the outside and tender on the inside, retaining their nutrients and enhancing their flavor.
For a fun, portable appetizer, scoop your favorite dressing like this low-carb ranch dressing & dip, or homemade tzatziki, into the bottom of a paper or plastic cup and place a handful of roasted green beans upright in the cup. Snack and go!

5 Simple Ingredients
GREEN BEANS: Best when they are fresh, choose green beans that are free of cracks, discolorations, or soft spots. And try to select bunches of the same width and length for even baking.
SEASONINGS: Olive oil and garlic are the basics, but some other seasonings like a dash of red pepper flakes, or one of these DIY blends like southwest seasoning, or homemade fajita seasoning make roasted green beans different every time! A splash of balsamic vinegar will caramelize onto the green beans as they roast giving them a savory flavor.
ADD-INS: Up your side dish game and add fun extras like sliced mushrooms, sun-dried tomatoes, or slivered almonds.
How To Prepare Green Beans
This simple snack is a low carb way of busting that afternoon snack craving.
Rinse beans in a colander.
Slice off the tops with a sharp knife.
Cook (as per the recipe below).
Roasting Green Beans in the Oven
Toss green beans with olive oil, garlic, parmesan cheese, and salt and pepper. Place green beans in a single layer on a prepared baking sheet and roast until tender but crispy, about 10 -15 minutes.

Quick Tips & Tricks
Toss all ingredients in a zippered bag before spreading them onto the prepared baking sheet for an easier toss.
Cook roasted green beans until they are barely browned on the tops so they retain their 'snap' with every bite! Frozen green beans can be used when they are fully thawed and patted dry with a clean paper towel.
How To Store Green Beans
Keep leftover oven roasted green beans in a covered container in the refrigerator for up to 2 days. Reheat them in the microwave or add them to a ginger chicken stir-fry, a sausage egg casserole, a Denver omelet, or a hearty low carb cabbage soup. To freeze leftover roasted green beans, freeze them in a single layer on a baking sheet before transferring them to a zippered bag (this keeps them from sticking together) for up to 6 weeks. Keep raw (unwashed) green beans in the refrigerator wrapped in a layer of paper towels to absorb moisture until ready to use within 2 days (after that, they discolor and become soft).

More Low Carb Snacks
Keto Gummies – Just like the real thing.
Mozzarella Cheese Crisps Recipe – Crispy and cheesy.
Keto Crackers – So simple.
Keto Pickle Chips – Delish!
Oven Roasted Mushrooms – as a snack or side dish.
REPIN this Roasted Green Beans recipe!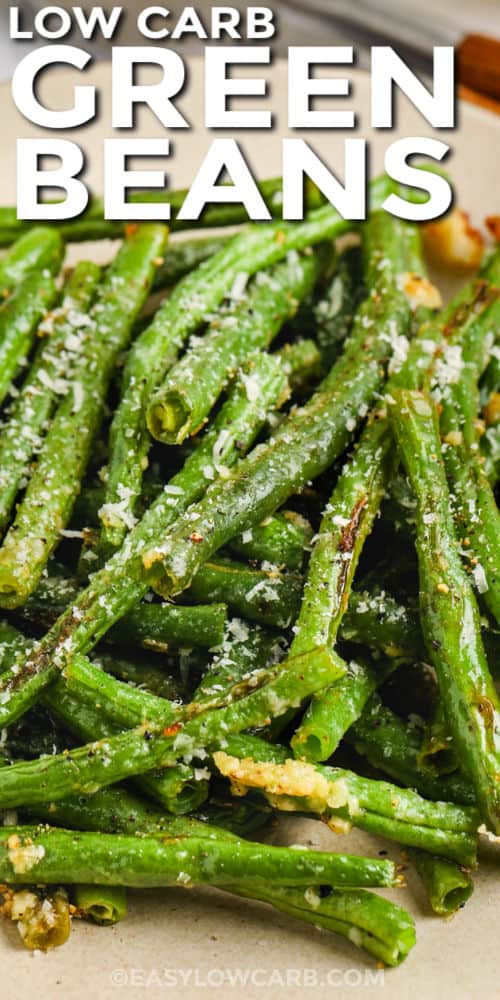 99
For more information please see the list of Roast green beans at 425
Detail: 🔗