Roasted Green Beans are our favorite way to enjoy this seemingly humble vegetable! Just a few seasonings and a hot oven, and you'll be amazed just how truly delicious green beans can be! Today we're sharing our two favorite ways to enjoy green beans — simply seasoned or tossed with a crunchy Parmesan and breadcrumb topping!
In this post, we're sharing all our tips and tricks to get the very best Roasted Green Beans, so each bite is filled with flavor and great texture.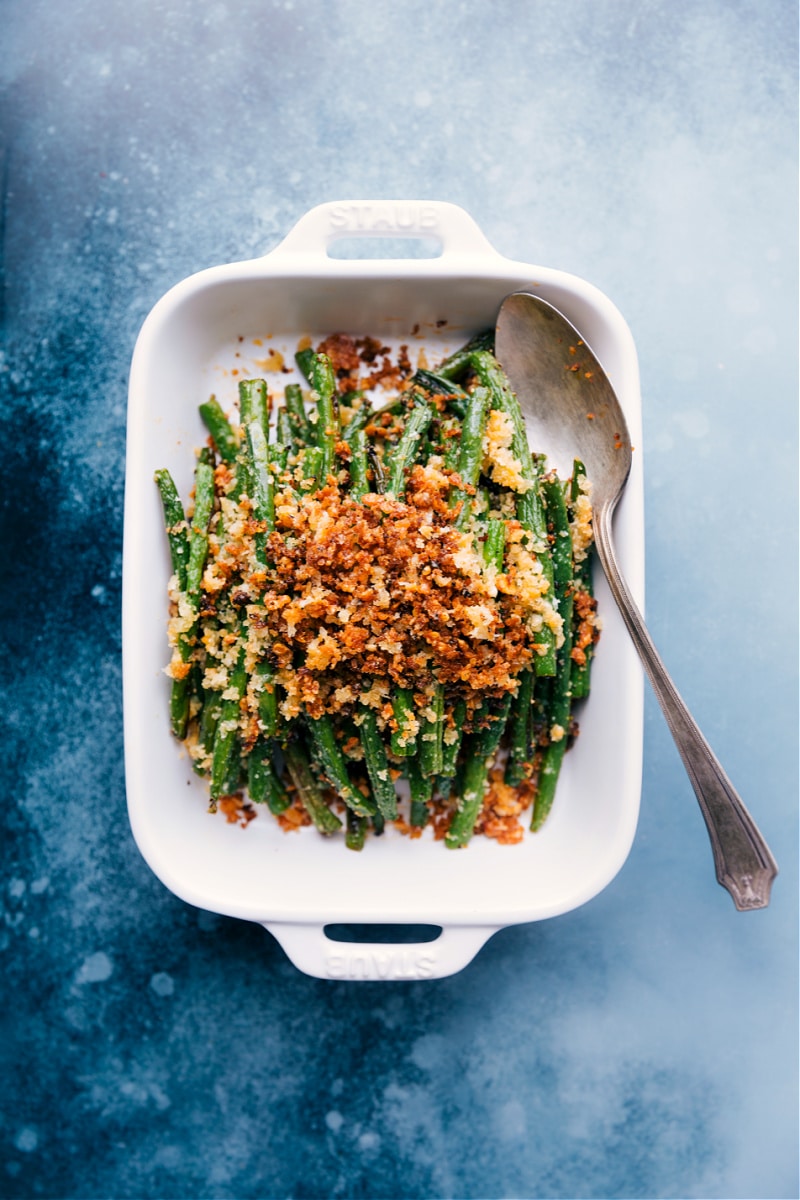 Roasted Green Beans
Green beans have always been one of my favorite veggies — raw, sautéed, in a Thanksgiving green bean casserole — you name it, and I'll eat them! But roasting green beans? Well, that completely takes them to the next level. They become beautifully caramelized with a crisp and slightly crunchy exterior and tender interior. They become nothing short of addicting!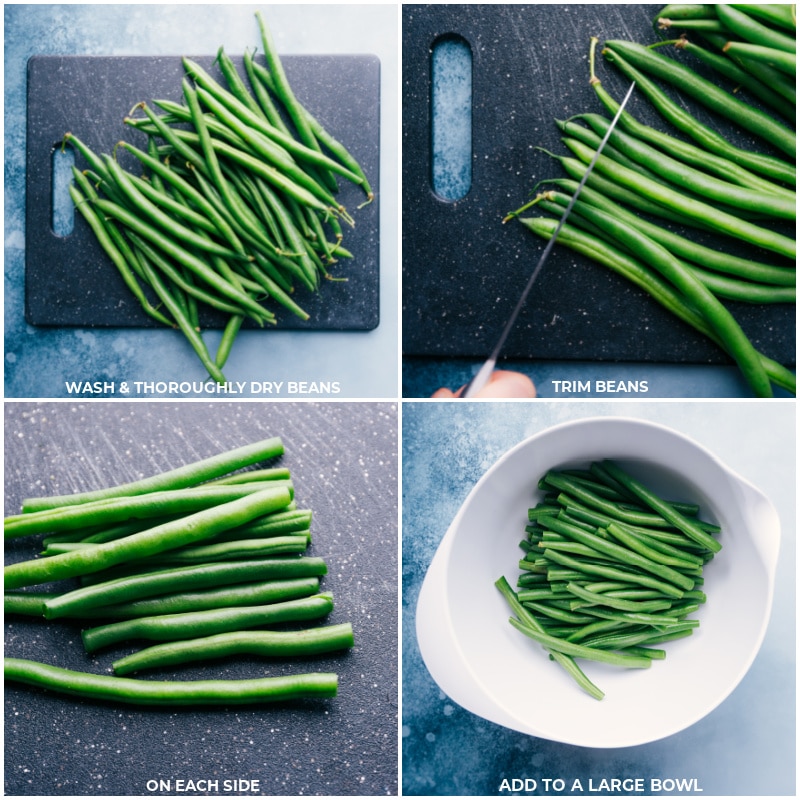 Shopping For and Storing Green Beans
Before we start making these Roasted Green Beans, let's chat about how to get great green beans and how to prep them!
Look for brightly and vibrantly colored green (as the name suggests!) green beans. A yellowish or brownish hue is a sign something has gone wrong. The skin should be smooth and tight.
Avoid green beans with lumps, creases, weathered bumps, or lots of blemishes. You may also think bigger is better, but when they get excessively thick or large, they become tough, stringy, and less flavorful. Young and tender beans are the best beans for this recipe.
Choose beans that feel firm. When beans are ripe, they should snap quickly and easily. (Test one in a batch to make sure the rest are going to be ripe!)
Storage: It's best to use the green beans within 1-2 days of purchasing, but you can extend the shelf life by storing them well. To store for extended periods (up to 3-5 days) keep the beans in the fridge's crisper drawer in a plastic bag. Don't rinse or snap off the ends until you're ready to roast them.
Recognizing when green beans have gone bad: Wetness and slime are signs that green beans are no longer good. Additionally, if there is a bad odor they have likely gone bad.
How To Clean And Prepare Green Beans
Rinse the green beans under cold water to remove any dirt or debris.
Dry the beans thoroughly by rolling them between two kitchen towels. (See "quick tip" below).
Trim both ends of the beans with a sharp chef's knife. You can do this quickly by grabbing a bunch of beans in a stack with one hand, tapping them to align the ends, and then laying them out to cut off those ends. Grab the bunch again and tap on the other side to align and cut again. Voila — you've trimmed a bunch all at once!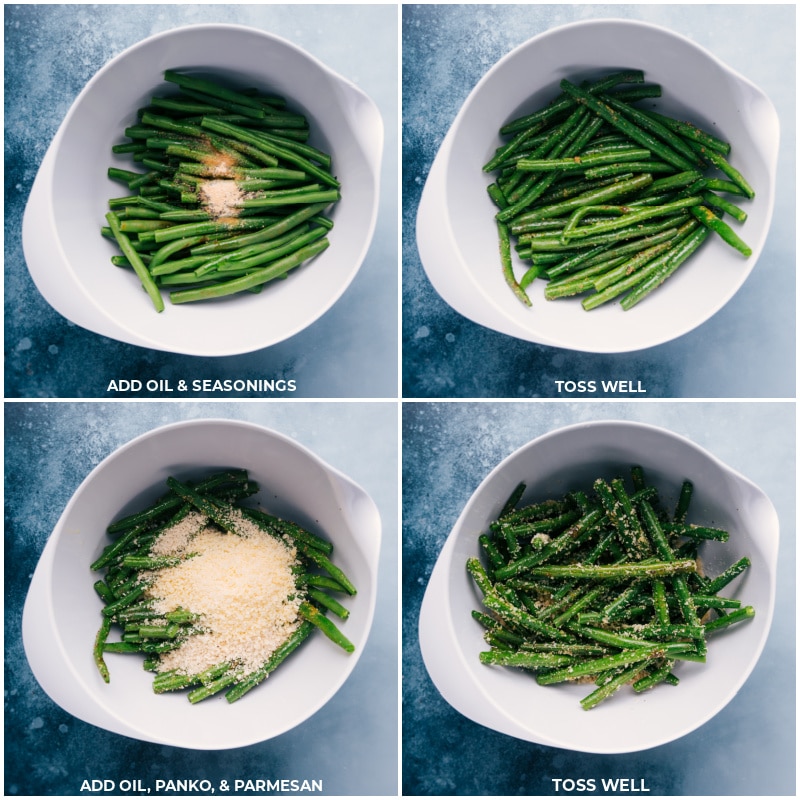 How To Roast Green Beans (Tips)
Use a large sheet pan: The more space the green beans have (the less crowded they are), the better they roast. When vegetables are overlapping on a sheet pan, they end up steaming instead of roasting. This definitely affects the end taste and texture of Roasted Green Beans. I use this 15×21 inch sheet pan (affiliate link) which makes a big difference for this recipe! Also, the bigger the pan, the quicker the beans will roast!
The actual thickness of green beans can vary greatly. It's important to check while roasting rather than relying solely on a time guideline.
Use fresh green beans: While frozen green beans work, they'll never get quite as crisp or nearly as flavorful as fresh green beans. I always recommend using fresh beans when roasting. (If you do opt to roast frozen green beans, check out the tips in this post.)
High oven temperature is vital to getting green beans perfectly caramelized and those beautifully crispy edges!
Roasted Green Beans FAQs
More veggie sides:
Roasted Cauliflower two ways — basic roasted recipe and Parmesan-Panko crusted
Roasted Broccoli topped with Parmesan cheese
Wild Rice Pilaf with a citrus vinaigrette
Roasted Sweet Potatoes with a sweet and savory version
Brussels Sprouts and Bacon with almonds
For more information, please see more information about Roast green beans at 425
Detail: 🔗