How to roast peppers two easy ways (in the oven or on the stovetop), plus how to marinate them for later use! Italian marinated peppers will last in the fridge for 1 to 2 weeks, and they are great as an appetizer, on sandwiches, pasta, soups and more!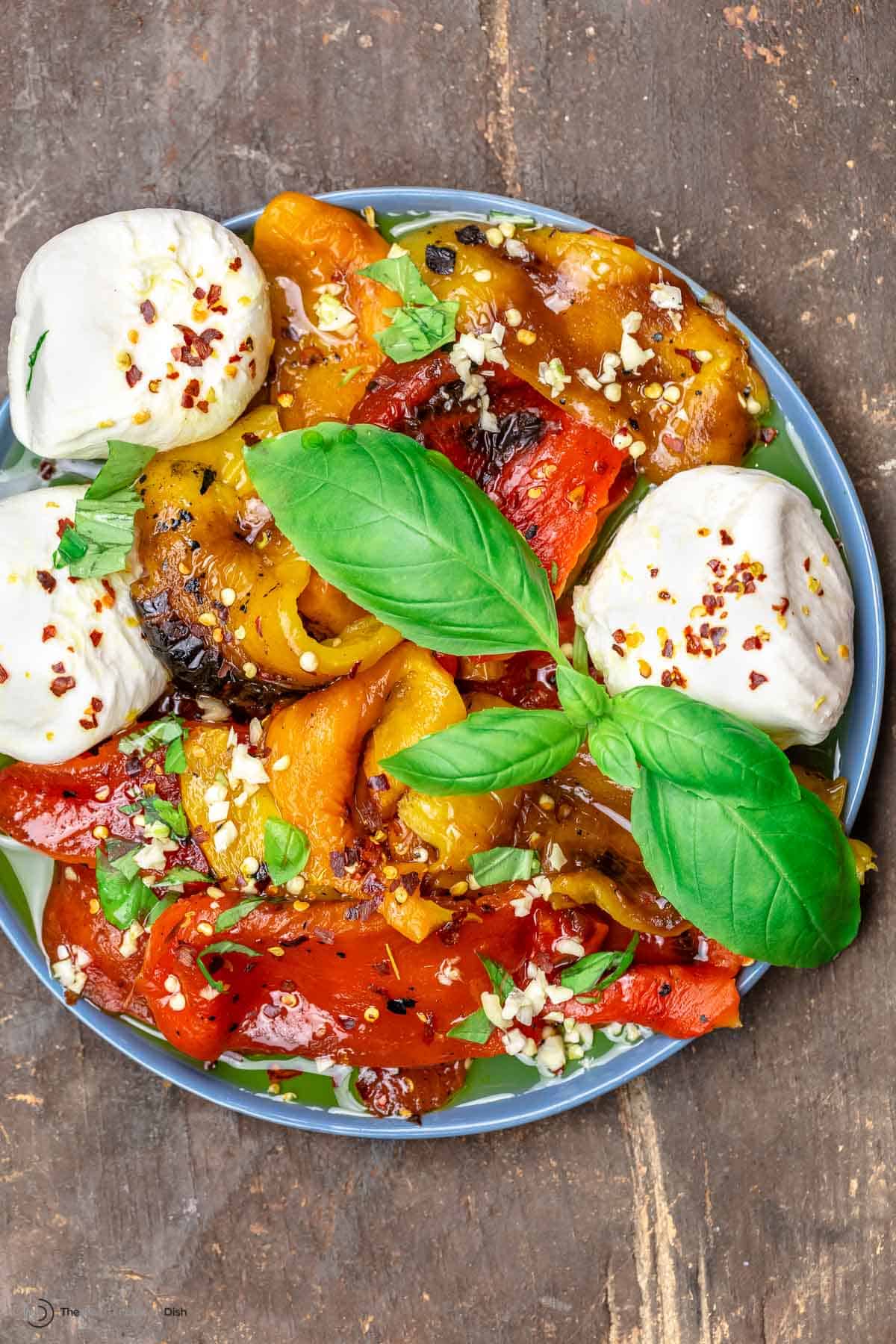 I'm a big fan of colorful bell peppers in any form they come. But roasted peppers, whatever their color, are a different level of delicious-tender, sweet, and appropriately charred. If you've tried them in a Pasta Primavera, or blitzed them in your food processor to make some kicked-up hummus, you know what I'm talking about!
Lately, I've been on a kick of roasting and marinate my bell peppers, Italian-style. That way, they can be in my fridge to use at a moment's notice. And once you do the same, you'll find so many ways to use roasted peppers to jazz up any meal!
Easy bell peppers recipe
Also read: Kitchen Basics: How To Roast Red Peppers
Making roasted bell peppers at home is easy, no need to buy expensive jars!
Some recipe call for slicing the peppers before roasting, but my preference is to roast them whole-it easy to remove the skin once the peppers are roasted.
For this recipe, you can use any bell peppers you like, although red, orange, and yellow peppers are sweeter than the green variety. Once roasted, you'll steam the peppers to remove the skin. From there, you can use them immediately or marinate them in good extra virgin olive oil to use for later! They'll keep well in the fridge for a good couple of weeks.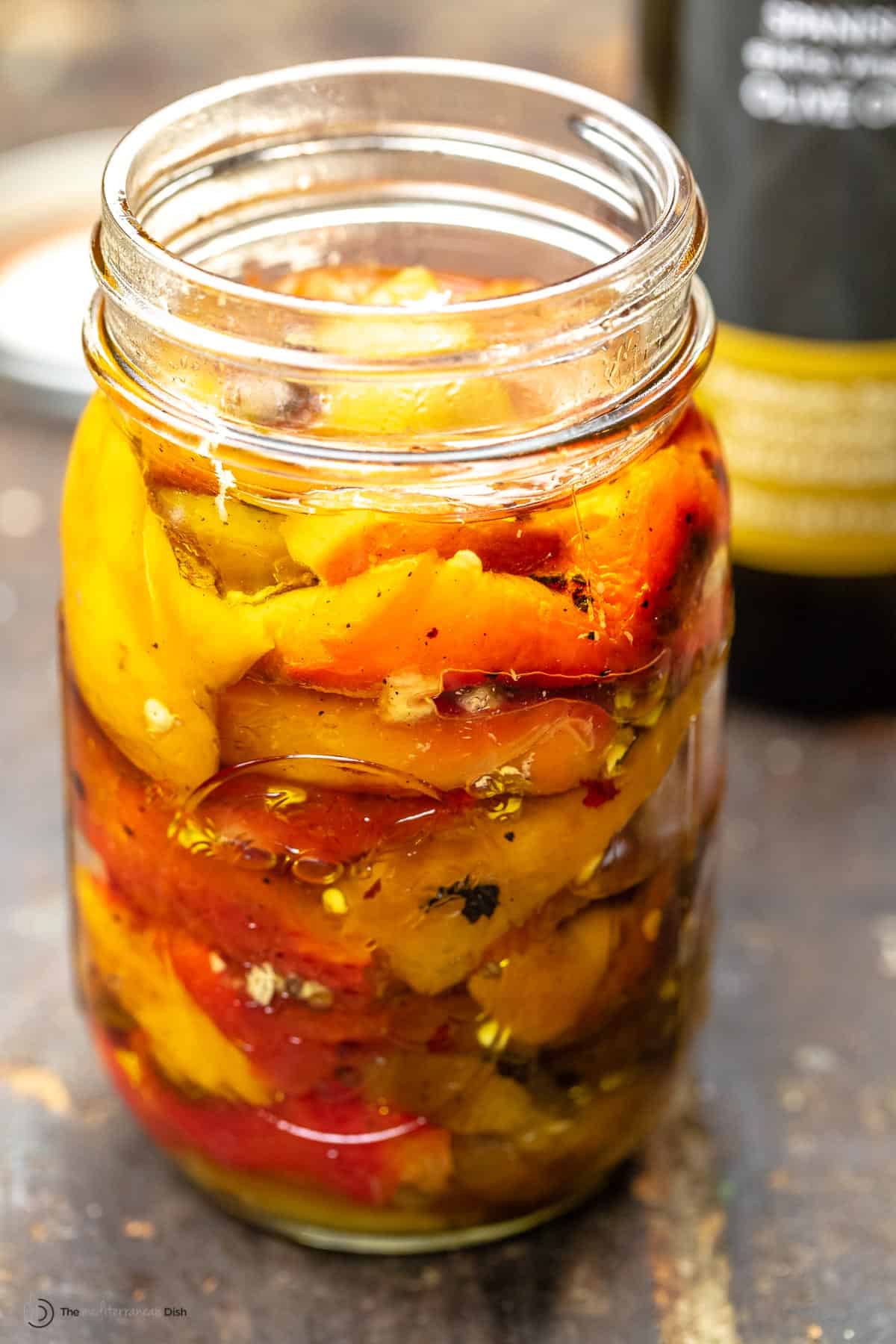 How to roast bell peppers in the oven (baked or broiled)
Roasting bell peppers in the oven is super easy and you can even broil them if you're in a bit of a rush.
Roast on the center rack. Lightly brush a sheet pan with olive oil and arrange the peppers on the pan. Roast in a 450 degrees F heated oven for about 25 to 40 minutes, turning occasionally to make sure they soften and char well on all sides.
Or, broil the peppers. If you're in a hurry, you put the baking sheet under the broiler and watch carefully to avoid burning the peppers. Rotate the peppers more frequently so that each side chars as well.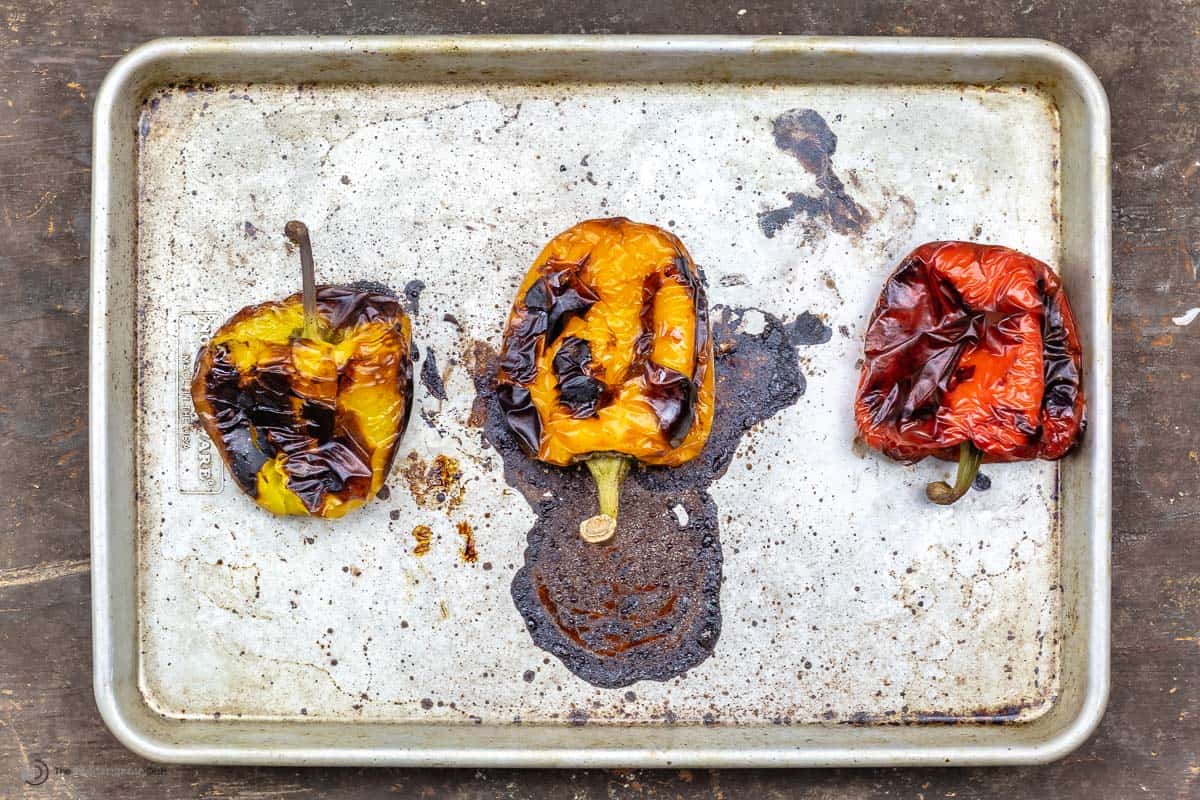 How long to roast bell peppers in the oven
Also read: Roasted Red Peppers
The amount of time needed to roast bell peppers in the oven will greatly depend on the size of the peppers. Smaller peppers can be ready in as little as 25 minutes while larger peppers can take up to 40 minutes. You'll want to keep an eye on them and rotate every 7-10 minutes to allow each side to cook and char evenly!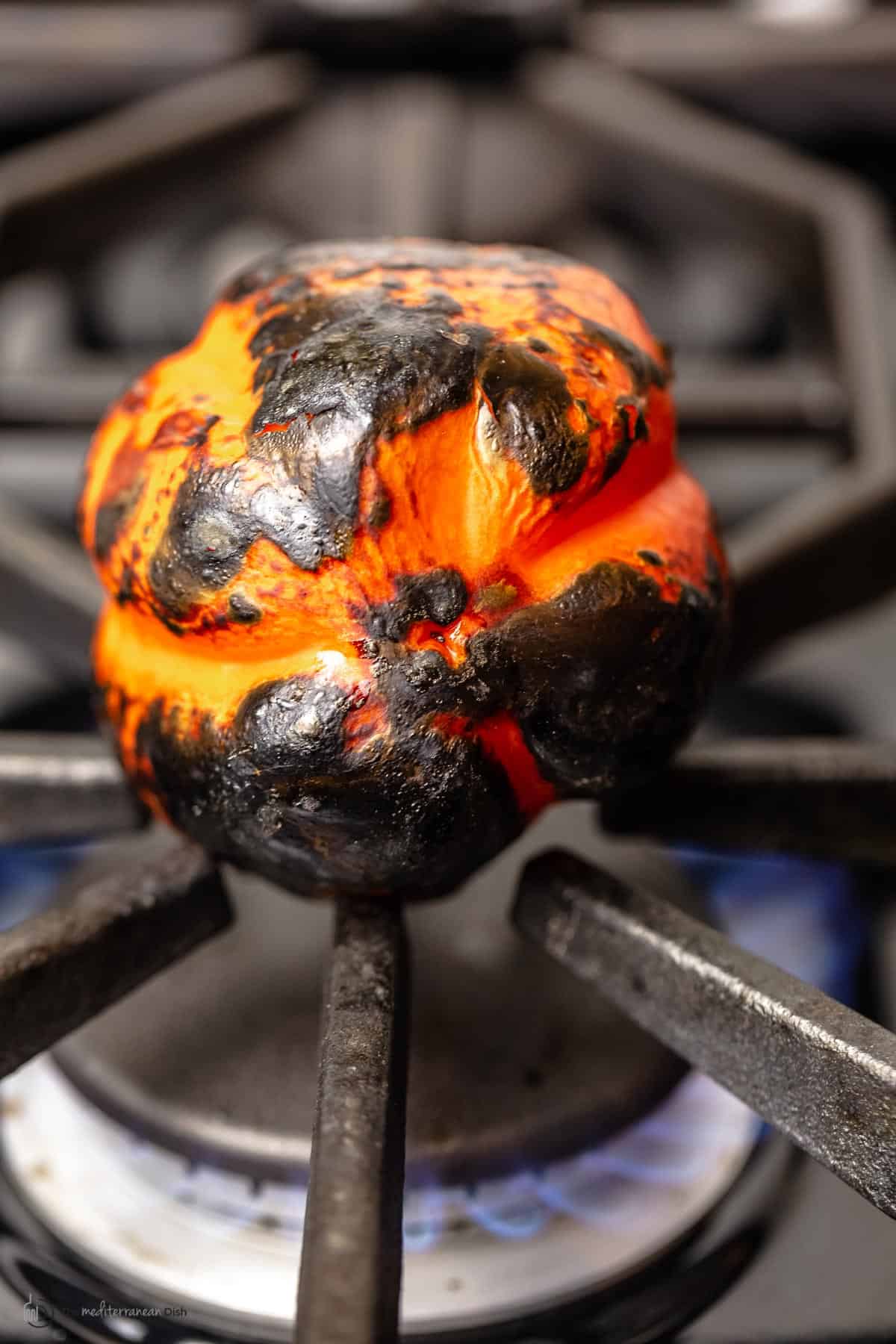 Roasted bell peppers on the stovetop (my preferred method)
While roasting peppers in the oven is the go-to method for many, my preferred method is actually roasting them directly on the gas burner! This is similar to the method I use for my grilled corn on the cob, and I think it produces a great smoky flavor. You do need a gas burner to follow this method:
Roast directly over the flame. Turn a gas burner to medium and place the pepper directly over the flame. Turn regularly with a pair of tons, until charred and soft. This can take about 15 minutes or so. You can roast peppers on multiple burners to speed up the process.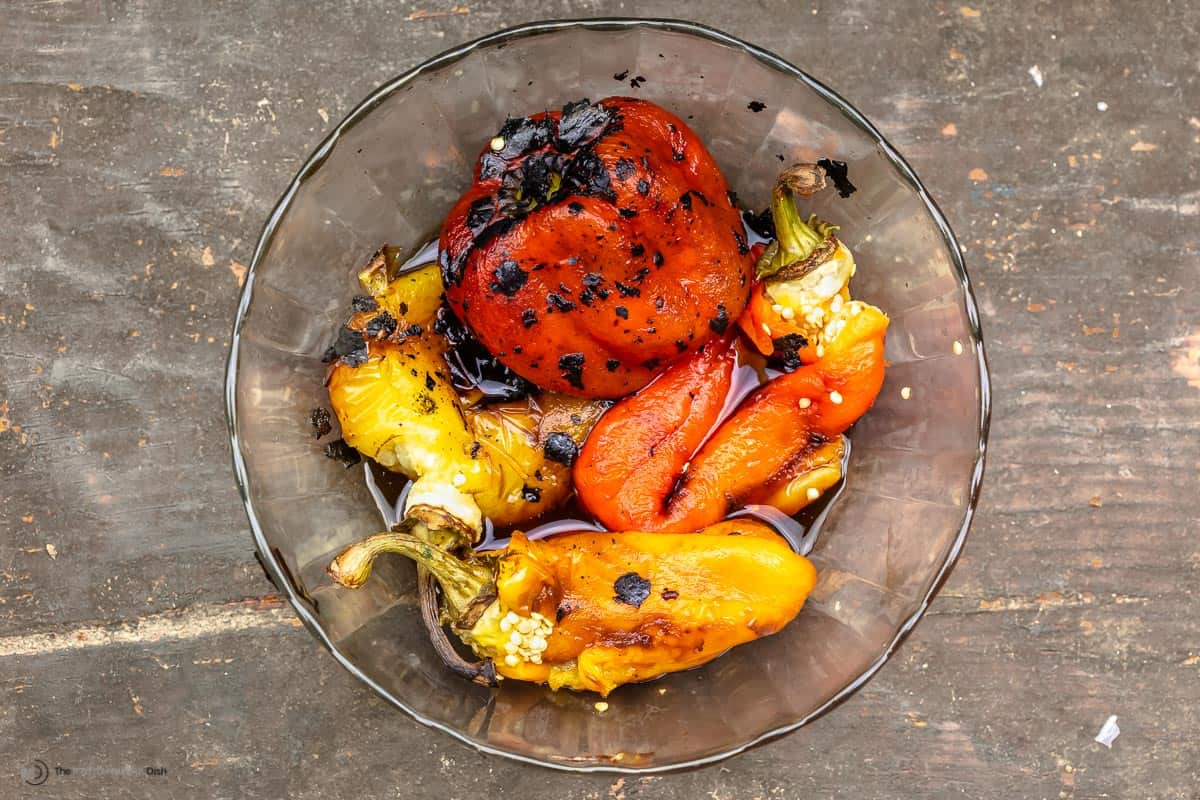 To peel roasted peppers
Regardless of which method you choose to roast your peppers, you'll follow two simple steps to peel them:
Cover and steam. Transfer the peppers immediately from the heat to a heat-safe bowl and cover tightly with plastic wrap. This must be done immediately to trap the steam inside the bowl, which is what helps release the charred skin off. Set aside for 10 to 15 minutes until cool enough to handle.
Seed and peel. When cool enough to handle, uncover the bowl and peel the skins off the peppers (skin should peel off easily). Poke a whole in the peppers to release any liquid. Slice the pepper open to scrape out the seeds. Discard the seeds.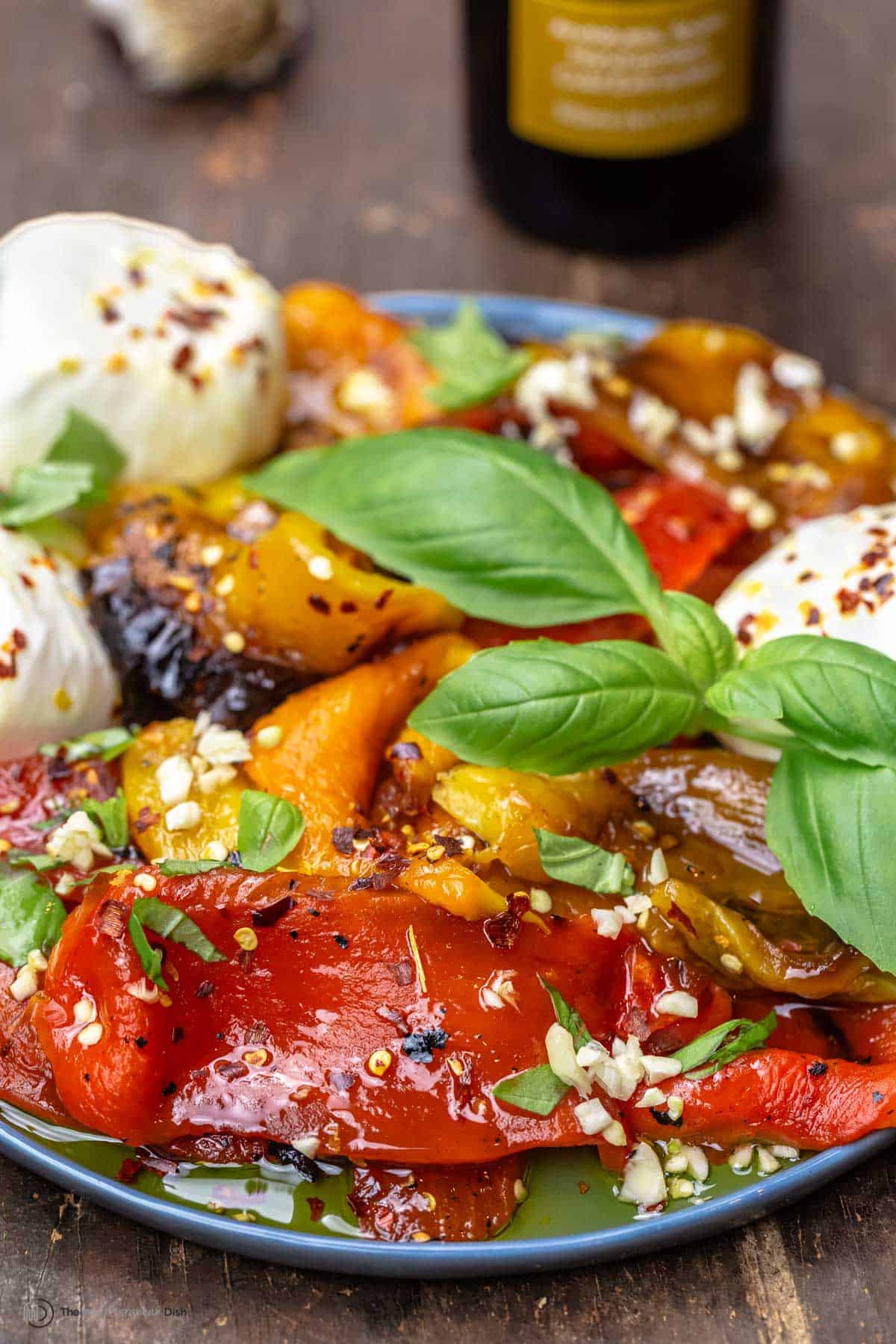 Ways to use roasted peppers
Also read: Easy Oven Roasted Bell Peppers
There are so many ways to use these roasted peppers! They can be a topping, an ingredient or the star of the show themselves. Here are a few of my favorite ways to serve this bell peppers recipe.
In sandwiches and wraps. Sliced or chopped into smaller pieces, these roasted peppers are a great addition to any salad or wrap.
Add them to salads. You can also chop them up and add them to salads, including pasta-based salads like my Italian-style pasta salad or Mediterranean orzo salad.
Serve on an appetizer platter. You can also serve them in a bowl as part of a bigger mezze spread or cheese board.
Make them the star appetizer. One of my favorite ways to serve these roasted bell peppers is as their own appetizer, like I show you here. Simply assemble them on a plate, add some freshly minced garlic, Kosher salt and your favorite spices. I used crushed red pepper flakes and some tangy sumac. For a little something indulgent, add some fresh burrata and a loaf of your favorite crusty bread.
Marinated red peppers
If you're not using your roasted peppers immediately, marinate them and keep them in the fridge for 1 to 2 weeks to use whenever. To do that, slice the roasted peppers up into strips and place them in a jar (I like to add sliced garlic, salt, and a pinch of red pepper flakes for more flavor). Pour some quality extra virgin olive oil all the way to cover the peppers, then seal the jar tightly. The jar of peppers will store in the fridge.
You may also like
How to Cook Chickpeas (3 Ways!)
Italian Oven Roasted Vegetables (W/Video)
How to Make Preserved Lemons
Pan con Tomate (Spanish Tomato Bread)
5-Minute Fried Halloumi
Browse more Italian recipes. Browse all Mediterranean recipes.
Visit Our Shop
For more information, please see more information about How long to roast bell peppers