Roasted Zucchini and Summer Squash, a simple baked vegetable recipe with only 5 ingredients and ready in 40 minutes. Enjoy as a side dish or topping for salads or soups!
Love zucchini? Love squash? Why not roast them together? Make the most of your summer harvest with this super easy roasted vegetable combination!
👉 Here's why you should be baking zucchini and yellow squash:
It's super simple. Ready to eat in only 40 minutes and uses only 5 ingredients
It's great as leftovers. Roasting veggies is a great way to use up vegetables that are at risk of going to waste.
It's flexible. It can be enjoyed as a side dish,or as a topping for salads, bowls, pizza, or pasta
Ready to learn how to roast zucchini and squash together? Let's do it!
🥒 Ingredients you'll need
This recipe requires just a few simple ingredients, including the following:
Zucchini: Summer's favorite harvest vegetable
Squash: Zucchini's cousin, we're using yellow squash (but any squash will do)
Olive oil: Brings out vegetables' delicious flavor and makes them brown and flavorful when roasted
Seasonings: Garlic, salt, and pepper are the main seasonings in this recipe, but get creative with spices
Recommended tools: sheet pan, knife set, cutting board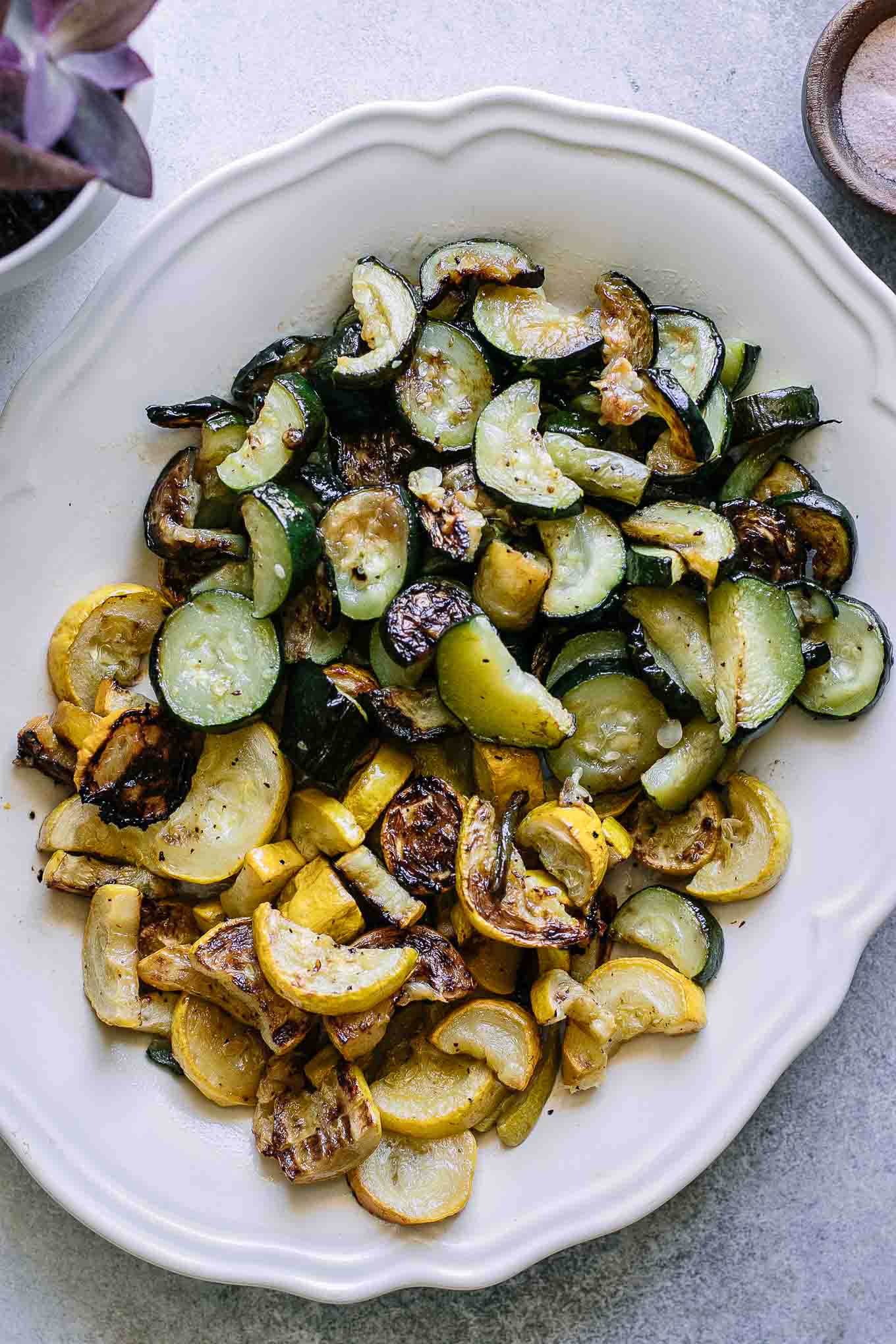 🥣 How to make (step-by-step photos)
1️⃣ Step One: Preheat oven and prep veggies
First, preheat the oven to 400 degrees F (200 C), the wash and cut the vegetables
Cut ends off of both zucchini and squash, then slice into 1/2 inch (1 centimeter) slices
👉 Tip: We like to cut zucchini and squash into similar sized pieces so they're easier to eat. If they're the same size, they will have similar cooking times and will be extra crispy!
2️⃣ Step Two: Season and add to roasting pan
Add zucchini and squash slices to a baking sheet and, using your hands or a spatula, toss with olive oil until it completely covered.
Combine the oiled vegetables with sliced garlic, salt, pepper and any other dried or fresh herbs of your choice.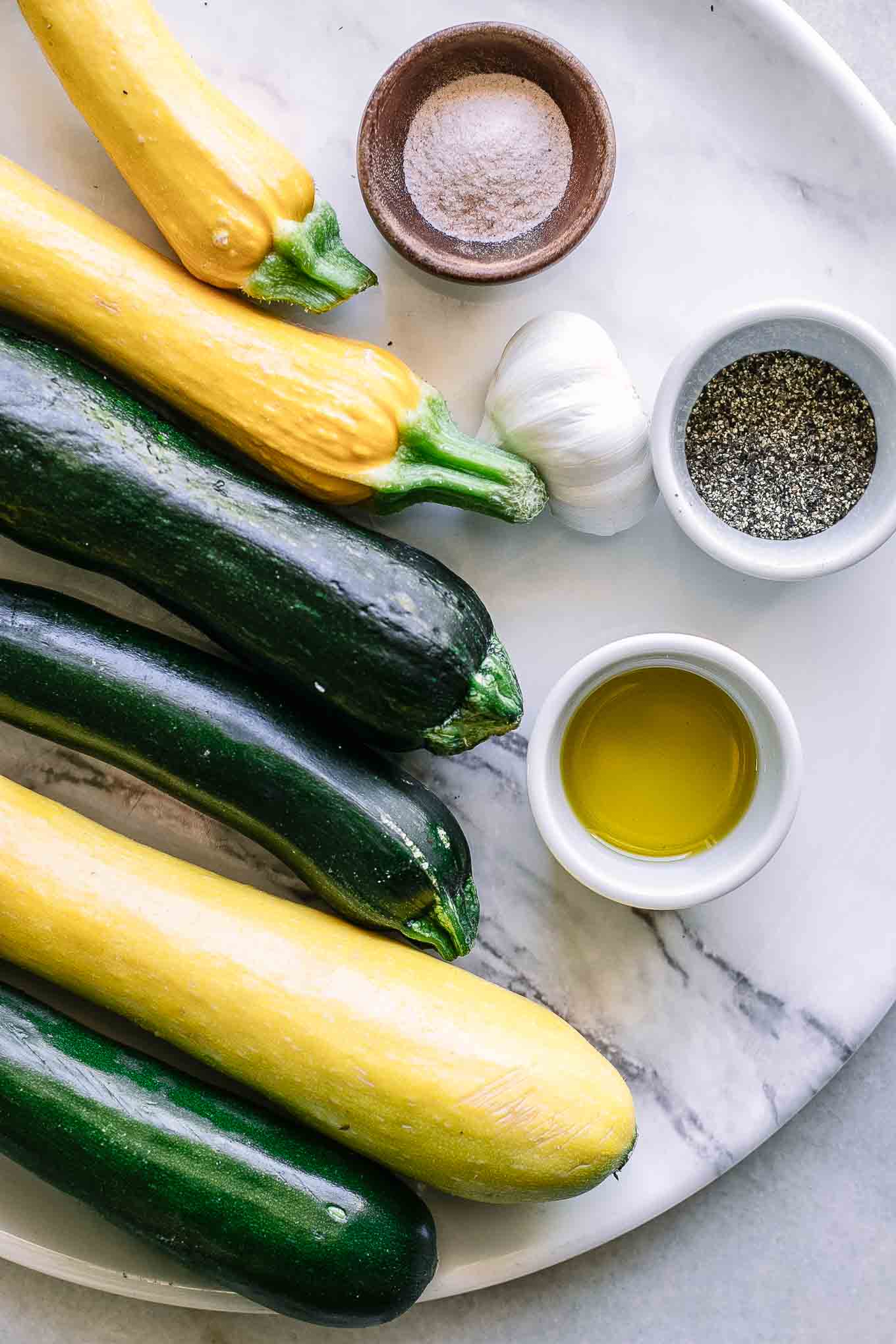 3️⃣ Step Three: Roast vegetables
Cook veggies in the oven until tender and golden brown. Depending on your oven, this will take about 30-40 minutes.
Toss the zucchini and squash about 10-15 minutes in to make sure they cook evenly.
Remove the roasting pan from the oven and enjoy immediately as a side dish. If you plan to mix them into salads, let them cool beforehand.
❓ Recipe questions + quick tips
💡 Flavor ideas
Here are some ideas for getting creative with herbs and spices:
Onion, garlic, and tomatoes: Combine zucchini and summer squash with onion, garlic, and tomatoes before roasting for extra color, flavor, and nutrients!
Rosemary, salt, and pepper: Sprinkle fresh or dried rosemary over the vegetables, then add some salt and pepper to taste.
Thyme, fresh basil, and lemon juice: Add new depths of flavor to roasted summer squashes by mixing with thyme, then finishing them off with some fresh basil leaves and a squeeze of lemon juice.
Parmesan and garlic: Zucchini and squash taste great with a mixture of parmesan and garlic. You can also try nutritional yeast for a plant-based cheese alternative.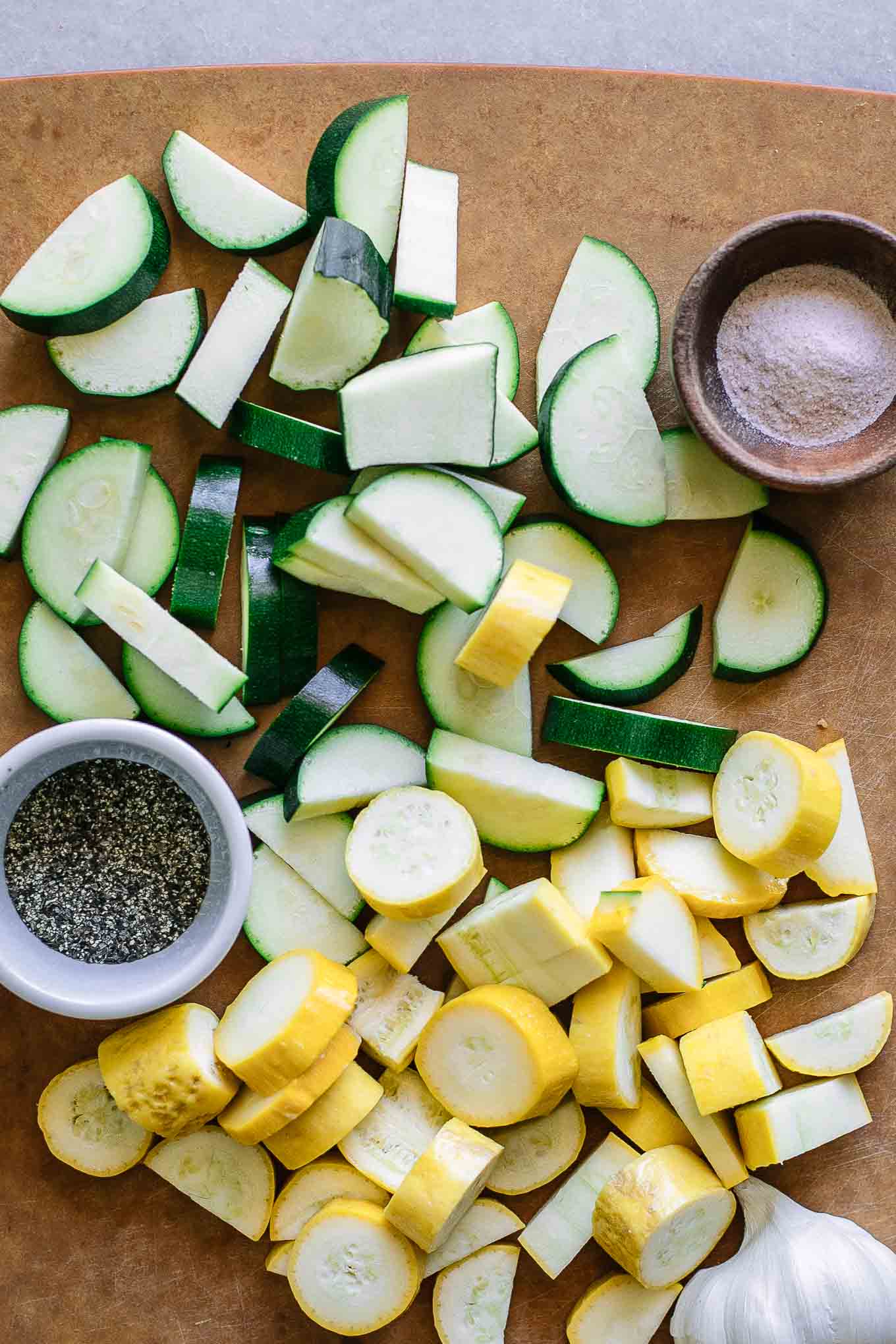 🧊 How to store
One of the best things about roasted vegetables is that they're so easy to make ahead and store. If you have leftovers, here's how to maintain their quality and flavor in storage:
Refrigerator storage: Store vegetables in an airtight container in the refrigerator for up to 3-4 days
Freezer storage: For the best taste and texture, we don't recommend freezing roasted vegetables as they will lose their texture when thawed
♻️ Sustainable kitchen tips
We always have the environment in mind here at Fork in the Road. Here are some ideas for going green with this recipe:
Take advantage of zucchini and squash season. The best time to make this recipe is when zucchini and summer squqsh are at the height of their growing season. In most parts of the US, they are in season during the summer and fall months. Find out when they're in season in your area here.
Set the veggie scraps aside. Rather than throwing the scraps from zucchini and squash in the garbage, keep them to use in food scrap vegetable stock, which is great to have on hand for making soup and other dishes. At the very least, veggie scraps should be tossed in the compost bin.
Grow the veggies in your garden. Zucchini and squash are fairly easy to grow on your own. This is a great step toward a sustainable lifestyle – there's no need to travel anywhere when the veggies are growing in your own backyard!
👉 More roasted zucchini and squash recipes
Looking for more roasted summer squash and zucchini recipes? Try our other favorites:
Roasted Carrots and Zucchini
Roasted Zucchini and Tomatoes
Roasted Zucchini and Peppers
Roasted Zucchini and Green Beans
Through this article, we hope to help you understand Roasted yellow squash and zucchini
Detail: 🔗