This post may contain affiliate links. See my privacy policy for details.
Rump roast and vegetables in a Dutch oven is an affordable, simple weeknight meal that really perfect for enjoying a late evening meal. Rich in protein and vegetables, this is the kind of staple meal that everyone should have up their sleeve.
You also easily make your own Cornstarch Slurry and make a homemade beef gravy for it. If you are looking for a different cut of beef, you can make my Round Roast Recipe instead.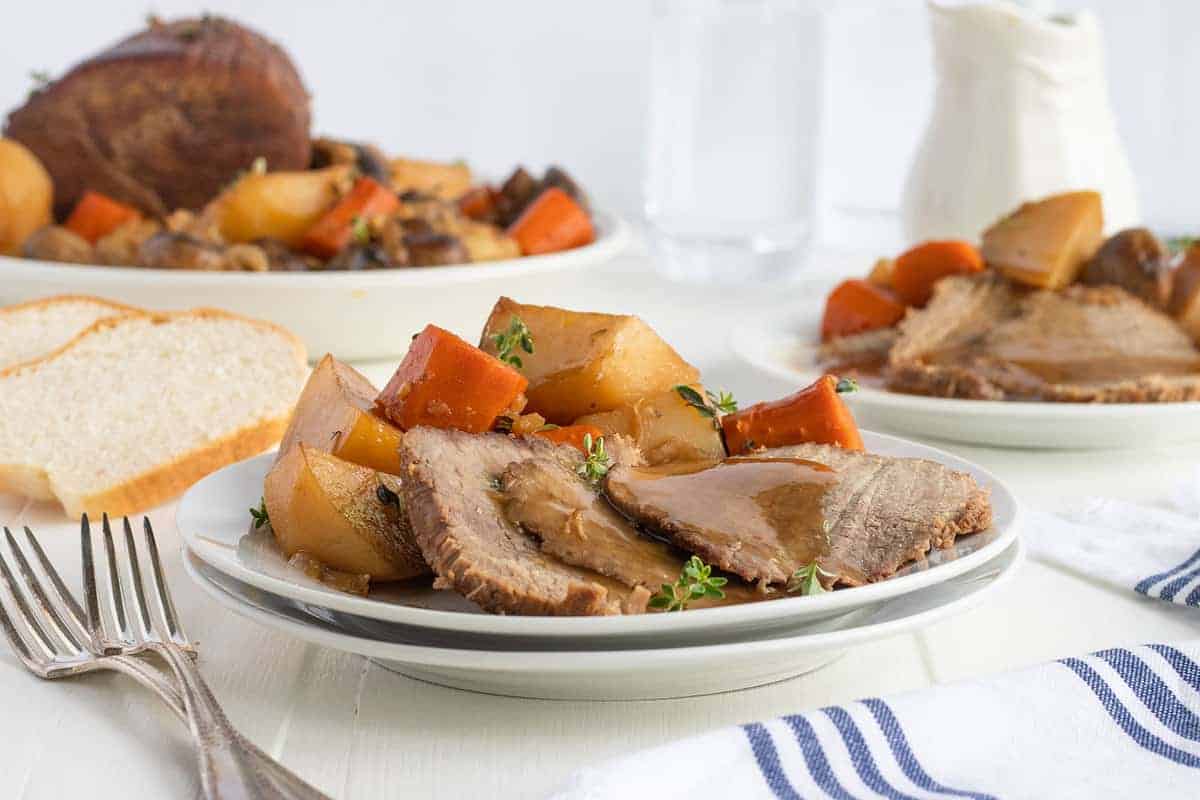 Rump Roast
This recipe for a rump roast might take a bit to cook, but pretty much all of the cooking time is unattended time. You don't need to be constantly watching and stirring the pot; you can just throw it in the oven and go do something else.
This makes it perfect as the type of meal to prepare the moment you get home from work so that you can sit down to a late evening dinner with family or friends.
Failing that, you could use an Instant Pot to make it even quicker, or throw it all in a slow cooker in the morning and enjoy it the moment you get home.
Rump Roast Ingredients
Make sure you look at the recipe card at the very bottom for the exact amounts so that you know exactly what to buy for this recipe.
• Rump roast
• Salt and pepper
• Vegetable oil
• Whole white mushrooms
• White onions
Also read: How To Cook a Rump Roast – The Perfect Easy Recipe
• Garlic cloves
• Beef broth
• onion soup mix
• Carrots
• Potatoes
Cornstarch Slurry
• Cornstarch
• Cold water
How To Make Rump Roast
• Pat the roast dry with paper towels and season heavily with salt & pepper
• Heart the oil in a large Dutch oven over medium-high heat
• Place the seasoned roast in the pan and brown the roast on all sides
• Remove and then add the mushrooms and onions, sautéing for 5 minutes
Also read: The Best Dutch Oven Pot Roast (Slow Cooker Option!)
• Add the garlic and sauté for 4 more minutes
• Slowly pour in the broth, scraping any browned bits off of the bottom, followed by stirring in the onion mix
• Add the roast back into the Dutch oven, and then add in the carrots and potatoes, placing them around the roast
• Cover and cook at 325 Fahrenheit for 1.5 hours, or until the meat and veggies are tender
• Remove the solids and place them on a warm platter, covering them with foil to keep them warm
• Add the cornstarch into the drippings in the Dutch oven, whisking and cooking until thickened
• Serve the meat sliced and topped with the veggies and gravy
How Long Should You Cook Your Rump Roast?
This recipe calls for a pretty standard cooking time of 1.5 hours to cook your rump roast and potatoes. However, this cooking time can vary pretty considerably depending on the size of your roast.
A good rule about cooking times for this recipe is to cook your rump for about 30 minutes per pound of weight the rump weighs.
This can actually be a bit of a problem if you have an especially big rump, however. If, for example, your rump is especially larger than 5 pounds, then you will end up cooking your carrots and potatoes for far too long.
If you find that your rump roast is going to be in the oven for more than about 3 hours, consider adding your carrots and potatoes to the pot after about an hour of cooking time. This will prevent your potatoes from turning into a soggy mess and keep everything moist and delicious.
How To Make This Rump Roast Even More Convenient
This rump roast might be one of the most convenient recipes imaginable; other than searing the meat and sweating the onions and mushrooms; you don't need to do anything but chuck the pot in the oven.
Also read: Red Wine Pot Roast
Heck, it even has onion soup mix to provide the flavor base and a cornstarch slurry for thickening!
However, if you are looking for even more convenience in your meaty dinners, why not use an Instant Pot or a slow cooker?
A slow cooker will definitely take at least 7 hours to cook, but that means you can just throw the whole into the slow cooker in the morning while you are preparing breakfast, leave it on, and then enjoy it in the evening after work.
An Instant Pot definitely still requires some active prep after work, but it will cook everything in a fraction of the time.
Feel free to play around with this recipe to make it as convenient as you want, but just make sure you don't skip on any of the flavor-building steps like meat browning or onion sweating – without that extra depth of flavor, you will definitely notice it.
What Cut is a Rump Roast?
The roast is the triangular-shaped tip from the rump end of the outside round roast thus the name "Rump Roast."
Looking for more delicious Beef recipes? Try these out:
• Herb and Garlic Stuffed Eye of Round Roast Recipe
• Classic 3 Ingredient Slow Cooker Pot Roast
• Corned Beef and Cabbage
Enjoy!
Love,
Karlynn
Pin this recipe to your ROAST RECIPES Board and Remember to FOLLOW ME ON PINTEREST!
Through this article, we hope to help you understand Rump roast in dutch oven recipe