Loaded with a medley of crunchy and vibrant vegetables, as well as succulent pork sausage, this sausage stir-fry recipe is a fantastic choice for a quick and satisfying weeknight dinner.
This specific recipe draws its inspiration from my beloved grandfather, whom I chat with every evening. Our discussions often revolve around food. He happens to be quite the talented cook and makes an absolutely incredible western sandwich.
One day, he happened to mention having sausage stir-fry for dinner, and it piqued my curiosity. Although stir-fry is a dish I'm familiar with (it's both delicious and quick to prepare), I had never tried it with sausage before. Let me tell you, I was missing out!
Like most stir-fry recipes, this one is incredibly simple to make and brimming with an array of colorful veggies. After all, sausage and peppers make for an iconic combination, don't they?
How to Make Sausage Stir-Fry
Here's a quick overview of the steps involved in making this sausage stir-fry (detailed instructions can be found in the recipe card below):
Prepare the stir-fry sauce: Whisk together a delectable combination of soy sauce, chicken broth, garlic, ginger, sriracha, rice wine vinegar, honey, and sesame oil. Then, incorporate cornstarch to thicken the sauce.

Grease your wok or pan. Cook the sausage until it's fully cooked, then transfer it to a paper towel-lined plate to drain excess grease.

Add vegetable oil to the wok and heat it up. Toss in the veggies and cook them until they reach a tender-crisp state.

Combine the stir-fry sauce and the cooked sausage with the veggies. Cook the mixture until the sauce has heated through and has reduced and thickened slightly.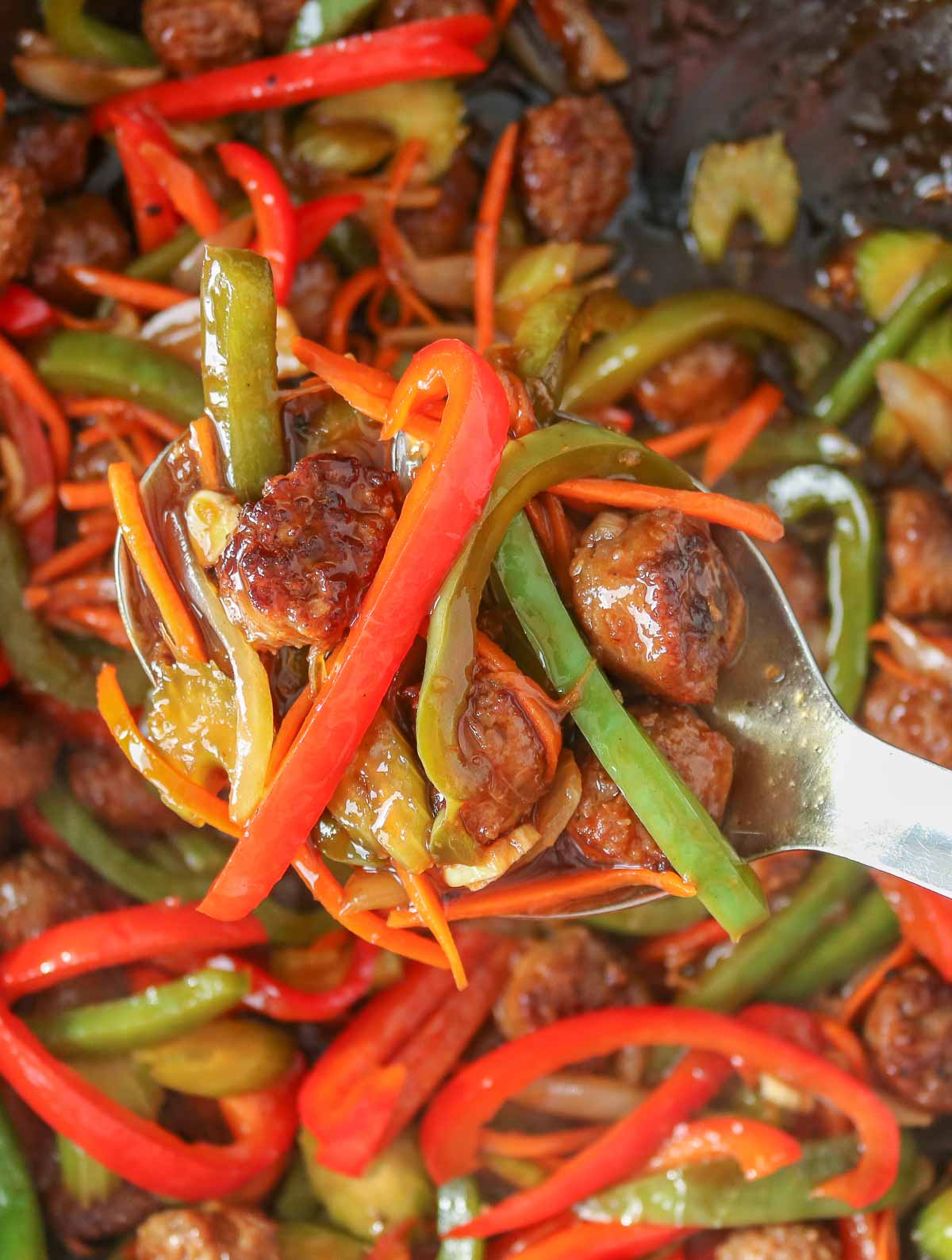 Best Sausage Varieties to Use
In this stir-fry recipe, I love to utilize pork sausage, especially the spicy variety. However, you have the freedom to choose whichever type you prefer or have on hand. Honey garlic sausage is another excellent option.
For this recipe, you'll need about one pound of sausage, which equates to approximately 4 to 5 sausages. I prefer to cut them into bite-sized chunks. Alternatively, you can remove the sausage meat from its casings and cook it as loose meat or roll it into small meatballs. It's entirely up to you.
By the way, if you'd like to explore alternative sausage options besides pork, such as beef, turkey, or chicken, go for it! Just ensure they are thoroughly cooked.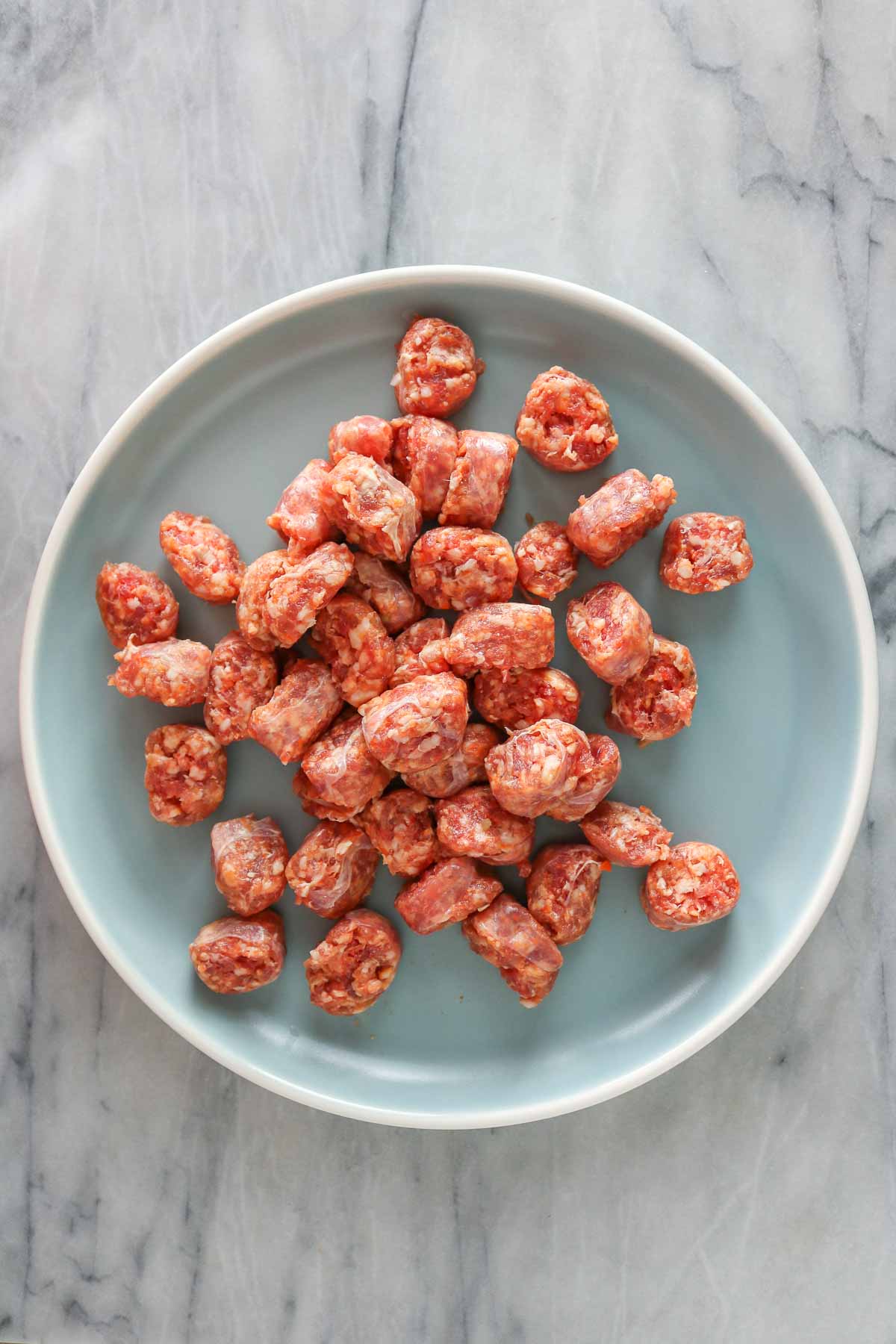 Enhance Texture and Flavor
This recipe already boasts an abundance of texture and flavor. However, if you want to elevate it even further, there are some simple ways to do so. Here are a few of my favorite methods to add more crunch and deliciousness to stir-fry:
Nuts: Consider mixing in some roasted cashews or peanuts, or even topping the finished dish with a sprinkle of nuts. My personal preference is to add them to the stir-fry while cooking the veggies. This allows the nuts to soften slightly and absorb some of the stir-fry sauce—the perfect combination of flavors.

Canned sliced water chestnuts: These delightful additions instantly transport me back to my favorite Chinese takeout meals from childhood. Add them to the wok alongside the veggies for an extra layer of deliciousness.

Garnish: Sprinkle sesame seeds, sliced chili pepper, fresh cilantro, or green onions on top of your stir-fry for an extra burst of flavor.
As you can see, there are numerous ways to customize this beloved weeknight dish!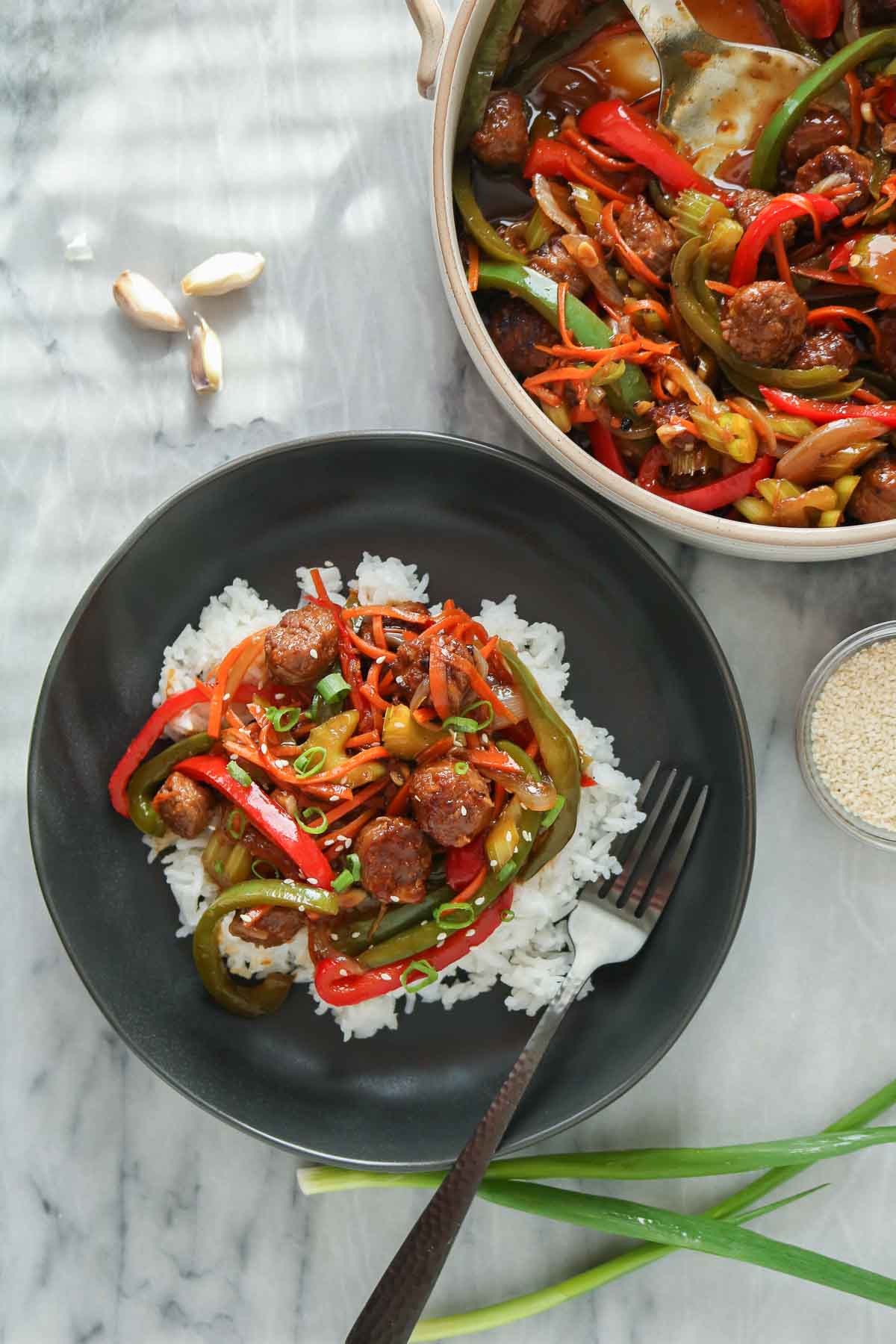 Perfect Pairings for Your Stir-Fry
When it comes to serving this stir-fry, one of my absolute favorite accompaniments is fluffy rice. I particularly enjoy Jasmin or basmati rice, but feel free to use your preferred variety.
If rice isn't your thing, noodles work equally well. You can either mix them directly into the stir-fry or serve the stir-fry over a bed of noodles.
For a lower-carb alternative, consider using cauliflower rice or savoring the stir-fry as is.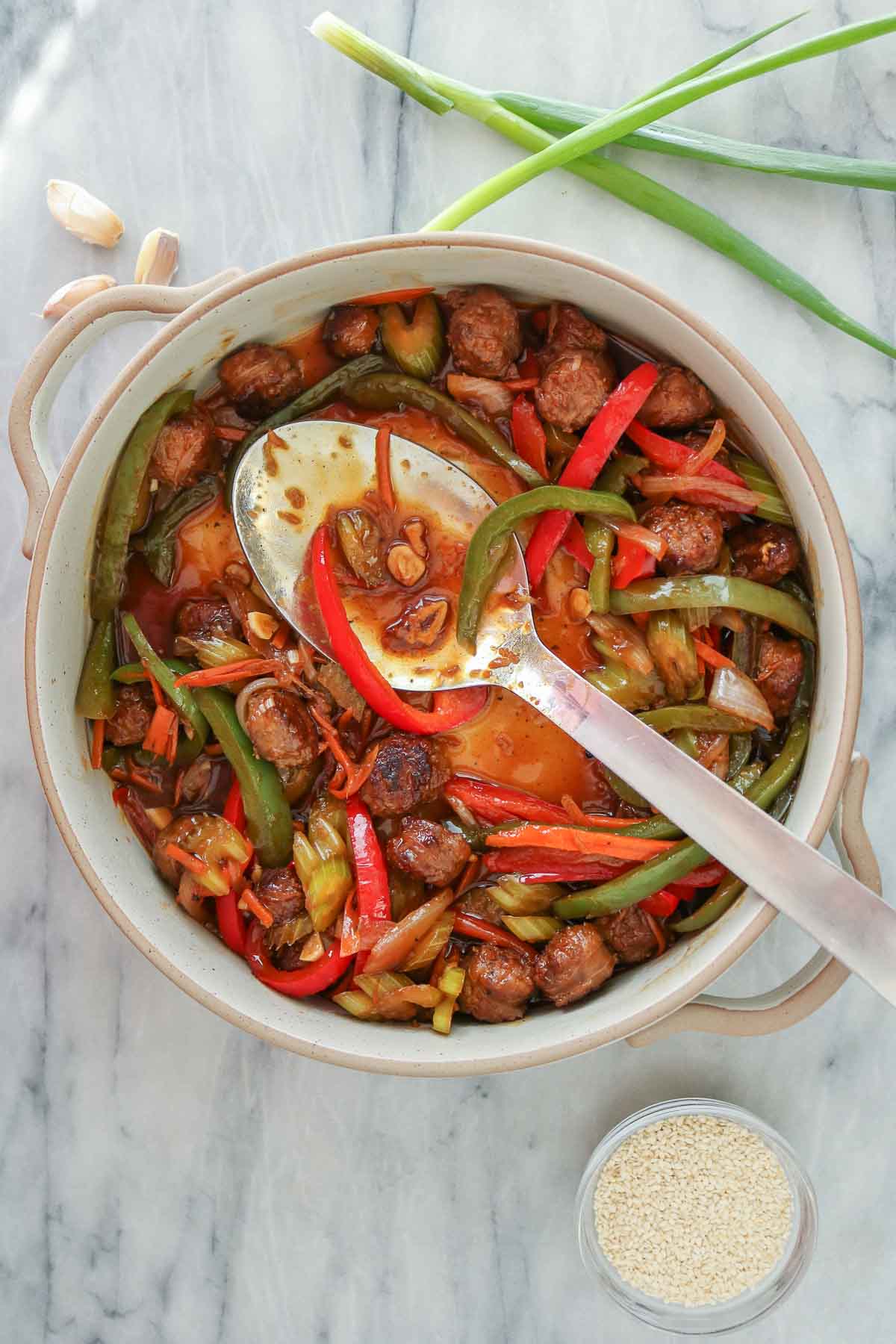 Handling Leftovers
This sausage stir-fry recipe yields four generous servings, which is perfect for a quick weeknight supper.
If, by chance, you end up with leftovers, store them properly in an airtight container in the refrigerator. Ensure you enjoy them within three days and reheat them before serving.
To reheat the leftovers, simply place the desired amount in a frying pan and heat over medium heat. Stir occasionally until heated through. Alternatively, you can use a microwave-safe dish and reheat in 30-second intervals until thoroughly heated.
Tips for Creating the Best Stir-Fry
Here are some tips to keep in mind while making this stir-fry:
Prepare all your ingredients in advance to streamline the cooking process. Stir-fry typically comes together quickly, making it an excellent option for busy days. By having everything ready, you'll be able to savor your delicious creation even sooner.

Since you'll be cooking the veggies over medium-high heat, make sure to stir them regularly to avoid burning.

Don't overcook the veggies. One of the highlights of stir-fry is the delightful crunchiness of the vegetables.

For the most flavorful result, opt for freshly sliced garlic and freshly minced ginger instead of substitutes like garlic powder or ground ginger. The fresh ingredients lend a vibrant and aromatic quality to the dish.

Grating the garlic will provide a stronger flavor if you prefer a more pronounced garlic taste.

I highly recommend using low-sodium soy sauce (or a reduced-sodium variety) to avoid an excessively salty stir-fry.

If you want to reduce the soy sauce portion, you can replace some of it with low-sodium chicken or vegetable broth.
More Scrumptious Recipes
If you loved this sausage stir-fry recipe, make sure to check out these other mouthwatering options:
Moose Stir-Fry
Kohlrabi Stir-Fry
Ground Chicken Rice Bowl
Feel free to try out these delectable recipes at your convenience!
If you decide to give this sausage stir-fry recipe a whirl, be sure to leave a comment below! Your feedback is incredibly valuable to us.