Savory Beef Stew with Vegetables is a delicious stew that is braised in a rich and velvety wine-based sauce. It's a simple recipe that is perfect for a family dinner or to serve to guests.
The next time you are craving hearty comfort food, give this recipe a try! It's easy to make and so delicious too!
This hearty beef stew is a delicious meal to enjoy in the winter months. The wine-based rich gravy is seasoned with herbs de Provence, which is my secret ingredient for the best beef stew. It is so rich and flavorful, you will want a side of crusty bread to mop up every last bit of the sauce.
Why This Recipe Works
This is the best beef stew recipe; deliciously rich and savory and it tastes even better the next day, so make extra!
It's customizable. You can make it with just meat and carrots or you can add red potatoes and mushrooms too.
Here is What You Will Need To Make This Hearty Stew
As an Amazon Associate, I earn from qualifying purchases
This is an overview of the ingredients and steps to make this recipe; scroll down for a printable recipe card with exact measurements and instructions.
This is an overview of the ingredients and steps necessary to make this recipe, scroll down to see ingredient notes and substitutions as well as a printable recipe card with exact measurements and complete cooking instructions.
Here is How To Make This Savory Beef Stew Recipe
Prepare the ingredients: Season the meat with a little bit of salt and pepper, slice the onions, chop the garlic and carrots. Measure the tomato paste, wine and broth. Preheat the oven to 350 degrees F.
If beef cubes aren't available, you can substitute them with 2 pounds of beef round or chuck roast and cut it into cubes yourself, and it's more economical.
Ingredient Notes & Substitutions
Beef – The best meat to use in this hearty stew is beef round or chuck cubes which will turn into tender beef after it has bee cooking low and slow.
Herbs de Provence is a unique aromatic mix of dried herbs that is usually made with thyme, lavender, basil, rosemary. tarragon, savory, marjoram, oregano, and bay leaves, You can find Herbs de Provence in the spice section of your supermarket.
Substitute herbs de Provence with Italian seasoning blend, or a mixture of any of the spices above.
Red Wine – The best type of wine to use when cooking a beef stew is a dry red wine such as a Cabernet Sauvignon, Pinot Noir, Merlot.
Substitute red wine in this stew recipe with an equal amount of broth, red grape juice, or cranberry juice for an alcohol-free version.
Beef Broth or Beef Stock? Beef broth is made from meat and stock is made from bones and has a richer flavor. You can use either one in this beef stew recipe.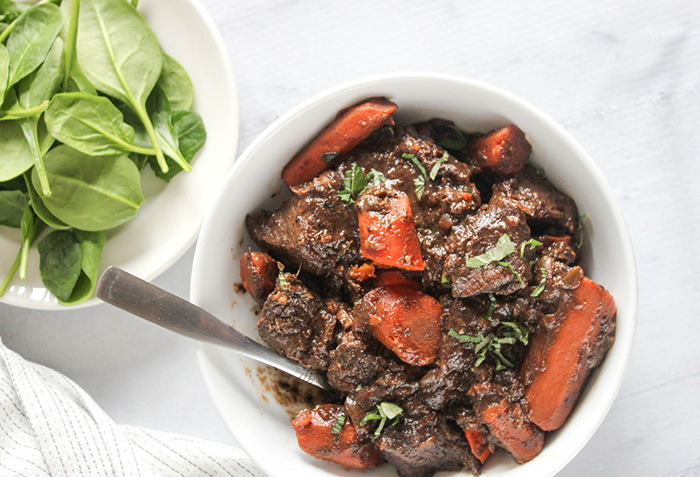 Recipe Variations
Add more vegetables to the stew with any combination of 8 ounces sliced mushrooms, ½ pound parsnips, turnips or potatoes.
Add more broth – If you like your stew with a lot of sauce, increase the amount of broth by 1 cup.
Top Tips
Instead of paying extra for pre-cut beef cubes, buy a whole chuck roast, rump roast, or round and cut the meat yourself into 1-inch cubes.
If you prefer a thicker sauce, mix together a slurry of 1 teaspoon flour with a tablespoon of water and gradually stir it into the stew.
Serving Suggestions
Even though this hearty beef stew is a meal all by itself, it tastes great with Mashed Potatoes, spinach salad, roasted butternut squash, roasted brussels sprouts and a loaf of crusty bread or mashed potatoes.
If you like this recipe, try our beer pot roast recipe!
Storing and Using Leftovers
Leftover beef stew can be stored in the refrigerator for up to three days in an airtight container.
Freeze leftovers once the stew has cooled to room temperature, place it in an airtight container for up to four months. Defrost the stew overnight in the refrigerator.
Reheat Leftovers on top of the stove in a saucepan, in a covered dish in the oven or the microwave.
Leftover Idea! Cut the leftover stew into small bite-sized pieces and place it into a casserole dish and top it with mashed potatoes and bake it for 30 minutes at 350.
For more simple and delicious recipes like this, subscribe to our newsletter and receive a free e-book and meal suggestions straight in your inbox!
You Might Like these Recipes
Slow-Cooked Chipotle Chicken Stew
Oven-Baked Pork Chops With Vegetables
Caramelized Onion Cheeseburger
If you like this recipe, please comment and rate it below!
Please see more list about Savory spices for beef stew
Detail: 🔗