This savory chicken salad recipe is an easy recipe that is a healthier remake of a classic chicken salad. It's made with the right mix of ingredients to make it taste like a classic chicken salad with a little bit of a twist.
Serve this as a delicious chicken salad sandwich, or on top of a bed of lettuce for a true chicken salad.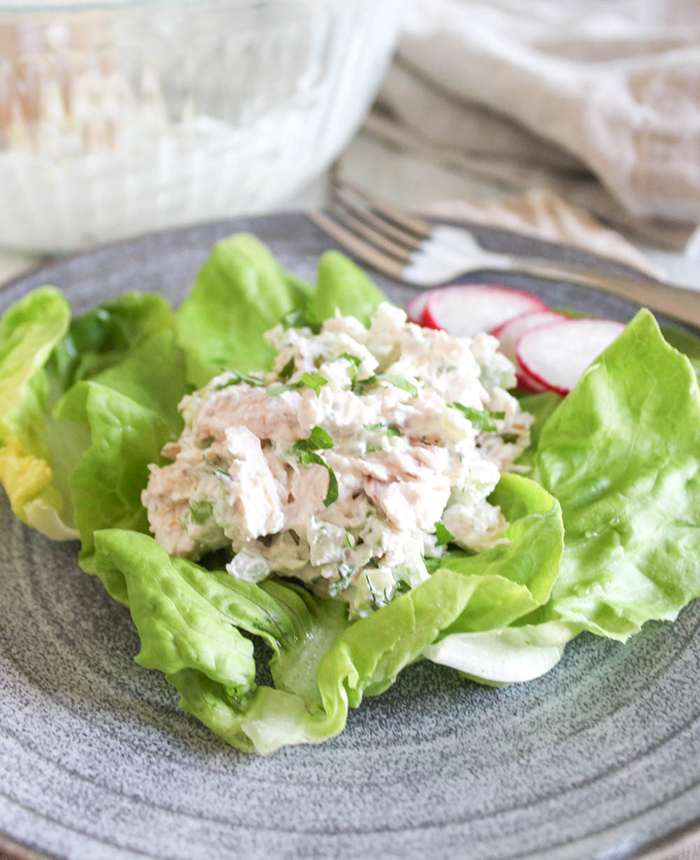 This is my favorite way to make chicken salad, and the best part is that it's easy to make! It's a great way to use up leftover chicken or you can use shredded chicken from boneless chicken breasts or rotisserie chicken from your supermarket for a quick and easy meal.
Why This Recipe Works
It's healthy! Made with Greek yogurt and a just a touch mayonniase.
It's customizable, see below for recipe variations.
Chicken salad is perfect for meal prep.
Chicken Salad Ingredients
As an Amazon Associate, I earn from qualifying purchases.
This is an overview of the ingredients and steps to make this recipe, scroll down to see the ingredients notes and substitutions as well as a printable recipe card with exact measurements and instructions.
Cooked chicken
Celery
Greek yogurt
Fresh Herbs such as fresh dill, parsely, thyme
Fresh lemon juice
Green onions (optional for garnish)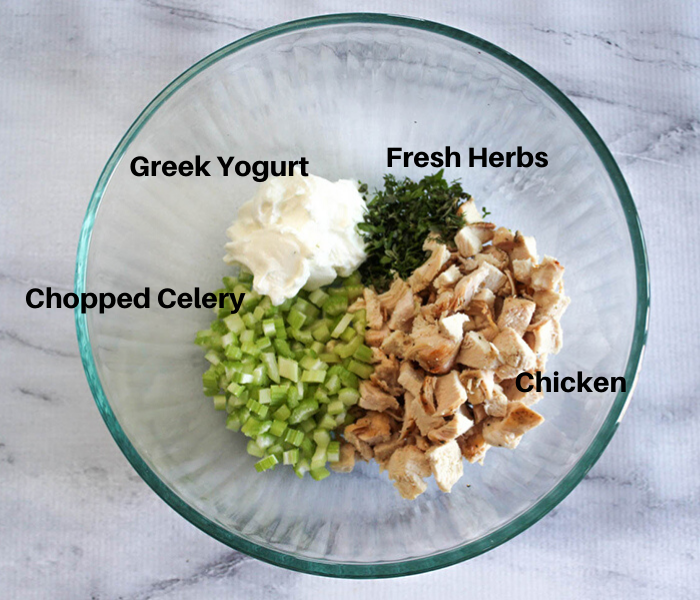 Here is How to Make This Easy Classic Chicken Salad Recipe
Prepare the ingredients: Chop the celery, herbs, and chicken. Measure the Greek yogurt and mayonnaise.
Estimated Time To Make This Recipe: 10 to 15 minutes (does not include time to cook the chicken)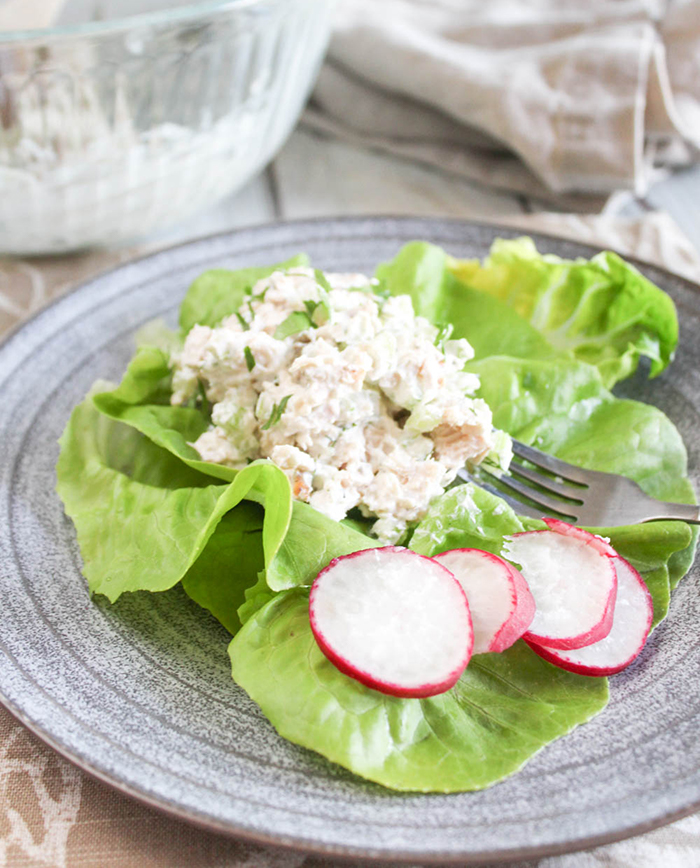 Ingredient Notes & Substitutions
Chicken. If you don't have leftover chicken, you can easily make shredded chicken with boneless chicken breast meat or you can also pick up a rotisserie chicken from the supermarket.
Here is how to make shredded chicken.
Yogurt. The best yogurt to use in this recipe is plain full-fat or low-fat Greek yogurt. It's just the right texture to make a creamy chicken salad. If Greek yogurt is not available, it can be substituted with sour cream.
Mayonnaise. I use mayonnaise that is made with avocado oil in this creamy chicken salad, but you can use any typical mayonnaise of choice.
Fresh Herbs. Just about any combination of fresh herbs works in chicken salad. We like fresh thyme and dill. Other suggestions are; parsley, basil, oregano, rosemary, and mint.
Celery. Crisp celery adds a nice amount of crunch to this chicken salad, if you don't like celery, and you still like a little bit of crunch, add an equal amount of diced carrots.
If you like the celery flavor, but not the crunch, add a dash of celery salt.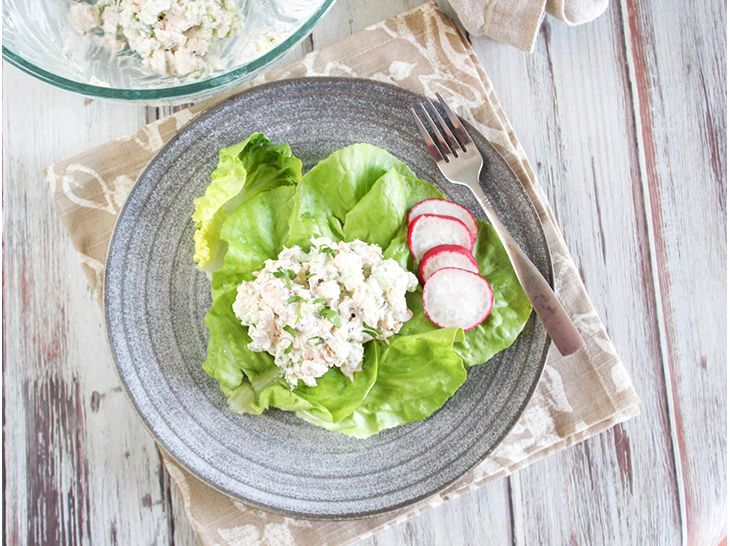 How to Store Leftover Chicken Salad
Leftover chicken salad will last in the refrigerator for up to 3 days in a glass food storage container. Freezing chicken salad is not recommended.
Serving Suggestions
Serve this savory chicken salad for a quick dinner or lunch on a plate with salad greens, in lettuce cups or between 2 slices of bread, your favorite roll, tortilla wrap or stuff it into pita pockets.
Recipe Variations
There are many different variations of chicken salad. You can easily change up the flavors in this recipe by following the basic recipe, and try adding any of these combinations:
Make it sweet and tangy. Add 1 tablespoon dijon mustard and 1 tablespoon of dill or sweet pickle relish.
Make it sweet. Use orange juice instead of lemon juice and add ¼ cup dried cranberries.
Add Veggies such as a ½ cup diced carrots or red peppers for extra veggies.
Add Crunch Take the crunchy celery to the next level a nice crunch with a ½ cup chopped walnuts, almonds, water chestnuts or pumpkin seeds.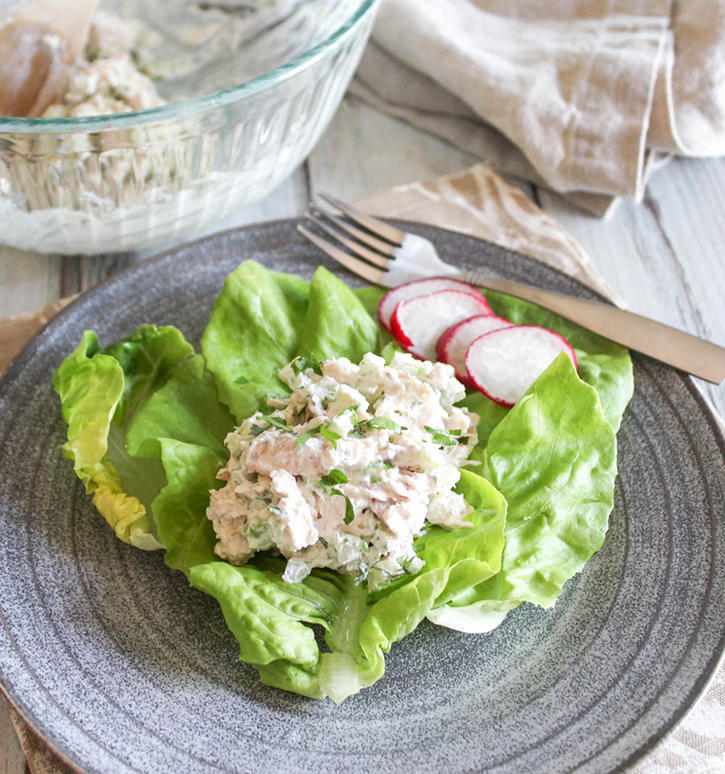 You might also like these salad recipes
Macaroni Salad with Tuna
Deviled Egg Salad
Spinach Pasta Salad with Sun Dried Tomatoes
Summer Cucumber Salad with Blueberries
Please see more list about Healthy chicken salad recipe with greek yogurt
Detail: 🔗