I may earn a commission from purchases made through links in this article. Read the full disclosure here.
I'm thrilled to share with you a homemade recipe for Boiling Crab sauce. This buttery, spicy, and cajun-flavored sauce takes shrimp to a whole new level. While you may not be able to make it to New Orleans for Mardi Gras, this sauce will transport you straight to Bourbon Street!
This sauce is inspired by the famous "Whole Sha-Bang" sauce from the seafood restaurant chain known as the Boiling Crab. Known for its seafood boils, this restaurant is particularly famous for its "Whole Sha-Bang" sauce. When combined with various ingredients, this sauce becomes something truly extraordinary.
At its core, this is a garlic butter sauce. However, it becomes truly special with the addition of cajun seasoning, lemon, cayenne pepper, paprika, and Old Bay seasoning. Trust me, you'll want to lick your fingers clean after trying this sauce!
This is one of our favorite ways to prepare shrimp, and we're confident you'll love it too! If you haven't tried Cajun shrimp before, you're in for a real treat. This sauce is bursting with flavors.
And in a seafood boil, the sauce is everything. This addictive crab boil sauce can be used with any cooked seafood, but it pairs exceptionally well with shrimp, andouille sausage, potatoes, and corn. Yes, you read that right. The Boiling Crab sauce is typically served with shrimp. We're not sure why, but it's so wonderfully spicy, bold, and delicious that we don't question it!
If you're looking for other sauces to accompany your seafood, consider trying our imperial sauce, garlic butter sauce, our copycat Mumbo sauce, or for a more tropical twist, our coconut cream sauce.
Ingredients
This sauce is essentially a garlic butter sauce enriched with bold and flavorful seasonings. Adjust the level of spiciness to your liking by tweaking the amounts of cayenne pepper and chili powder.
Butter: Opt for unsalted butter to have better control over the saltiness.
Garlic: Always use fresh garlic for the best flavor. Avoid jarred garlic if possible.
Old bay seasoning: If you're familiar with it, you know it's the unmistakable flavor of Maryland crab boils.
Paprika: This spice adds a subtle flavor while providing a rich color to the sauce.
Cajun seasoning: A must-have for any authentic Cajun shrimp boil sauce.
Sugar: Stick to white granulated sugar. Avoid using brown sugar.
Hot Sauce: If you can find Louisiana hot sauce, it will add an extra touch of authenticity. However, feel free to use your favorite hot sauce if you can't find it.
Oregano: We love the warmth and coziness that oregano brings to sauces.
Cayenne pepper: Bring on the heat!
Chili powder: Adds spiciness and depth of flavor.
Lemon pepper: Provides a tangy and peppery twist. If you don't have lemon pepper, squeeze some lemon juice and add a pinch of black pepper as an alternative.
Fresh lemon juice: Balances the heat and spiciness of the sauce. Fresh lemon juice is highly recommended.
How to Make Boiling Crab Sauce
Making this sauce is incredibly simple. All you need to do is melt the butter, then add all the seasonings. Once you have gathered your ingredients, you can enjoy a Cajun shrimp boil in less than 30 minutes.
To use the Boiling Crab sauce, add steamed or boiled seafood (shrimp, sausages, potatoes, etc.) to a large bowl. Pour the sauce over the seafood and toss everything until evenly coated. Serve with corn on the cob, cornbread, and plenty of napkins!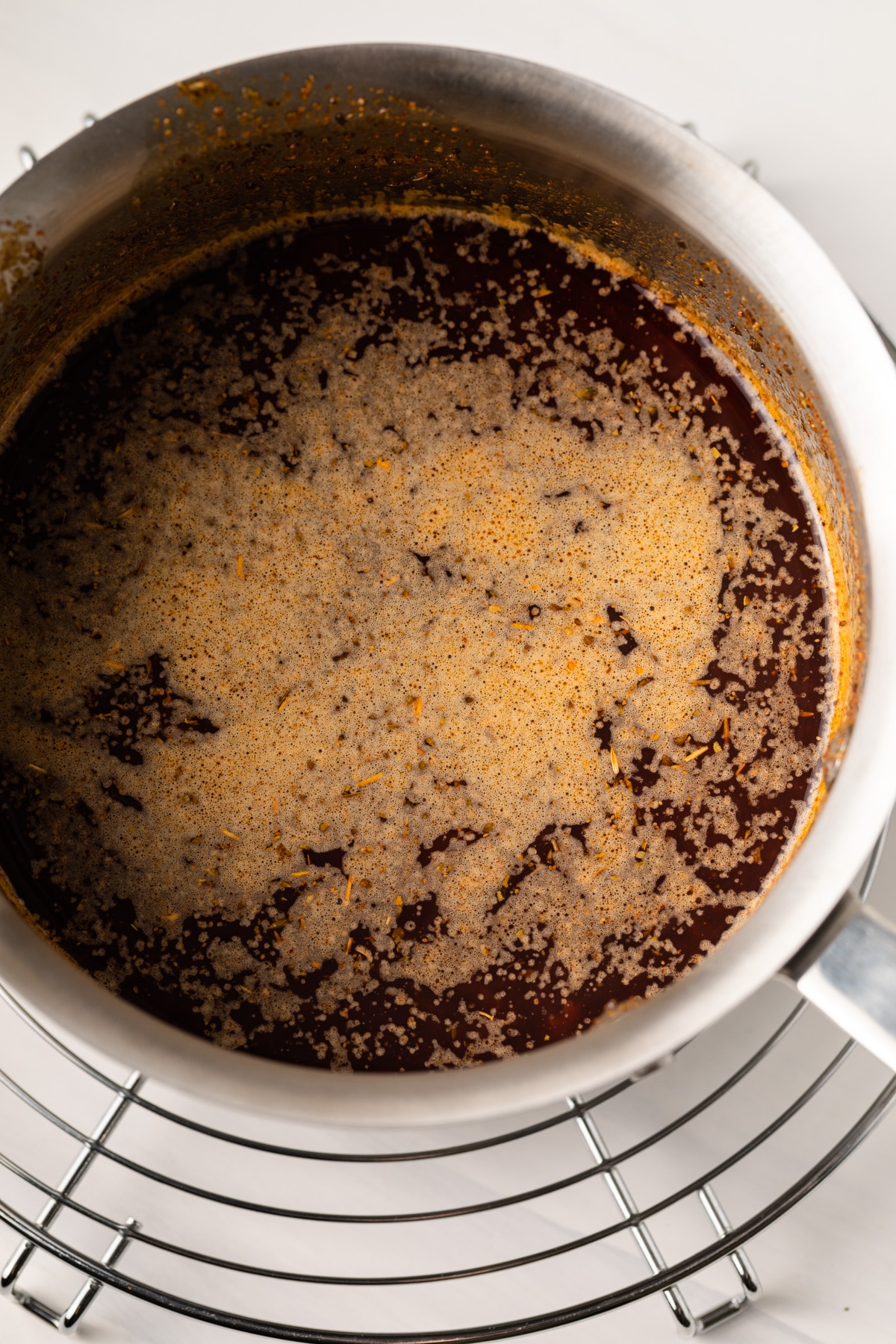 In a large pot, melt the butter over medium-low heat.
Once melted, reduce the heat to low and add garlic powder, minced garlic, Old Bay seasoning, paprika, cajun seasoning, sugar, cayenne pepper, chili powder, and lemon pepper. Cook for 30 seconds until the spices become aromatic.
Stir in the hot sauce and lemon juice. Simmer for 5 minutes.
Use the sauce immediately.
Substitutions
The beauty of sauces is that you can easily make ingredient substitutions if you don't have something on hand. If you're out of cayenne pepper or desire extra spiciness, add some red pepper flakes. No lemon pepper? Mix black pepper into a teaspoon of lemon juice instead. Feel free to get creative!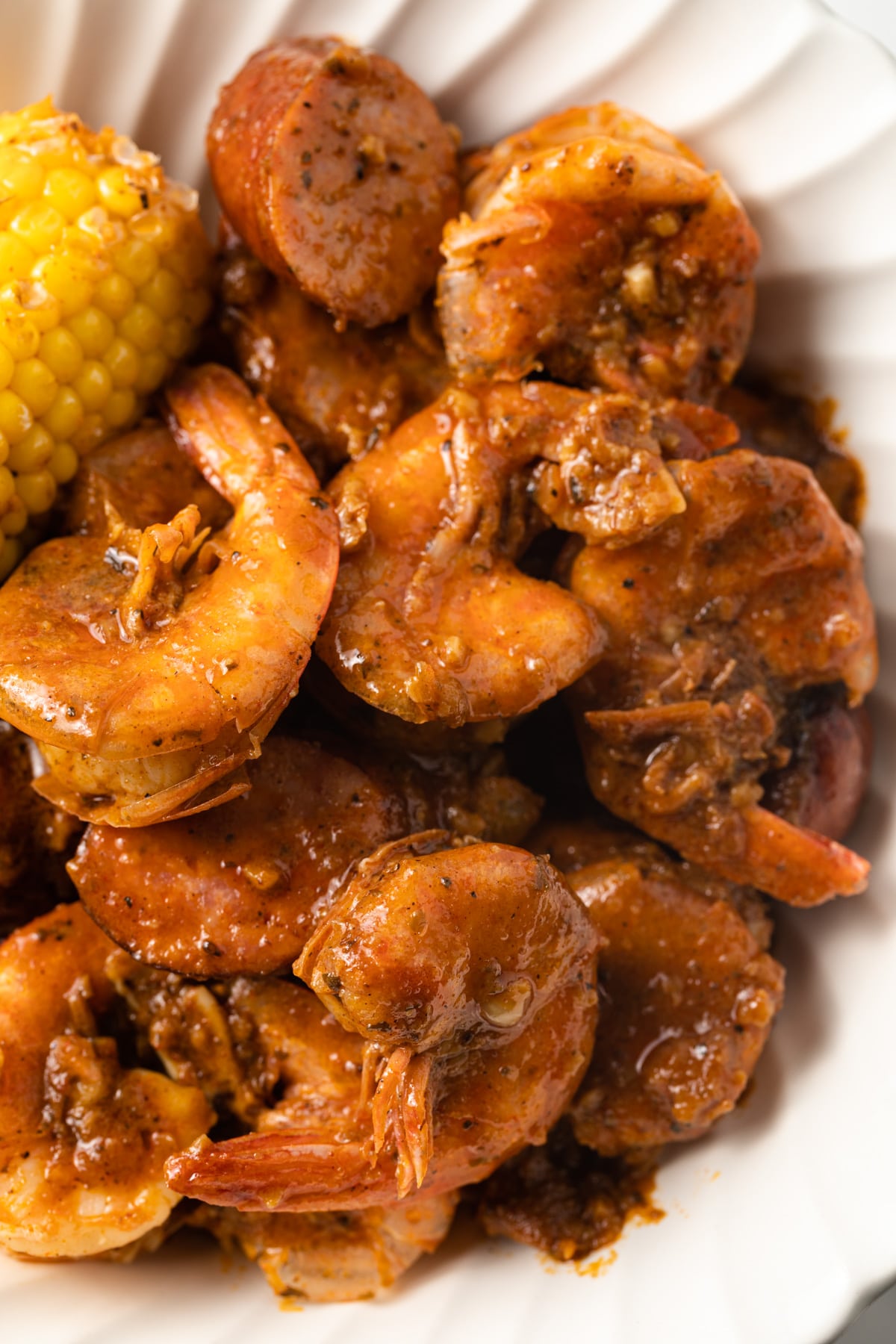 Storage
This sauce is best enjoyed immediately.
Tips
When using this sauce, pair it with two pounds of shell-on shrimp for maximum enjoyment. The fun part of this dish is peeling off the shrimp shells with your fingers. For even more flavor, dip the shrimp in some extra sauce from your bowl.
Remember to visit Family Cuisine for more delicious recipes and culinary inspiration.