This one pan Roasted Turkey Thighs and Drumsticks is perfect for a small gathering. Short on time? Feeding a small crew? In just a couple of hours you can put a delicious Thanksgiving dinner on the table. Mix and match a few of your favorite side dishes and you're all set!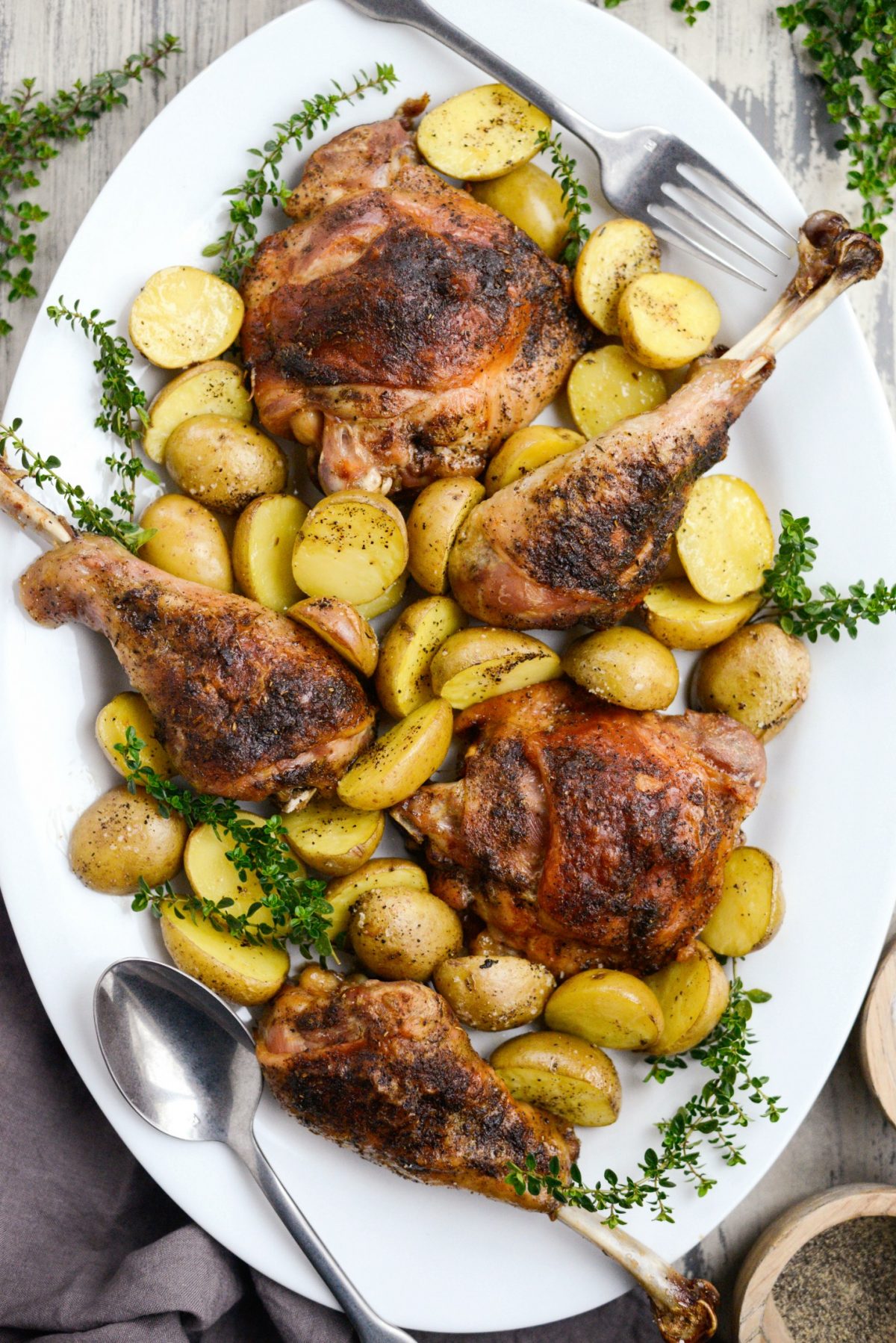 Reading: Turkey legs and thighs roasted
Roasting a whole turkey can be intimidating. I would know, I had to roast a huge 24 pound turkey a couple of years ago and I was a nervous wreck about it. Luckily my mother-in-law only needed me to host that one year, because my in-laws were remodeling their kitchen. However that one time was enough for me. After that year's Thanksgiving, I had a whole new appreciation for my mother-in-law and the work she goes through to put on Thanksgiving dinner every year. And she roasts TWO turkeys!
Now this roasted turkey thighs and drumsticks recipe is more my speed. My grocery store sells turkey thighs and drumsticks separately (I was hoping they had a bone-in breast too, but they do not) and I had this idea of making a one-pan thanksgiving jam. I roasted the turkey thighs and drumsticks similar to how I roast chicken, while somewhat following how my own mom roasts a whole turkey.
Aka with lots of butter.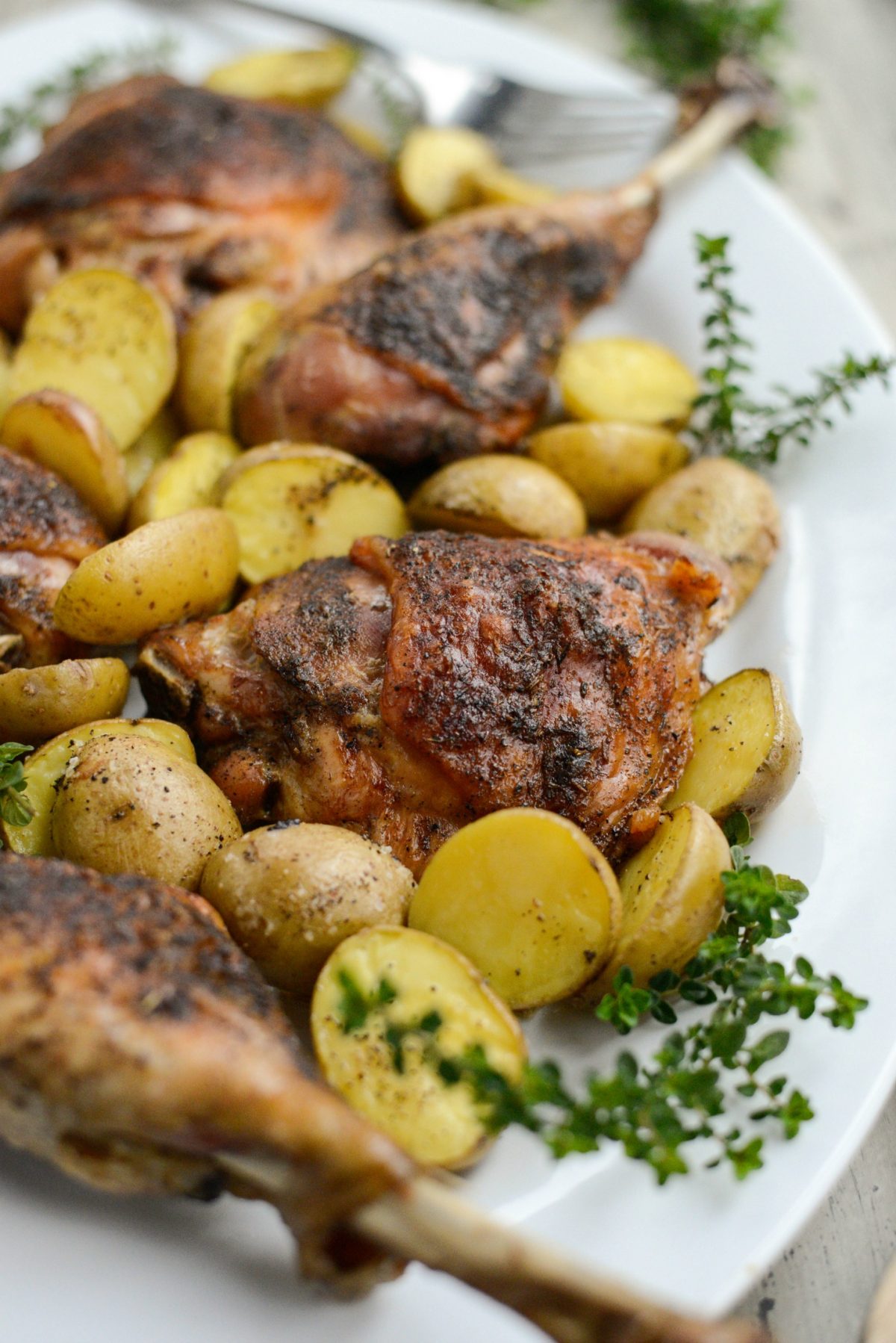 It only take a couple of hours in the oven and yet my whole house smelled like Thanksgiving Day.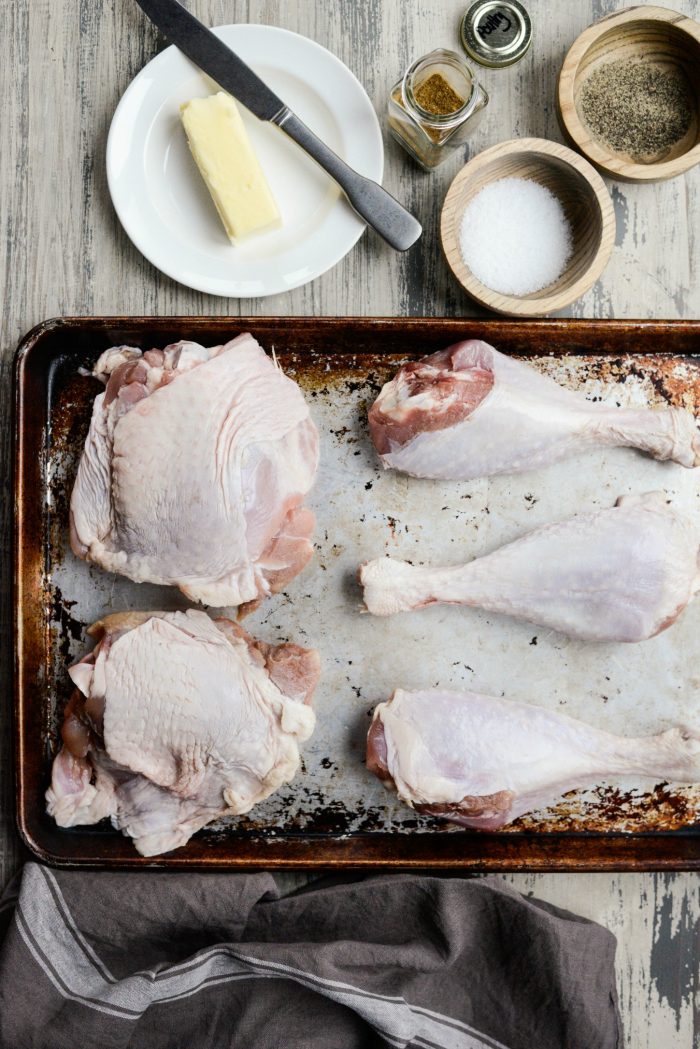 To Make This Roasted Turkey Thighs and Drumsticks You Will Need:
turkey thighs and drumsticks
unsalted butter
kosher salt
ground black pepper
poultry seasoning
baby Yukon gold potatoes
You can roast as little or as many turkey pieces as you need. I'm roasting 5-1/2 pounds. Three pounds in thighs and 2-1/2 pounds in drumsticks, this would probably feed a family of 4 or 5 easily. But if you have a large roasting pan, you could definitely roast more, just adjust the butter and seasonings amounts.
I find it easy to prep everything on a metal, rimmed baking sheet. You don't want to actually roast the turkey on this, there will be way to much liquids it will overflow.
Start by patting the turkey dry with paper towel.
Read more: The top 10+ pork spare ribs on the grill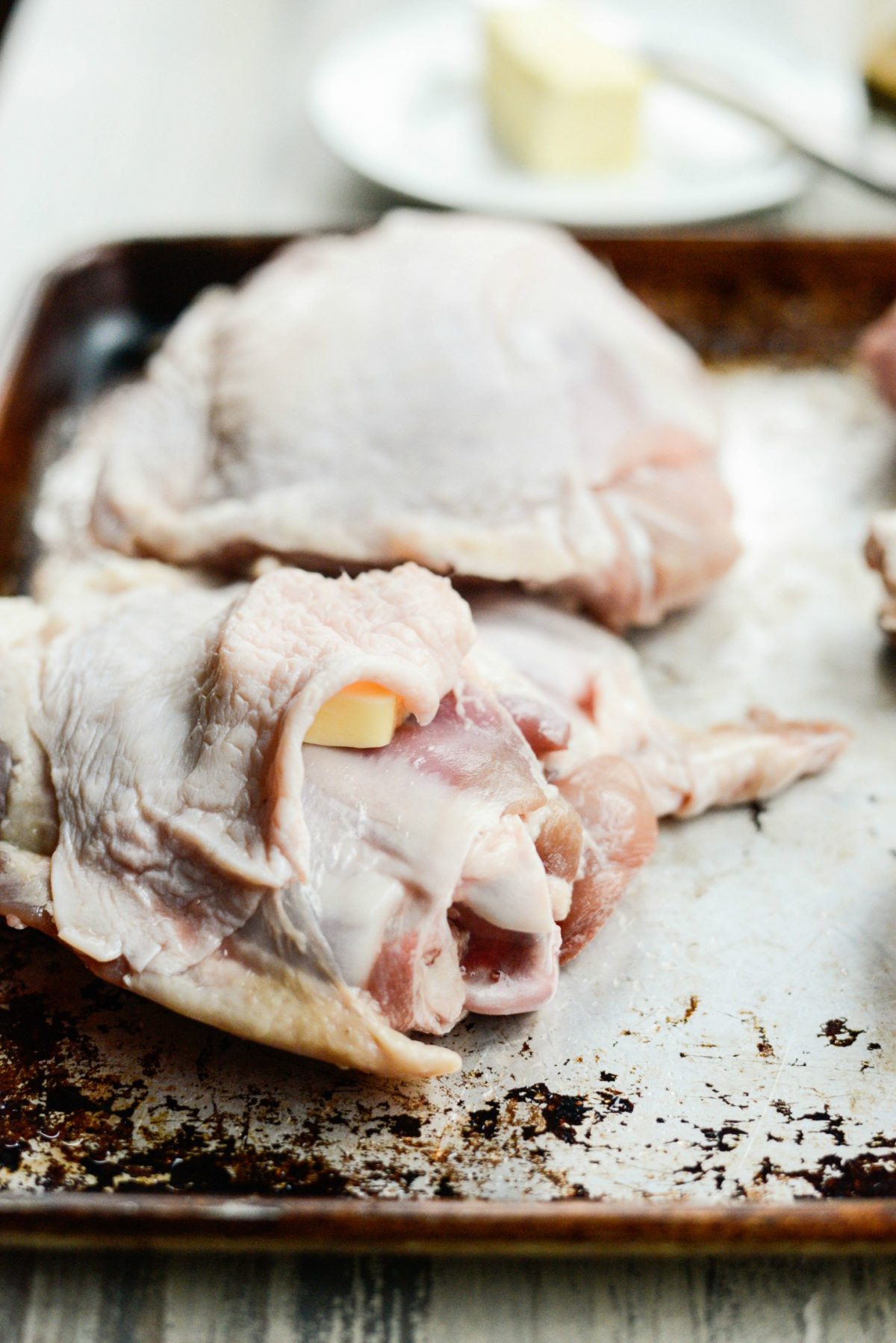 Insert your finger underneath the skin and gently but firmly pull the skin away from the flesh. Using super soft butter, massage a little butter under the skin and into the turkey meat. Then rub the entire outside of each piece of turkey with butter.
Place the turkey pieces into your lightly oiled roasting pan and season with kosher salt, black pepper and poultry seasoning. Cover your pan tightly with aluminum foil and slide the roasting pan onto the middle rack of your preheated 350° oven. Roast [covered] for 1 hour, rotating the pan halfway through.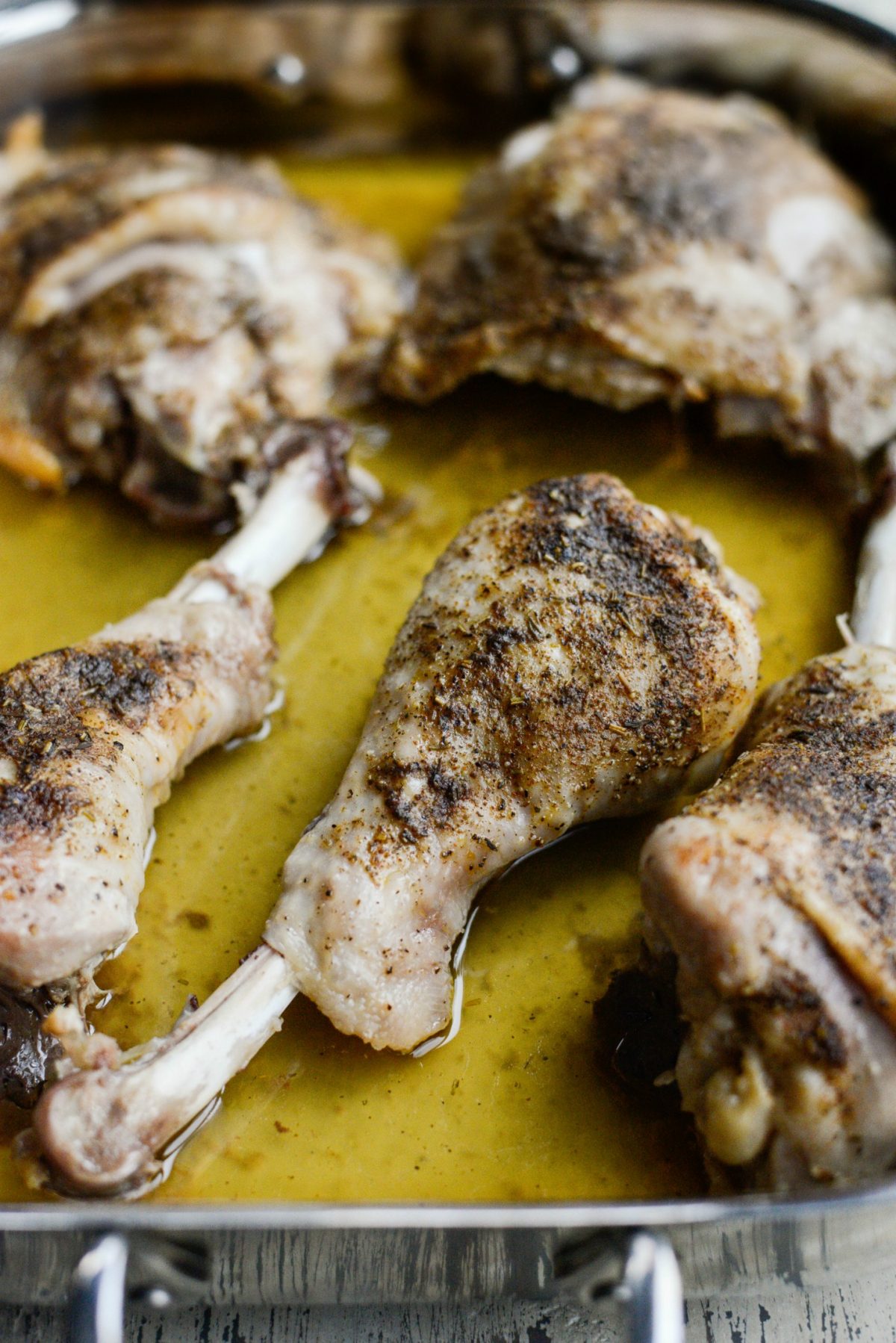 Use oven mitts to tip the pan a little and use a spoon to baste the turkey pieces generously with the pan drippings.
Then arrange halved Yukon gold baby potato around your turkey pieces and use the pan drippings to drizzle over the potatoes as well.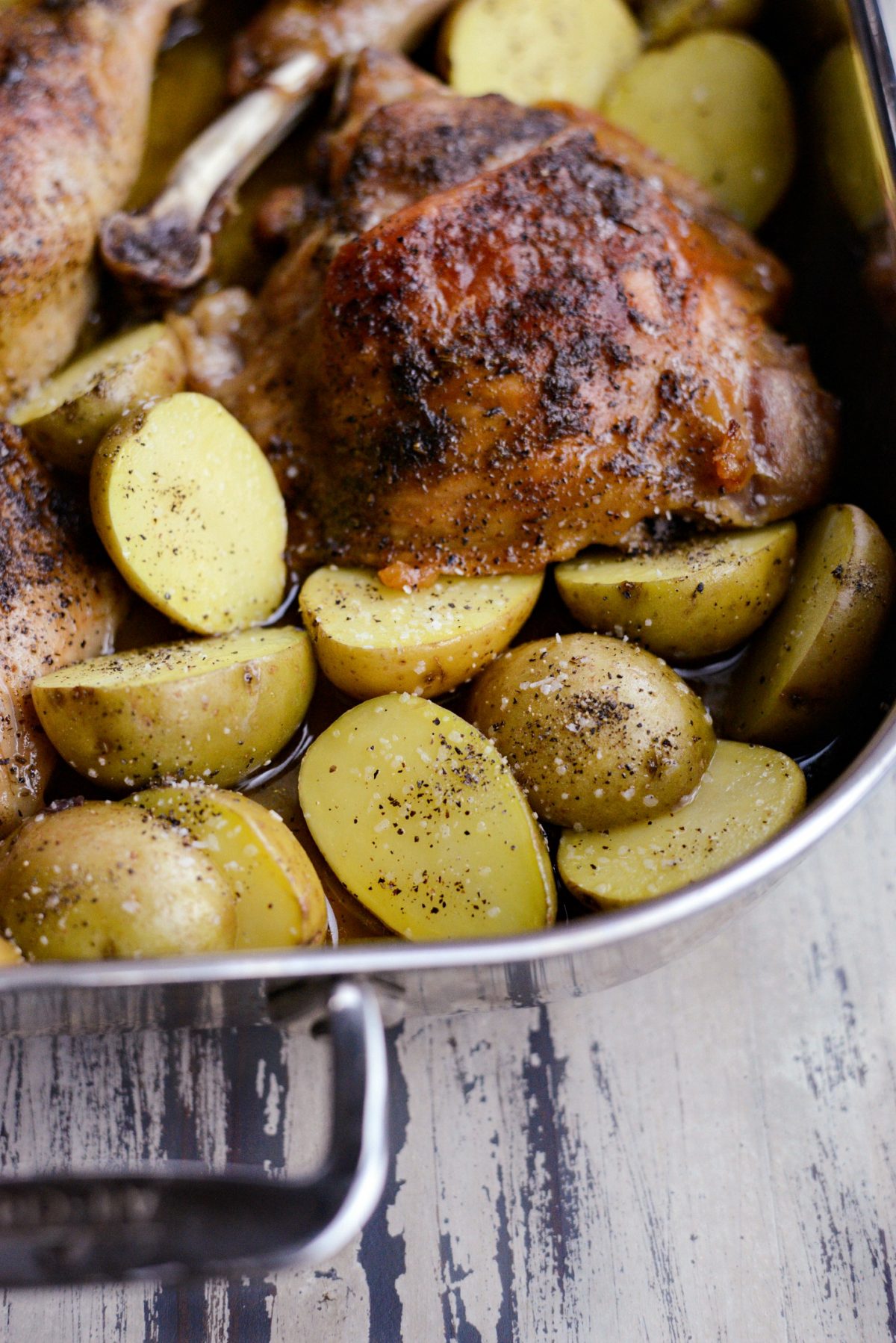 Read more: Crock-Pot Brown Sugar Glazed Ham
Next season the potatoes with kosher salt and black pepper before sliding back into your oven [uncovered] for 20 minutes. Then remove and baste. Roast for 20 more minutes and repeating this step one more time. For a total of 40 to 60 minutes.
Or until the potatoes are tender and the turkey is fully cooked and the skin is deliciously crisp and brown.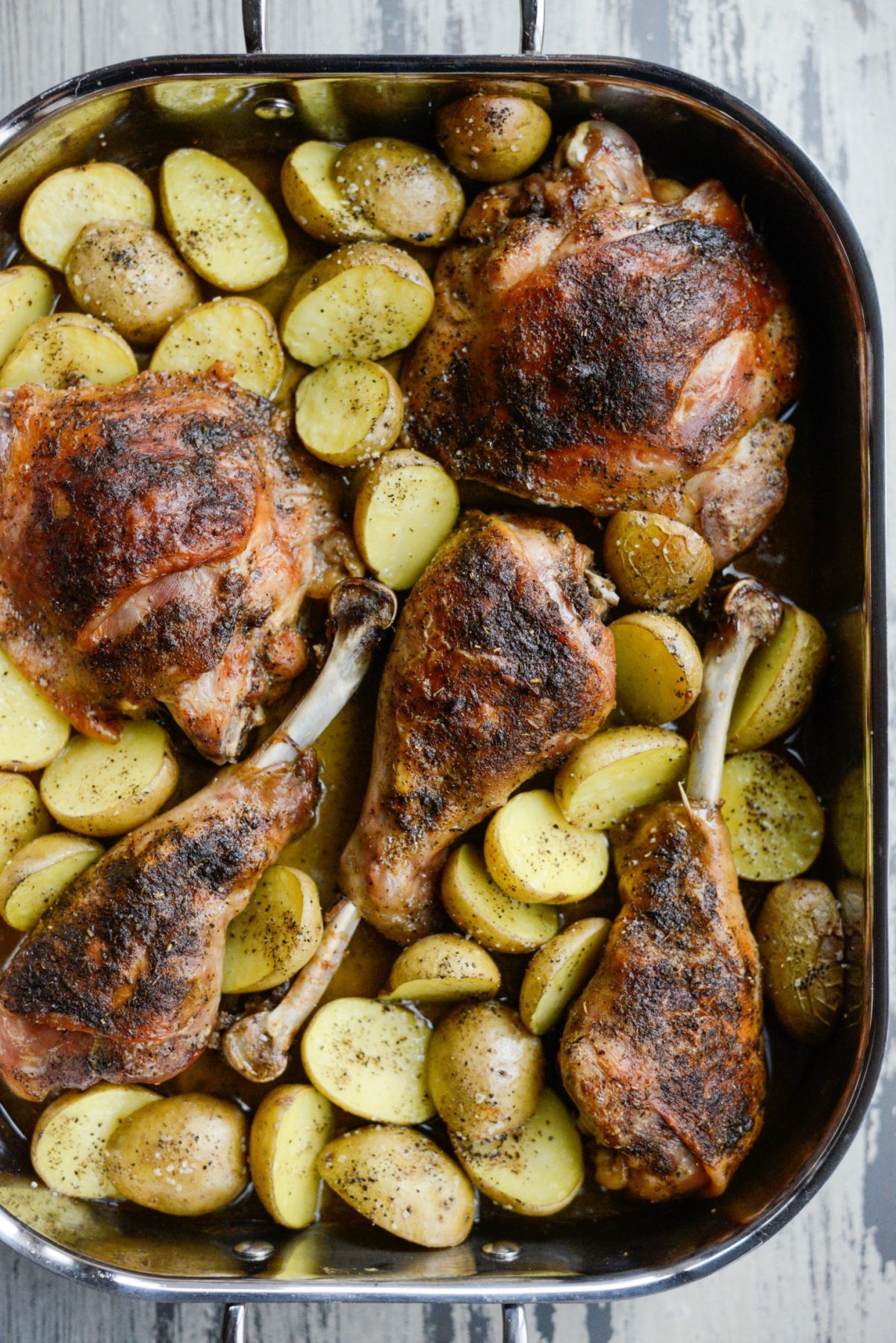 I really wish you could smell this!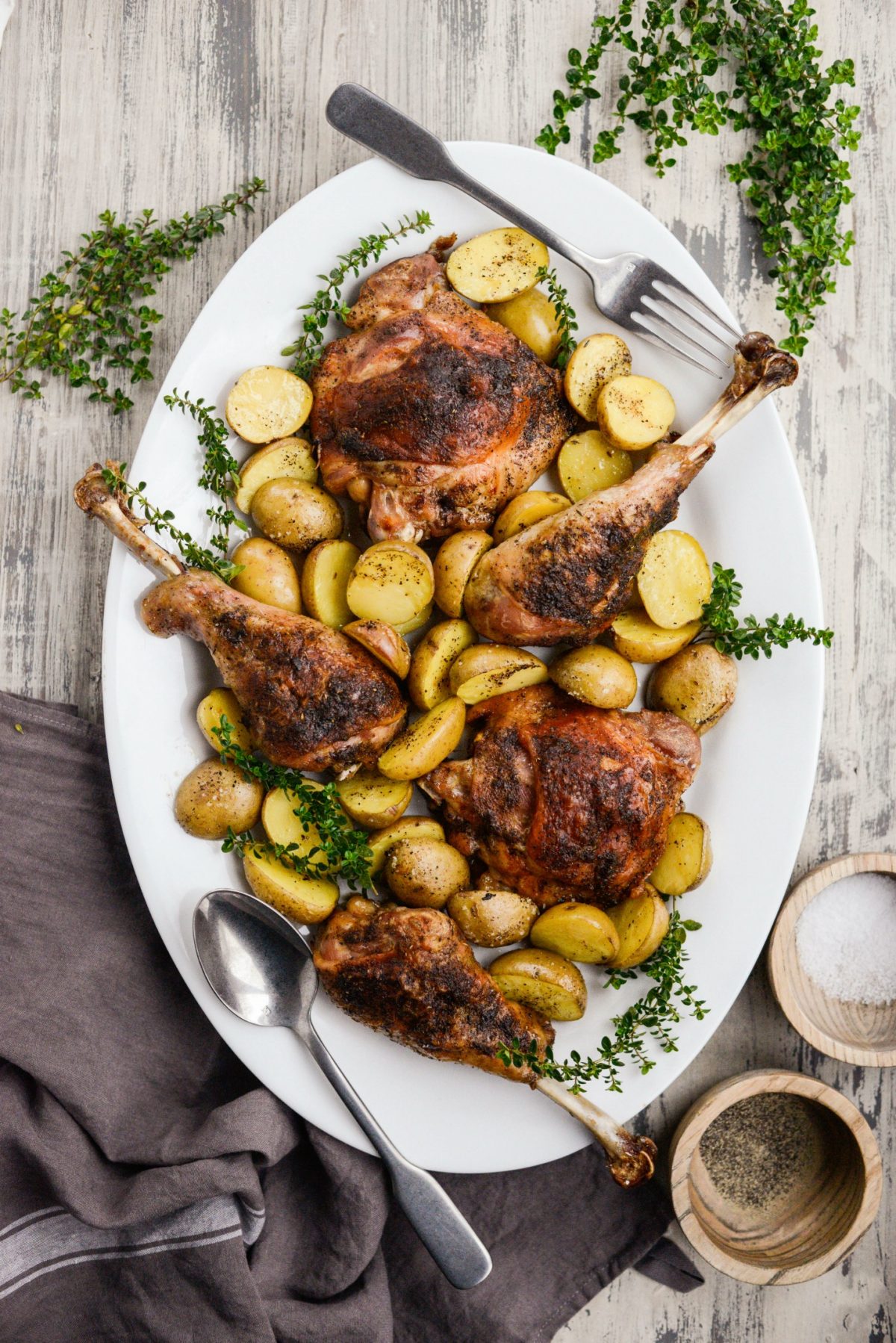 I served the turkey on a giant platter along with the potatoes. Then, if making this for Thanksgiving, I'd serve it with some of my favorite side dishes, like broccoli casserole, green bean almondine, maple balsamic roasted Brussels sprouts or bacon and leek stuffing.
Also, you can use the pan drippings to make an excellent gravy.
Skin so crispy and perfectly seasoned I could just die.
Enjoy! And if you give this Sheet Pan Roasted Turkey Thighs and Drumsticks recipe a try, let me know! Snap a photo and tag me on twitter or instagram!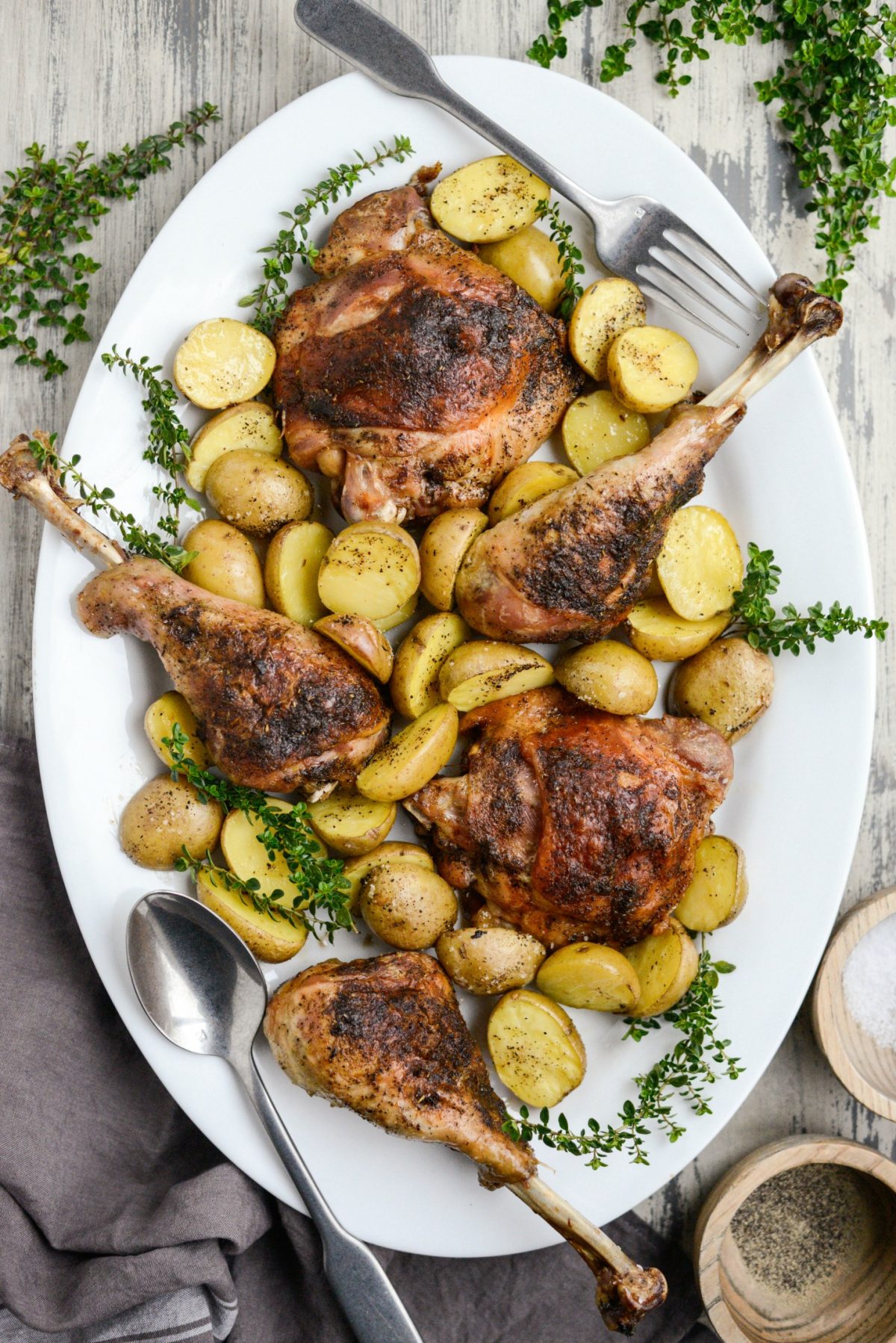 Read more: The 7 Best Electric Grills, According to Lab Tests
For more information, please see more information about Turkey legs and thighs roasted
Source: https://www.simplyscratch.com/roasted-turkey-thighs-and-drumsticks-potatoes/