Sheet pan dinners are fast, simple and so convenient! This smoked sausage and vegetables recipe is made with broccoli, asparagus, red peppers, and potatoes in a sheet pan with a mouthwatering lemon herb marinade. And this one only take 10 minutes to prep!
Sheet pan dinners have become a favorite here in our house and it's something the whole family loves! They're quick to prepare and effortless to make. Sheet pan dinners, like this Easy Balsamic Roasted Chicken Sheet Pan Supper are perfect for those busy weeknight. Most of my sheet pan dinners are chicken based so I decided to switch things up a bit and try one made with sausage and veggies.
And let me tell you, this sausage sheet pan dinner turned out amazing! Full of zesty flavor, this one is delicious!
Why This Recipe Works
This sausage recipe is super fast and easy to make,
An excellent choice for meal prep,
Makes for an amazing freezer meal,
It's a sheet pan recipe!
Ingredients
Let's start with how versatile and healthy this sheet pan dinner is. I like using smoked sausage for sheet pan recipes, but you can use any type of sausage you want. Pre-packaged sausage is convenient but fresh grilled or smoked sausage is also a great choice. When it comes to the vegetables, you can use just about any fresh veggie you can think of! Some favorites I like to use are listed below.
And what do all these ingredients have in common? FRESH, HEALTHY, full of nutrition and vitamins….oh and fiber! There's a lot of fiber in this meal!
Now, let me introduce you to the marinade.
It's a marinade I just can't live without! Full of zesty flavor, this one starts with an olive oil and white wine vinegar base mixed with smoked paprika, garlic powder, fresh squeezed lemon juice, oregano, parsley, salt, and pepper.
Step-by-Step Recipe Instructions
We'll start by chopping the fresh veggies into bite-size pieces and then place them in a colander.
After the fresh veggies are cut, rinse them well. Look at all that color! That's NUTRITION right there! This is a powerhouse smoked sausage recipe.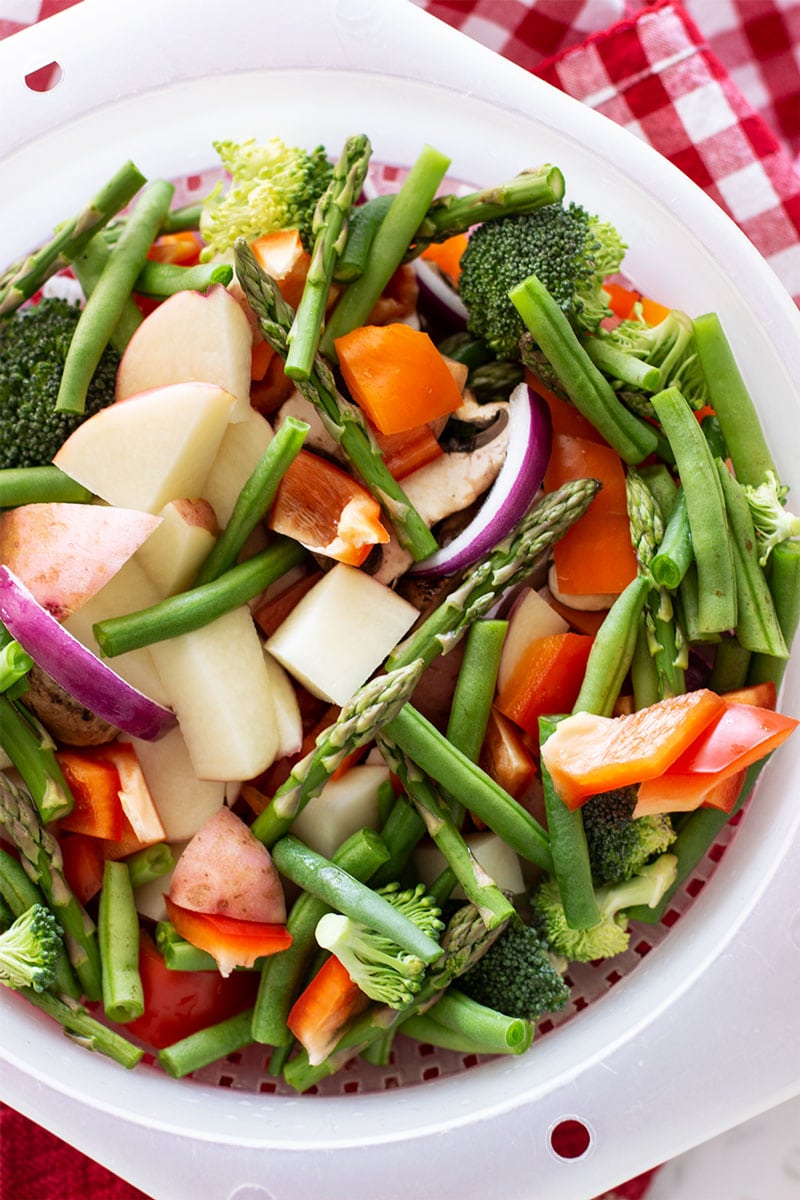 Next, you're going to cut the sausage into coin shaped bite-sized pieces. Stay with me here because I'm going to talk about the different types of sausages you can use in this recipe below. There's actually a TON of options.
From there, prepare the marinade I mentioned earlier and toss all the veggies, sausage, and marinade into a gallon size Ziplock bag. Seal it tight and let it marinate in the refrigerator for at least 15 minutes.
After the smoked sausage and veggies have finished marinating, line a cookie sheet or metal pan with aluminum foil (or use as silipat) and spread evenly. Now, it's time to place this healthy sheet pan dinner into the oven to cook.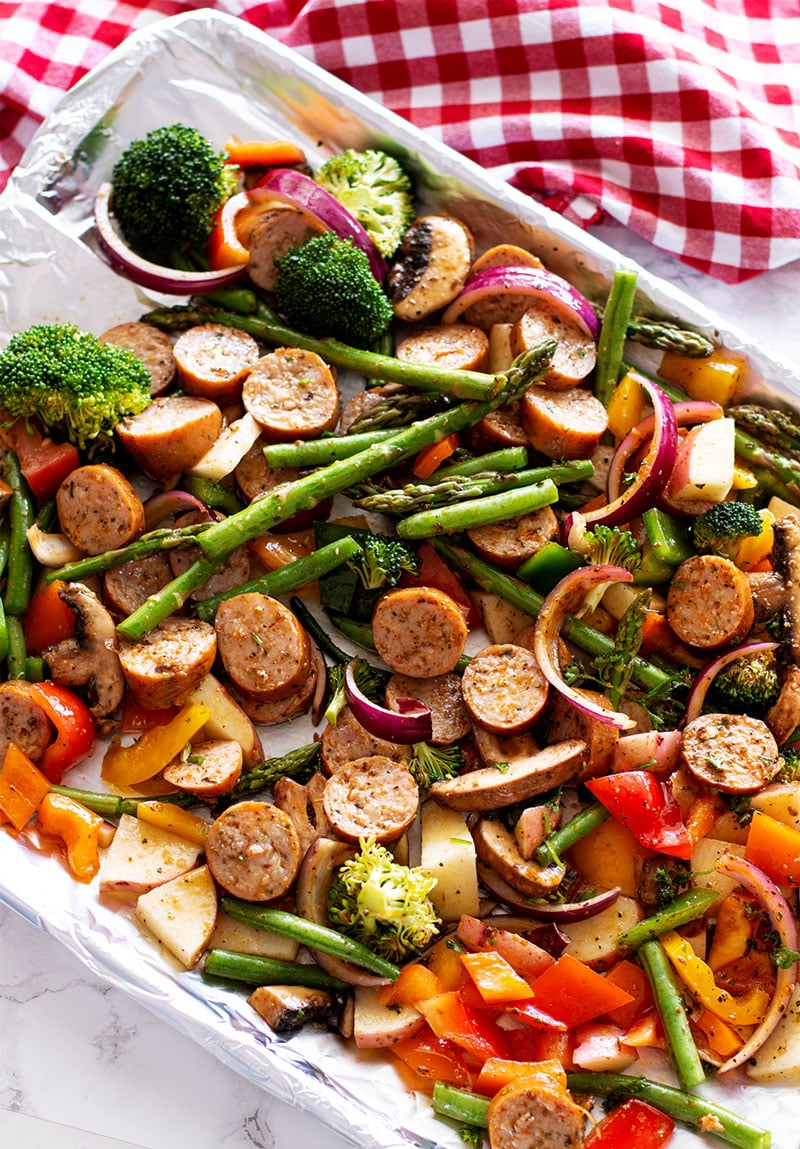 Let the veggie and sausage bake in the oven for 30 minutes, stirring once about 15 minutes into the cooking time. After 30 minutes, you're done and ready to eat!
Types of Sausage
There are SO many types of sausage you can use and chicken sausage recipes tend to be one of my favorites. Typically, I use Hillshire Farm Chicken Smoked Sausage Roasted Garlic flavor. It's lower in fat and it's chicken based. However, there are days when I want more fat in my diet, so I'll use a pork sausage on those days. I really like Johnsonville New Orlean's Style Smoked Sausage. It adds a bit of spice to the flavor.
Versatility
Sheet pan dinners are extremely versatile and come in handy when doing meal prep. On my low carb days, I eat the sausage and veggies straight out of the pan…well, not really. I do grab a bowl or a plate (ok, sometimes).
On my busy days where I need a little more energy, I pair the smoked sausage and vegetables with either rice or quinoa. I have two different rice recipes that you MUST try pairing with sheet pan dinners. My Ono Rice is a traditional family recipe you don't want to miss! But if you're in a hurry, you can make my Instant Pot Rice recipe. This recipe also pairs really well mashed potatoes. Quinoa is also super delish.
The beauty of this dish is that you get to choose! It really does pair well with so many things.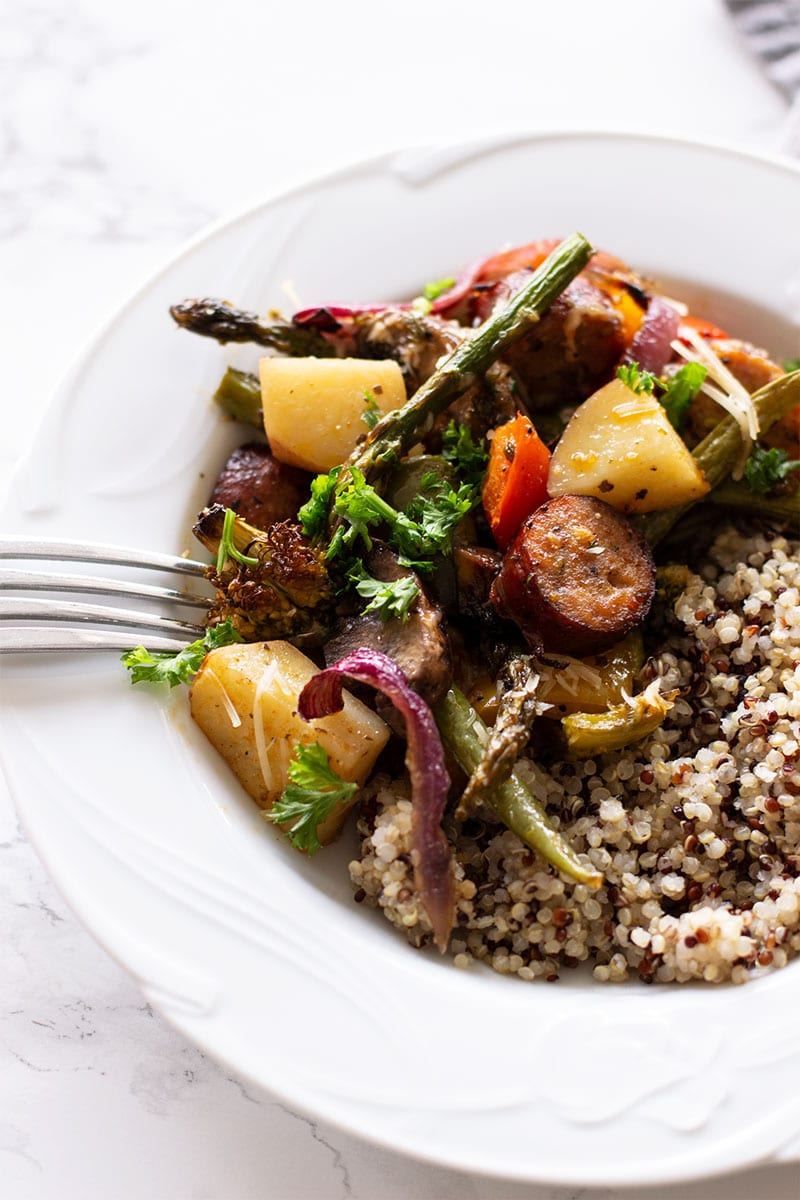 Expert Tips & FAQs
Vegetables – Picky about your vegetables? No problem! Use your favorite vegetables in this recipe. Use SEASONAL vegetables in this dish! It's AMAZING with eggplant! Oh, and leave the peeling on the potatoes. That's where all the nutrients are! Sheet pan roasted vegetables are delicious!
Marinade – I recommend letting the fresh vegetables and sausage marinade overnight, but if you don't have that kind of time, try letting it marinate for 1 hour. If that's not doable, 15 minutes will do. Just remember…the longer the marinade process, the more flavorful your dish will be!
Freezer Meal – Sometimes I like to double this recipe so I can freeze a batch. Note that I always make my marinade fresh…I just freeze my veggies and sausage. When you're ready to pull this out of the freezer, let it sit out for an hour to thaw and then whip up your marinade. From there, throw the marinade in the Ziplock baggie and throw it in the refrigerator and let it marinate.
Meal Prep – This is the PERFECT recipe for meal prep! This makes the best lunch and it's so good the next day! Add in your rice/quinoa, veggies and sausage and you have a perfectly balanced meal!
Did you make this recipe? If you did, make sure to tag me @recipesworthrepeating on Instagram and hashtag it #recipesworthrepeating so I can see all your wonderful recipe creations!
Also, remember to subscribe to the Recipes Worth Repeating newsletter to receive new recipe notifications delivered to your inbox! Follow Recipes Worth Repeating on Facebook | Instagram | Pinterest | Twitter for all of the latest updates, recipes and content!
Update Notes: This post was originally published in September 2017, but was re-published with updated step-by-step instructions, pictures, and tips in August 2020.
Please see more list about Smoked sausage and roasted vegetables
Detail: 🔗