This recipe for Shrimp Boil in the Instant Pot is a breeze to make and packed with flavorful ingredients like perfectly cooked potatoes, sausage, corn, and jumbo shrimp. The dish is then generously coated in seasoned butter for an irresistible taste.
I absolutely love using my pressure cooker to create complete meals, just like my Instant Pot Meatloaf with Mashed Potatoes or Instant Pot Orange Chicken with Rice. It's the perfect tool for quick and convenient cooking.
The Definition of a Shrimp Boil
A shrimp boil, also known as a low country shrimp boil, is a beloved Southern dish often served at gatherings and parties. It consists of tender potatoes, sausages, sweet corn, and shrimp (or other seafood) all cooked together in a single pot. Each type of seafood is added at different times since they require varying cooking durations.
Ingredients for the Shrimp Boil
To make this recipe, you'll need the following ingredients. You can find the complete list in the printable recipe card below:
Baby Red Potatoes (baby gold or a mix will work too)
Andouille Sausage (experiment with different flavors like Cajun, smoked, or turkey)
Sweet Corn (fresh is best, but frozen works too)
Onion (use pearl onions or roughly chopped onion)
Shrimp (frozen large or extra-large; adjust cooking time for smaller shrimp)
Old Bay Seasoning (essential for that signature flavor)
Hot Sauce (cayenne pepper hot sauce; adjust according to spice preference)
Chicken Broth (beer can be used too, but it will retain the alcohol)
Butter
Lemon Wedges
Making the Shrimp Boil in the Instant Pot
During the summer months, I enjoy using my pressure cooker to avoid heating up the kitchen. This recipe is especially delightful when sweet corn is at its peak, allowing you to savor a lovely dinner on your patio!
Add Potatoes, Sausage, and Corn: Begin by placing the potatoes, sausage, and corn segments in the liner of your pressure cooker. If you prefer softer onions, add them at this stage.
Prepare the Seasoned Broth: Mix the chicken broth with hot sauce and old bay seasoning, and pour the mixture over the ingredients in the Instant Pot.
Cook at High Pressure: Set the Instant Pot to cook at high pressure for just 5 minutes, followed by a quick release of the pressure valve.
Add the Shrimp: Quickly add the shrimp to the pot, cover again, and cook at high pressure for only 1 minute. Release the pressure quickly once again.
Drizzle with Butter: Combine melted butter with garlic powder and old bay seasoning. Drizzle this delicious mixture over the shrimp boil and enjoy!
Perfect Accompaniments for the Instant Pot Shrimp Boil
Enhance the flavors of this Southern favorite by pairing it with these simple and complementary side dishes:
Coleslaw
Macaroni Salad
Slow Cooker Baked Beans
Sweet Cornbread
Alternatively, this Instant Pot Shrimp Boil can stand alone as a satisfying meal for a family of six!
Optimal Instant Pot Size
For this recipe, I'm using an 8-quart Instant Pot, but a 6-quart model works well too. If you're only cooking for a smaller group, the 3-quart Instant Pot should suffice if you halve the recipe.
Cooking Time in the Instant Pot
Although this Instant Pot recipe requires only 6 minutes on high pressure, the total cooking time will be approximately 35 to 40 minutes depending on the size of your Instant Pot and the starting temperature of the ingredients. It takes a few minutes for the broth to reach a boil and create enough pressure to seal the valve before the timer starts, and releasing the pressure also requires additional time.
Nevertheless, this fantastic one-pot recipe is a fantastic option for busy weeknights, parties, or camping adventures!
Selecting the Right Shrimp Size
In this particular recipe, I'm using "Super Colossal" size shrimp or extra-large shrimp (about 13 to 15 pieces per pound). Since shrimp is the star of this dish, I've opted for a generous 2-pound portion.
Pro tip: If you choose smaller shrimp, adjust the cooking time after adding them to 0 minutes on high pressure. Don't worry; they'll still cook perfectly without becoming overdone.
I prefer leaving the peels and tails on the shrimp since it makes the meal more enjoyable to eat with your hands. If you prefer peeled and deveined shrimp, that works too. No adjustments to the recipe or cooking time necessary.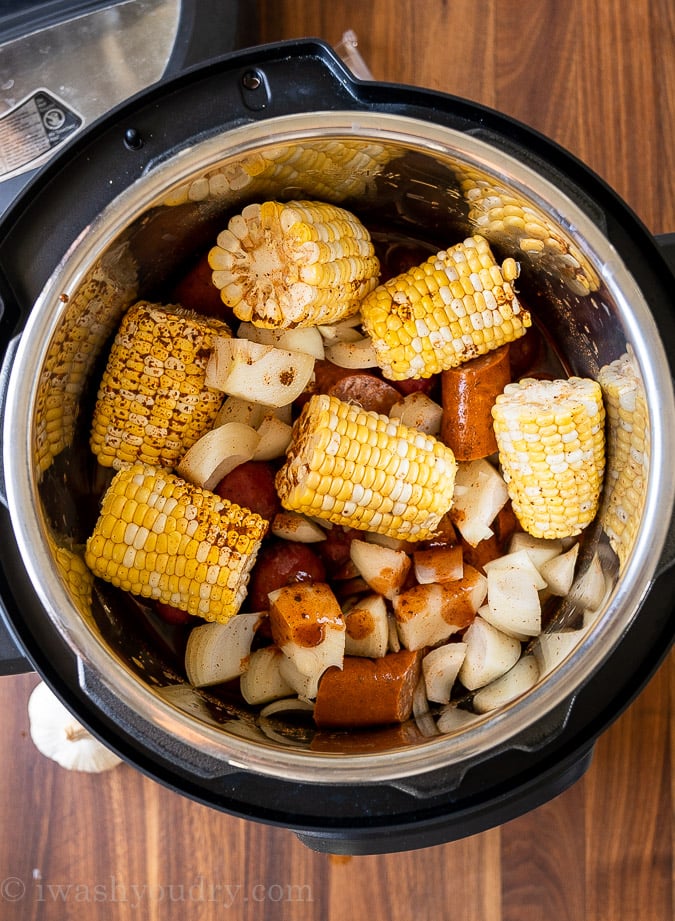 More Mouthwatering Southern Favorites
If you adore Southern cuisine as much as I do, here are some additional quick and easy Southern favorites you must try:
Red Beans and Rice
Instant Pot Corn Chowder
Instant Pot Potato Salad
Gumbo Casserole
I can't wait for you to give this incredible recipe a try! I hope you enjoy it as much as we do!
Family Cuisine is all about bringing loved ones together through amazing recipes, and this Instant Pot Shrimp Boil is no exception.