Shrimp Salad is an easy recipe that comes together in just minutes. It's a creamy, delicious lunch option that combines savory shrimp with a tangy dressing. Serve it on crackers, bread, or for a low carb option serve over lettuce. No matter how you serve it you're going to love it!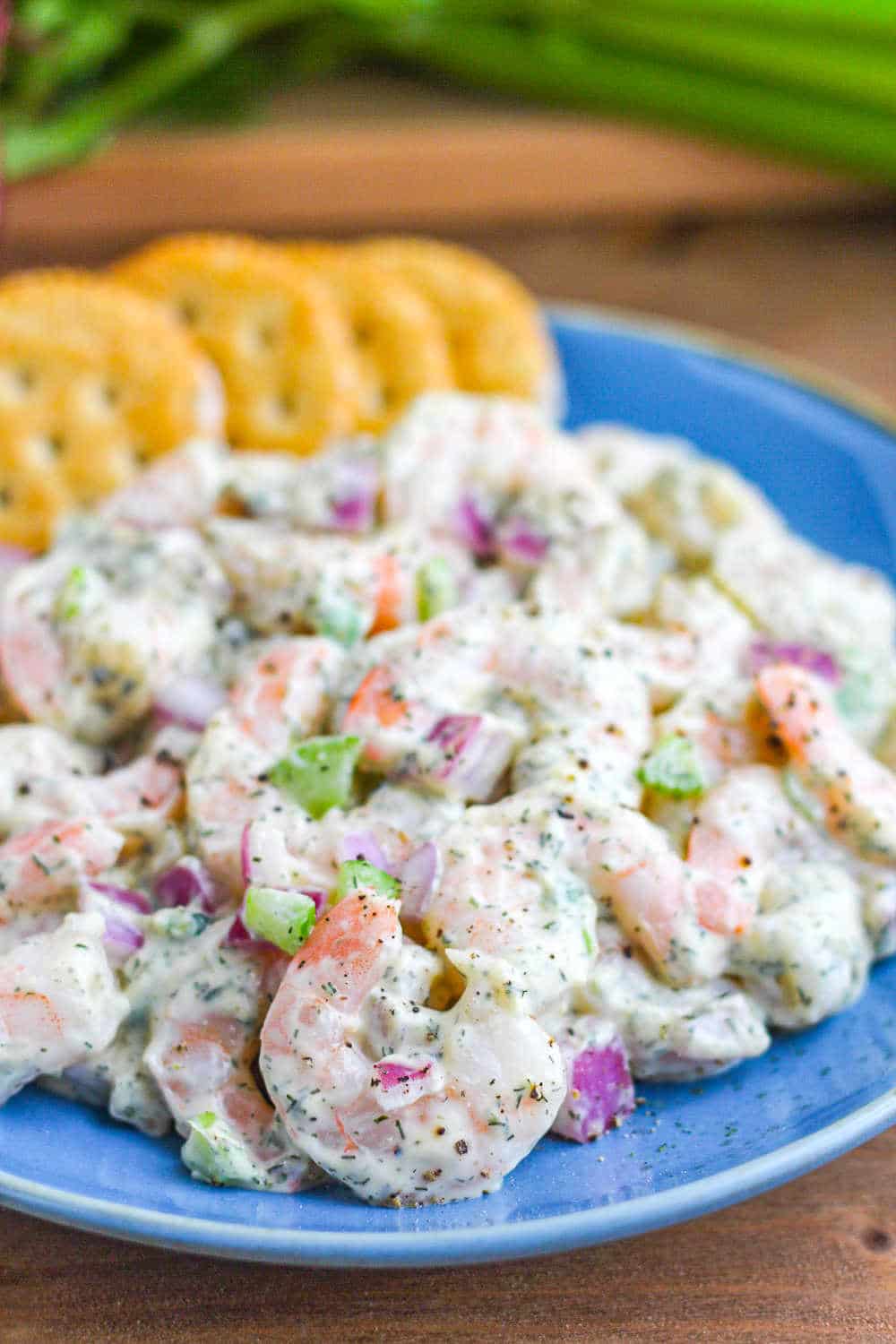 I spend a lot of time talking about easy dinner recipes but honestly lunch recipes are just as important. I work from home so I'm usually by myself for lunch. I often make something on Monday, like these Instant Pot Chicken Caesar Wraps, and then eat it for lunch for several days.
<<PIC>>
How do you make Shrimp Salad (free printable recipe at bottom of page):
Ingredients:
shrimp
olive oil
mayonnaise
dijon mustard
red onion
celery
dill
salt and pepper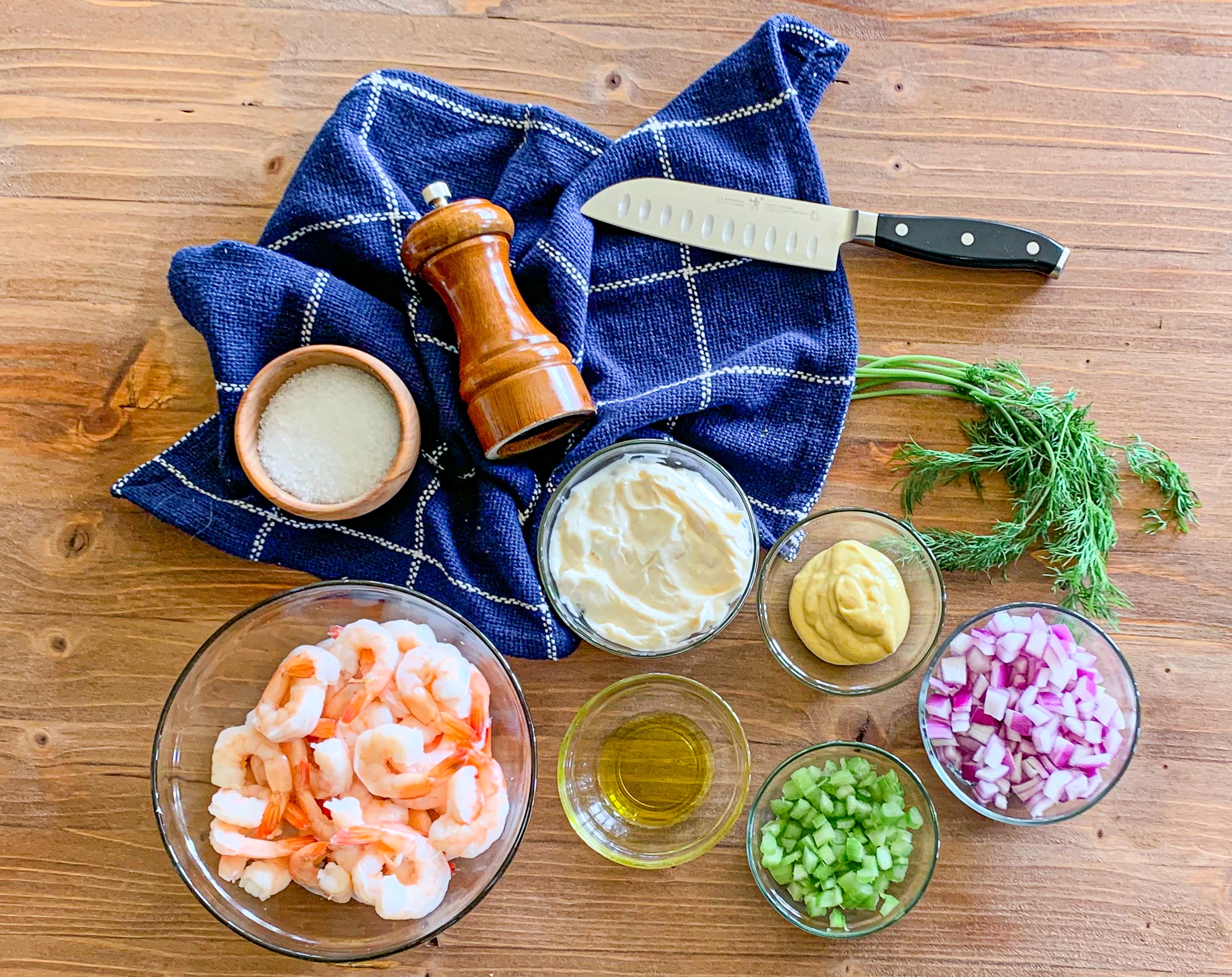 Equipment:
mixing bowl
measuring spoons and cups
spoon
knife and cutting board
Instructions:
Bring a large pot of water to a boil. Add a pinch of salt then add the shrimp. Cook the shrimp until bright pink and forms a "c" and is cooked through. This should take 2-3 minutes.
Next, transfer shrimp from the pot into a colander and run under cold water to shock the shrimp. This will stop the shrimp form continuing to cook and becoming rubbery. Pat shrimp dry with a paper towel. Set it aside.
Then, in a medium sized mixing bowl whisk together olive oil, mayonnaise and dijon mustard.
Season with salt and pepper then add onion, celery and dill stir to combine.
Transfer the shrimp into the bowl and toss the prepared shrimp in dressing mixture.
Cover the bowl with a lid or tightly wrap with plastic wrap. Chill in the fridge 30 minutes or until your are ready to serve.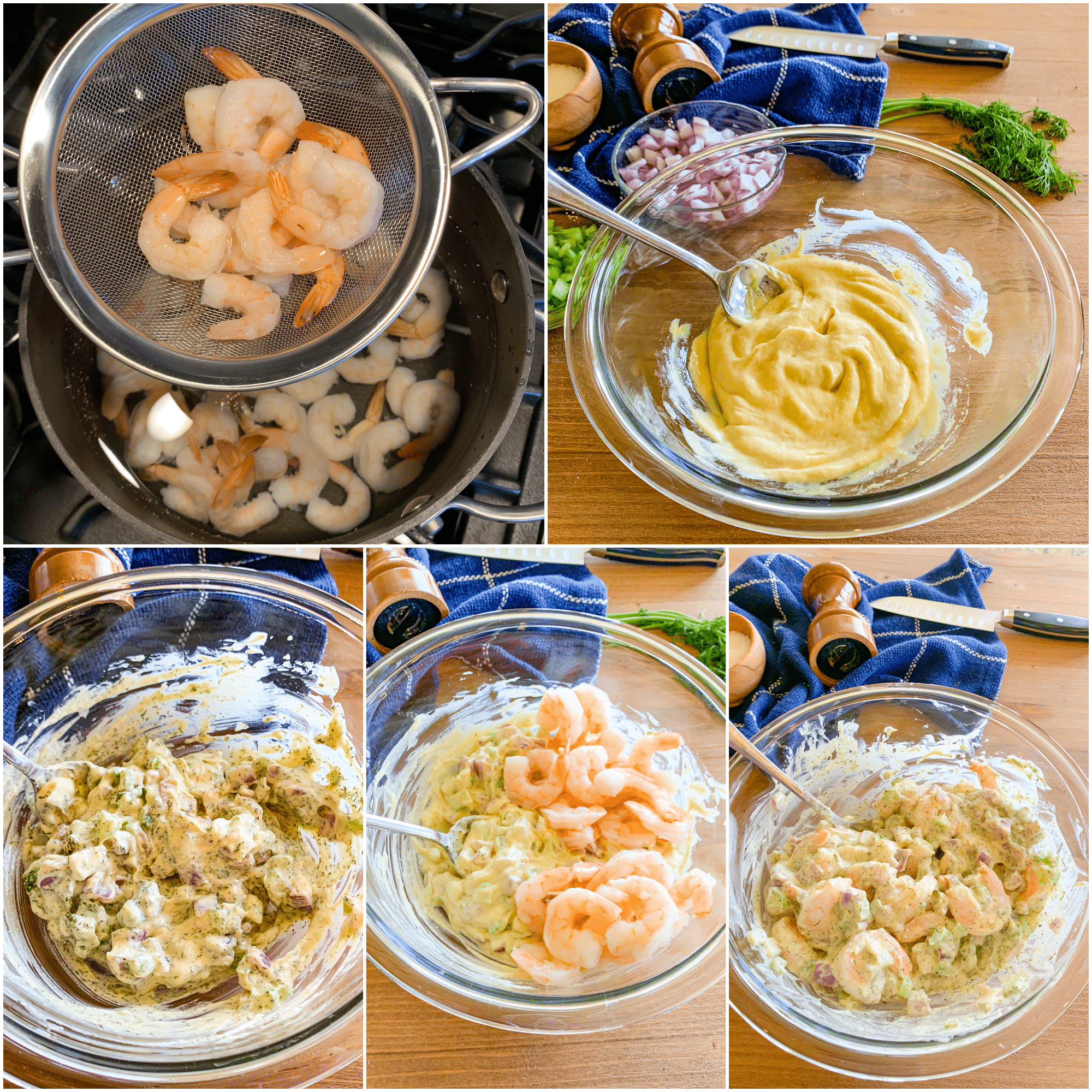 Variations and Substitutions:
If you want you can swap the tablespoon of fresh dill for a teaspoon of dried dill weed. Dried dill weed can be found in the spice aisle wherever you buy groceries.
For faster easier preparation you can buy frozen cooked shrimp. Then simply thaw the cooked shrimp in a colander under cool water and pat dry. If you are using pre-cooked shrimp skip steps one and two of the recipe and begin with step three.
Serve this salad with crackers, with tortillas, in a lettuce wrap, or with bread.
If you would prefer smaller pieces of shrimp you can cook the shrimp and then chop it to desired size.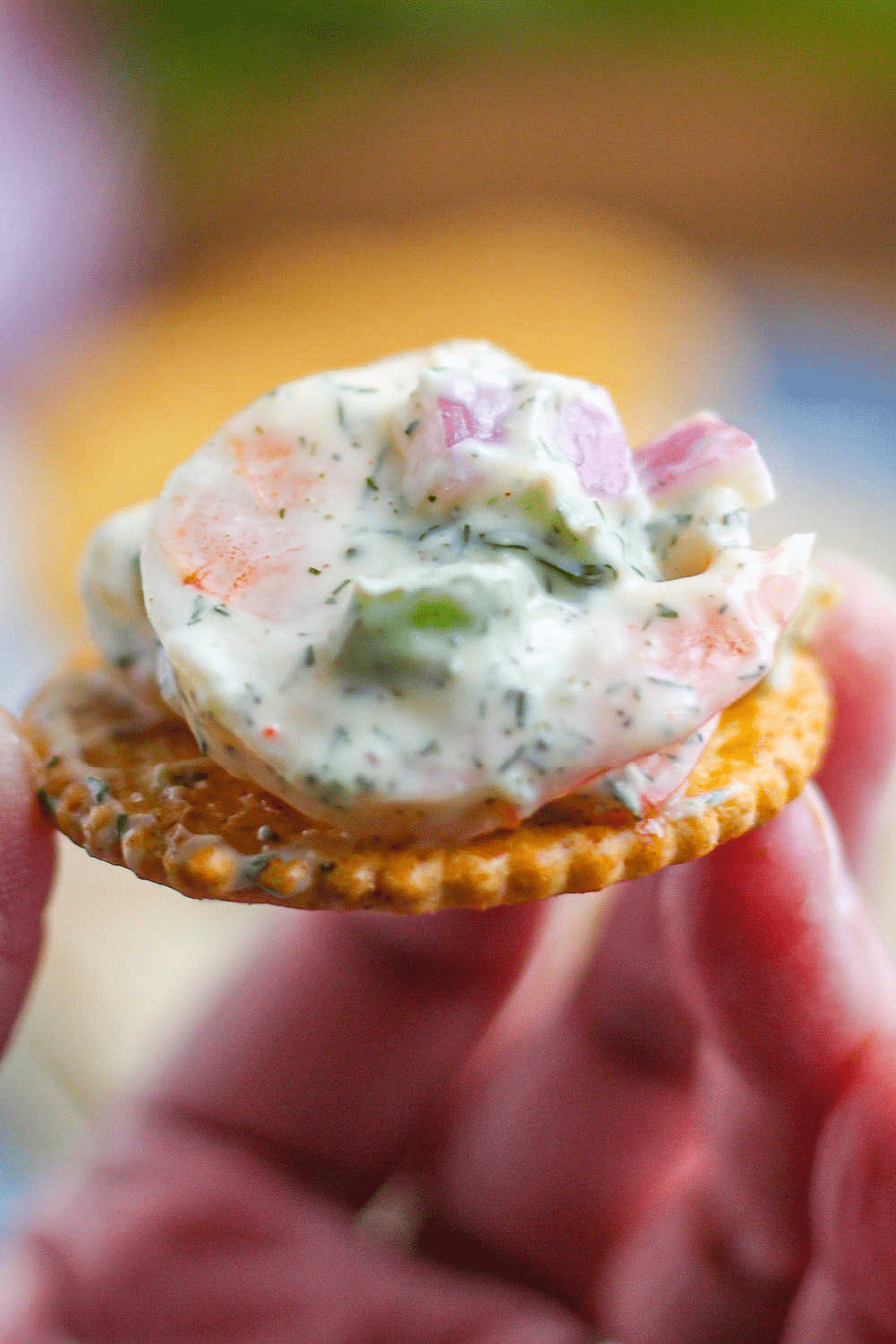 Storage:
Refrigerator: Shrimp salad must be kept cold. Shrimp will spoil quickly so it is important to keep it in a sealed container in this fridge when you are not consuming it.
Freezer: I do not recommend freezing shrimp salad. The mayonnaise will begin to separate during the freezing process. This will cause the salad to lose it's consistency and the texture of the salad will be oily.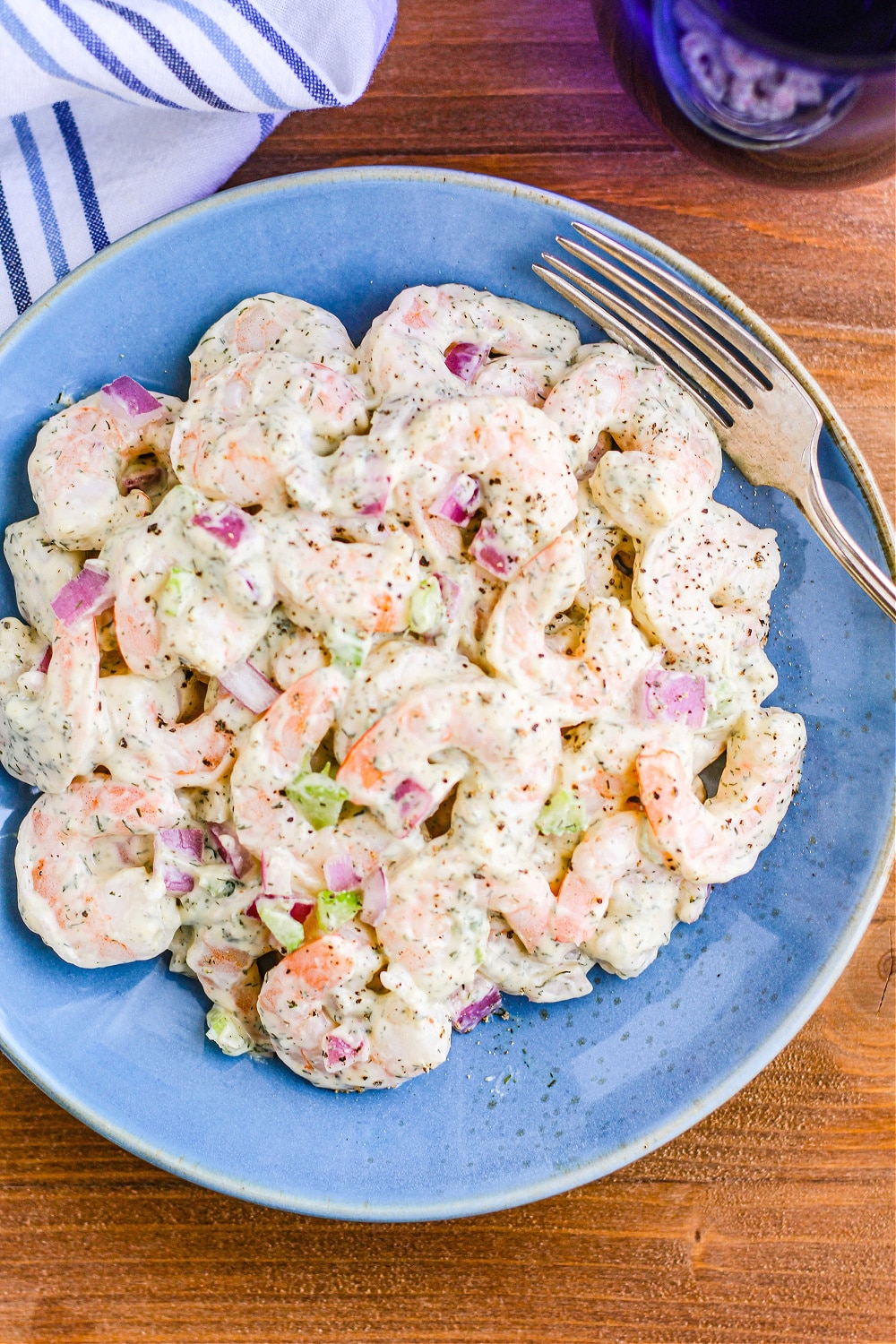 I hope you and your family will love this recipe as much as we do! If you do try this recipe please come back and leave a comment letting me know how much you liked it!
Happy Cooking Y'all!
Susanne
Still hungry? Follow New South Charm on Pinterest for more recipe ideas!
For more information please see the list of Easy recipe for shrimp salad
Detail: 🔗