Quick, easy, and healthy – shrimp stir fry is a delicious dish that combines plenty of vegetables, succulent shrimp, and a homemade sauce. In just 30 minutes or less, you can have a satisfying meal on the table that the whole family will love.
A Versatile Stir Fry
This shrimp stir fry recipe is incredibly versatile. With a variety of vegetables and a simple sauce that can be whipped up in minutes, you'll have a meal ready in no time. The best part is you can use whatever vegetables are on hand, making it a perfect dish for using up leftovers.
Ingredients
Shrimp: Look for peeled and deveined shrimp. If you prefer, you can peel and devein them yourself, but it can be time-consuming. Fresh or frozen shrimp will work equally well – just make sure to thaw them fully before cooking.
Garlic and butter: Cooking the shrimp in a mixture of butter and garlic adds a depth of flavor.
Vegetables: This recipe calls for mushrooms, broccoli florets, carrots, and bell peppers, creating a delightful mix of textures and colors. However, feel free to use any vegetables you prefer or have available.
Cooked rice: Serve the stir fry over rice for a complete meal. If you prefer, you can use cauliflower rice or any other grain of your choice.
Sauce: The sauce is a delightful combination of chicken broth, soy sauce, honey or brown sugar, vinegar, and corn starch. It strikes the perfect balance between sweet, salty, and tangy, with a thick and slightly sticky consistency.
How to Make Shrimp Stir Fry
Begin by cooking the shrimp in a little butter and garlic to infuse them with flavor.
Prepare the vegetables by cutting them into even bite-sized pieces, allowing for even cooking and easy eating.
Once the shrimp is cooked, remove it from the pan and add a little more oil to cook the vegetables.
While the vegetables are cooking, combine all the sauce ingredients in a small bowl and mix well.
Once the vegetables are cooked to your desired tenderness, return the shrimp to the pan and pour in the sauce.
Cook the sauce for approximately 3 minutes, or until it thickens.
Serve the shrimp and vegetable stir fry over hot rice, and your mouth-watering meal is ready to enjoy.
Serving Suggestions
Easy Fried Rice: Add some fried rice on the side for a complete and satisfying meal.
Easy Egg Rolls: For a restaurant-style experience at home, serve the stir fry with crispy egg rolls.
Fried Wonton Recipe: Impress your family with homemade wontons, a delightful addition to any meal.
Tips and Tricks for Making Easy Shrimp Stir Fry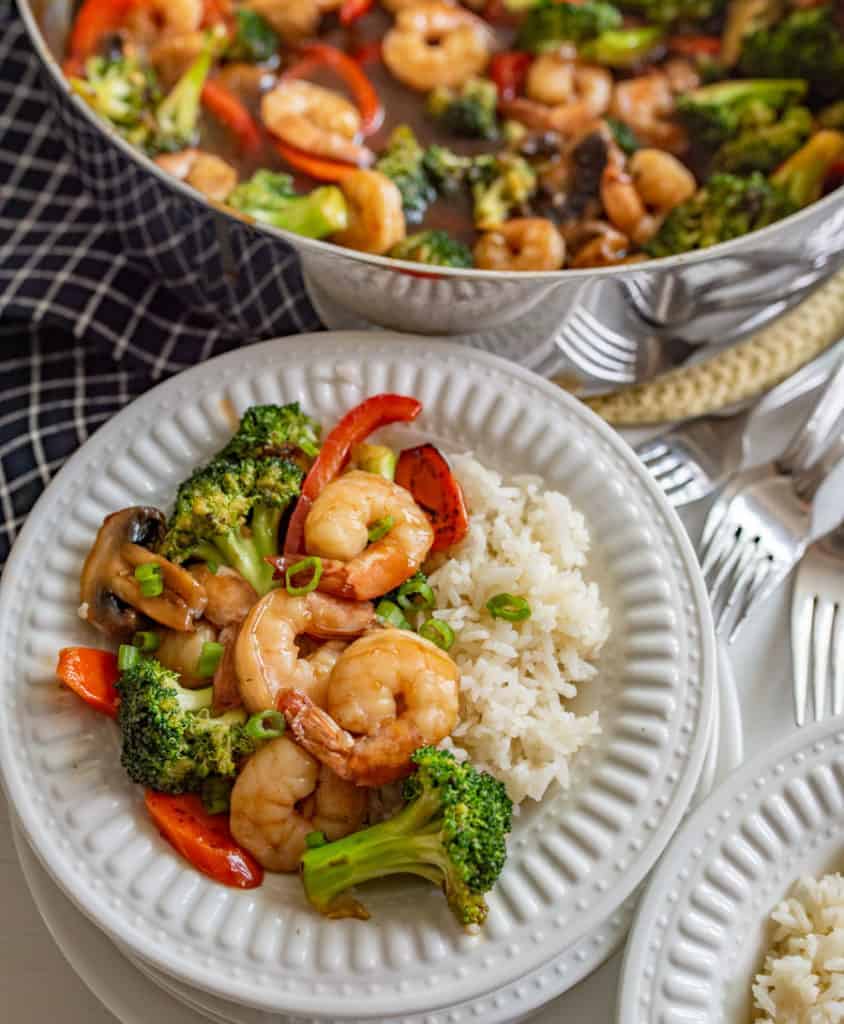 If you're looking for more easy dinner recipes, try these:
Garlic Shrimp
Quick and Easy Stir Fry
Easy Korean Ground Beef and Rice
Easy Fried Rice
If you've tried this Shrimp Stir Fry Recipe or any other recipe on Family Cuisine, please take a moment to rate the recipe and leave a comment below. Your feedback is invaluable! Don't forget to share your creations on Instagram and tag us @FamilyCuisine. We'd love to feature your photos in our stories!
Love Shrimp Stir Fry? Try These Easy Shrimp Recipes:
Shrimp Noodle Stir Fry
Linguine Rosa with Shrimp
Simple Shrimp Fajitas
Instant Pot Shrimp Boil
We hope you enjoy this easy shrimp stir fry recipe and come back to it time and time again, just like our family does. Thanks for joining us in the kitchen, and happy cooking! Family Cuisine