Who can resist the timeless appeal of vanilla ice cream? Amidst a sea of innovative flavors, classic vanilla reigns supreme. Today, we embark on a delicious journey, exploring two renowned brands of vanilla ice cream: Safeway Signature Select and Kroger Deluxe. Let's dive in and uncover the true taste of these indulgent treats.
Safeway Signature Select Homestyle Vanilla Ice Cream Vs. Kroger Deluxe Vividly Vanilla
To begin, let's address the packaging. Safeway undoubtedly takes the cake with its sleek, modern design. In contrast, the Kroger container seems stuck in a time warp, reminiscent of the '80s. The difference in aesthetic is palpable.
But what truly matters is the taste. How do these brands stack up against each other? Let's find out!
Safeway Signature Select Ice Cream – A Homestyle Delight
With a tagline that boasts, "It's a simple pleasure that can be enjoyed on its own or as the perfect complement to your favorite sweet treats," Safeway's packaging may seem a tad generic. However, there's a certain charm in its simplicity, reminiscent of corporate boardrooms and uninspired writers. It's oddly endearing.
Signature Select, Safeway's private label, proudly presents its Homestyle Vanilla Flavored Ice Cream. This rich and creamy creation offers a delightful hint of custard flavor. Safeway's commitment to quality shines through, reaffirming their reputation in the realm of private labels.
Vanilla, Vanilla Bean, and French Vanilla: Unraveling the Flavors
The crux of the matter lies in the vanilla bean. These precious beans are cultivated across the globe, each variety showcasing its own unique characteristics. Let's explore the distinctions:
Old Fashion Vanilla: The classic American vanilla flavor.
Vanilla Bean: A lighter taste, adorned with enchanting vanilla bean specks.
French Vanilla: Infused with egg yolks, this variety offers unparalleled creaminess and constitutes a custard-based experience.
Signature Select Ice Cream Flavors: A Bounty of Deliciousness
Safeway's brand, known for its extensive range of products, embodies shameless variety. Searching for "Signature Select Ice Cream" on their website yields a whopping 101 results! Store brands are unapologetic in their quest for quantity and diversity, although premium brands focus on excellence over options.
While I may not be a vanilla expert, the "Homestyle" flavor seems to emulate the classic old-fashioned vanilla. Interestingly, Safeway clarifies that it is "vanilla flavored." Perhaps a hint that real vanilla is not used? However, the packaging proudly proclaims the inclusion of real cream, a definite plus.
It's All About Value: Safeway vs. Kroger
Let's face it, these brands are considered off-brand ice creams. While we aim to determine the best vanilla ice cream, our ultimate goal is to uncover the best value. After all, if we sought the absolute best, we wouldn't be investigating these particular brands. So let's cut to the chase.
Safeway's Signature Select Homestyle Vanilla Ice Cream typically lists at $4.99. However, we all know that Safeway offers enticing discounts through their club cards and app, often bringing the price down to a wallet-friendly $3.50.
On the other hand, Kroger Deluxe Vividly Vanilla presents a different story. Kroger's website, unfortunately, leaves much to be desired in terms of transparency. Yet, with a little research, we discover that a clipped coupon can secure a 1.5 QT container for $2.99.
The Verdict: Taste Takes Precedence
If you've been following this Safeway ice cream review closely, you may have noticed the conspicuous absence of detailed taste analysis. Truth be told, both brands have been languishing in my freezer, slowly succumbing to freezer burn. Why, you ask? Because Tillamook Ice Cream has captured my heart and taste buds.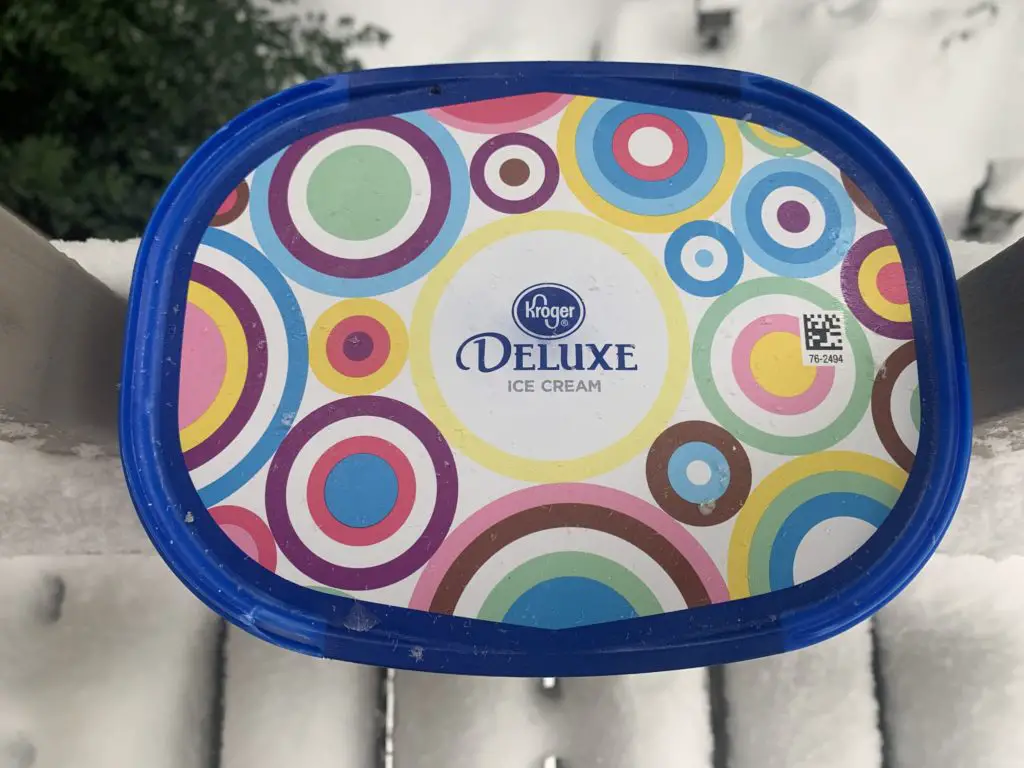 Health and Ice Cream: A Delicate Balance
Let's face it, ice cream isn't known for its health benefits. It's an indulgent dessert, a treat to be savored occasionally. However, a few general pointers can guide our ice cream choices:
Avoid high fructose corn syrup, as it's best to steer clear of unnecessary additives.
Consider the source of the milk and cream. Opt for ingredients sourced from cows free of hormones and chemicals.
Signature Select Peanut Butter Chocolaty Candy Crunch: A Tempting Delight
But wait, there's more! Safeway also tempts us with their Signature Select Peanut Butter Chocolaty Candy Crunch ice cream. Indulge in the combination of luscious peanut butter and decadent chocolatey candy crunch. It's an explosion of flavors that will leave you craving more.
Whether you're a fan of Safeway's Signature Select or Kroger Deluxe, one thing is certain: the allure of vanilla ice cream remains undeniable. So, why not explore these delightful options and savor the creamy goodness for yourself?
For more delectable recipes and culinary inspiration, visit Family Cuisine, a treasure trove of culinary delights that embraces the joy of family and the love of food.