This Simple Balsamic Chicken Salad is the perfect simple & easy healthy meal! It's light, fresh, and packed with flavor!!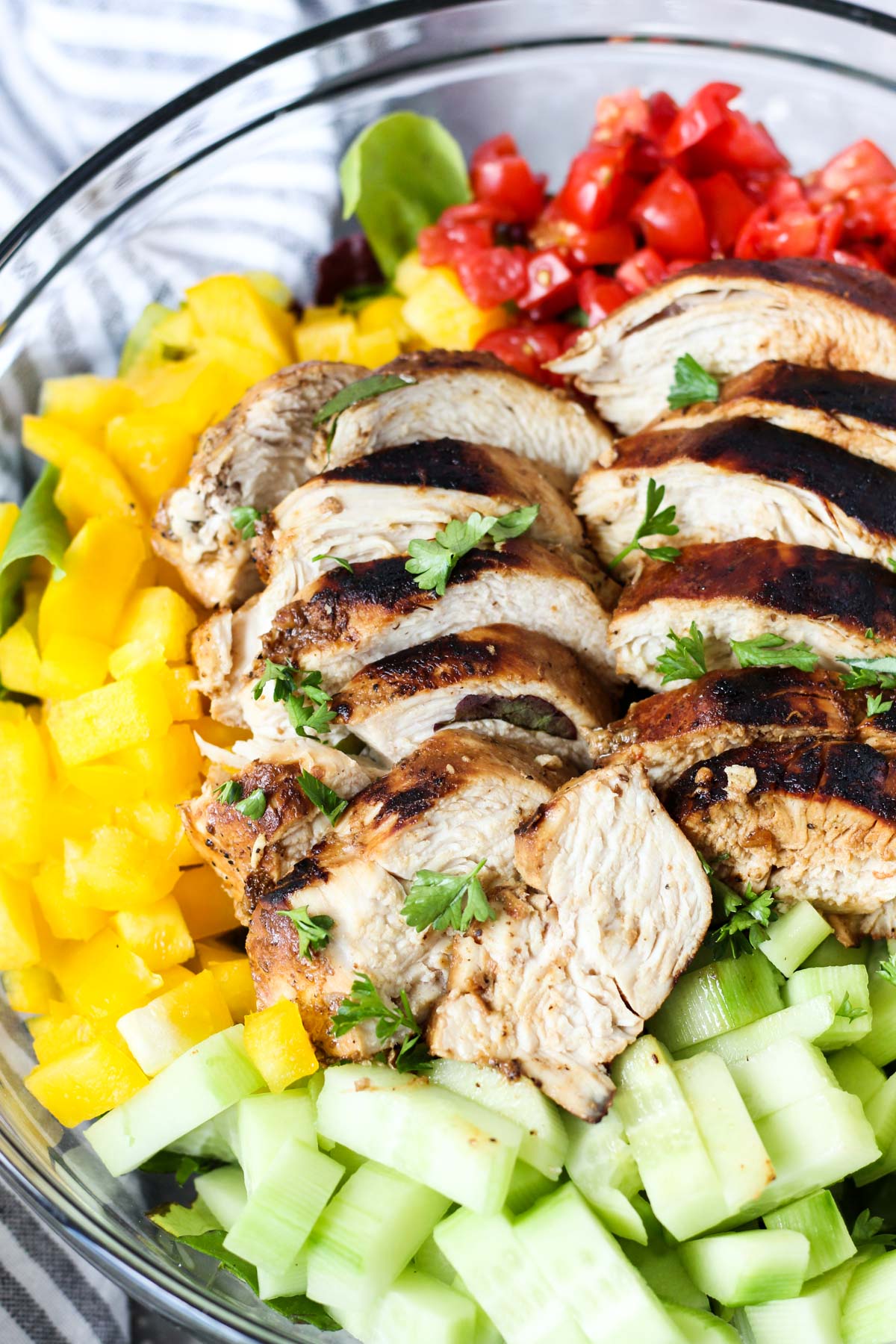 Disclaimer: Some of the links in this post are affiliate links, which means I make a small commission if you choose to purchase through qualifying links.
Jump to:
Why I love this recipe
🍴 Recipe Ingredients
🍴 Recipe Instructions
Helpful Kitchen Tools
Expert Tips
How to store leftovers
Recipe
Shop this recipe –
Want more recipes?
💬 Reviews
Why I love this recipe
The great part about this salad is that you can use whatever vegetables that you want! The balsamic chicken, and homemade dressing pair well with any salad toppings.
For this particular salad, I like to keep it simple with just avocado and red pepper! Feel free to customize it and make it your own! I listed below a few other salad toppings that would go wonderfully with these flavors. Great for anyone who is on a Paleo or Whole30 diet!
🍴 Recipe Ingredients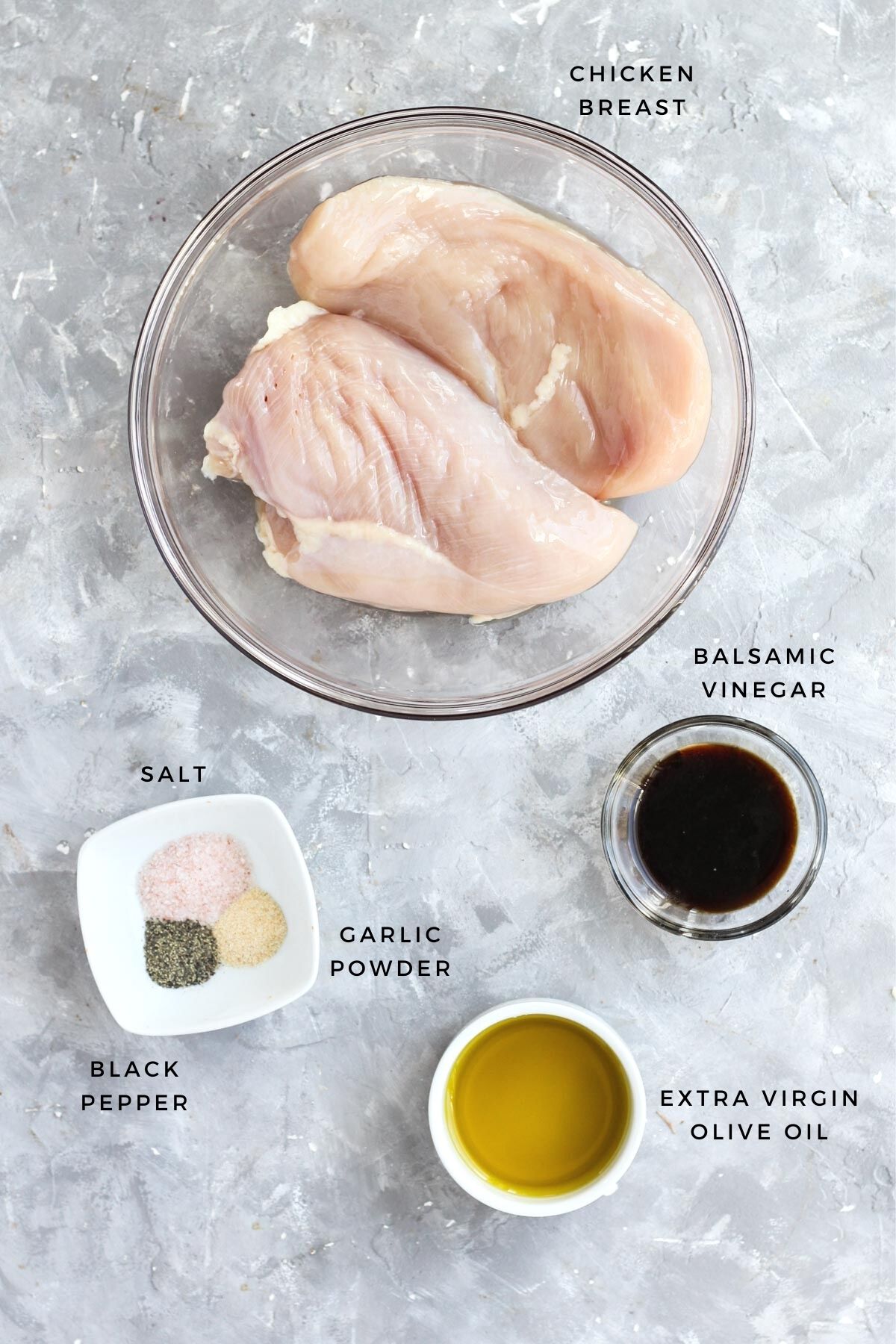 Balsamic Chicken
Chicken Breast – You can use 2-3 large chicken breast.
Balsamic Vinegar – Any balsamic vinegar will work for this recipe! Make sure it's balsamic and not red wine vinegar.
Olive Oil or Avocado Oil – I prefer extra virgin olive oil, but avocado would work for the marinade too! (I wouldn't use it in the dressing.)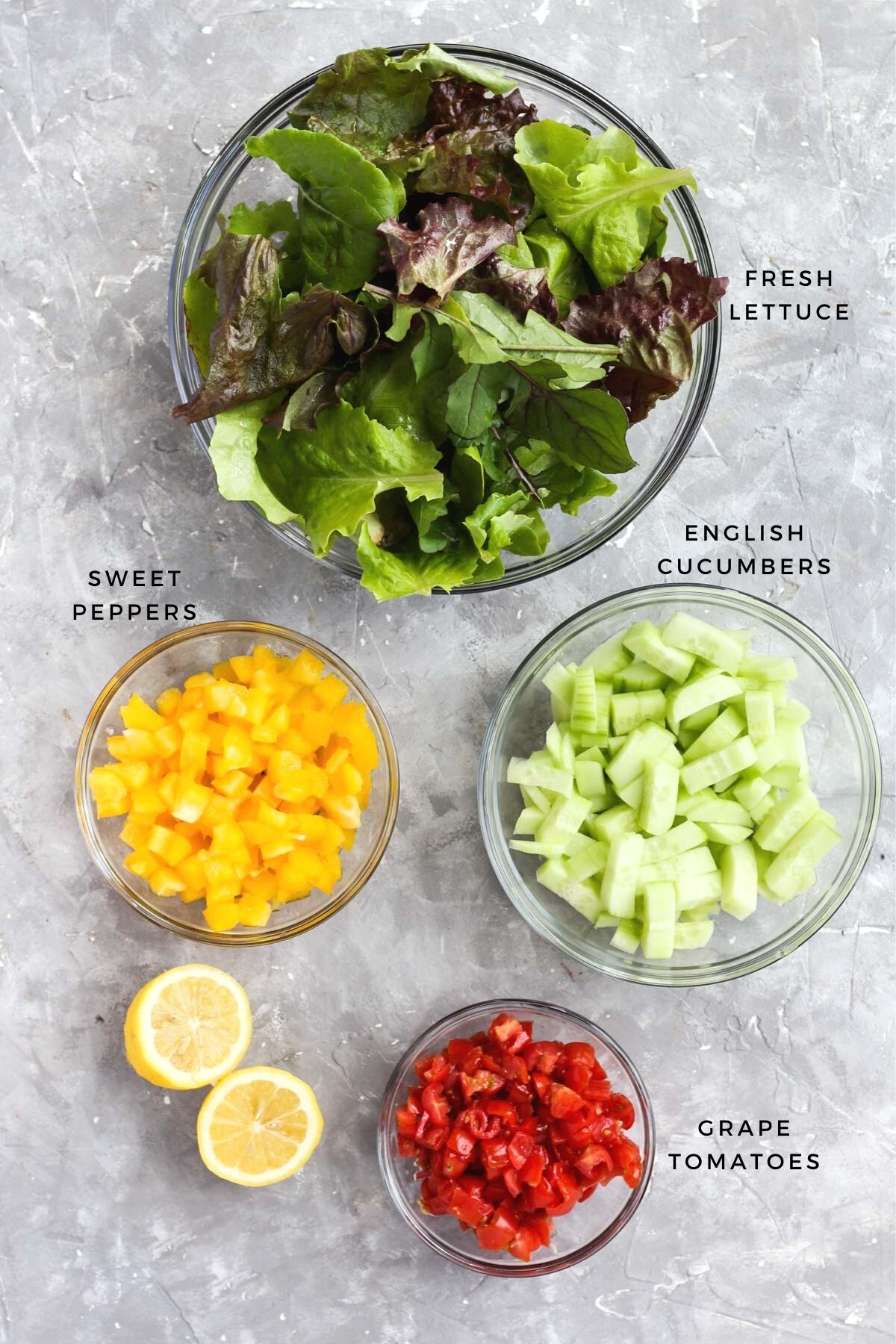 Salad Topping Suggestions
Fresh Lettuce – Spring mix and butter lettuce are some of my favorites!
Diced Sweet Peppers – You can mix whatever colors you prefer, but I used red and orange peppers for this recipe.
Grape Tomatoes
English Cucumbers – I recommend English Cucumbers or Mini Cucumbers for this recipe because they're very crisp, have tiny seeds, and hold up well in salad! You can leave the peel on, but I prefer removing it.
Cubed Avocado
Thinly Sliced Red Onions
Fresh Beet "Noodles"
Cubed Rainbow Carrots
Olives – Kalamata olives are my favorite, but any olive would work!
🍴 Recipe Instructions
Step 1: Balsamic Chicken
Start by prepping your chicken. Add the two chicken breasts into a mixing bowl with balsamic vinegar, oil, salt, and black pepper. Mix around until thoroughly coated. Pop the mixture in the fridge for 30-60 minutes.
While your chicken marinates, you can prep your salad. Chop your vegetables, and add to a large mixing bowl. Store in the fridge while you prep the rest of the meal.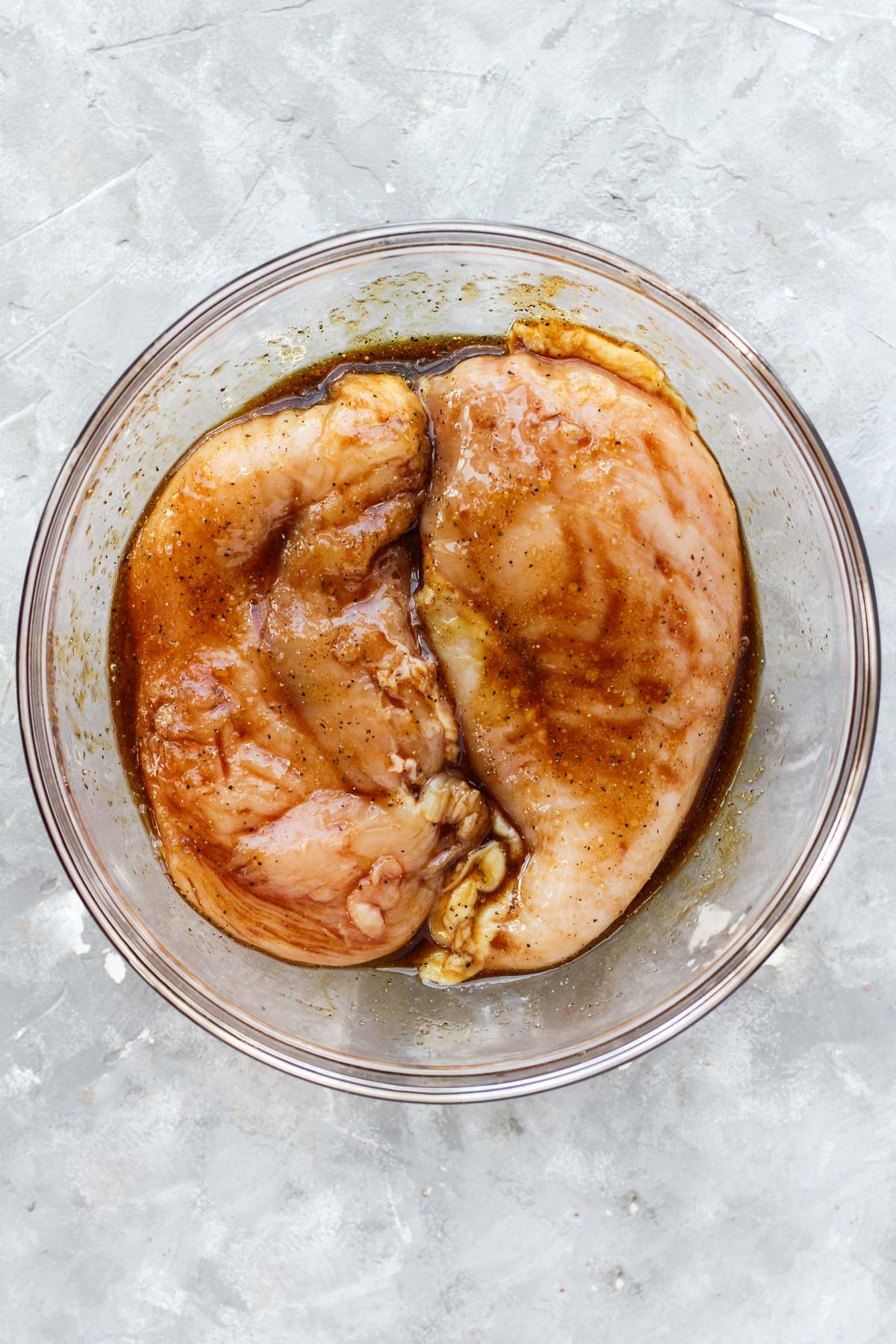 Step 2: Cooking Chicken
Once your chicken is ready to cook, pre-heat your frying pan to a medium/high heat. Add your chicken to the pre-heated pan, and place a cover on top. Set your timer for 6 minutes. PRO TIP: Make sure you add all of the extra marinade to the chicken!
Once it has cooked for six minutes, remove the cover and flip your chicken. Place the cover back on and cook for another six minutes. Depending on how thick your breasts are, you might need to cook it for a few more minutes. Use a knife to slice through the center to check if it's done. (Should be NO PINK.)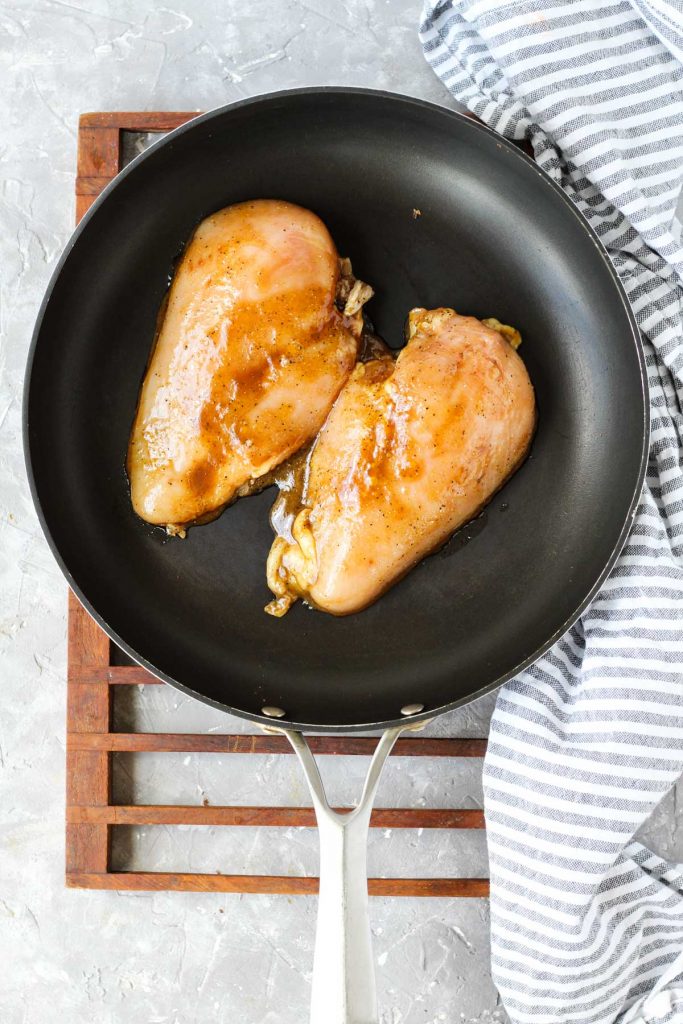 Step 3: Salad Dressing
In a small bowl add your olive oil, lemon juice, balsamic vinegar, salt, and pepper. Use a spoon or a whisk to blend. Place in the fridge until ready to serve. If you add the dressing too early, your lettuce will get soggy!
Step 4: Preparing the Salad
When your chicken is done, place it onto a cutting board and chop into small bite size pieces.
Remove your salad and dressing from the fridge, and plate into individual bowls. Top with your chicken, and add dressing to each salad.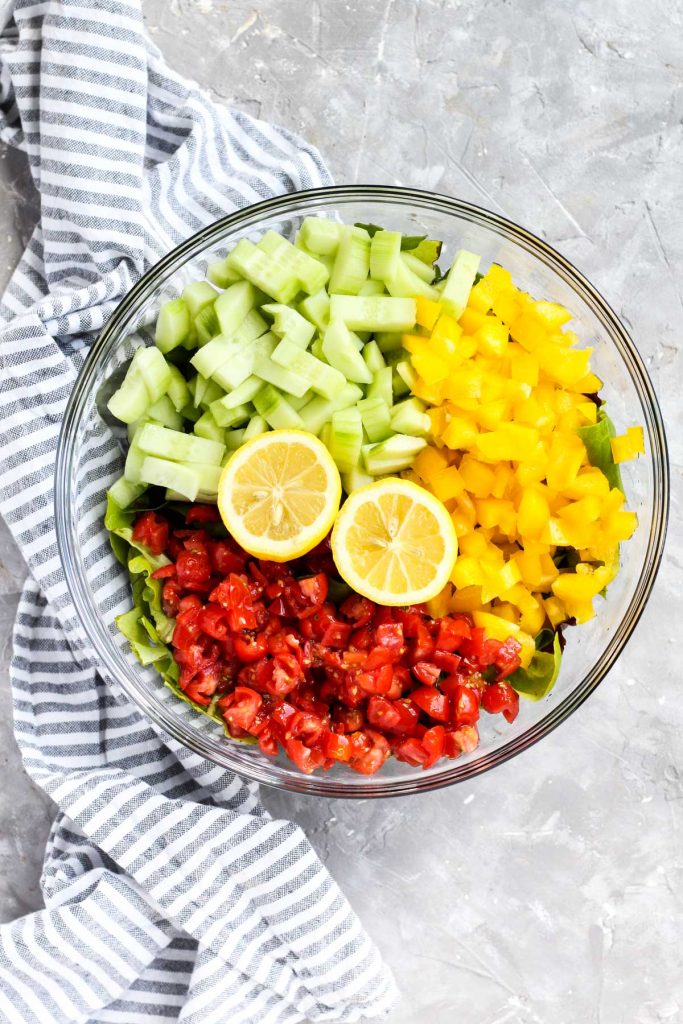 Helpful Kitchen Tools
Non-Stick Frying Pan – My favorite non-toxic brand is called Radical Pan. You can find more information in the video below! I have the 10 + 12 inch. I used the 10 inch for this recipe!
Metal Tongs
Kitchen Knife With built in cutting board – This comes in handy for slicing vegetables right into your salad bowl!
If you want to save time on preparing the vegetables, you need a Vegetable Chopper! It does all the chopping for you! Just peel your vegetables, cut them into large chunks, and place them in the chopper. It's easy to use and guarantees they will all be the same size. You can find it on Amazon, but I've also seen them at Walmart and Marshalls. Check out this video to see it in action!
Expert Tips
Feel free to add whatever vegetables or toppings you have on hand! Avocado, extra cilantro, black beans, carrots, chickpeas, or olives would be a great addition.
This recipe is great for meal prep! Instead of making one large salad, break it up into smaller servings for lunches throughout the week. I love using these glass containers for meal prep!
If you're not planning to eat the whole salad in one sitting, I would add the dressing to the individual serving bowls. Dressing left on salads overnight tends to get soggy.
Make the dressing in a mason jar! You can easily shake it up to make sure it's fully mixed. Just place the cover on tight, make sure it's sealed, and SHAKE. It also doubles as a great storage container! Whatever is leftover can be sealed up in the mason jar and stored in the refrigerator.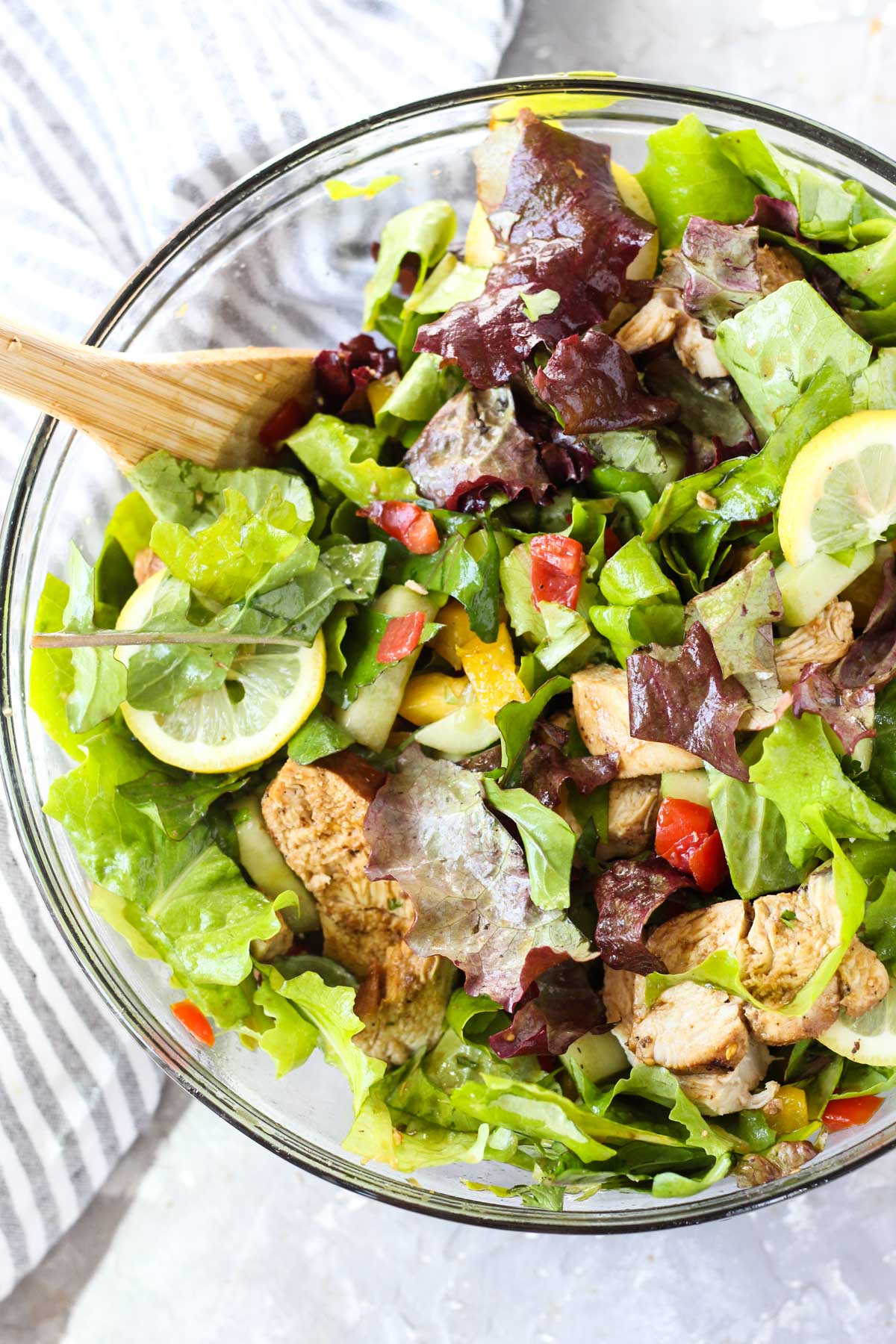 How to store leftovers
Leftovers should be stored in an airtight container – I like using glass containers! You can also cover the serving bowl with plastic or reusable wrap. Store it in the refrigerator for up to five days.
More salad recipes:
After you make this Simple Balsamic Chicken Salad, make sure to leave a comment & rate the recipe!
Recipe
Through this article, we hope to help you understand Chicken salad with balsamic dressing
Detail: 🔗